Nov
3
2016
Nov 3 2016
48 hours in NOLA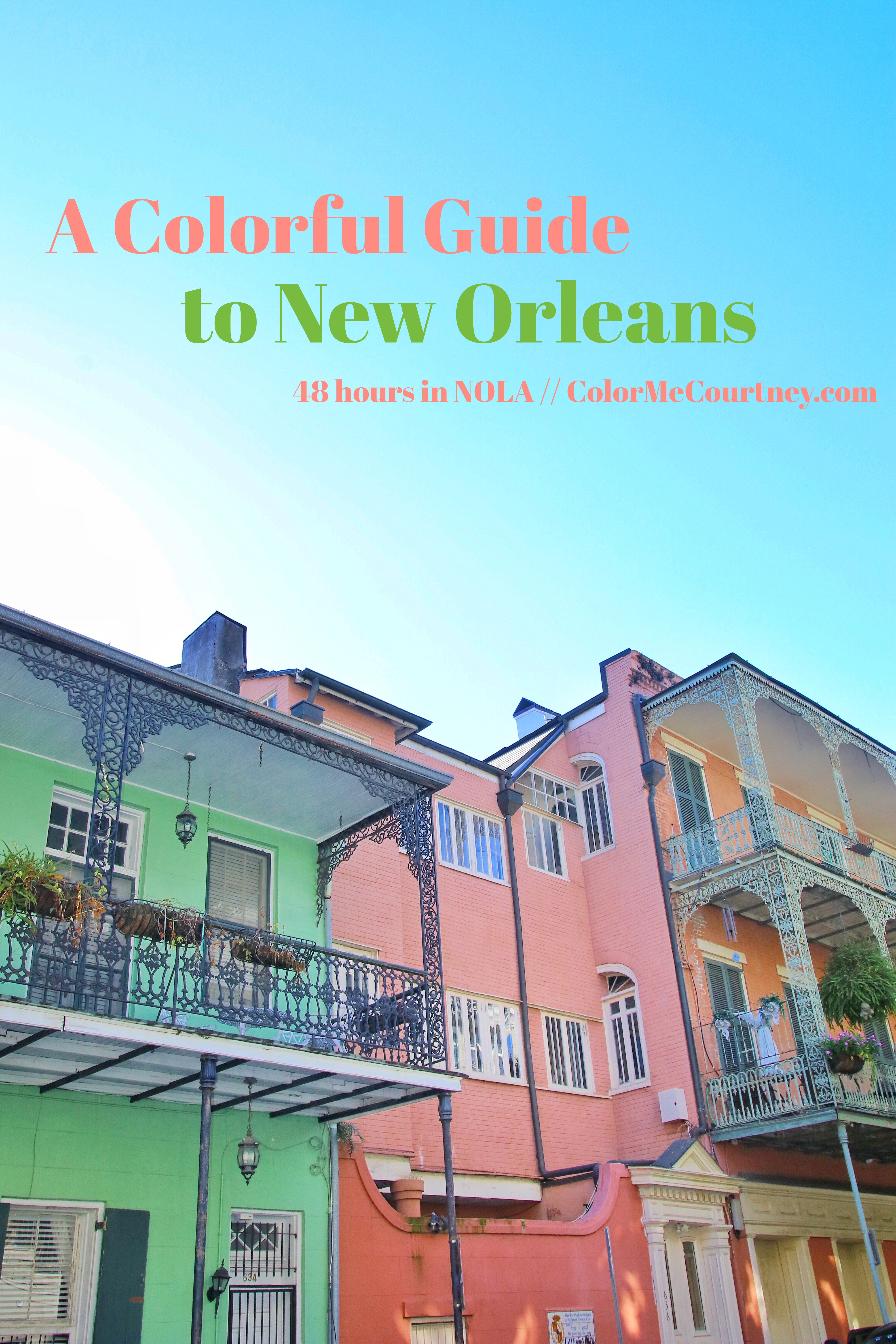 Wanna get away? Of course you do and I have the perfect trip planned for you, so come on, follow me to New Orleans!!! We'll listen to Jazz, eat gumbo, dance a little and find bliss at Hotel Indigo in the coveted Garden District. Sound fun?! Of course it does, so let's go!!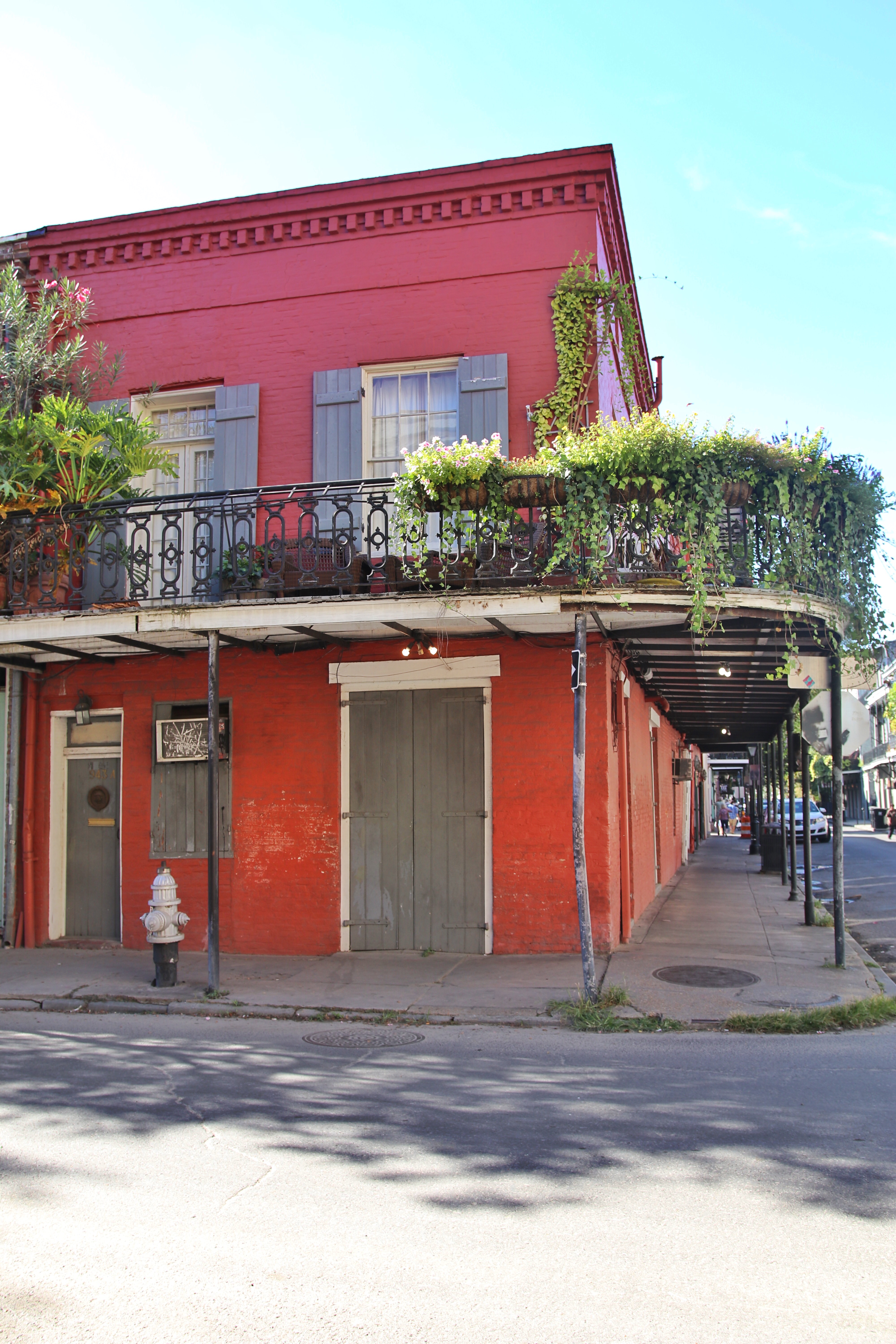 Fun fact, I love color – ha, you totally knew that one 😉 but I do love traveling to some of the most colorful destinations to see hue's in a whole new way. This year, my color crush wanderlust took me to Japan, LA, Bermuda, Florida, Spain, San Francisco, Rome, Napa, Utah, Italy and more, painting the globe rainbow and snapping photos along the way. One of my most recent escapades was a bit closer to home, but still just as magical. Last week, I wandered my way to the Big Easy with Hotel Indigo.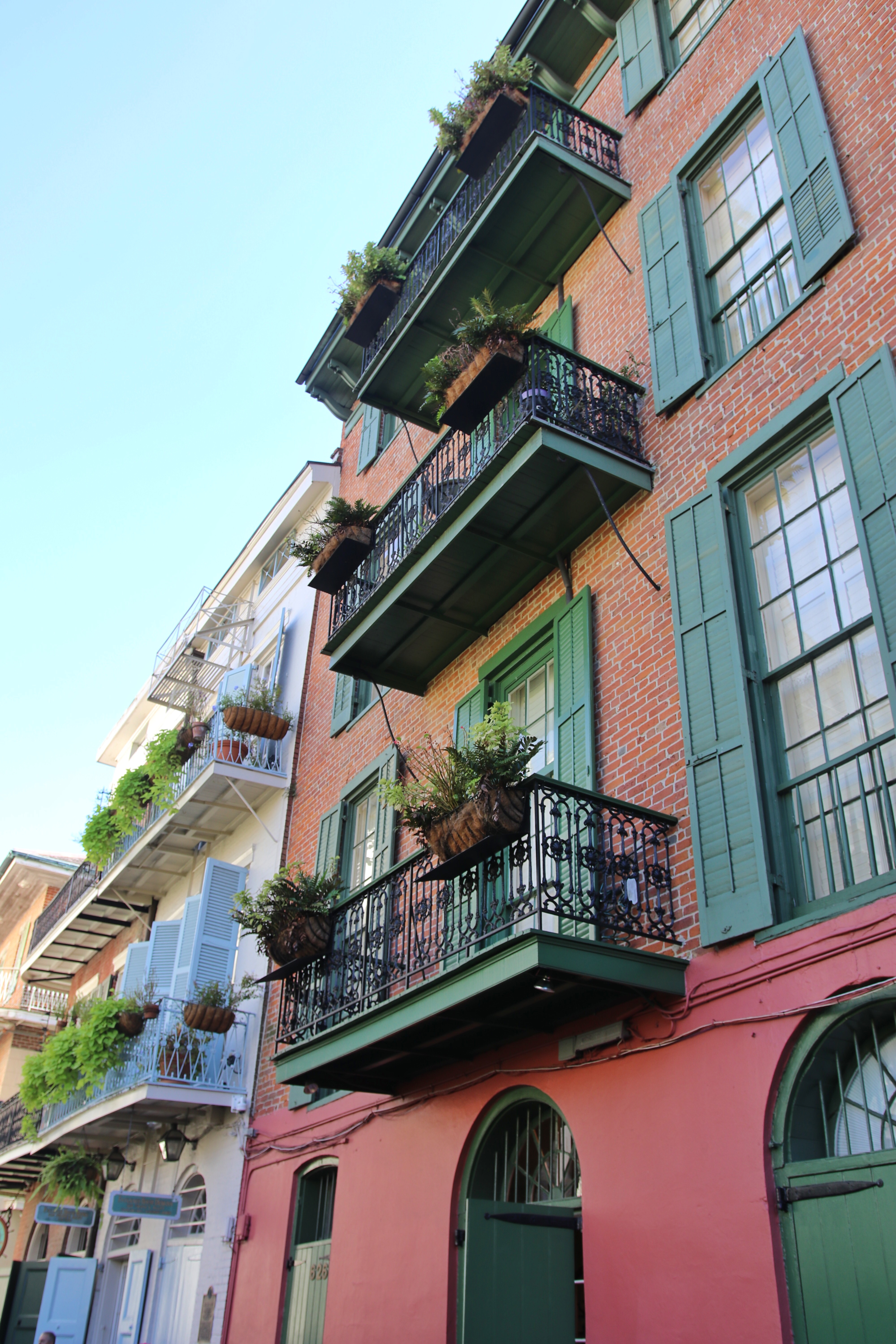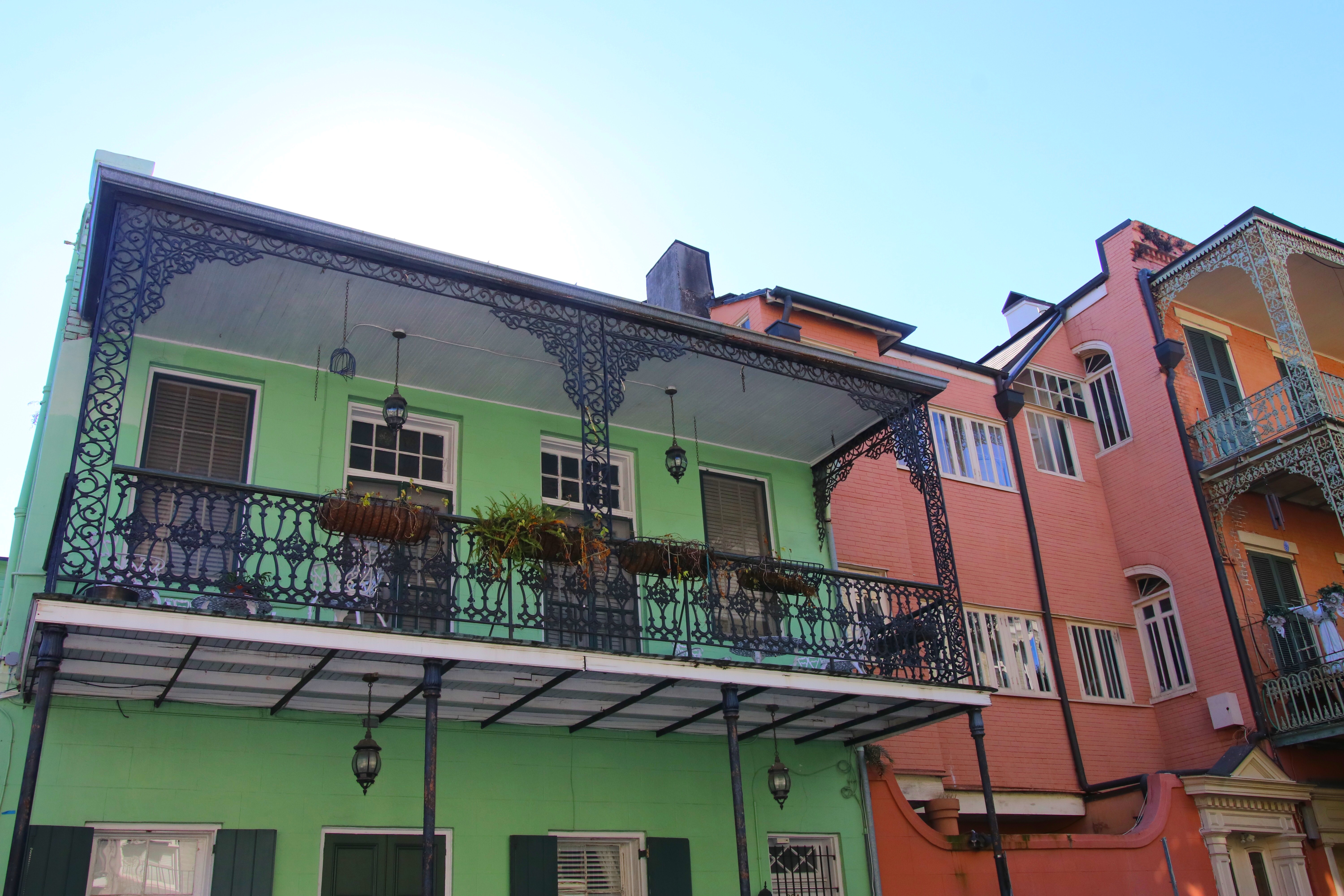 I select my hotels the same way I select my destinations, they have to live up to my color-me-checklist. All finalists must be charming and unique with a dash of whimsy, a pinch of history and of course, a whole lot of colorful. I've been to NOLA once before (pre-cmc) but had yet to take my followers on this exciting escape, and my mom had never been so the two of us packed up and set off in search of adventure… and beignets!
Where to Stay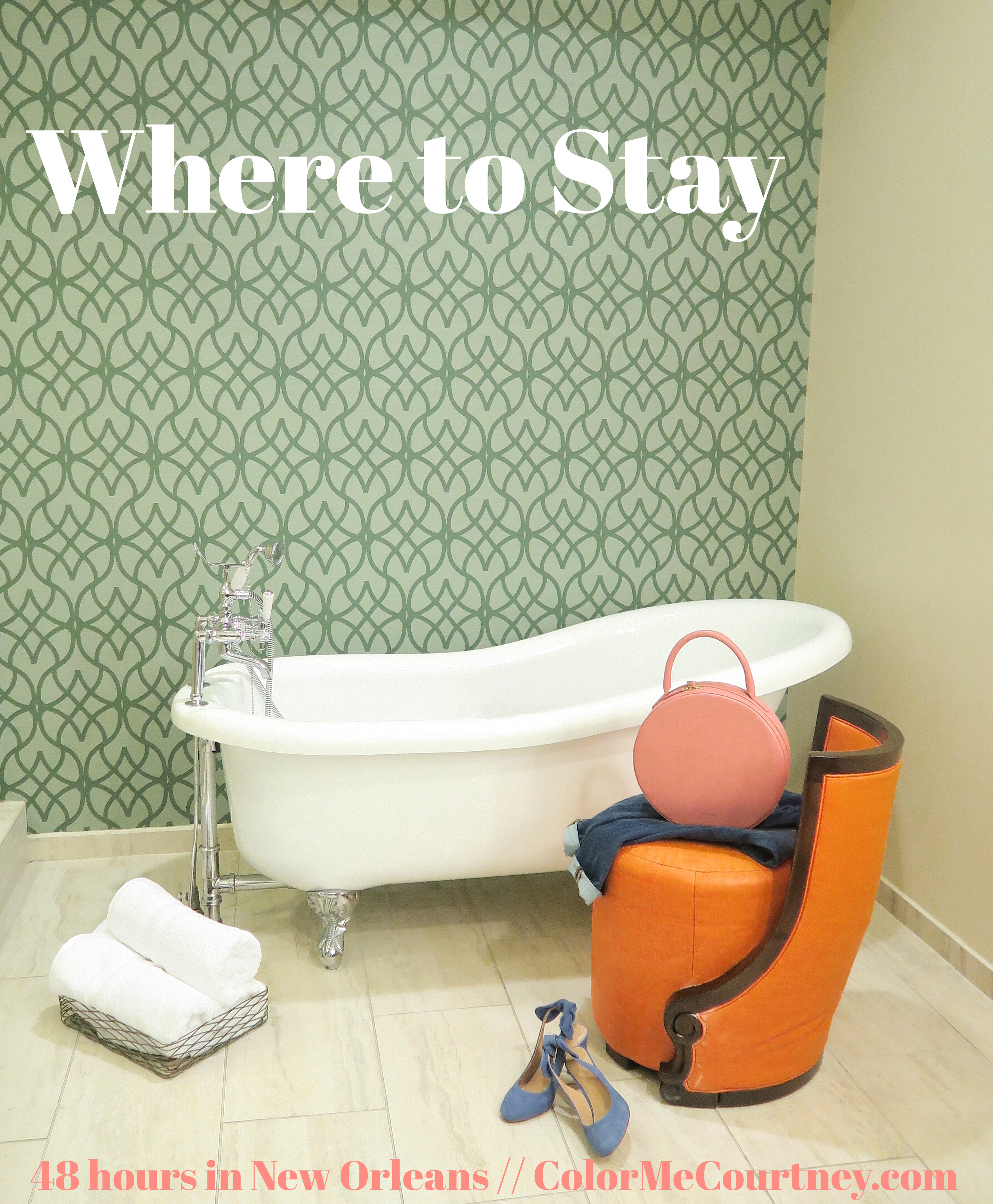 After we had our sights set on NOLA, we had to find our home away from home for our 48 hour visit. Although this city is known for neighborhoods like the French Quarter, I always like to stay in an off beat neighborhood to shake things up. The glorious Hotel Indigo had the same idea – this chain continually builds their beautiful hotels in big cities, but unexpected neighborhoods for a unique take on each location, so I knew we would get along just fine!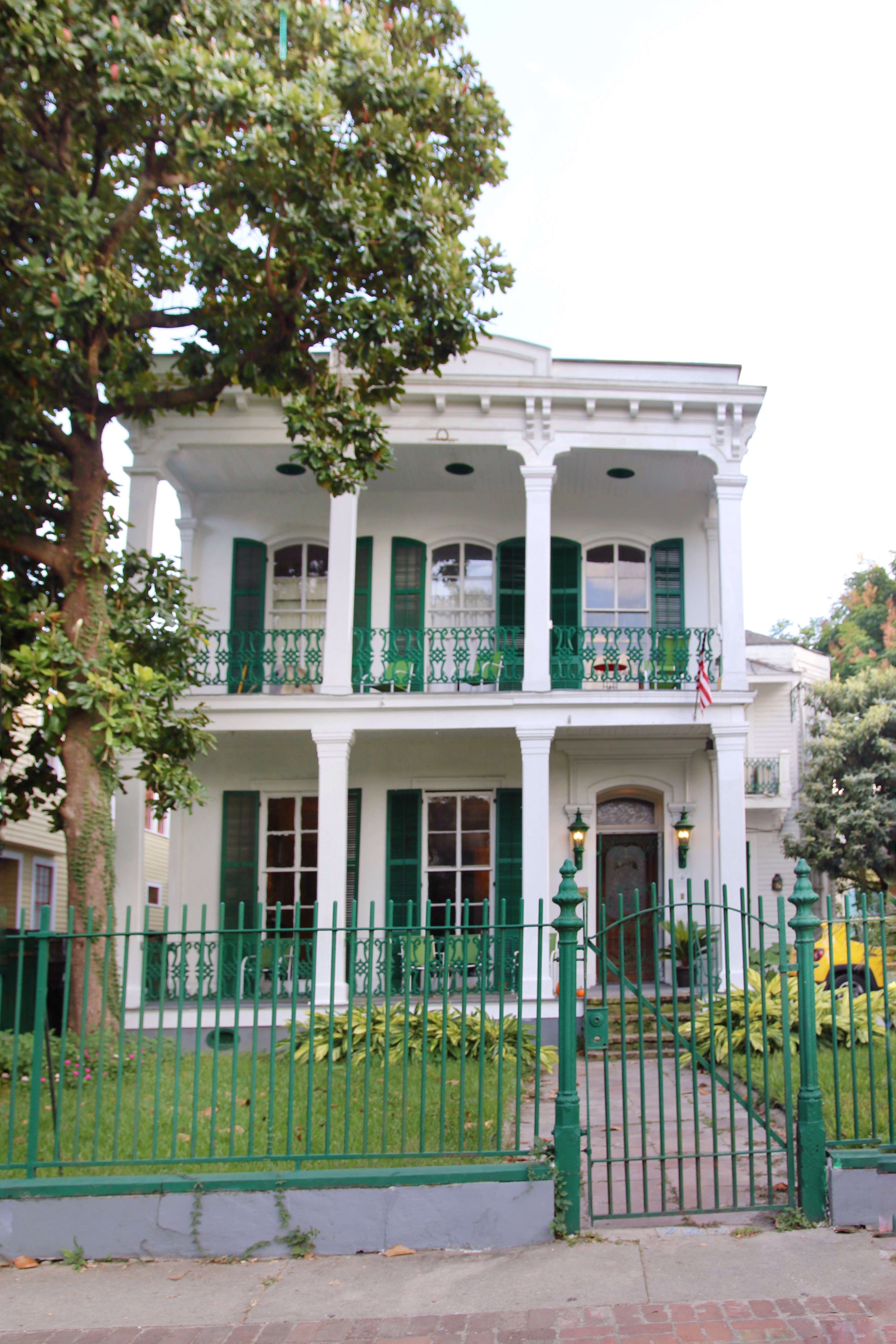 You'll be traveling to the French Quarter and downtown no matter what – so why would you want to stay there too? I like the idea of following our lead and staying at the Hotel Indigo in the Garden District. Not only is it right off the streetcar line and pretty central in the city, it's surrounded by culture and the cutest houses you've ever seen! We spent a whole morning exploring this neighborhood and wandering at the adjacent mansions up to 200 years old!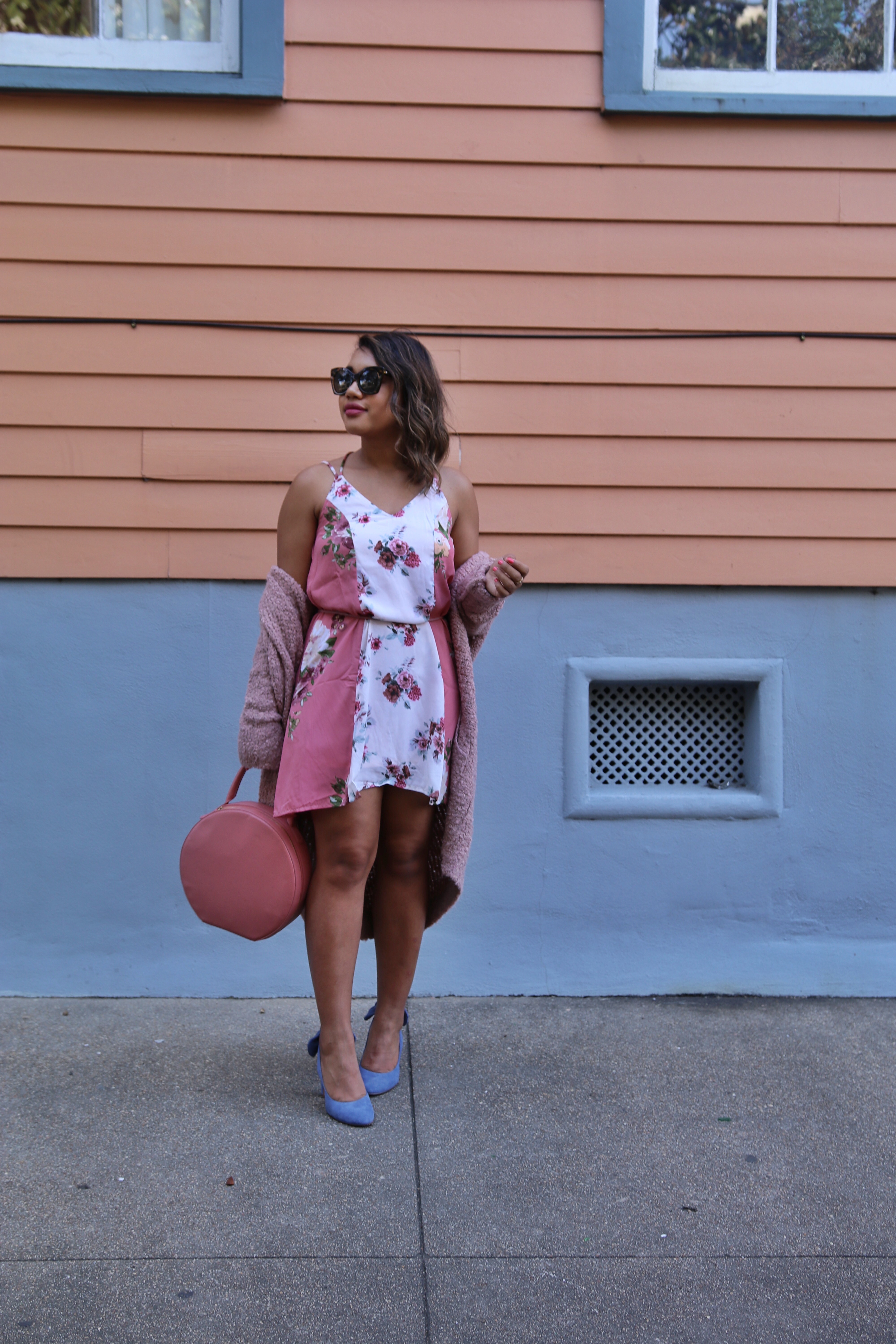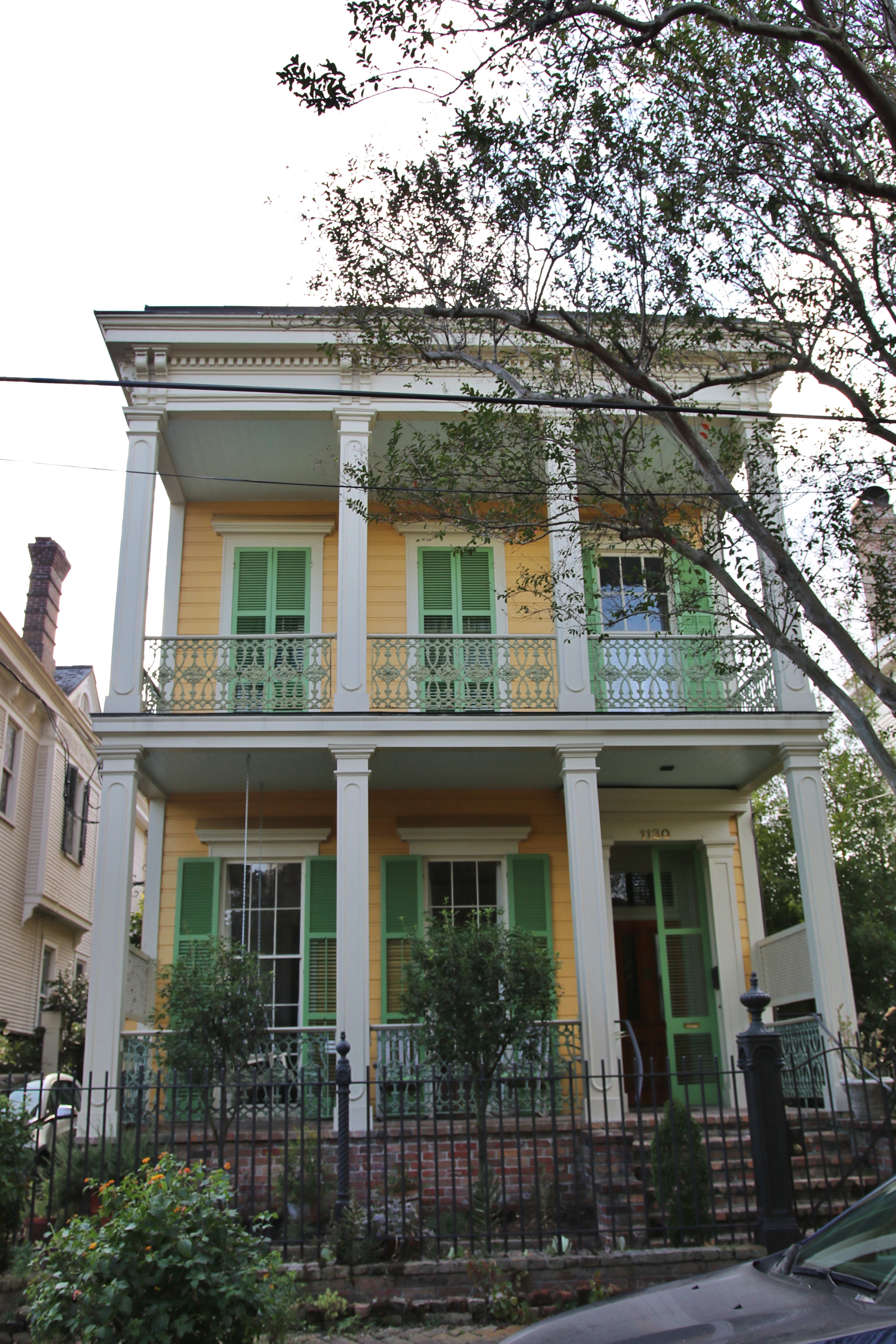 Speaking of history, Hotel Indigo is a bit younger than it's legendary neighbors – the building was built in the 40s' but looks brand new. They've given it a modern and colorful feel all while staying true to it's roots. The hotel also focuses on renewable resources that they incorporated into design elements, like their reclaimed wood ceiling made from materials recycled from Hurricane Katrina.
What to Eat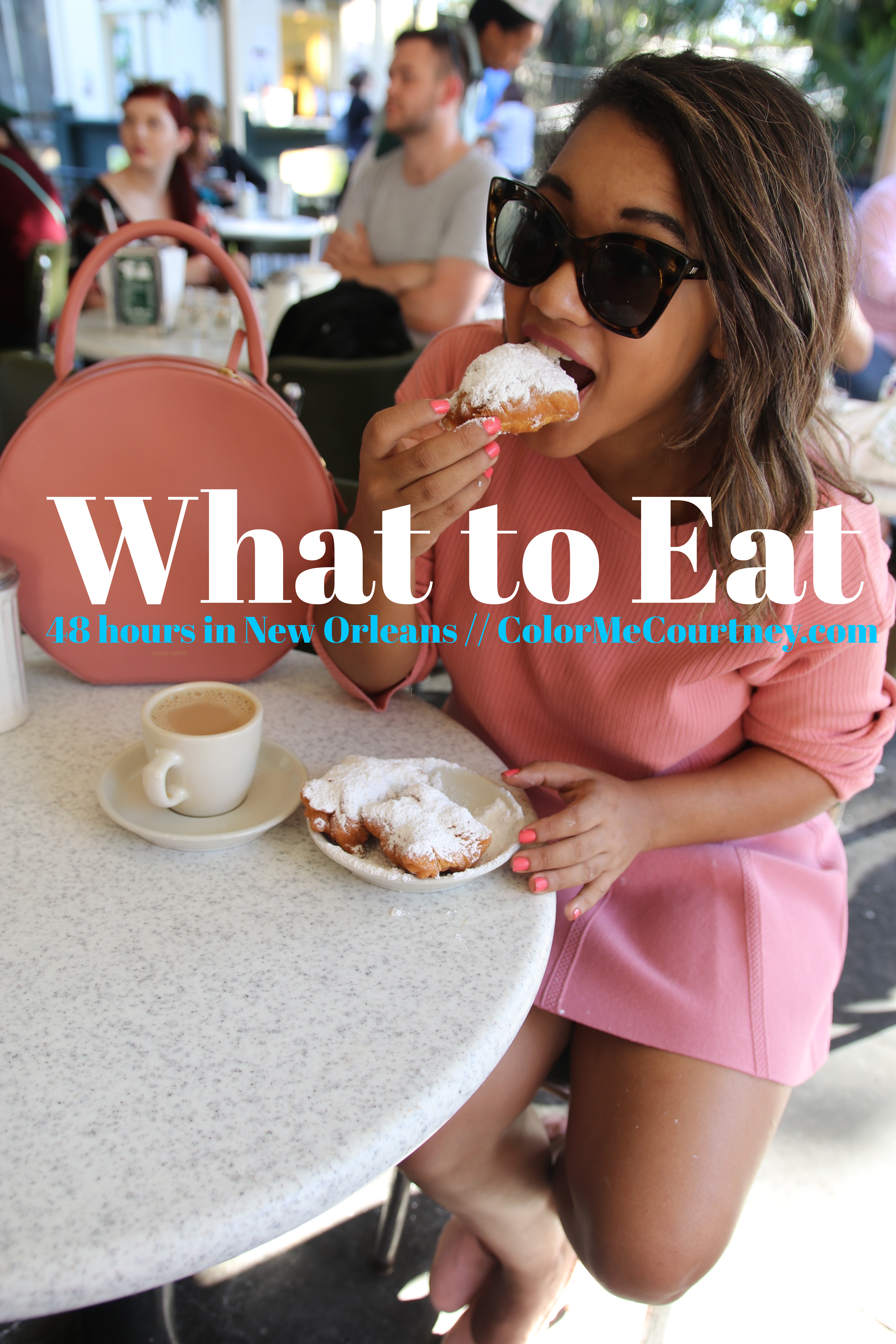 Cafe Du Monde is a must, but I'm sure you already knew that. If you aren't familiar with it, I'll leave you with this – beignets! Oh and that they have both indoor and outdoor seating as well as a to–go line. We went at an off time so we didn't have to wait at all to be seated and immediately were served. It's not fancy, it's just a cute spot to get your beignets on, but don't forget to check your face for powder sugar – I left covered in it!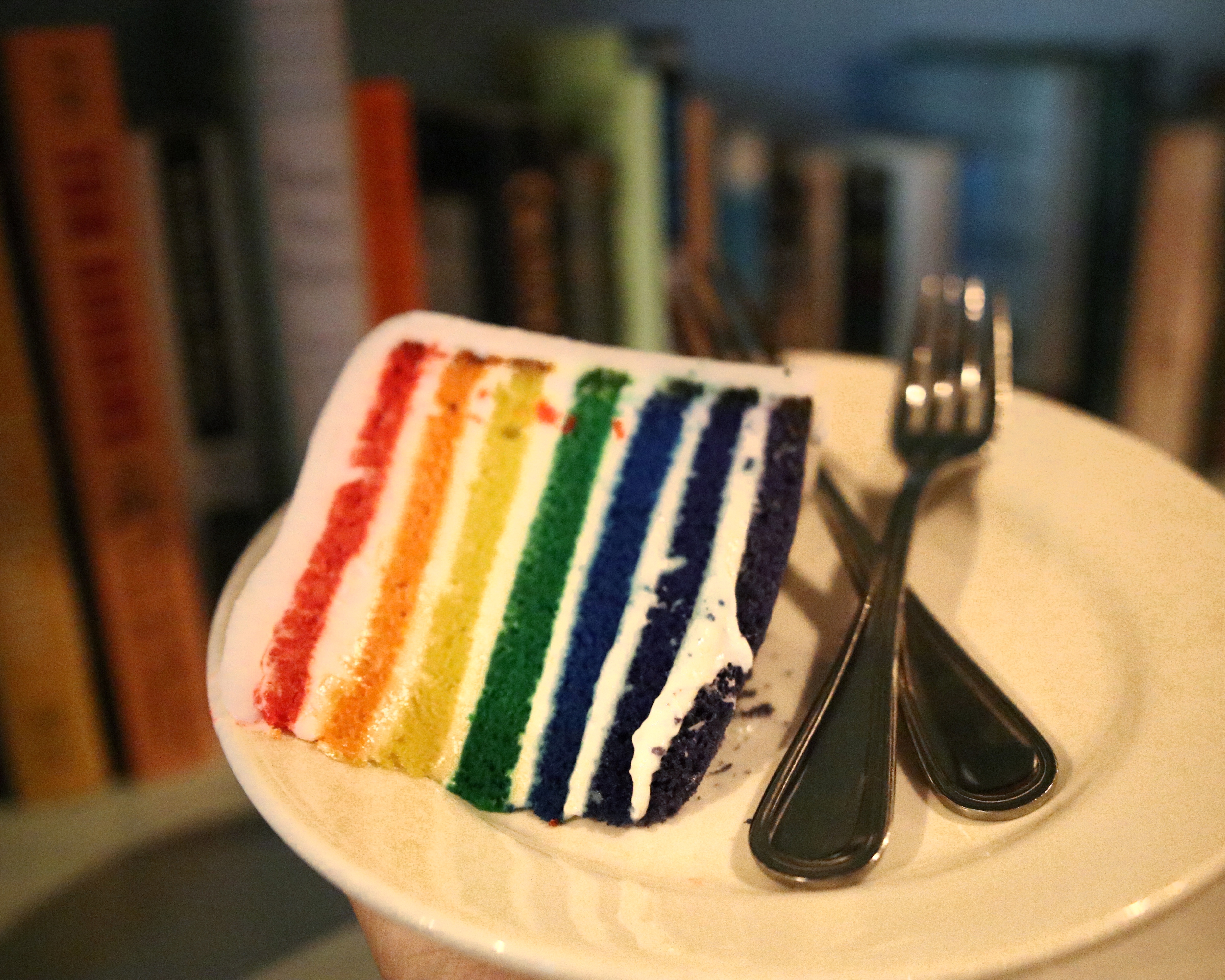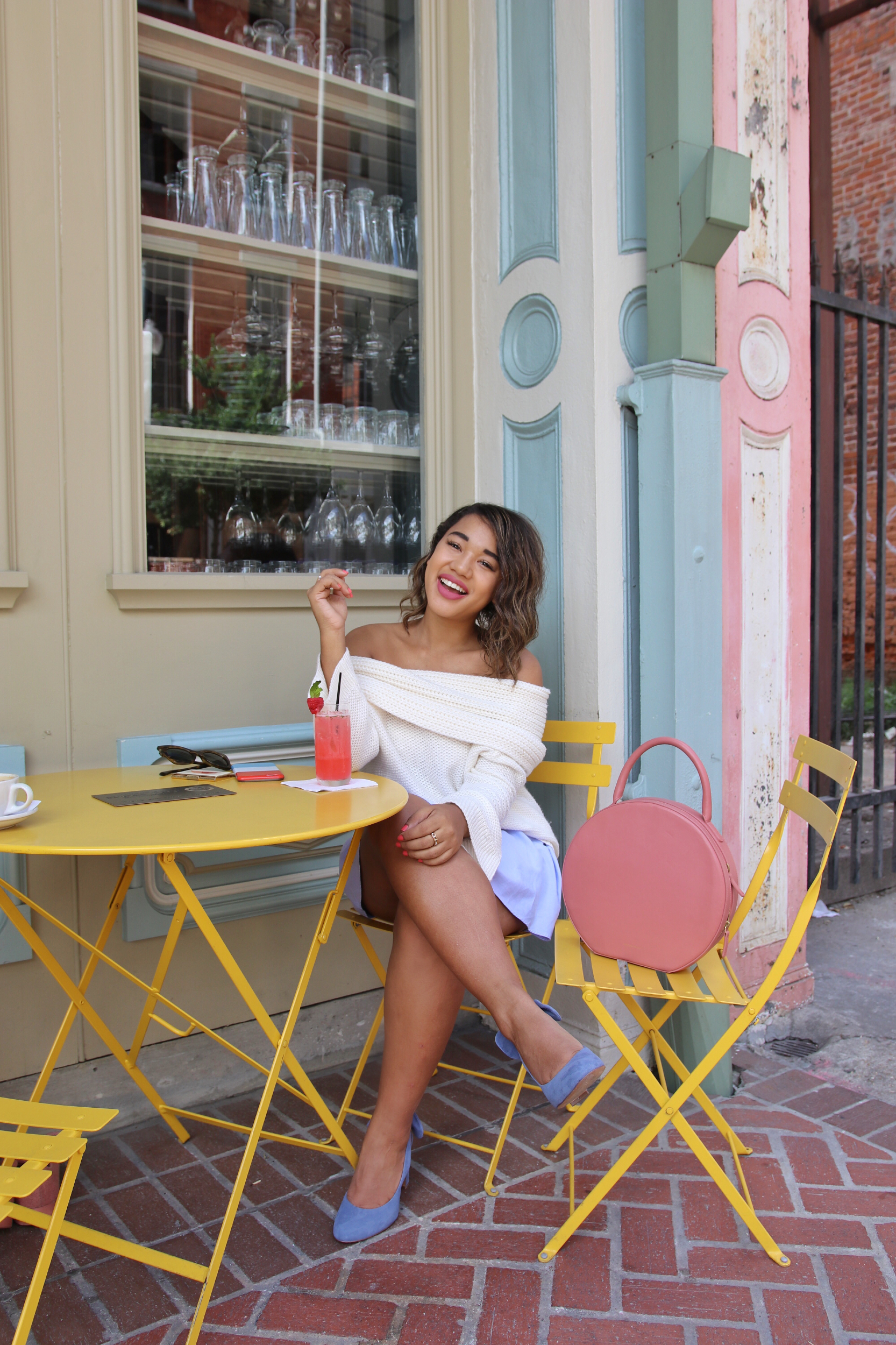 If you still have a sweet tooth, Sucré Chocolate is another must! I had the most amazing macaroon sundae that was so sweet it made my eyes cross, I would recommend going on a different day than Cafe Du Monde.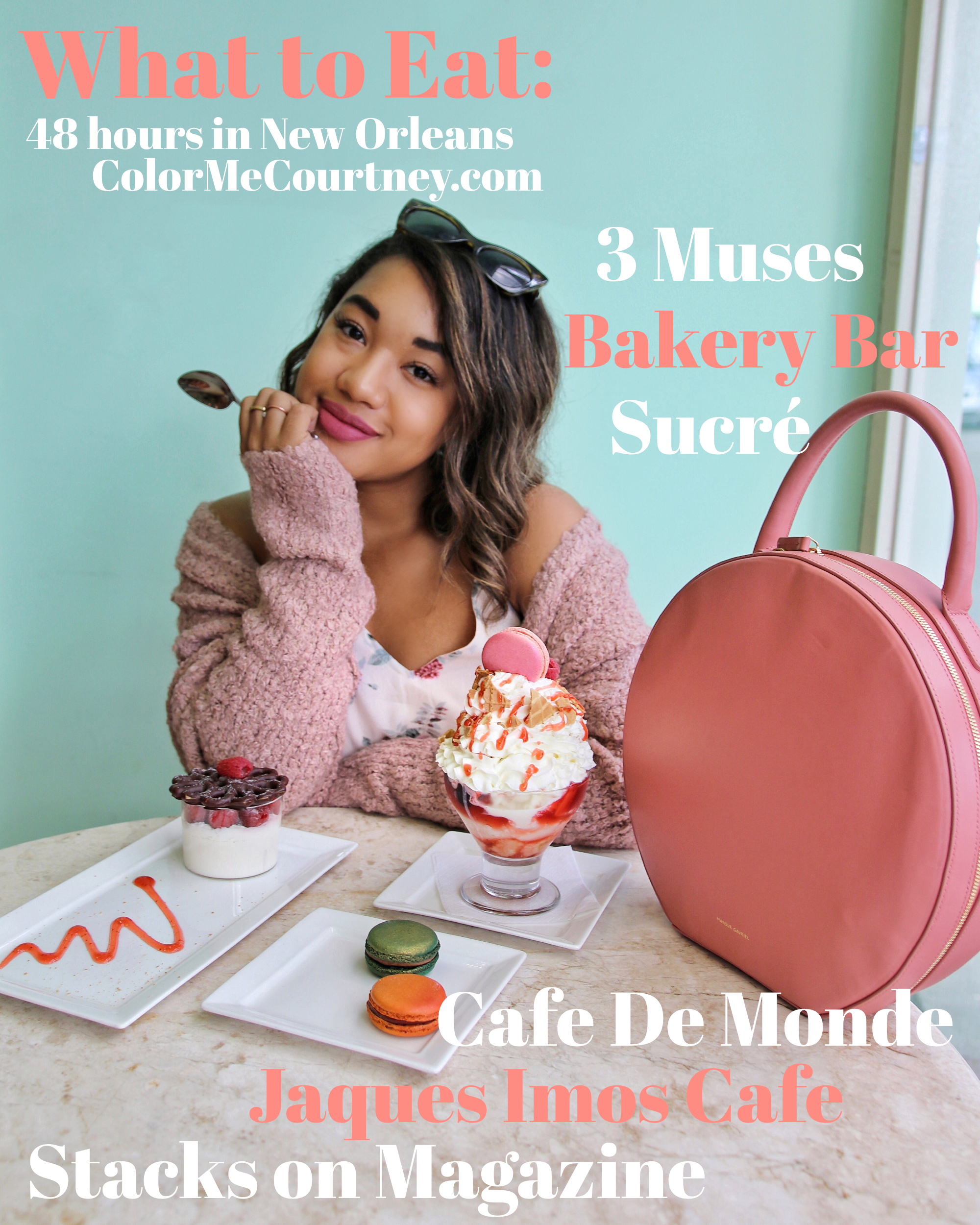 Other notable eats include The Bakery Bar (amazing desserts), Jaques Imos Cafe (a local favorite for dinner), Stacks on Magazine (coffee & cocktails), and Three Muses for dinner.
What to Wear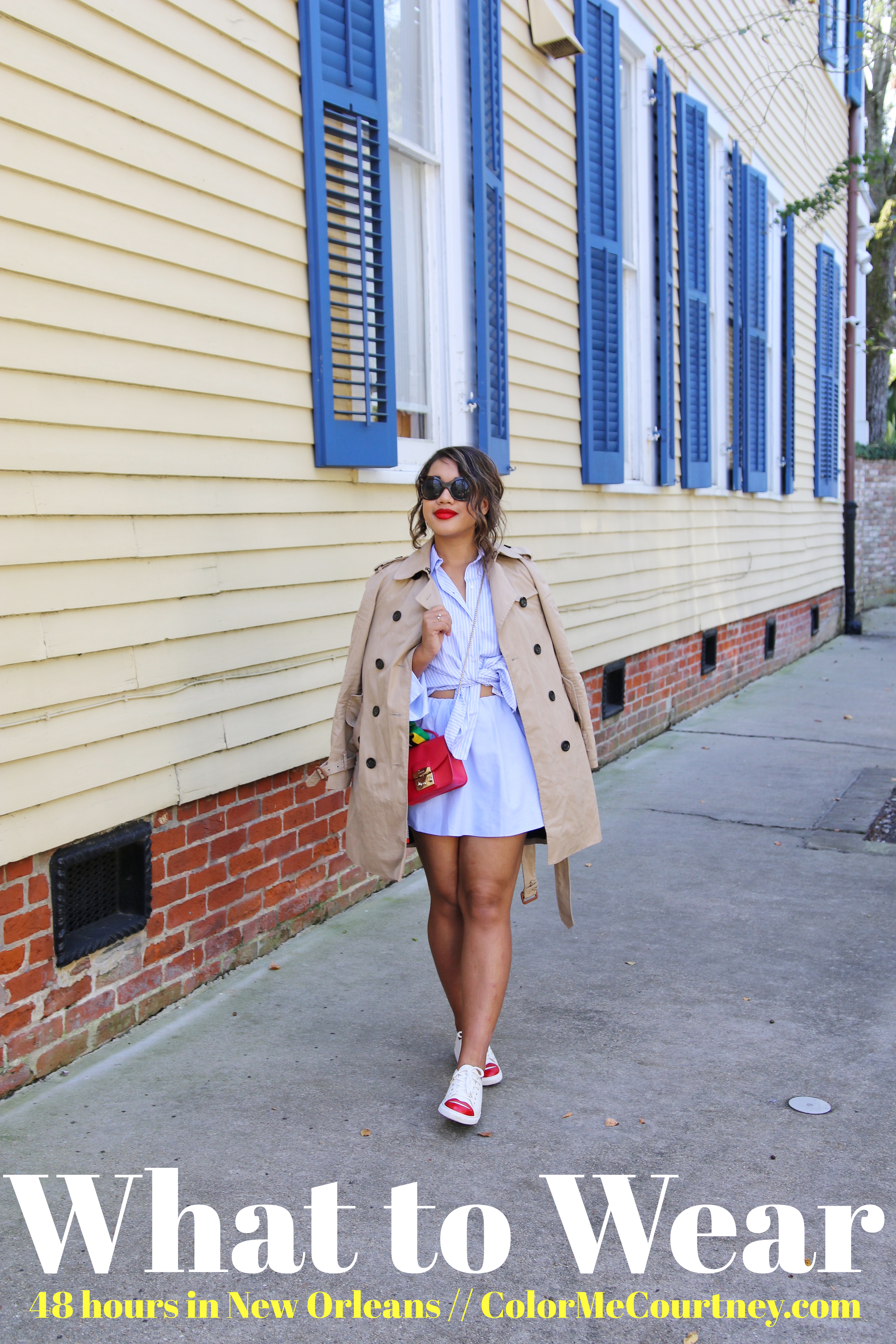 For me, I wore in NOLA what I would wear in NYC but cranked up the heat a little bit in the wardrobe department (literally). Luckily while we were there, the weather was fantastic, like that spring New York weather that I just love – if you're thinking of coming to New Orleans, don't wait, book for November and the weather will be perfect.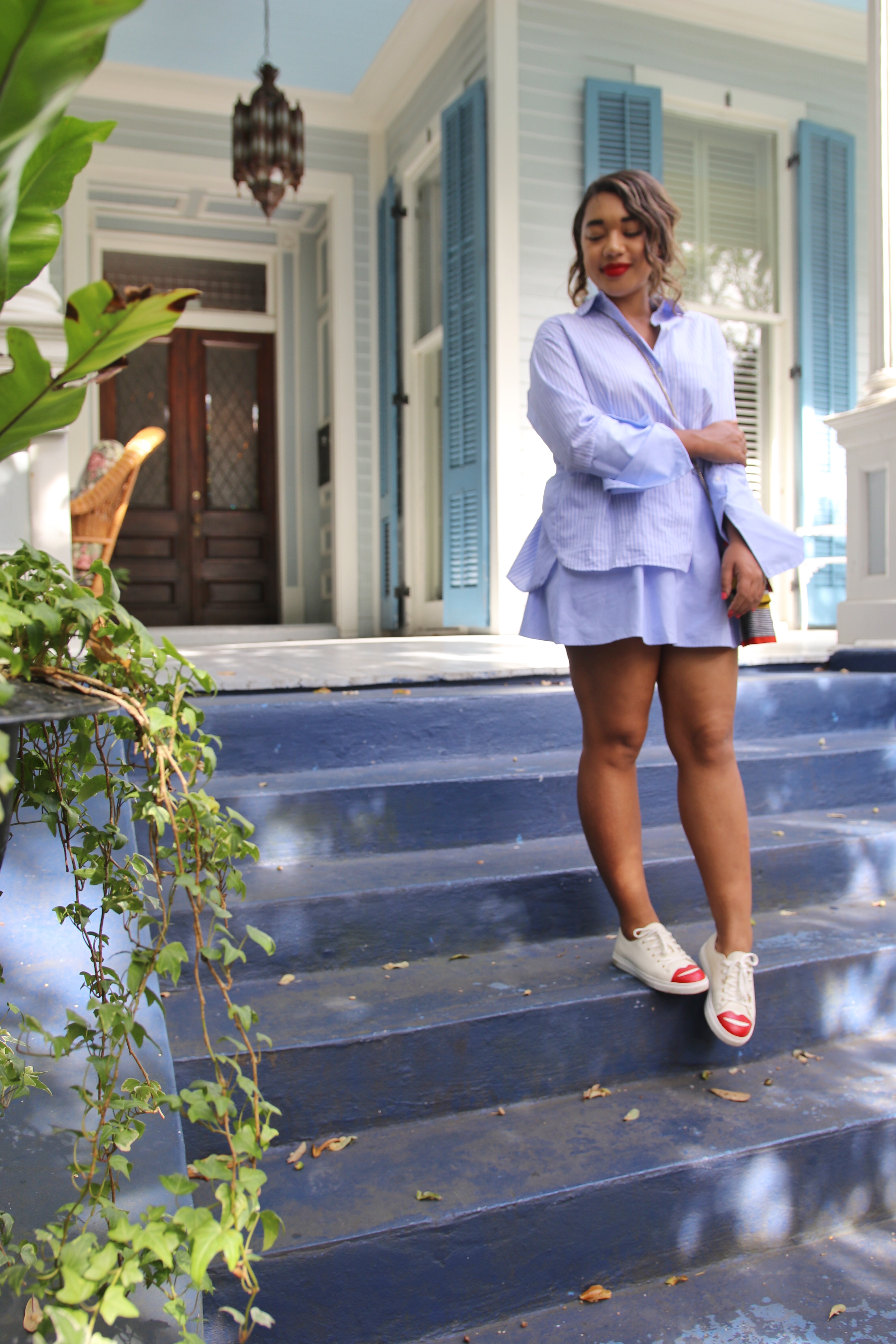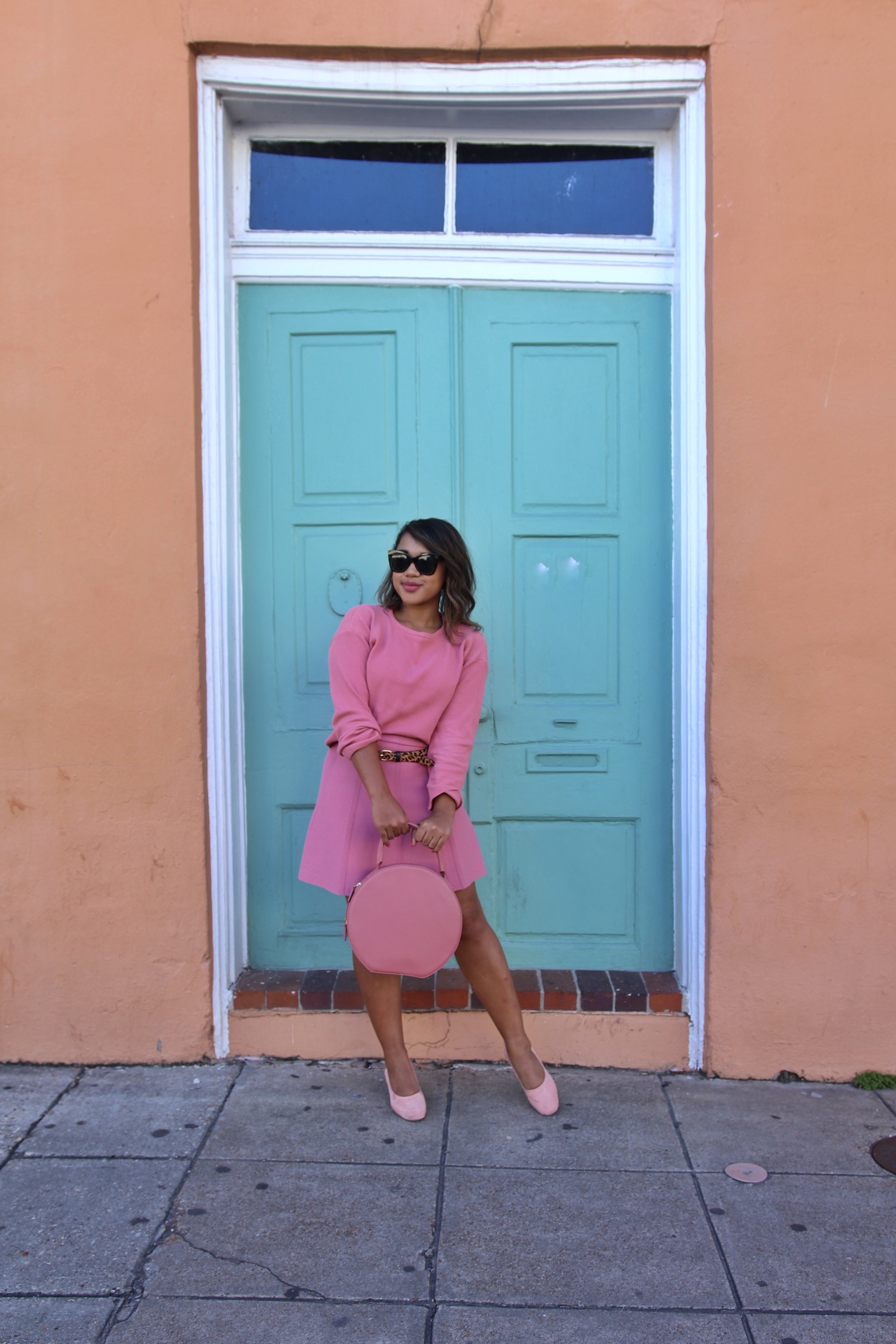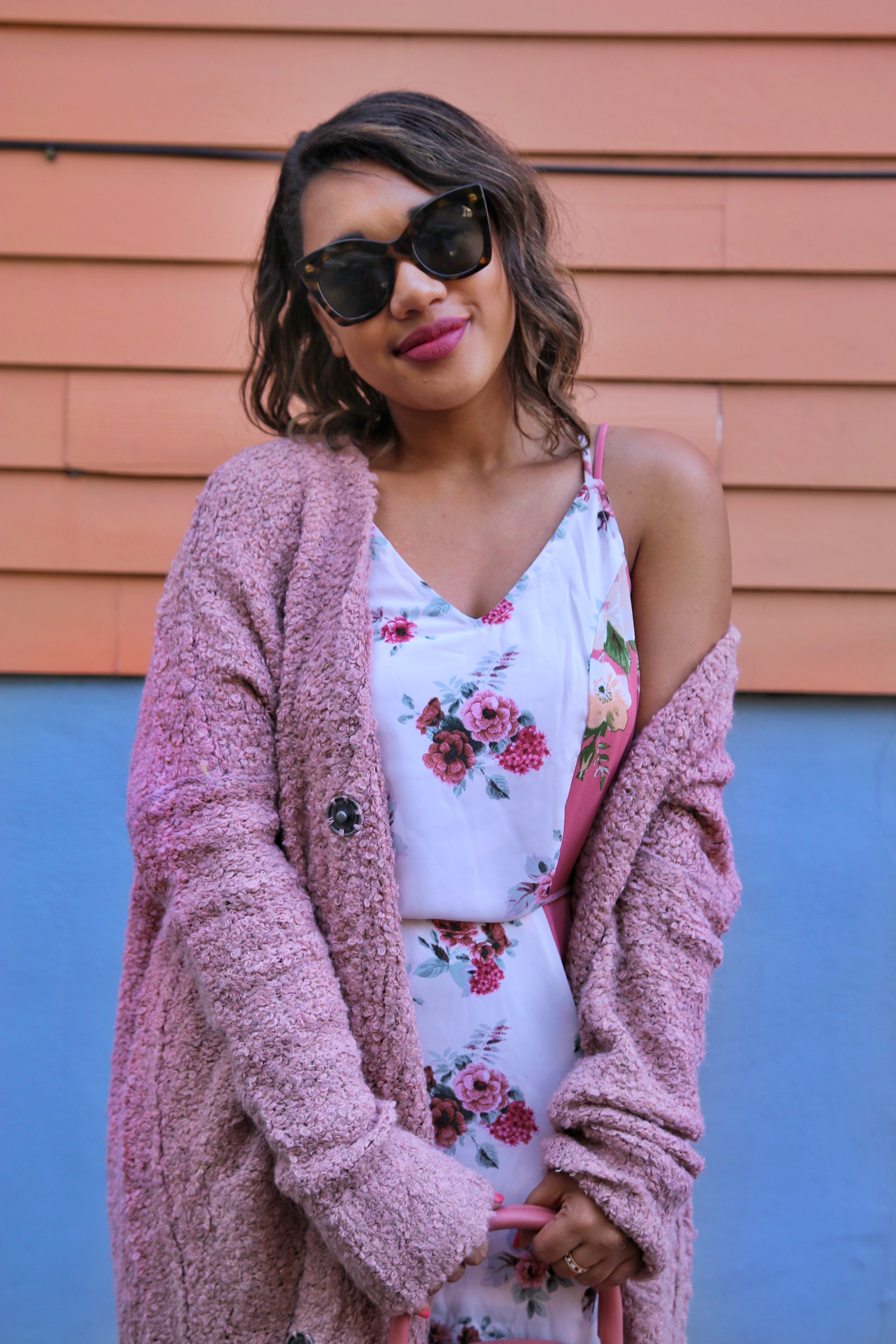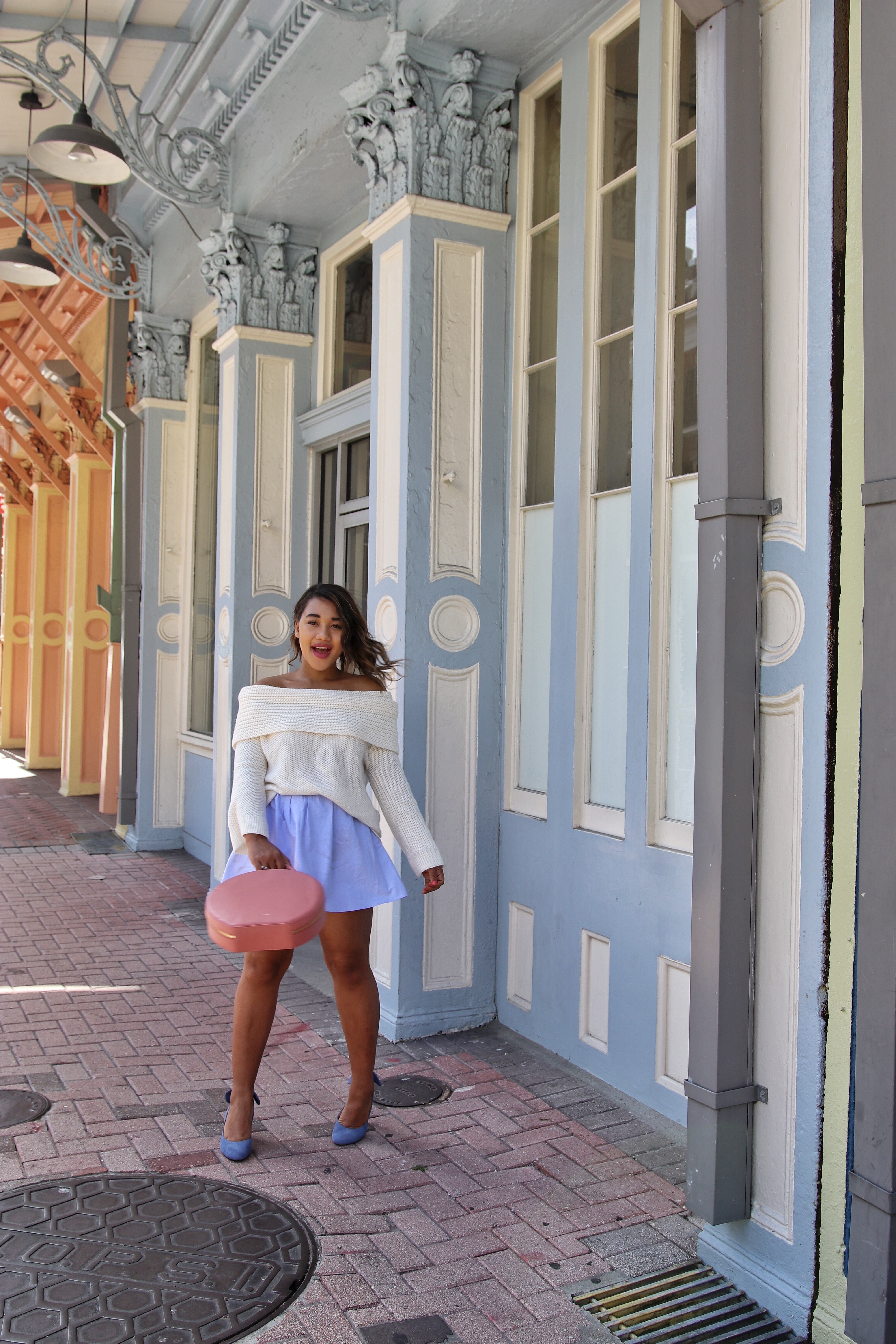 Shop my Suitcase:


Light skirts and sweaters were in full rotation, but really I could have gotten away with t-shirts and shorts or a light dress. Expect to do a lot of walking (and a lot of eating) so I suggest loose layers, and walking shoes. I'm odd, and don't like wearing flat flats all day, so I did do a comfy low block heel for the first half of the first day, and again one night for dinner. The next morning I got away with heels for a few hours where not much walking was involved, but brought a change of shoes incase we ended up walking more than expected. My lipstick sneakers were a great way to look cute while exploring the garden district and the french quarter.

Travel Worthy Sneaks:


The NOLA weather was a smidge microclimate-y, similar to San Fran, where one neighborhood was warmer or cooler than the next. I attribute this to the proximity to the water and ever changing sea level depending on your destination. Just like in SF, having layers like a light cardigan or denim jacket can help keep you comfortable despite where you end up throughout the day.
Shop Light Layers for the Big Easy

What to Do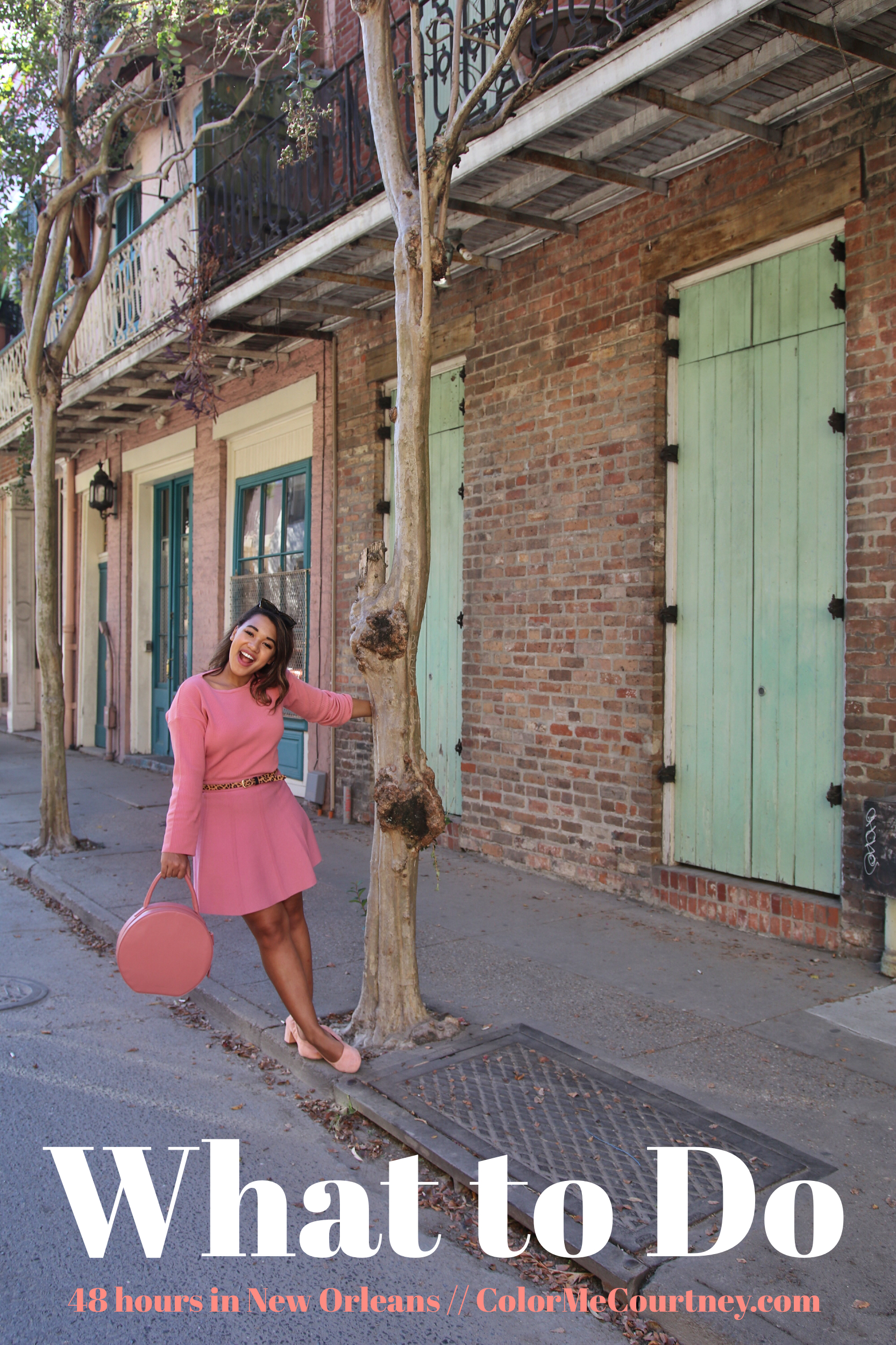 I'll be honest, 90% of our activities centered around eating and I'm not mad about that, it's usually the case for most of my trips. But there are a few things to explore that don't involve stuffing your face, I mean, if you're into that kind of thing…. Give these a whirl: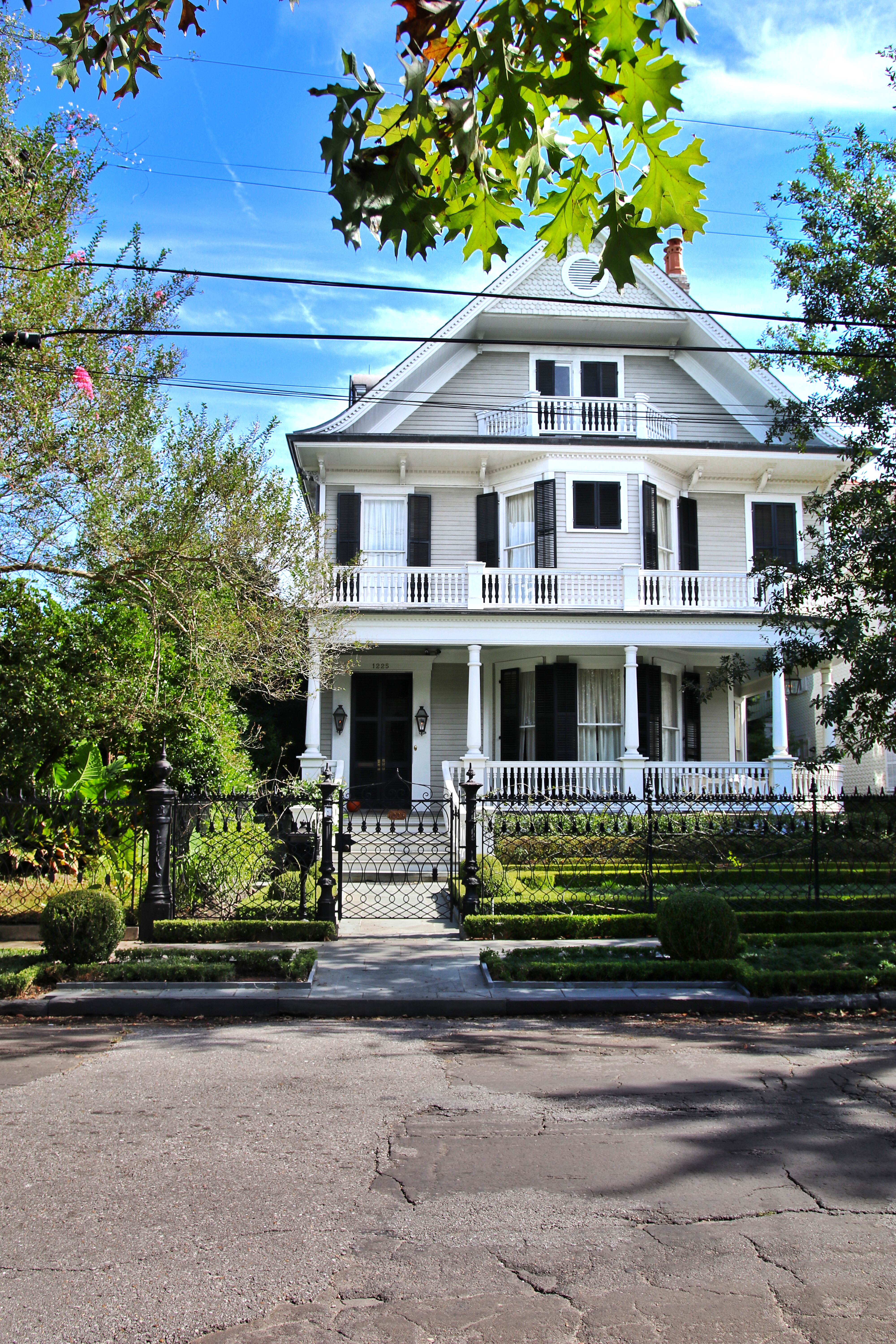 There were 3 festivals going on while we were there, so that gives me the idea that this city knows how to party (if there was ever any doubt)! I recommend googling the days you plan on attending to see if there's anything going on – or just ask an uber driver or your Hotel Indigo staff, they'll tell you everything you need to know! We also spent a lot of time just wandering the Garden District, since it was walking distance from our hotel and so wander-worthy!
Where to Shop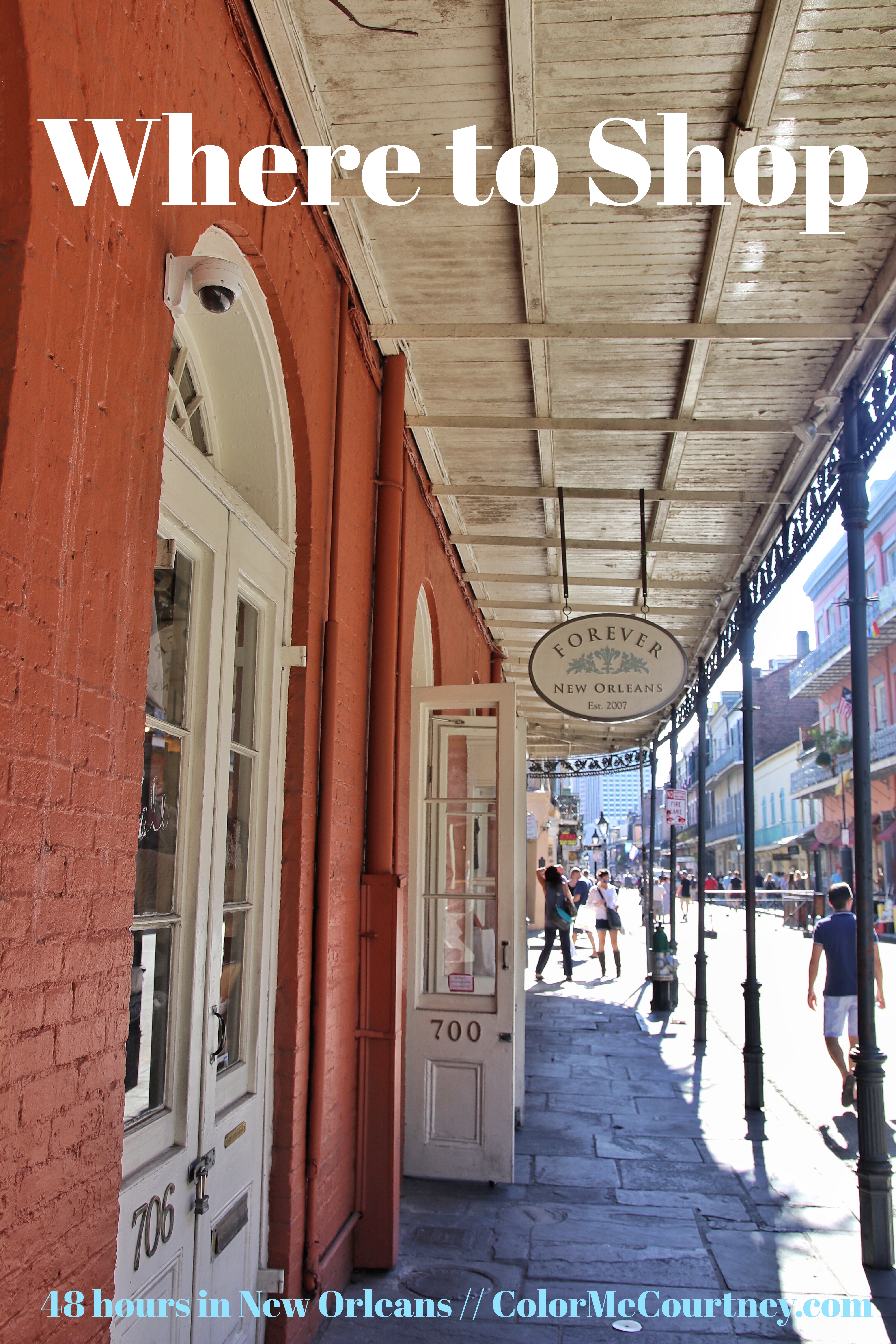 The shops on Magazine between 8th and 12th-ish were the best shopping we found, full of vintage shops and unique boutiques oozing with charm. There are also a lot of these in the Quarter, I would recommend checking out both areas for shopping but I recommend Magazine if you have to choose. If you're looking for art (street or otherwise) the Quarter is calling your name – here you'll find everything from fine art, to urban art and even some street art that I considered taking home. And at night, so many of the small streets turn into mini art walks where artists display their work for purchase, but even if you aren't looking to buy, just walking through after dinner can be fun!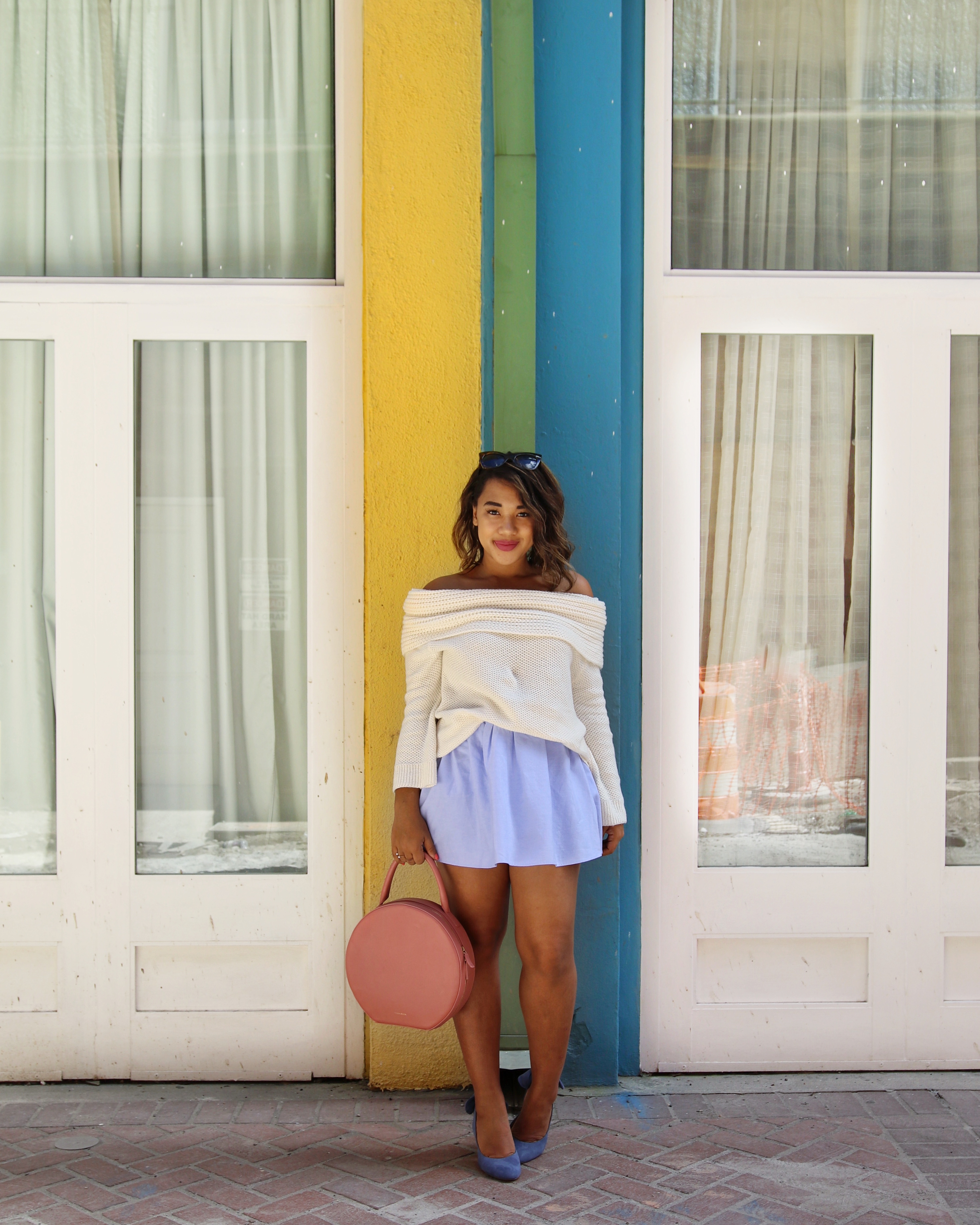 Depending on what you're looking for shopping wise, you'll find a variety of cute boutiques and markets to sift through. The French Market in the quarter is a great place for eats, crafts and fun things during the day (it closes at night). I would compare it to Chelsea Market in NYC, but with a touch of Smorgusbourg – complete with a bit more culture, better food and fresh air (it's outdoors)!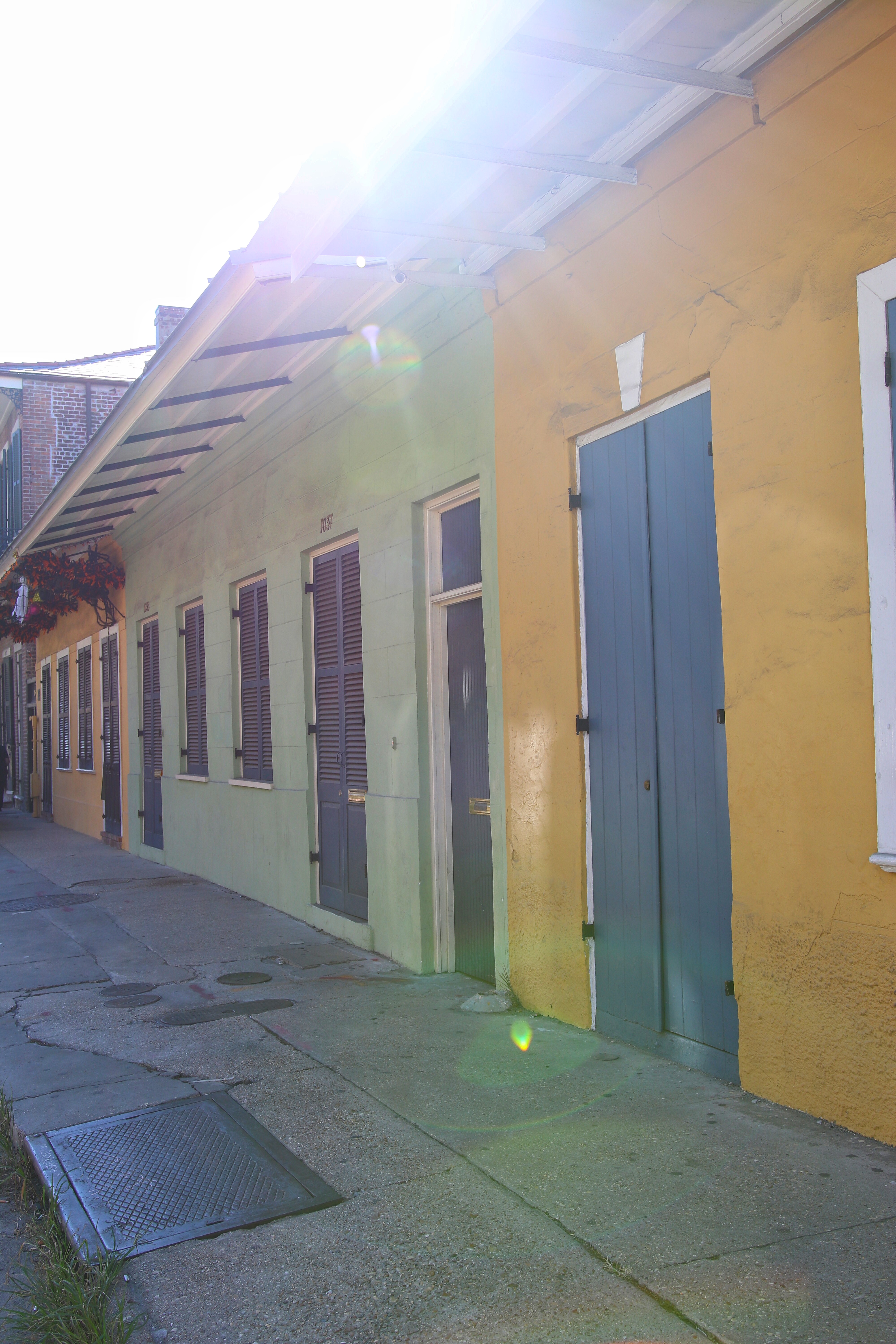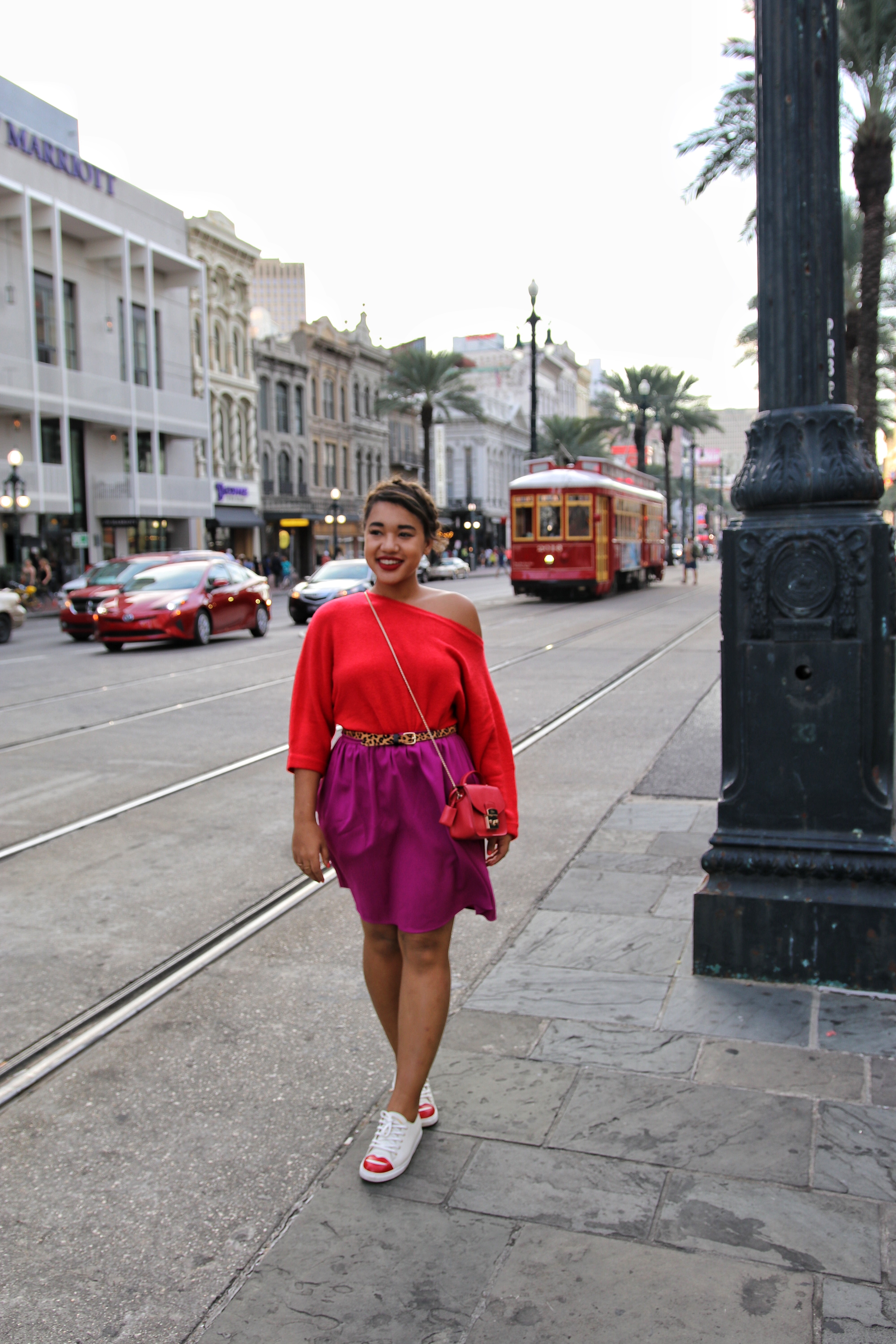 Calling all dog moms! If you feel guilty leaving your fur baby behind first of all, you don't have to because Hotel Indigo is extremely pet friendly … but if you're little guy isn't quite travel ready (like Waffles), you can ease that pain in your stomach by picking them up something pretty. I found a bunch of great pet boutiques when I was in New Orleans but my favorites were Petcetra and Pet Asylum in the Quarter.
Photo Ops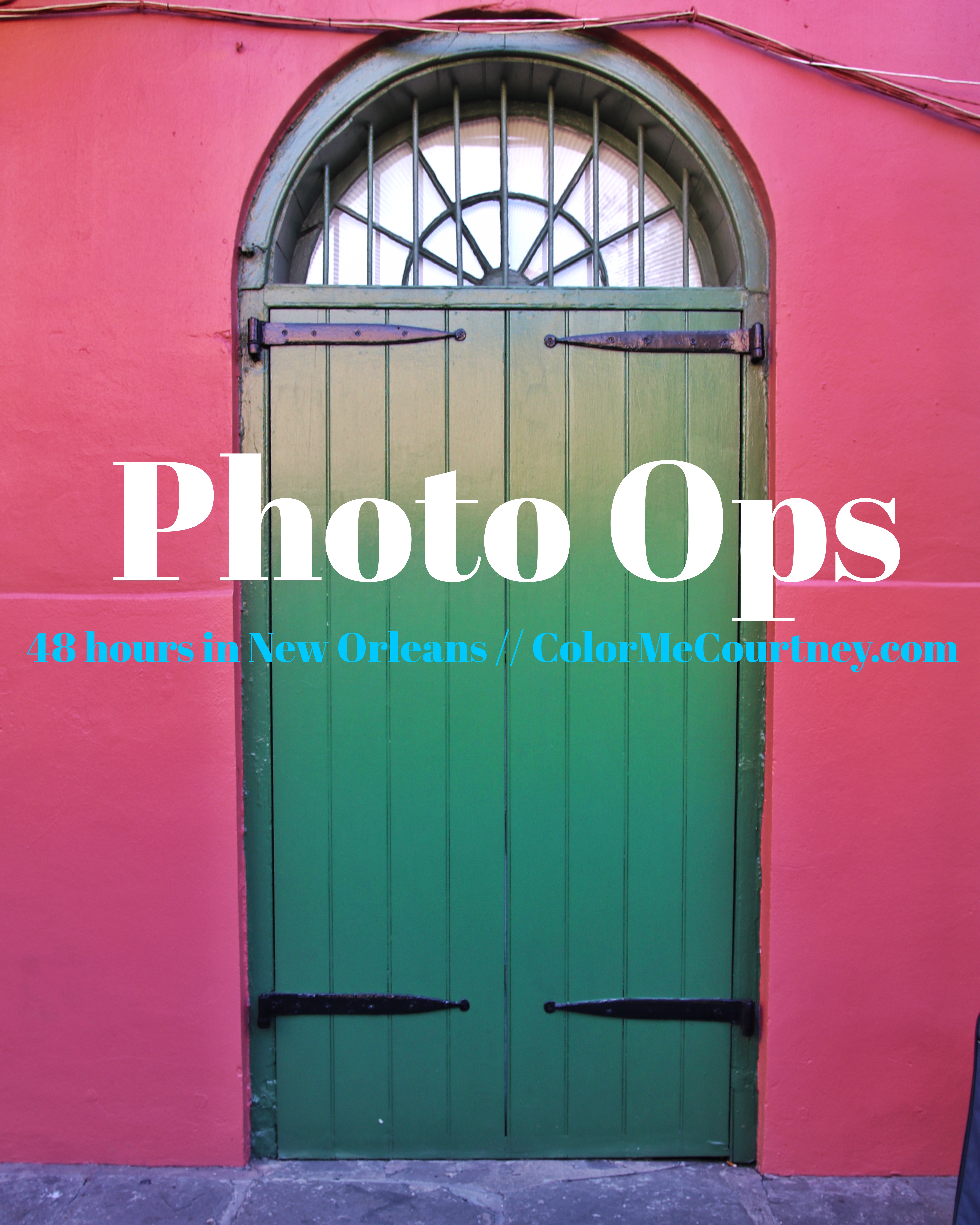 If it's not on instagram, did it even happen? Here are some fun places to take pictures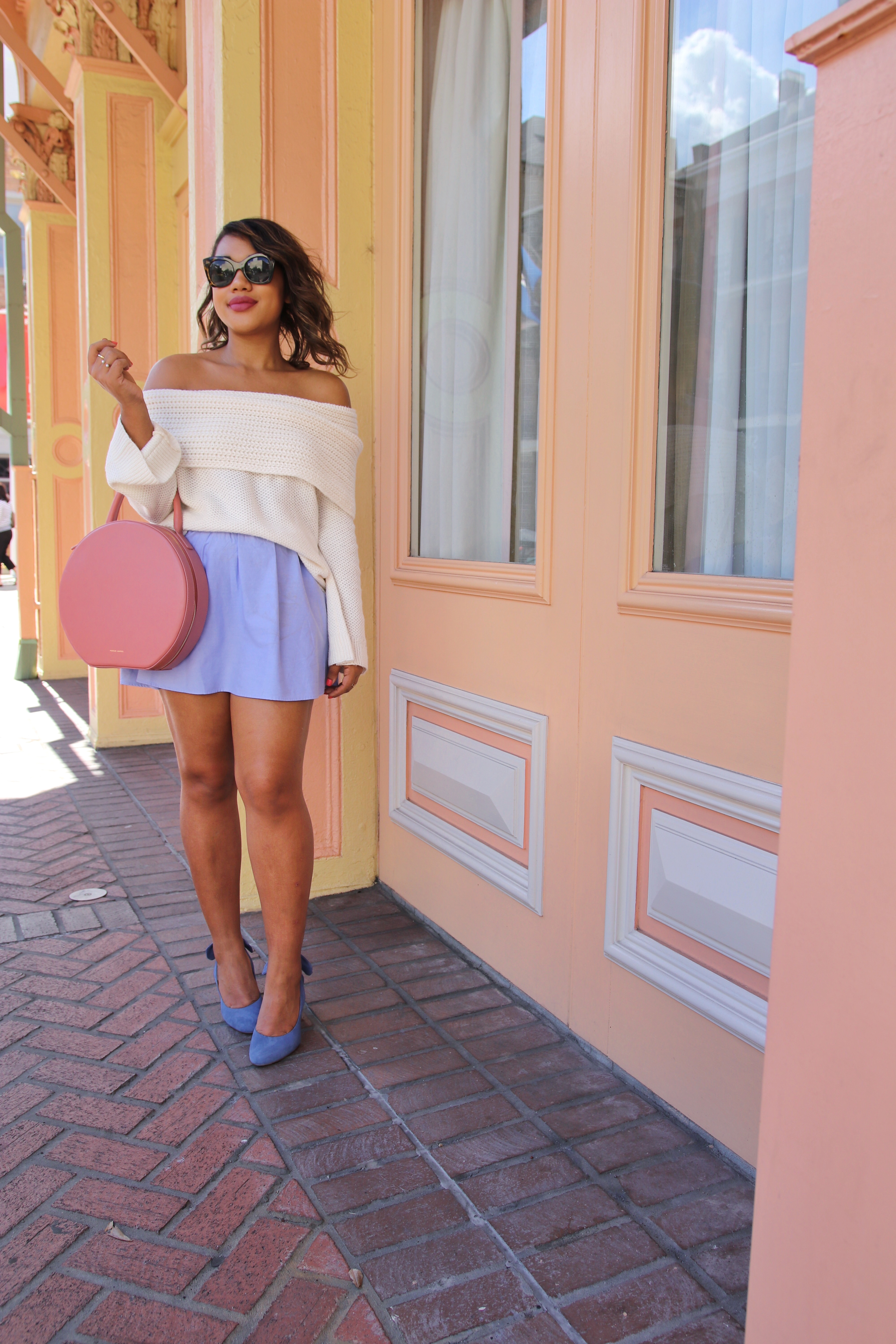 A Streetcar (but don't get hit like I almost did #forthegram)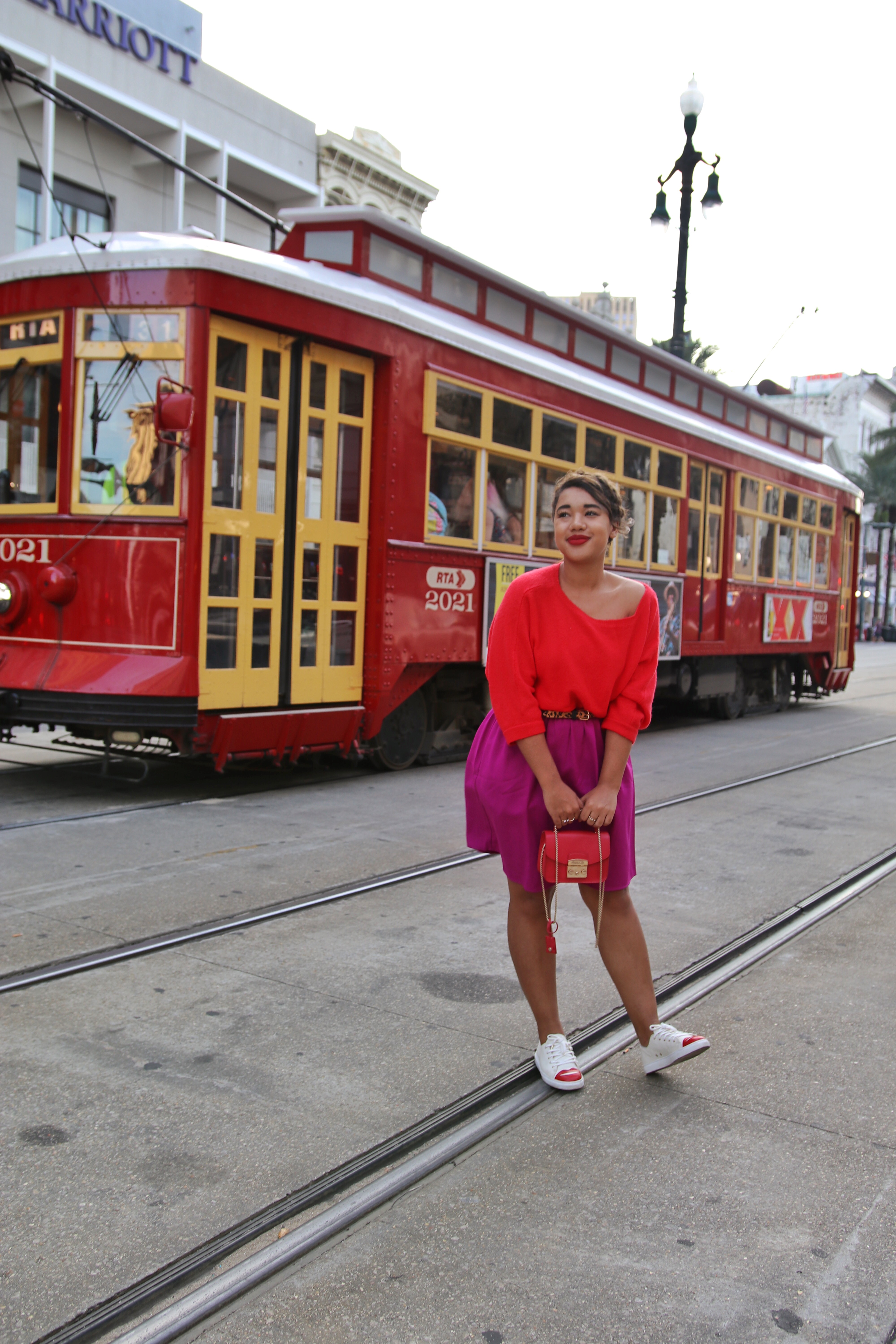 The Palace Cafe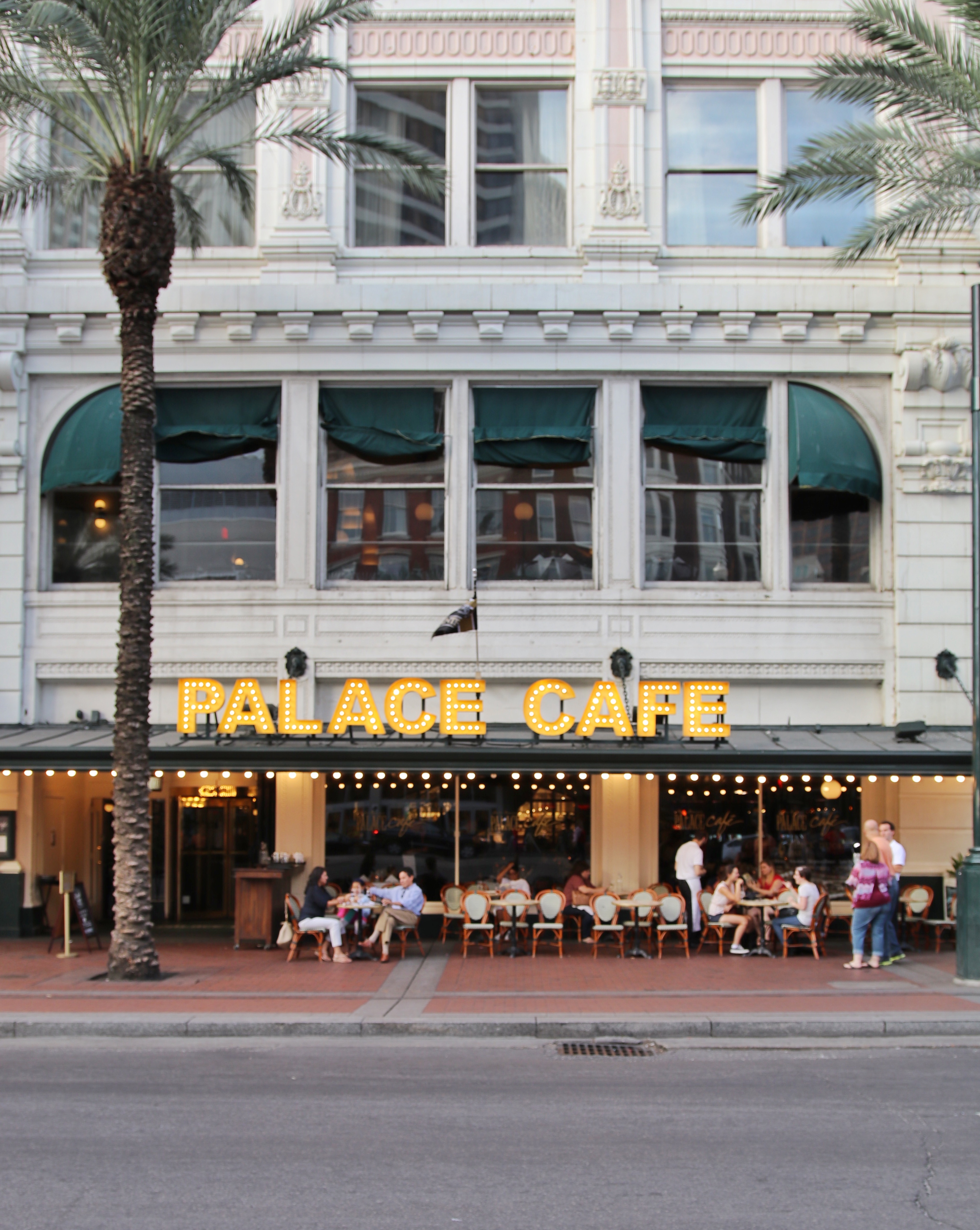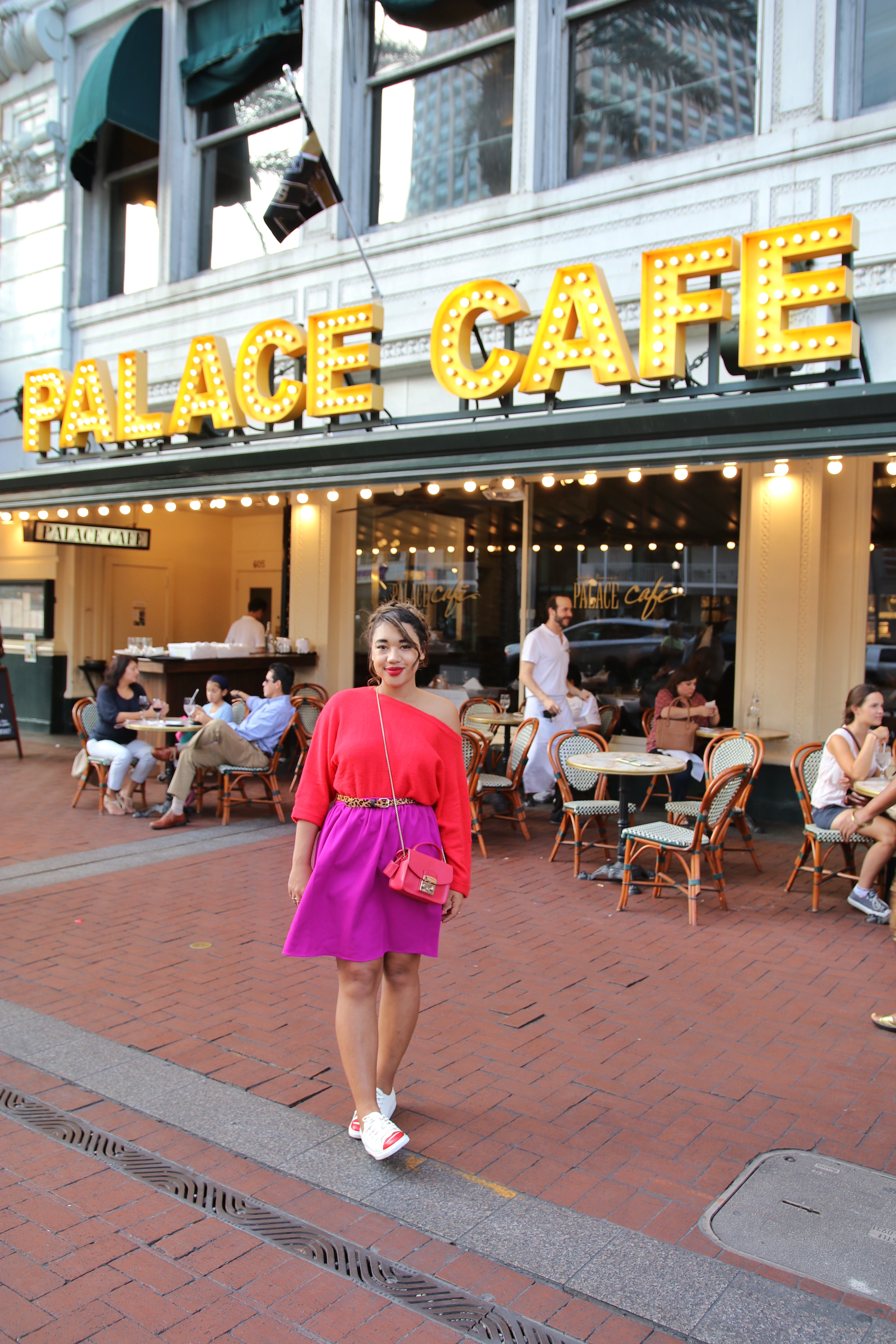 Stacks on Magazine (next to the pastel wall)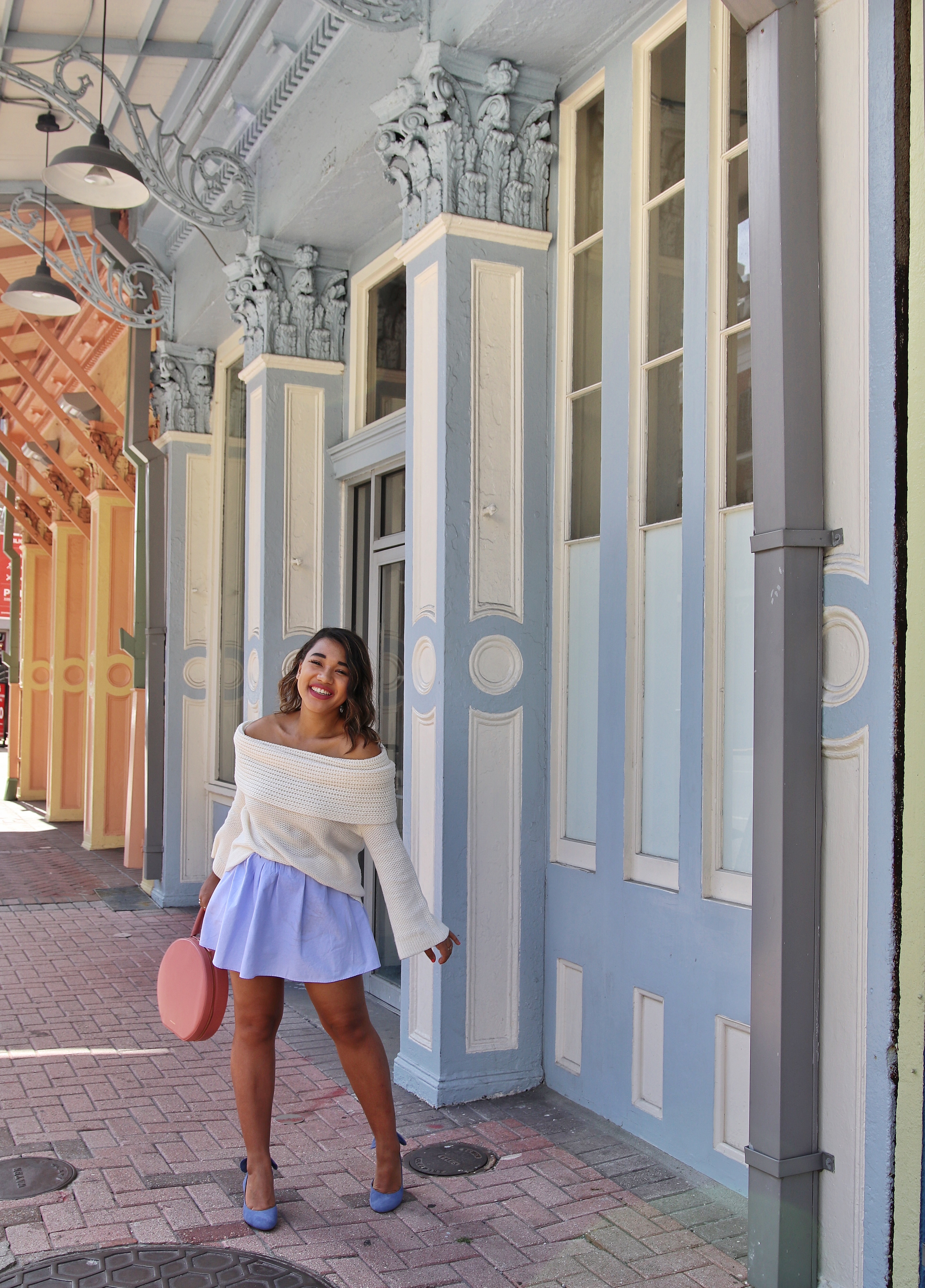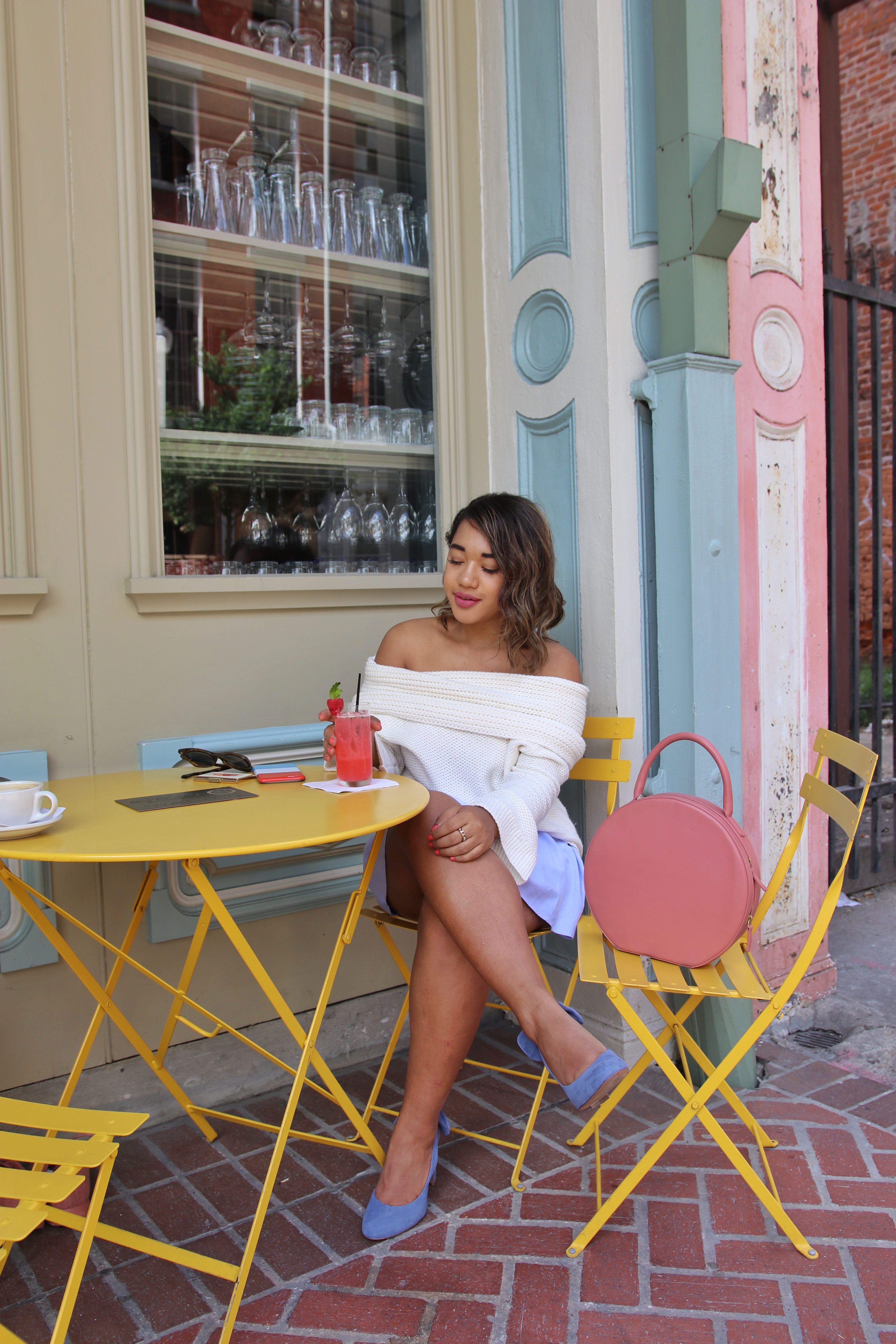 Cafe Du Monde because, say it with me now: beignets!
The Garden District (walking distance from Hotel Indigo)
Pirates Alley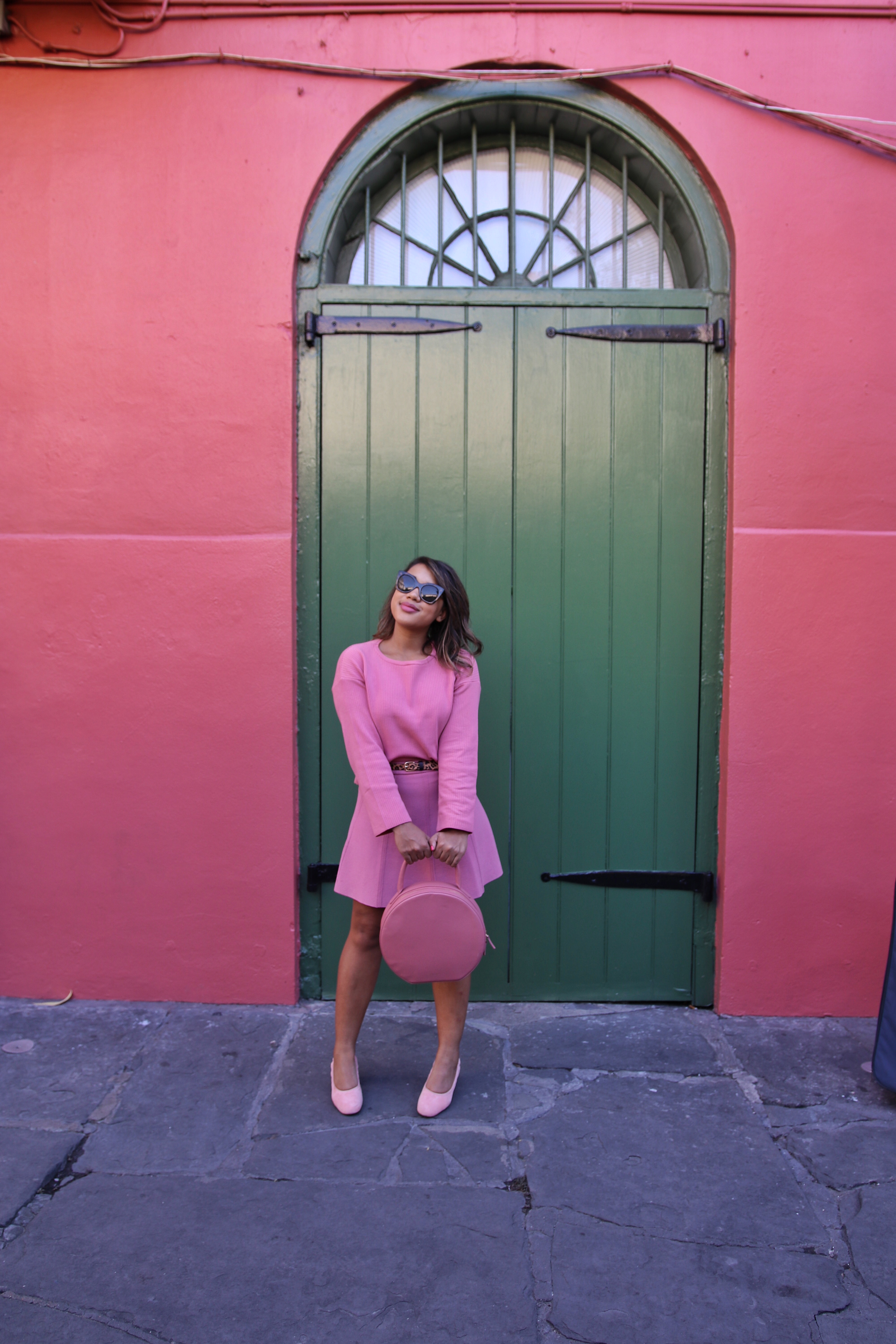 Sucré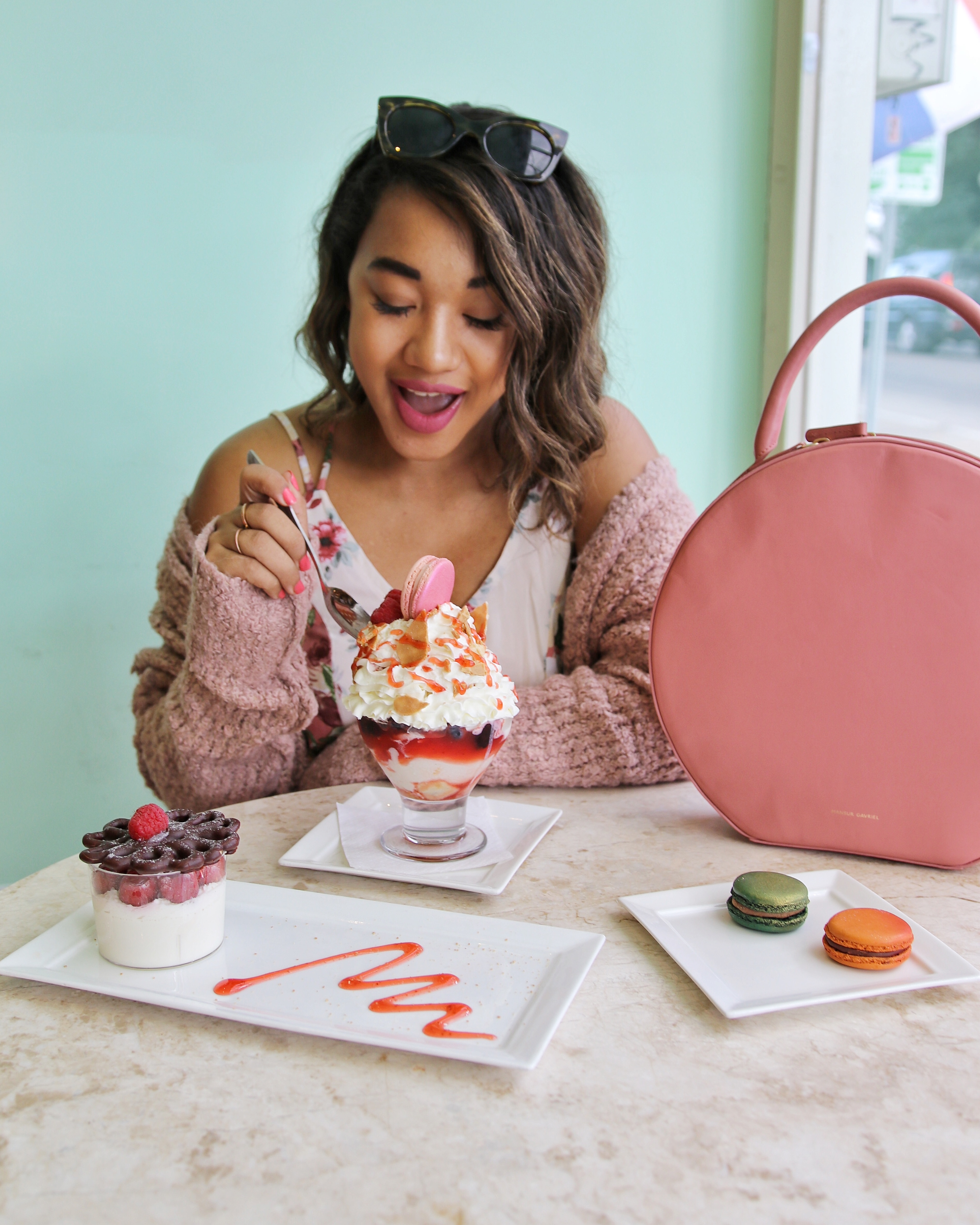 Be on the lookout for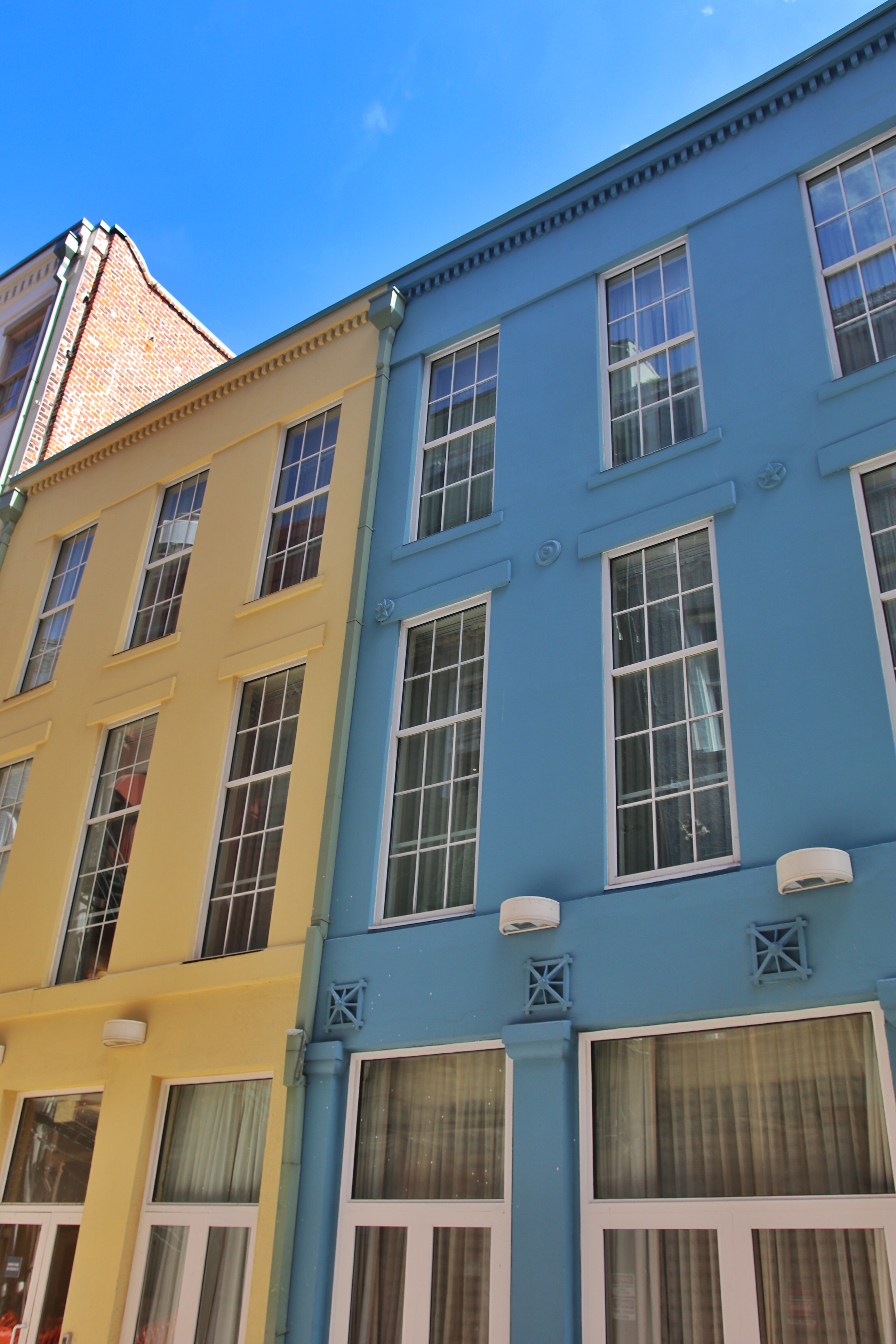 Cemeteries – the place is crawling with them (okay, bad choice of words there).

Painted alleys and cobblestone corners – NOLA has so many charming little streets, great for a photo op or just a little exploring

Historical Plaques – With an Iphone and your eyeballs, you really don't need to book a tour in this city. Just keep an eye out for planted plaques that give you the historical context of where you're exploring and when in doubt, as a local! We got some great stories from our hotel staff and the locals, they were really the best resource we could have asked for.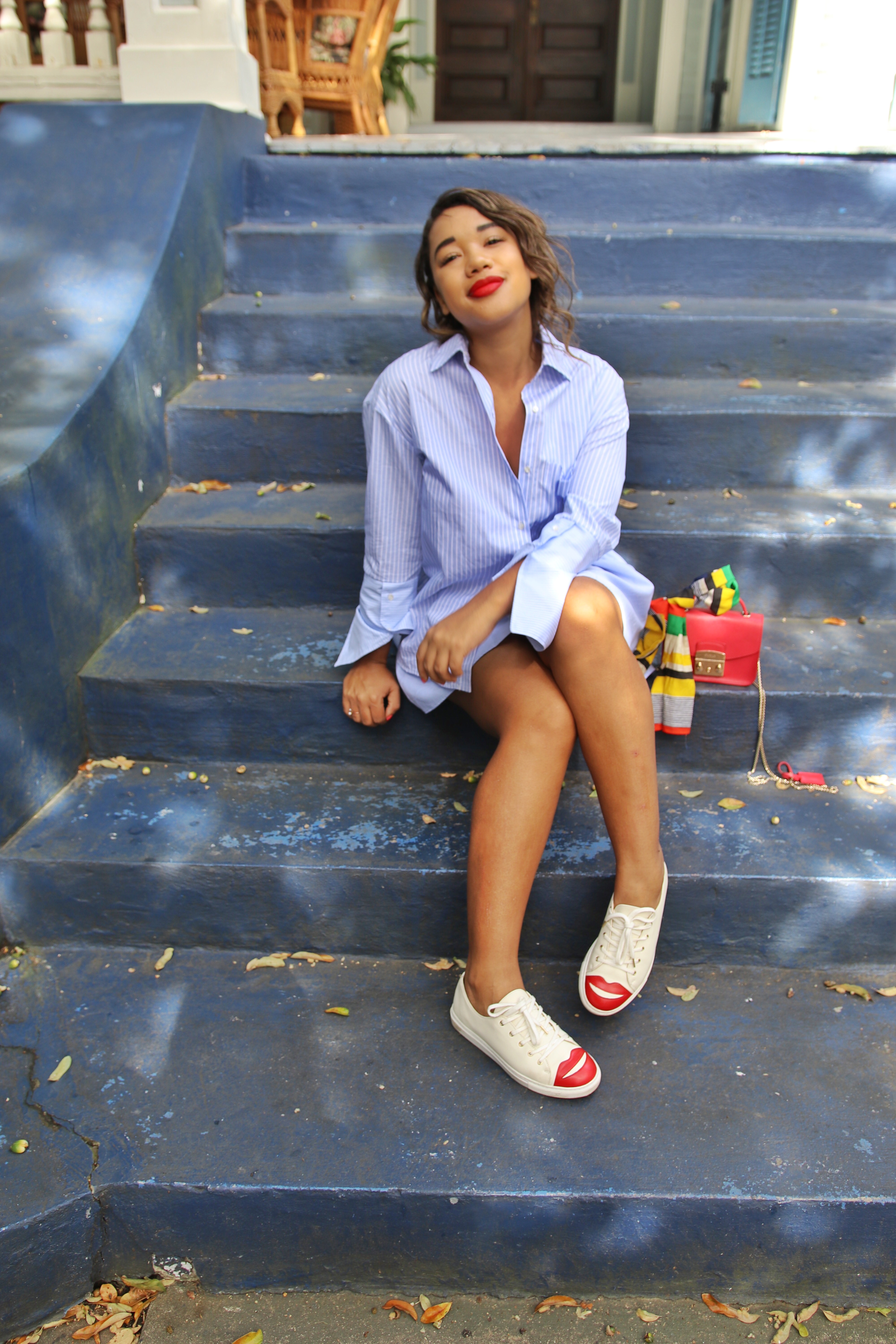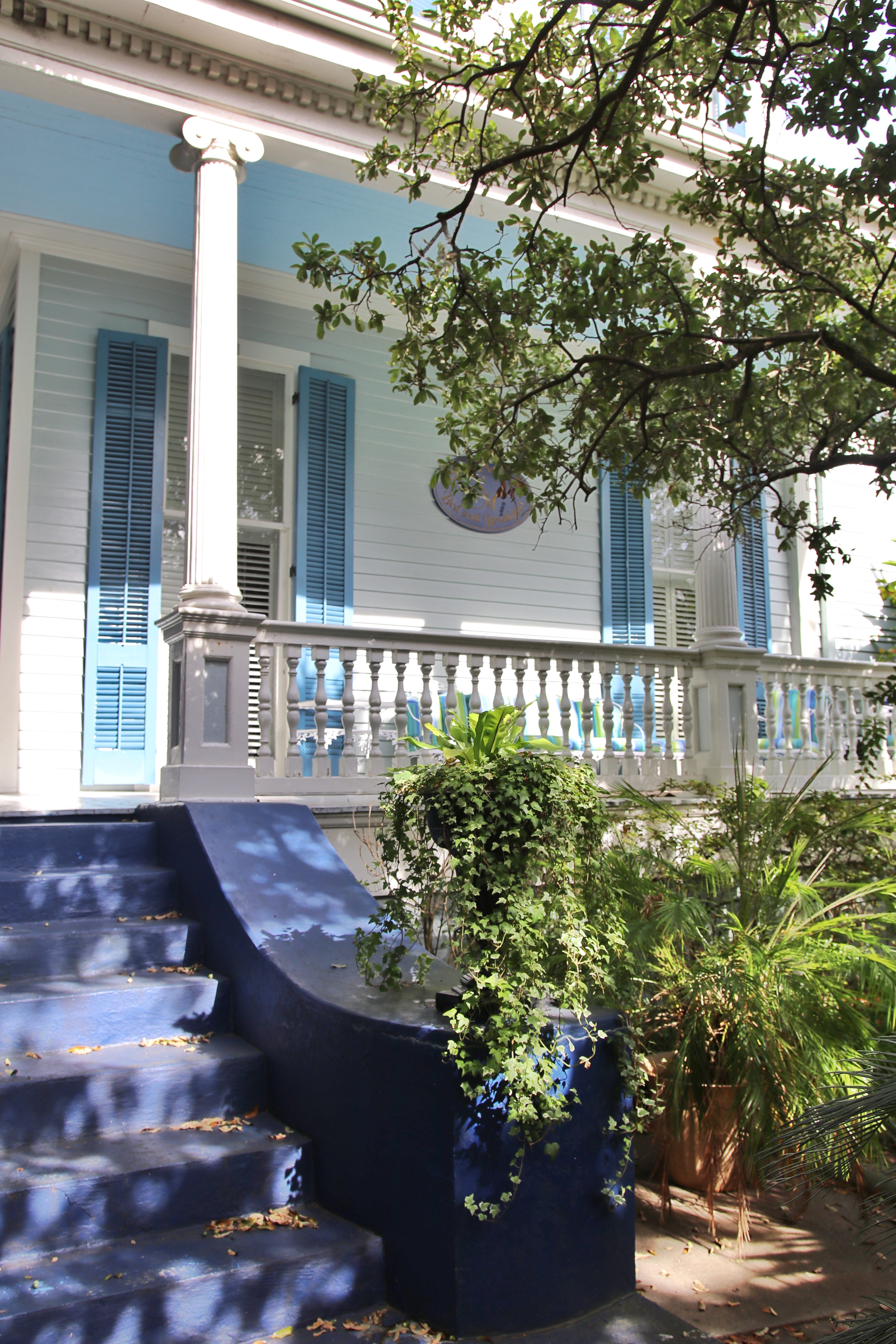 Ghosts! – JK but new Orleans is known for being a little bit haunted so you never know, ooOOohhhh sppOOokkkyy
Coffee Shops – I found some of the cutest coffee shops in NOLA, perfect for a photo op or a good cup of Joe. Some of these gems are a bit hidden and unexpected, so if you're craving some caffeine keep your eyes peeled, there might be one waiting for you around the corner.
Awesome Uber Drivers – No lie, I learned so much from my drivers, and asked them a ton of questions along the way!
Mardi Gras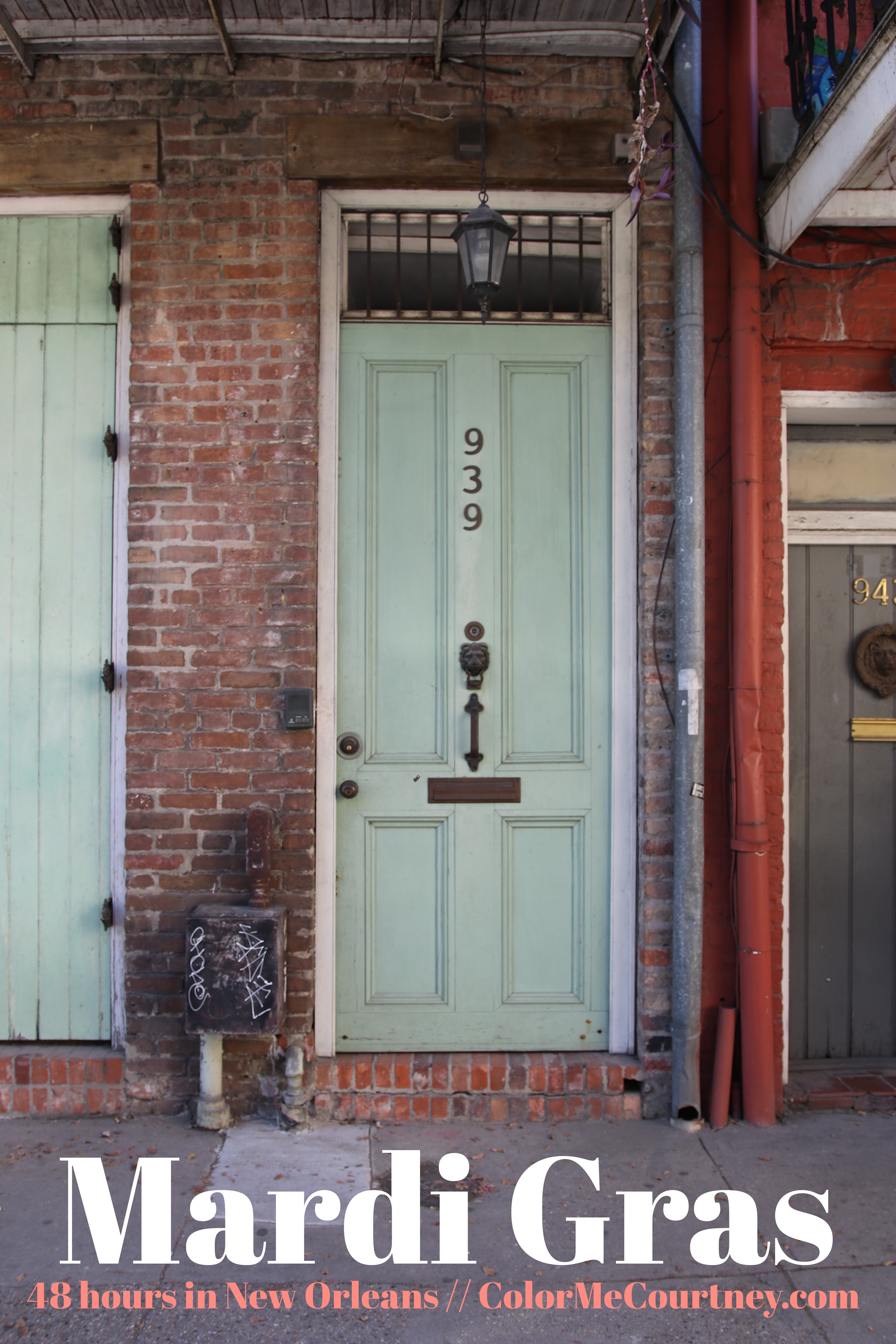 We obviously didn't stay during the magic that is Mardi Gras, however, if you're looking to visit this cultural fest during the most coveted time of the year, Hotel Indigo is the place to stay. Just outside the doors, you'll find yourself on Charles Ave, the main drag of the Garden District – and one of the best spots for an epic mardi gras adventure. Most days, you'll be able to look out and see the historic New Orleans streetcars passing carrying locals and tourists alike, but during Mardi Gras you'll be in a prime location for the all the fun.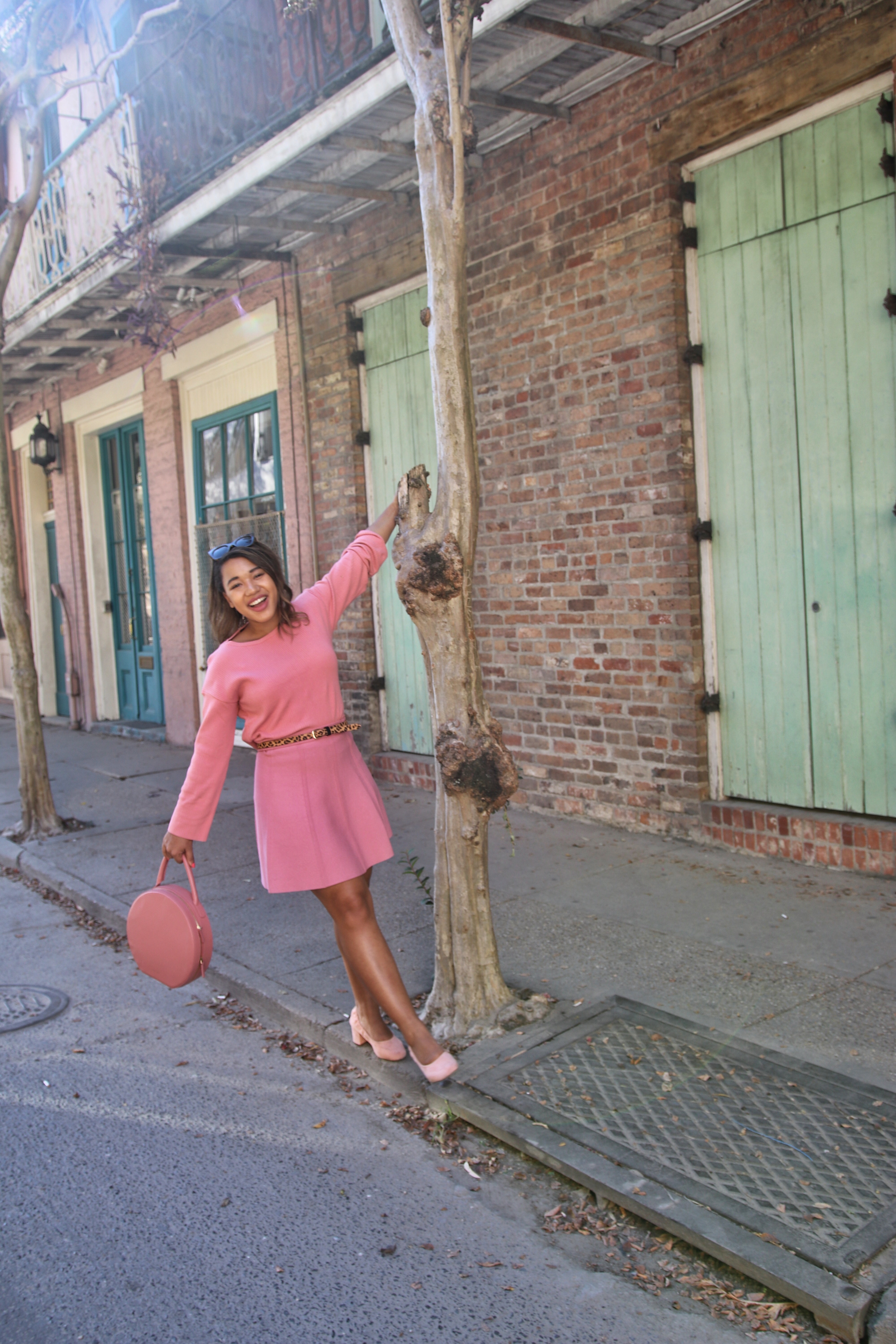 A little R&R
While going out on the town is always fun and dandy, if you're a homebody, you can also find bliss within the doors of Hotel Indigo. We were lucky enough to stay in the Mayflower Suite.
Complete with a (drum roll please) claw foot tub! All of my bathtub dreams came true, and I took not one, but two epic bubble baths during our two night stay. Other notable features of the room included a separate powder room, dueling showers heads, the fluffiest magical marshmallow cloud bed, candle lit fireplace, a full living room (twice the size of my apartment) and a pet – Rex the blue beta fish.
That's All Folks!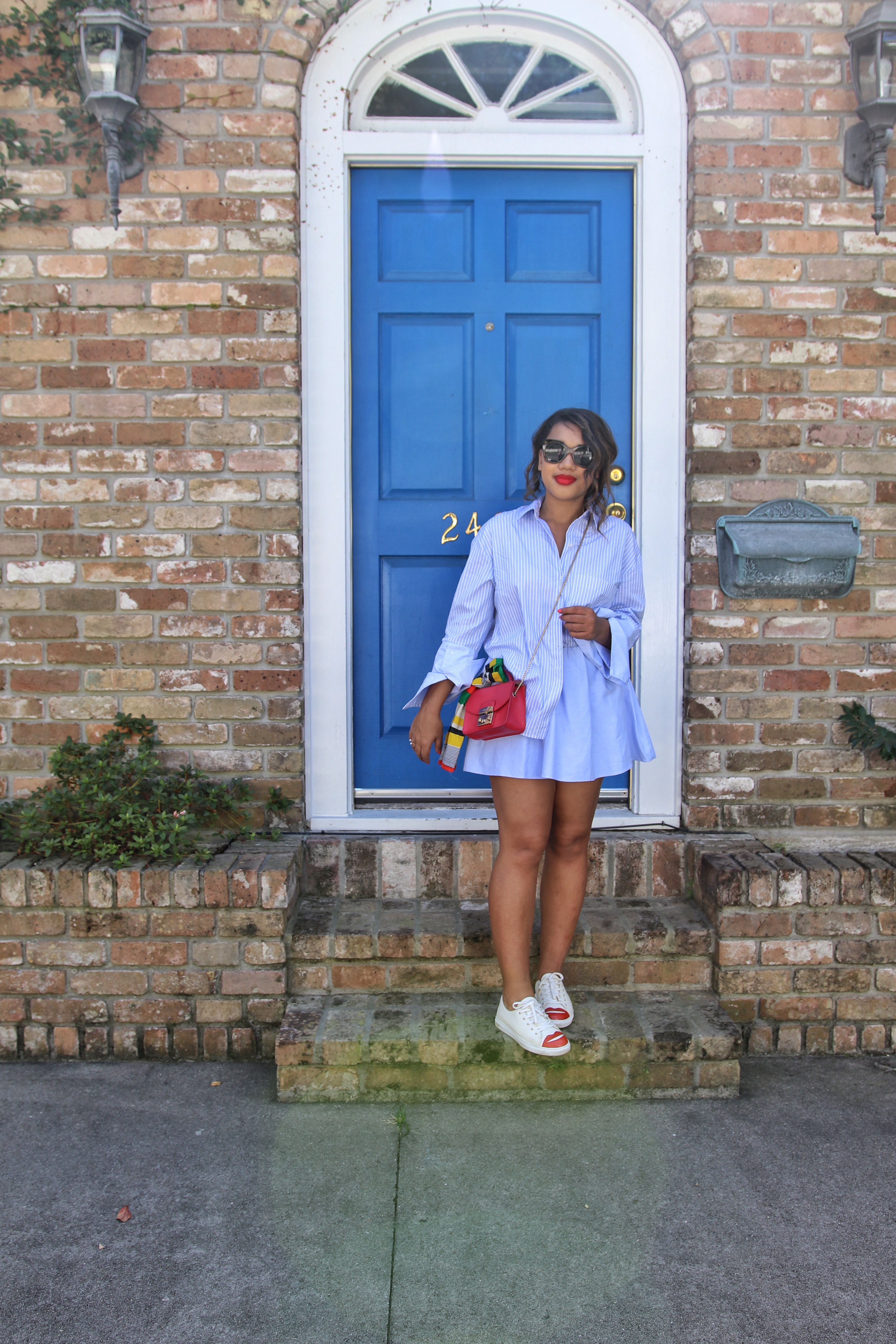 So now that I've shared all of me NOLA secrets, I invite you to experience it first hand with this video!
Thanks so much for coming with me to NOLA! I hope it inspires you to book a trip soon and find refuge at Hotel Indigo, color in the French Quarter and whimsy in the charming city of New Orleans!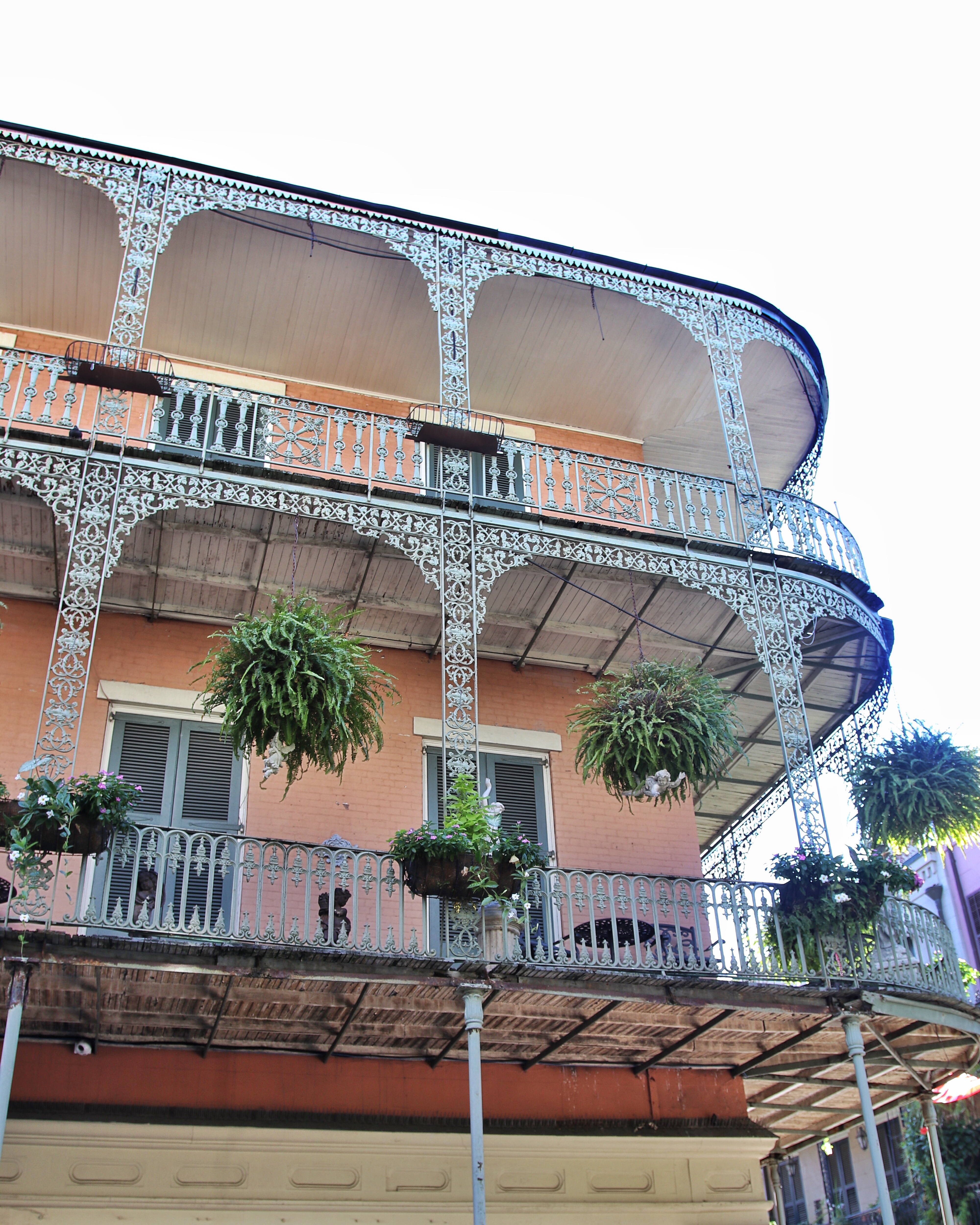 This post was done in partnership with Hotel Indigo, but as always, all opinions are my own 🙂
SHARE OR SAVE FOR LATER