Oct
14
2015
Oct 14 2015
Color Me Bedroom – New York Apartment Tour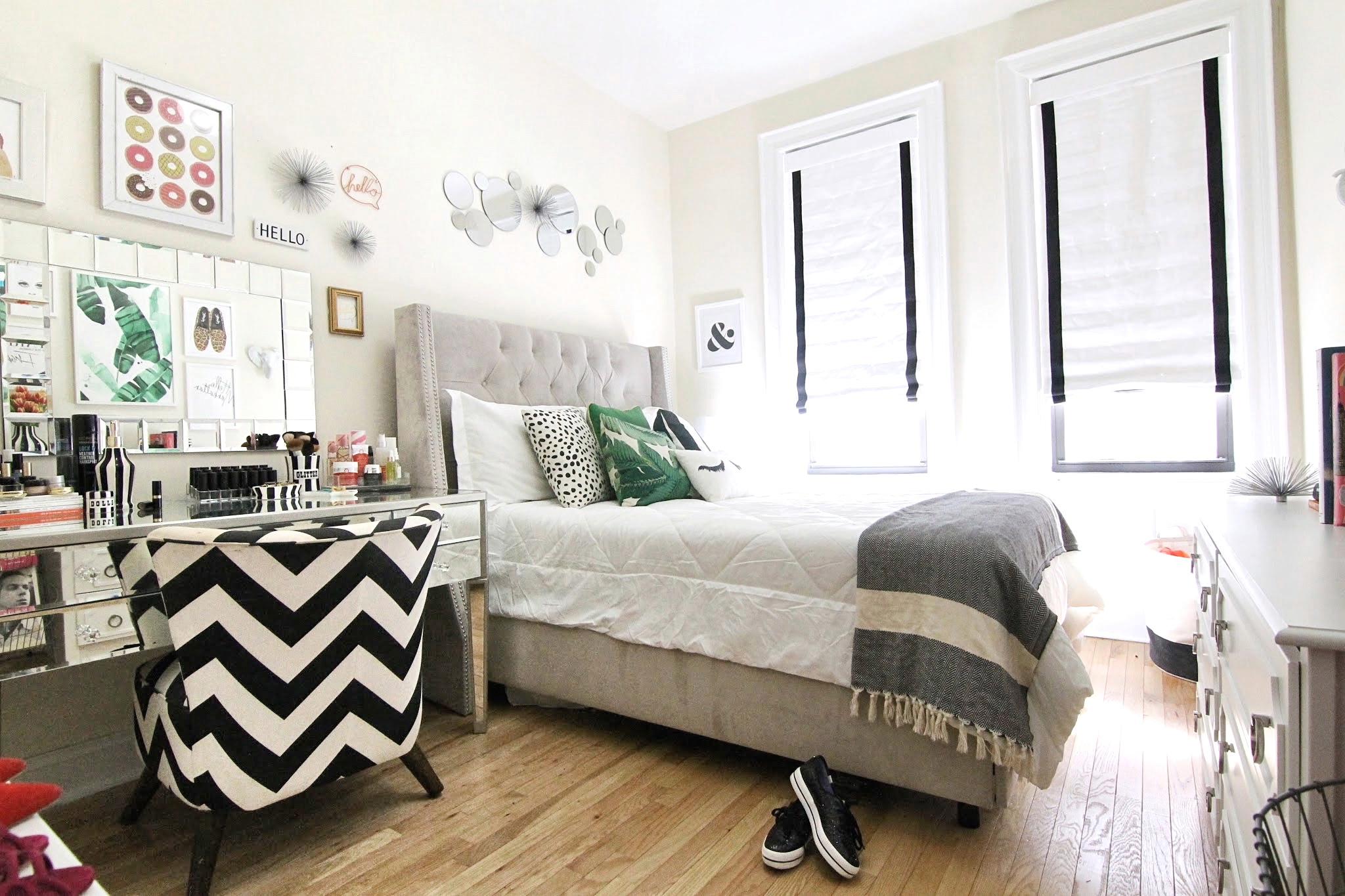 OMG GUYS! I'm so so so so soooo excited for todays post because today is the day I will finally be sharing a look at my bedroom and I can't WAIT to hear what you think!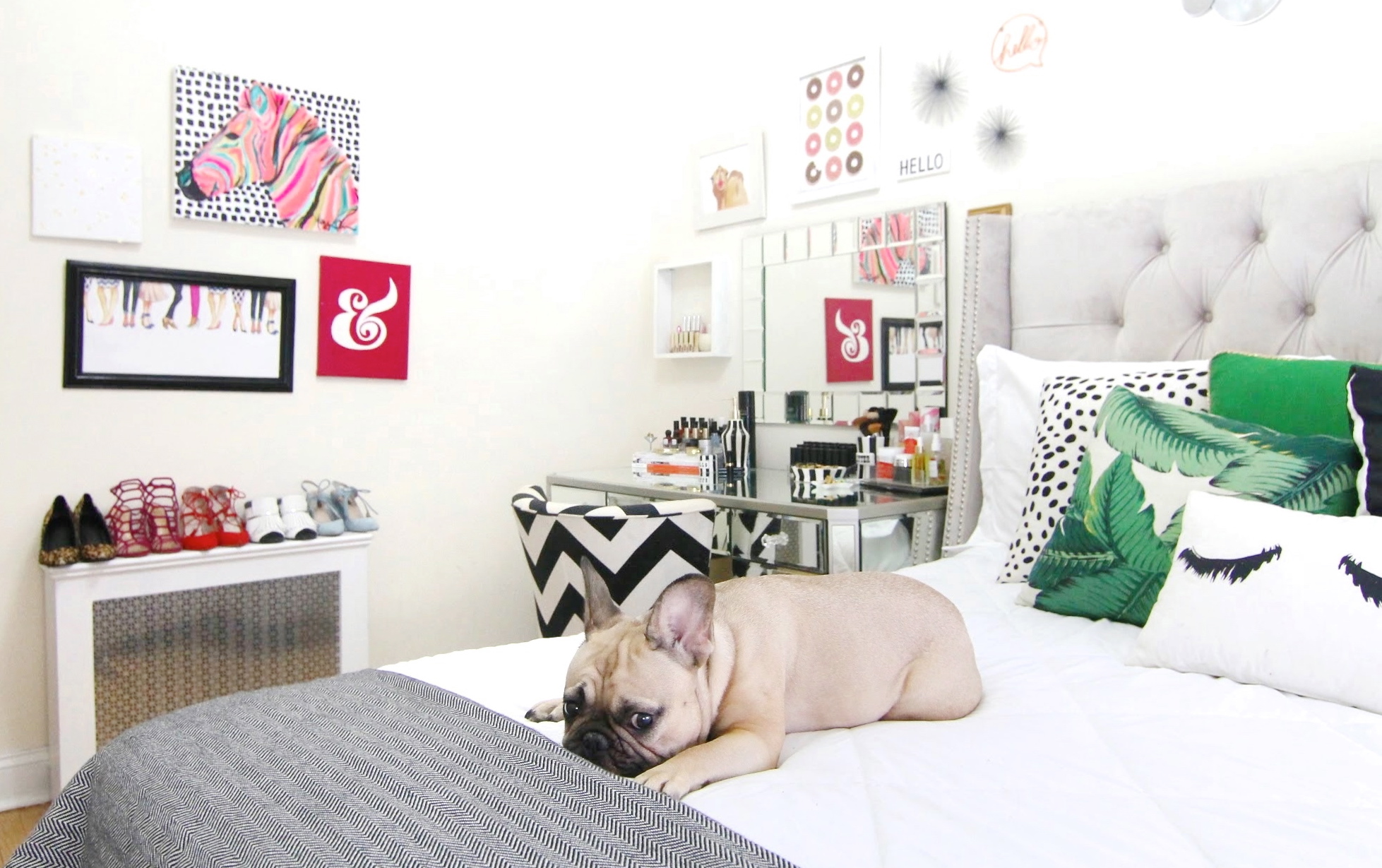 Okay, so a few weeks ago I shared my living room and home office tour here on Color Me Courtney (you can check it out here, just come right back after) and I loved receiving all of your reactions and feedback! Sharing your home can always be a scary thing because it's literally inviting the WORLD into your safe space, but I love you guys so I was totally happy to share 🙂 and now you can take another look at where I live and how I use the space in my west village apartment.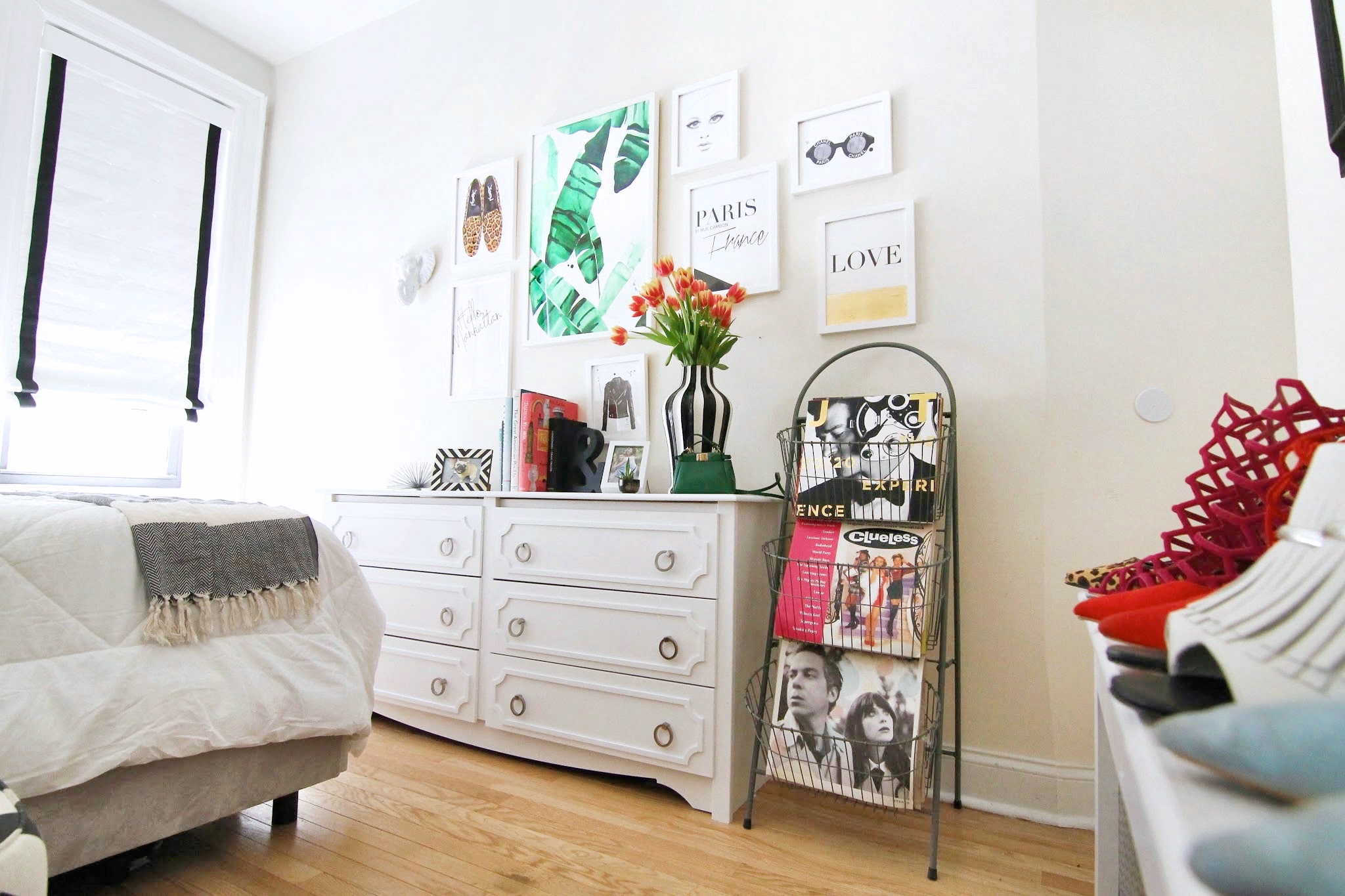 As you know, I live in New York City and am actually lucky enough to have a pretty good sized apartment in the heart of the Village! After you walk through my front door, through the living room and past my office nook and closet (that I will share soon) you set into my bedroom!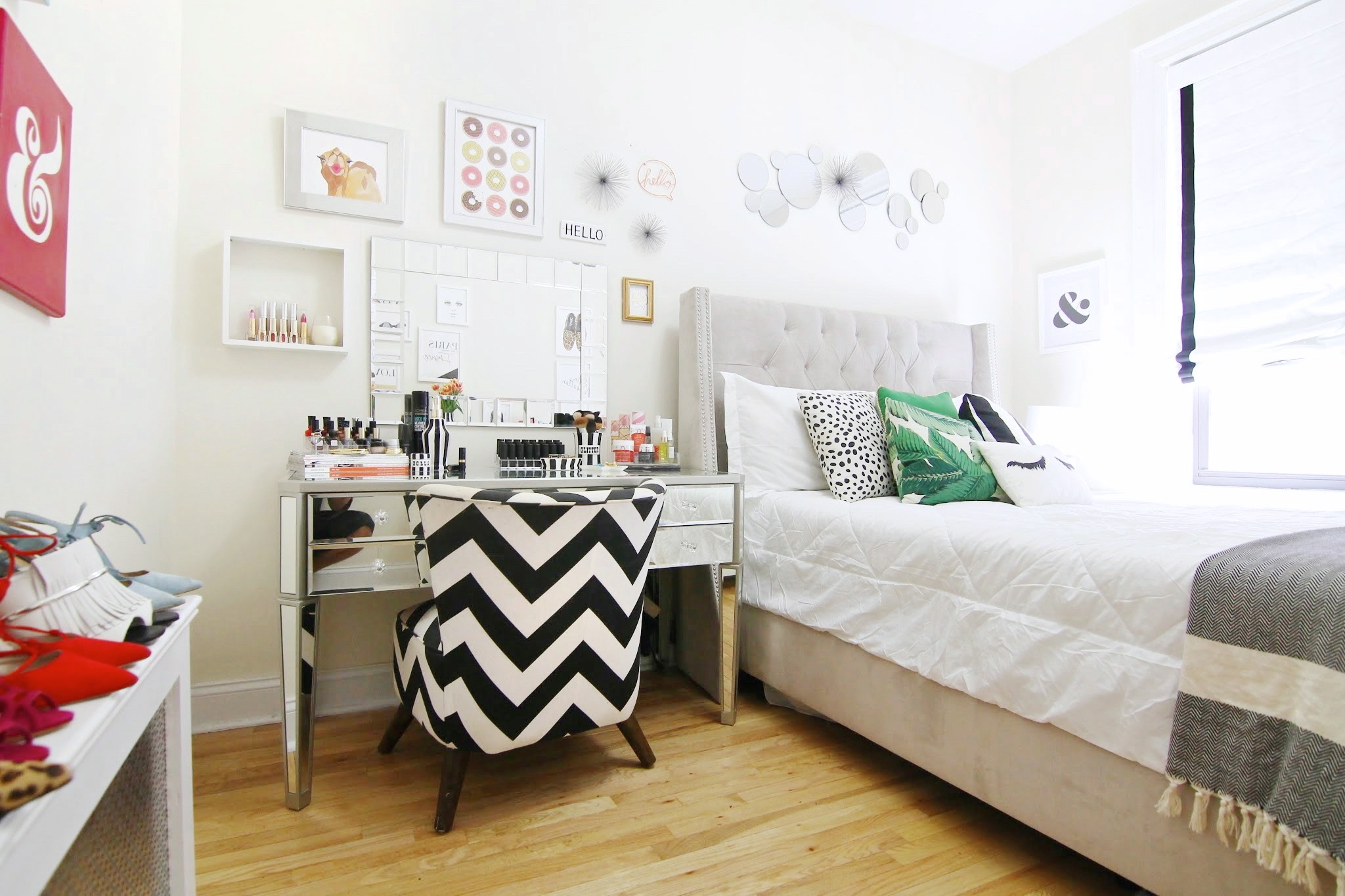 My bedroom is one of my favorite parts of my home, it's clean, white with pops of color and has a cool safari theme going on! I love that I blended mirrored, glam touches that you don't really see in my living room and paired them with more simplistic pieces and fun patterns. Like everything in my life, there's a lot of black and white stripes, but there's a whole lot of color and print too + some fun DIY projects that saved me I lot of money, honestly I can't wait to share with you!
Meet the STAR of my Bedroom … THE BED #duh (& Waffles)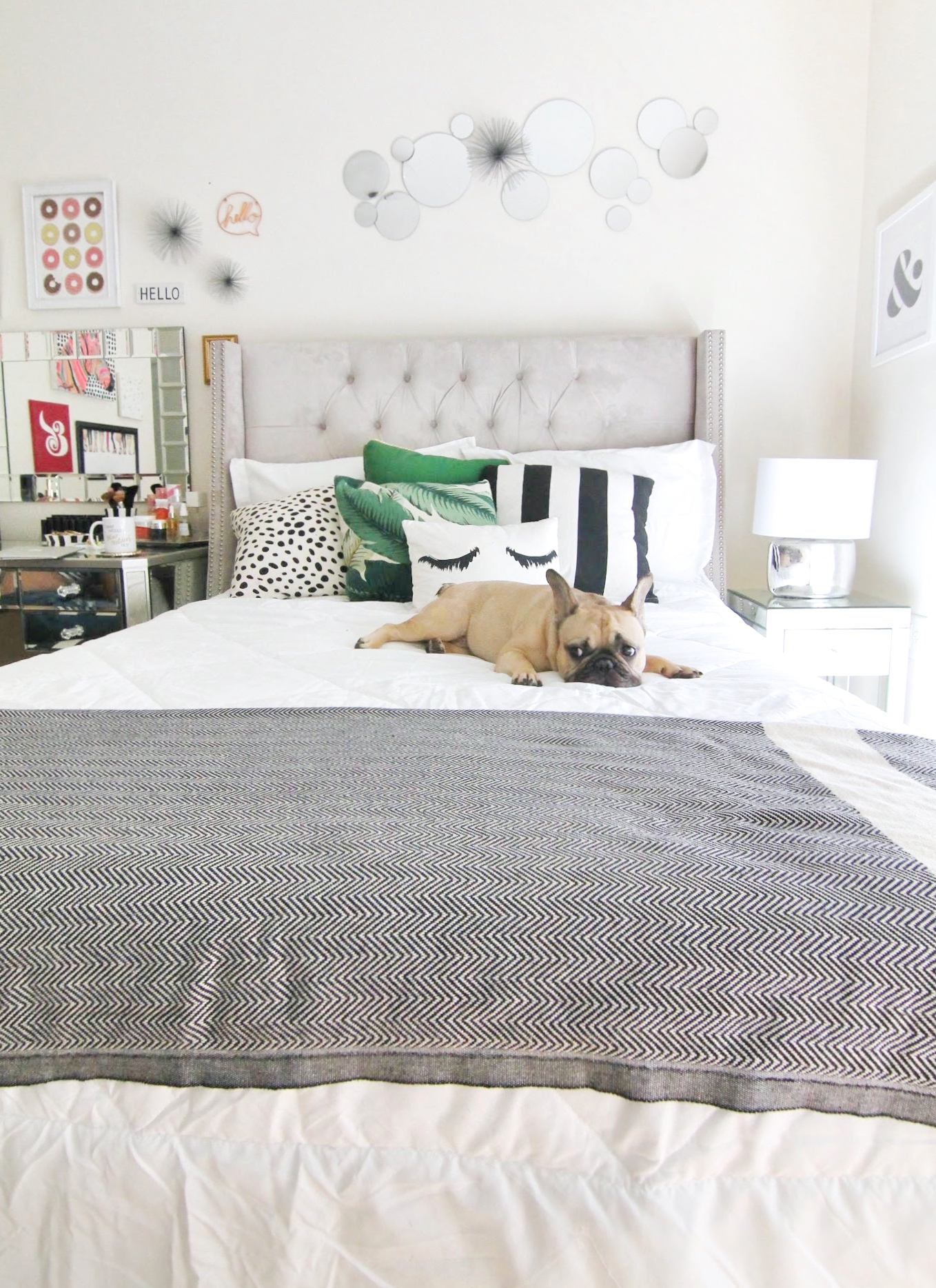 Once you enter my bedroom you look right at my bed! I had always wanted a grey upholstered bed so when I moved I thought it was the perfect time to splurge on what I always wanted… well actually my mom bought my bed cause she's so awesome (THANKS MOM) but either way, you get the point! I kept it simple with white sheets but then brought pattern play with black and white printed pillows mixed with safari green and a fun Palm Print one. Most of my Pillows are from Society Social which is honestly the most amazing site for home furniture and decor, you have to check it out & the eyelash pillow is from Dormify another awesome decor brand especially if you're in college.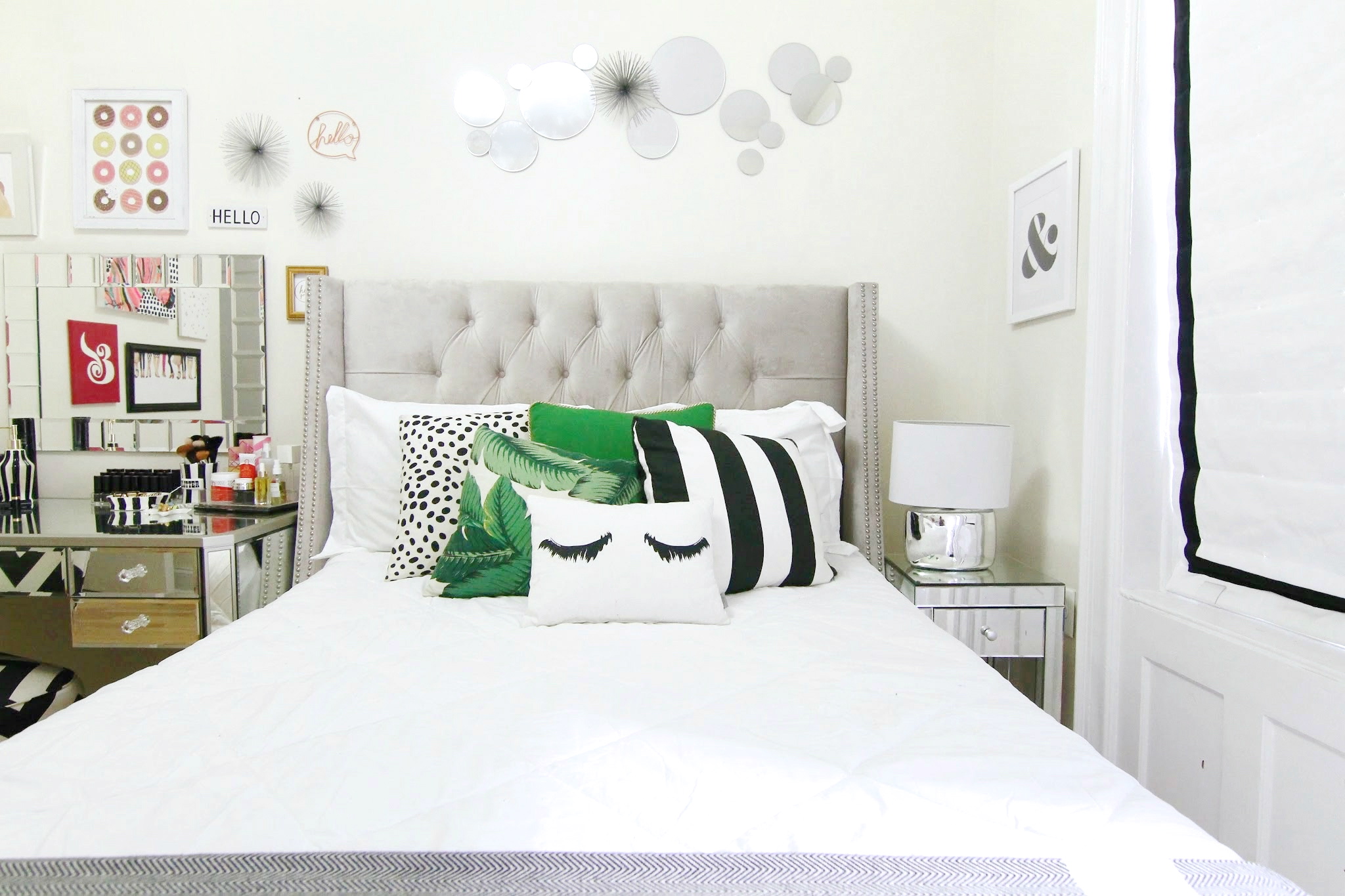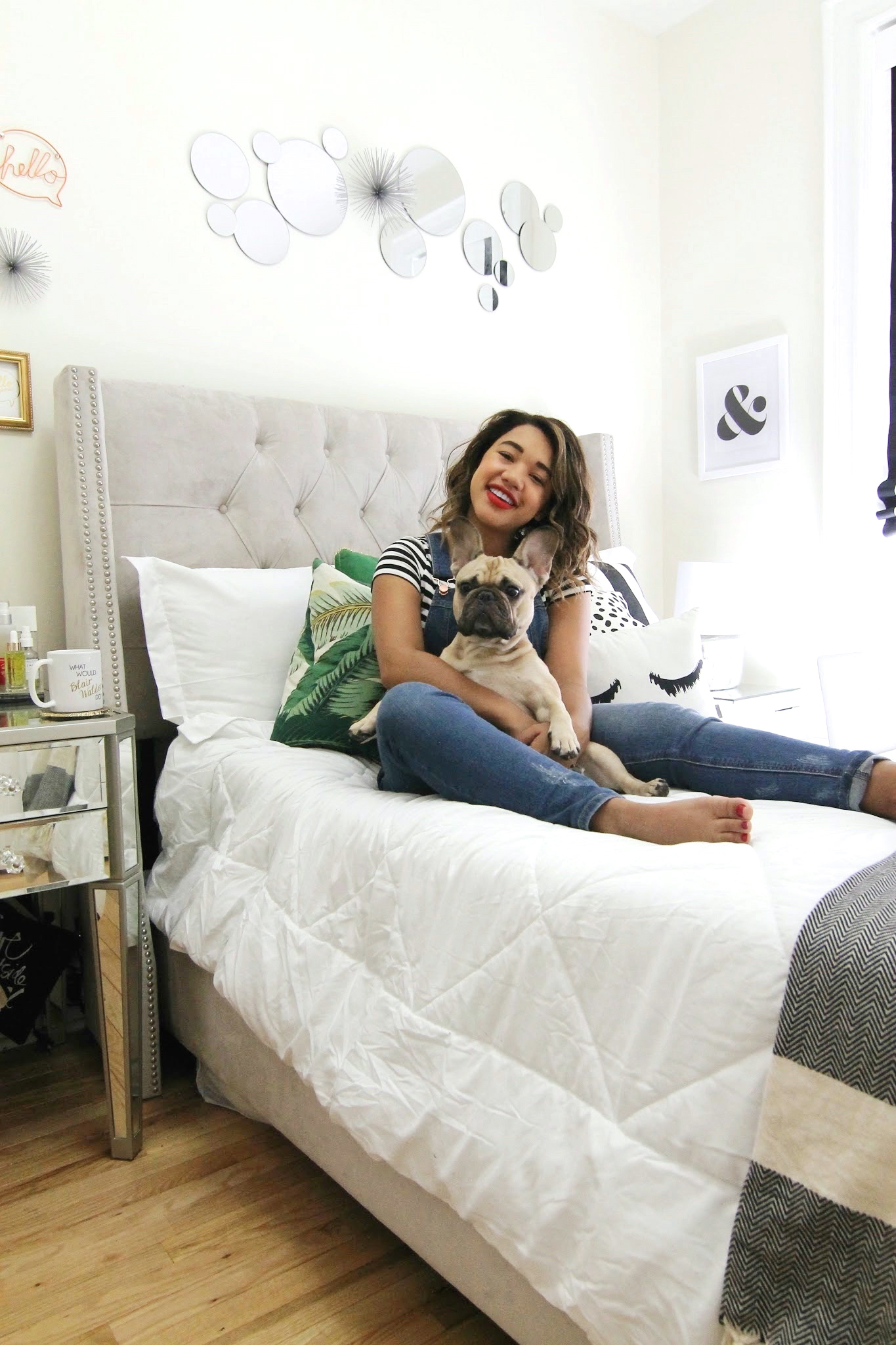 DIY MIRROR SCULPTURE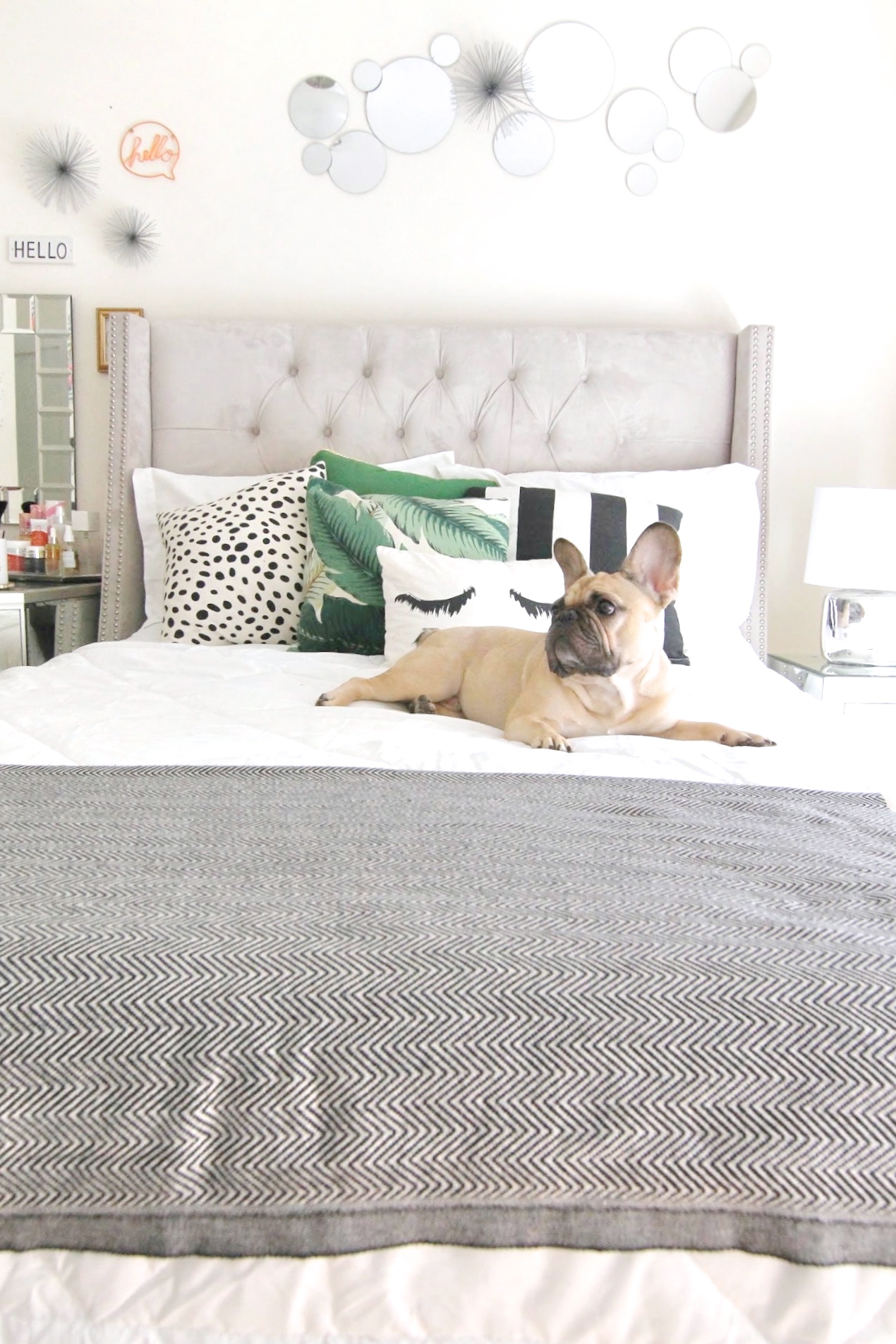 Above my bed I created a DIY art piece inspired by some of the mirrored sculptural pieces you see in hotels or at expensive design stores! I wanted to stick to a budget so I bought some flat mirrors in assorted sizes (2 sets) and sputnik spike wall pieces for crazy cheap and put them up on the wall! The whole project cost less than $75, where most of these sculptures go for closer to $500, and sometimes even more!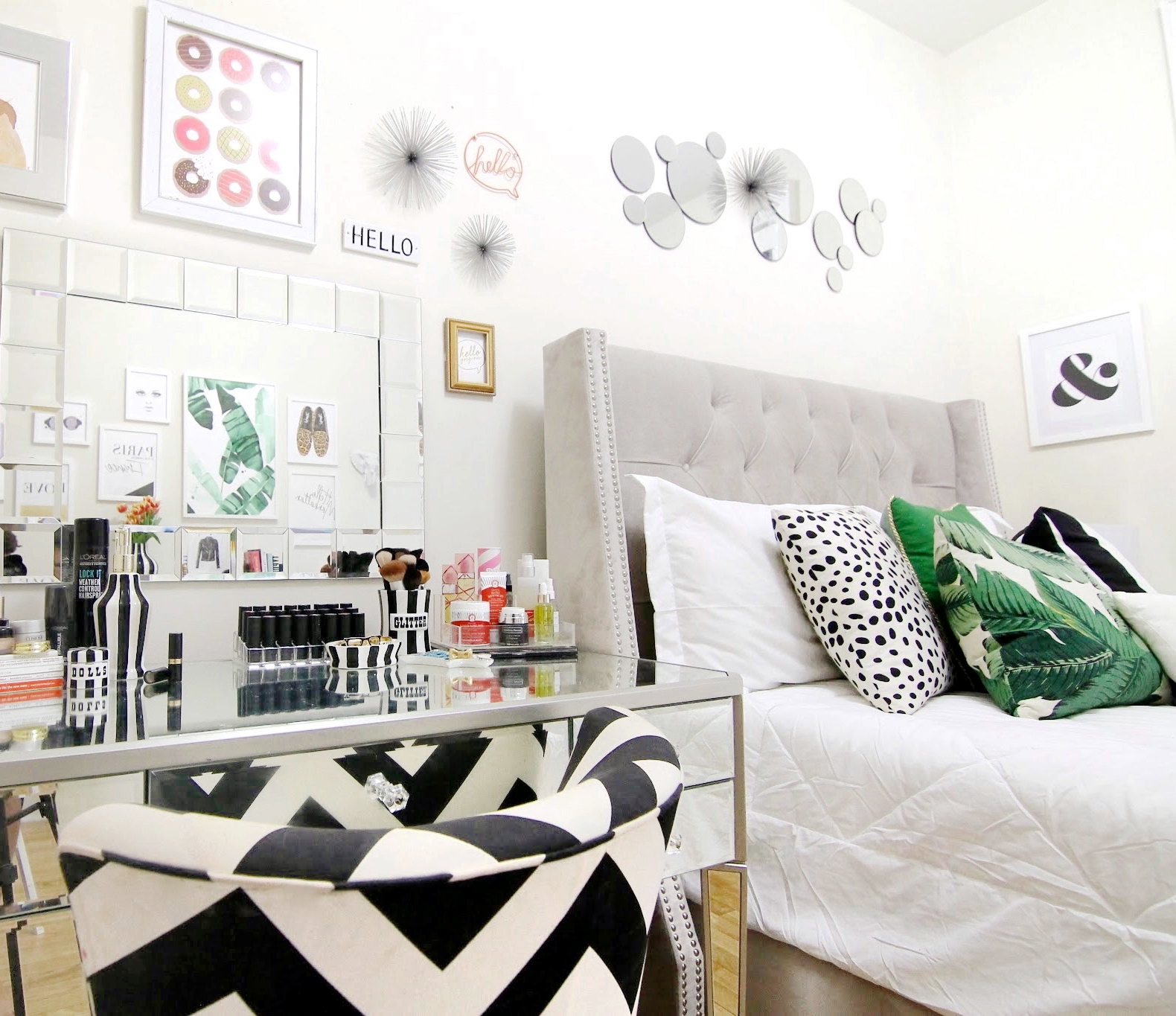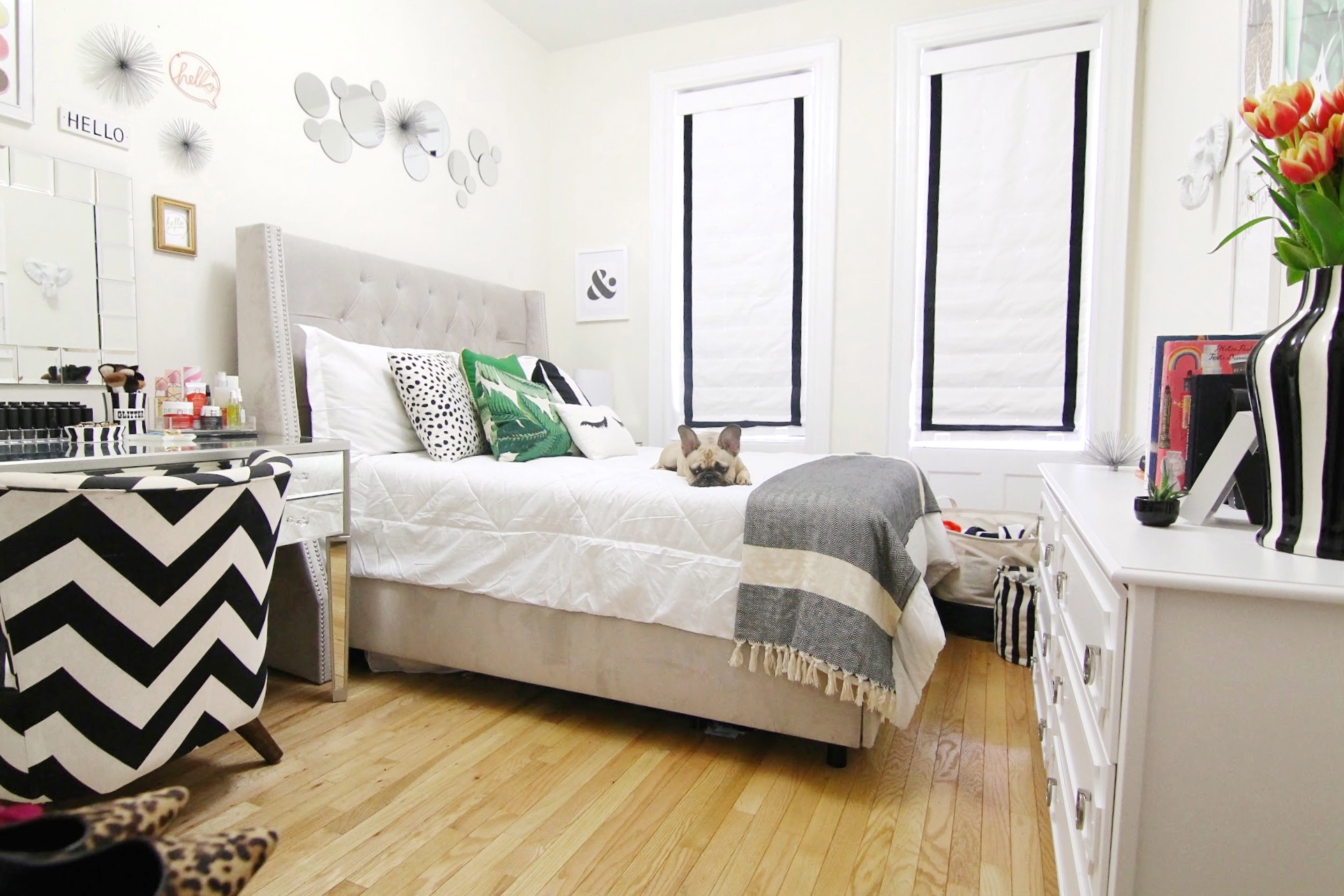 Bed  (you can also just get the headboard version here for cheaper!) || Palm Pillow
Stripe Pillow || Dot Pillow || Green Pillow || Lash Pillow || Comforter || Window Coverings
Sputnik Wall Piece || Assorted Mirrors || Lamp
The Easiest GALLERY WALL Ever!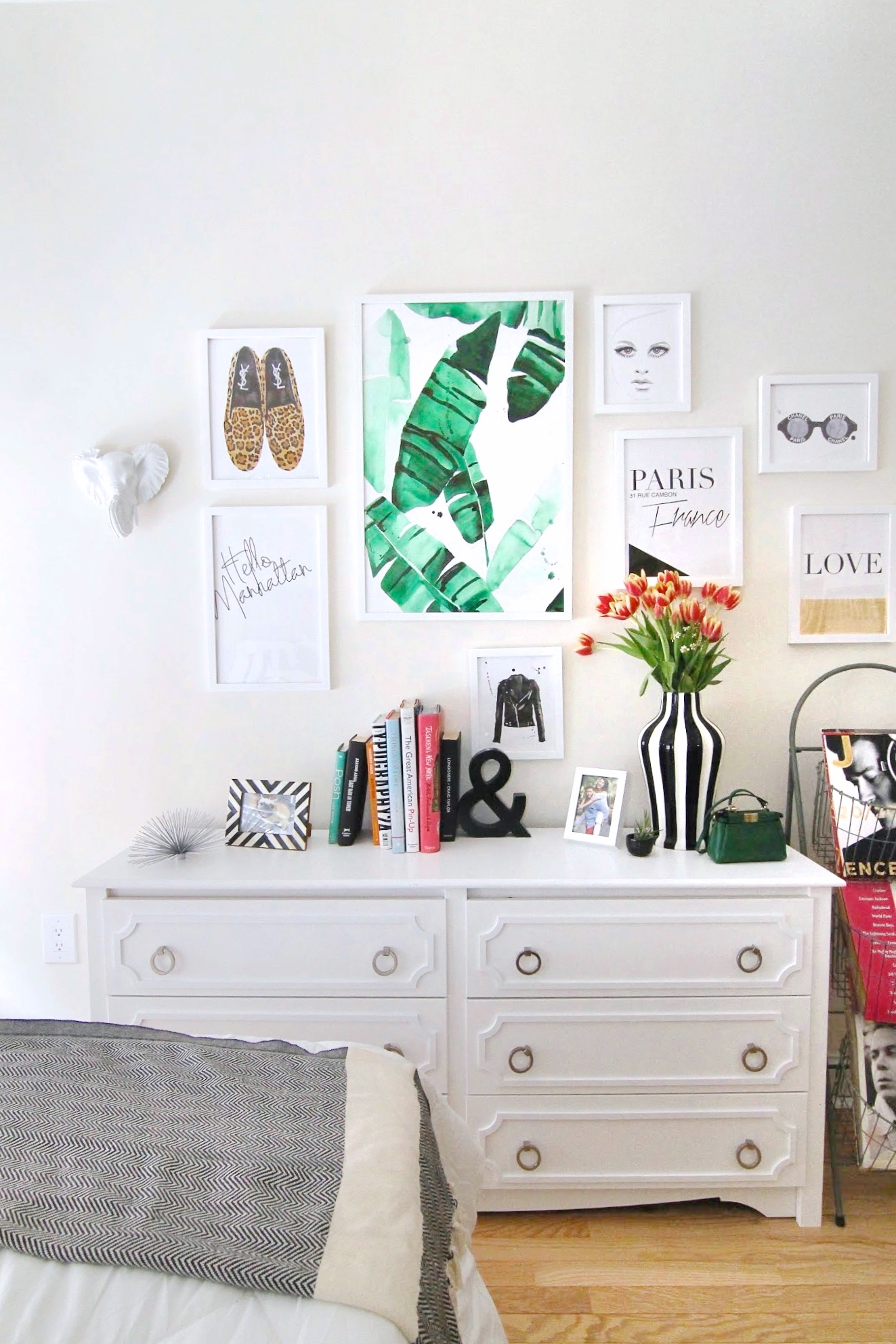 If you're laying on my bed (like I am doing right now as I type this #whoops) you'll look directly at my dresser and a fun gallery wall – these are two other DIY projects in my apartment that look more expensive than they were! My Gallery Wall actually comes from Remodo, a fun site that offers boxed rooms and boxed walls – the boxed wall is AWESOME!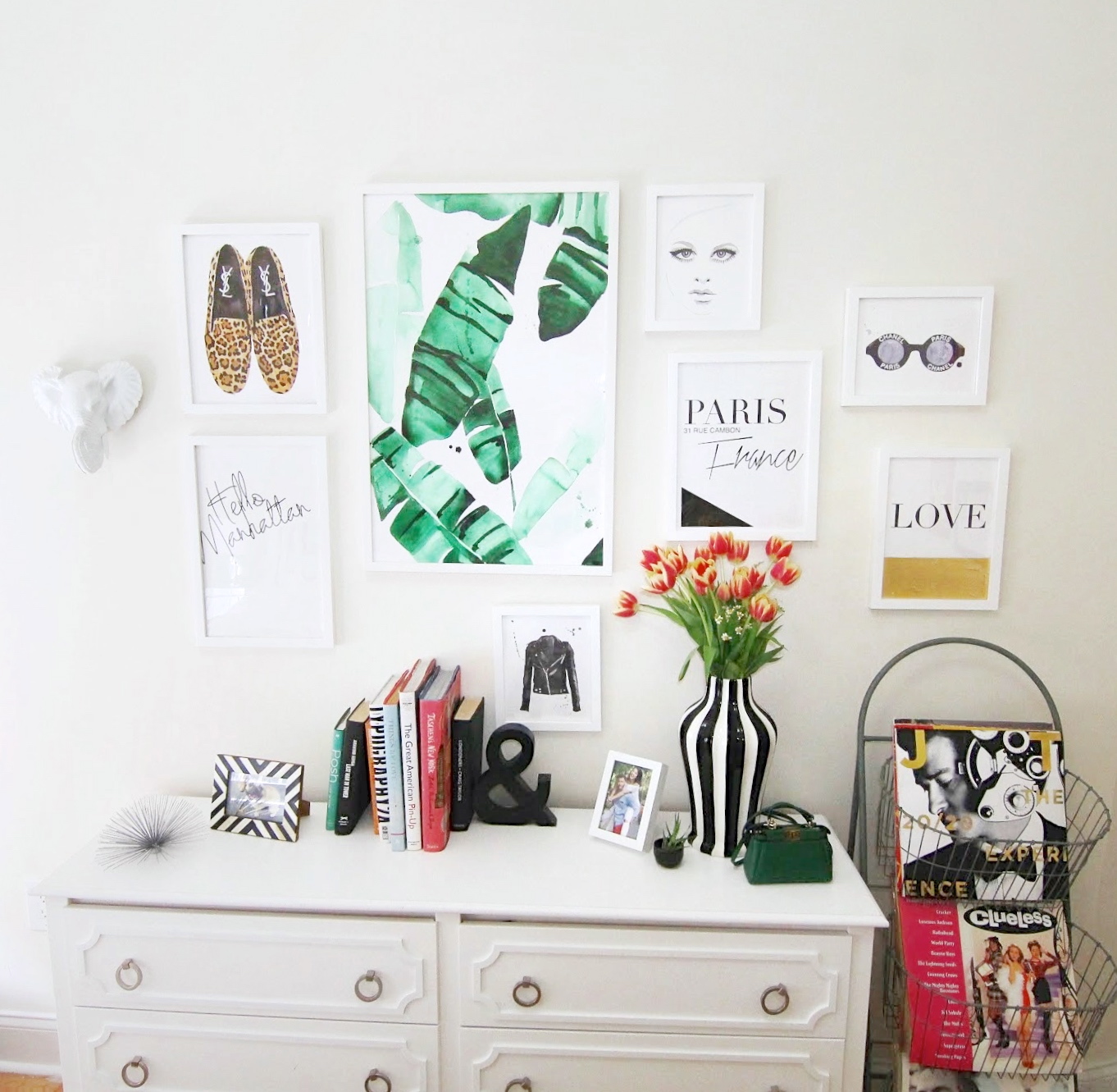 You purchase one of three sets of wall art that come in groups of three, five or seven (I went for the seven) and it comes framed to your apartment, or home or whatever! All you have to do is play them on the wall – I mean COME ON how awesome is that! In the center of my gallery wall is a big palm print that was actually the first piece I got for my bedroom, it's crazy affordable from Waiting On Martha!
A DRESSER DIY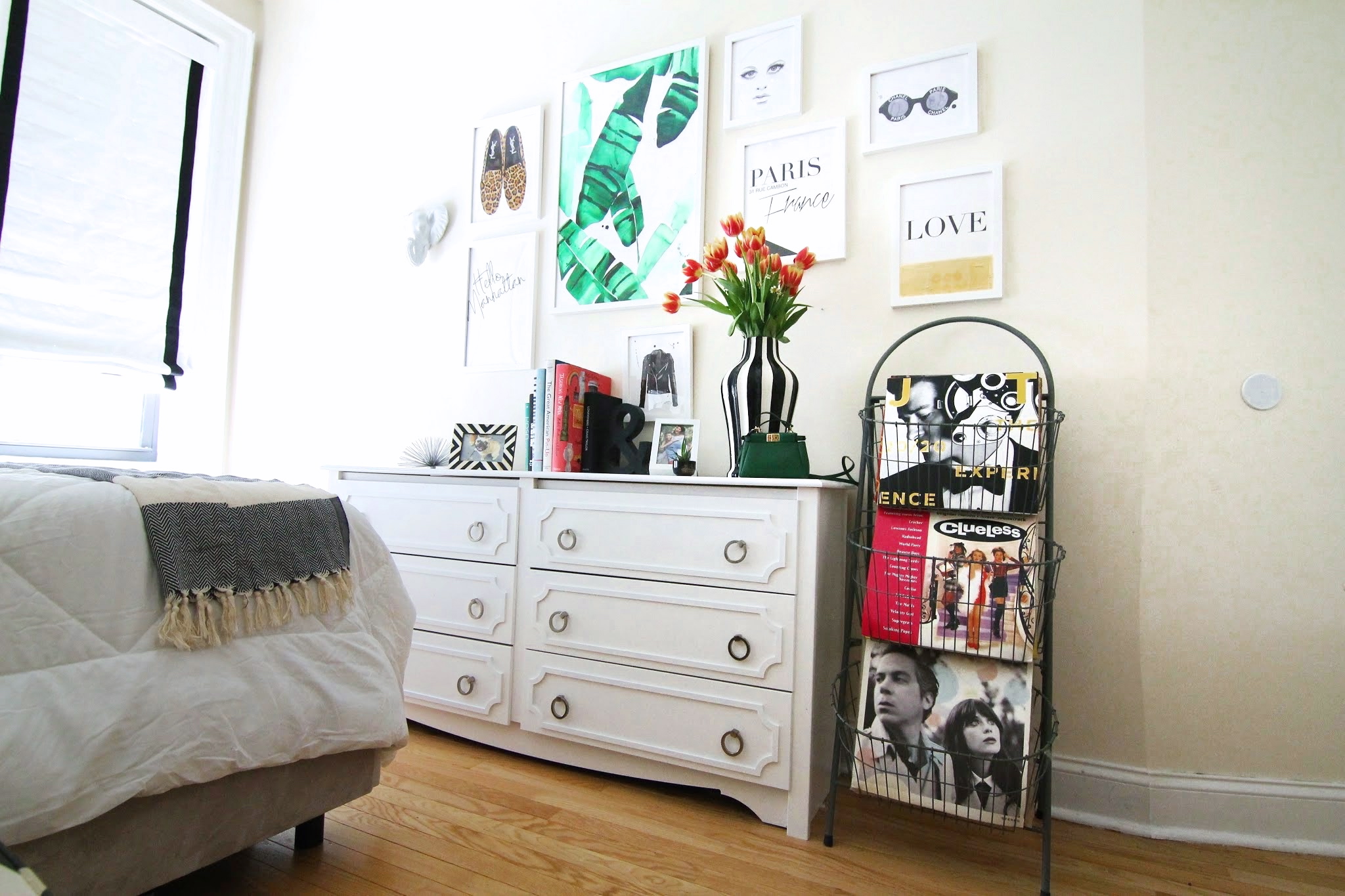 My dresser is the second DIY of the roomI really wanted a glam, regency dresser but those are usually really expensive and I was too cheap to splurge! SO instead I bought the cheapest/cutest/plainest white dresser I could find via Amazon for under $300 and decided to swank it up!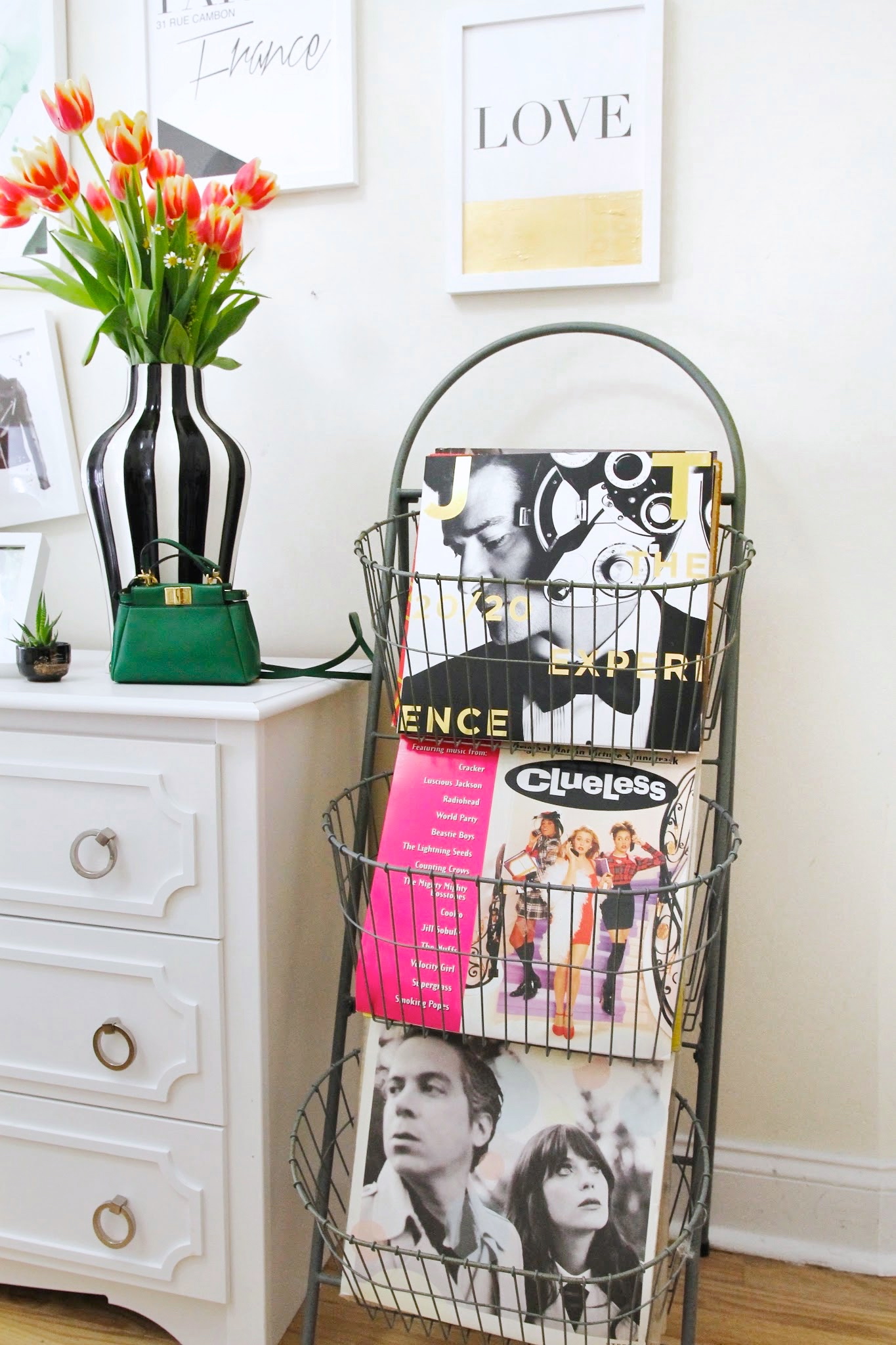 My mom (she's an interior designer) told me about this fun brand o'verlays, o'verlays are custom, decorative panels that you can add to any simple piece to dress things up a bit! It's so easy!!! You measure your furniture piece, pick your patter and purchase! I traced mine on my drawers and secured them with super glue! I also decided to keep them white but you can also paint them for a fun color pop! I finished my dresser by buying some silver ring drawer pulls and adding them for the final touch of glam. The whole project between $300 and $400 including the dresser and took less than an hour, we were able to complete it while watching Scandal! #itshandled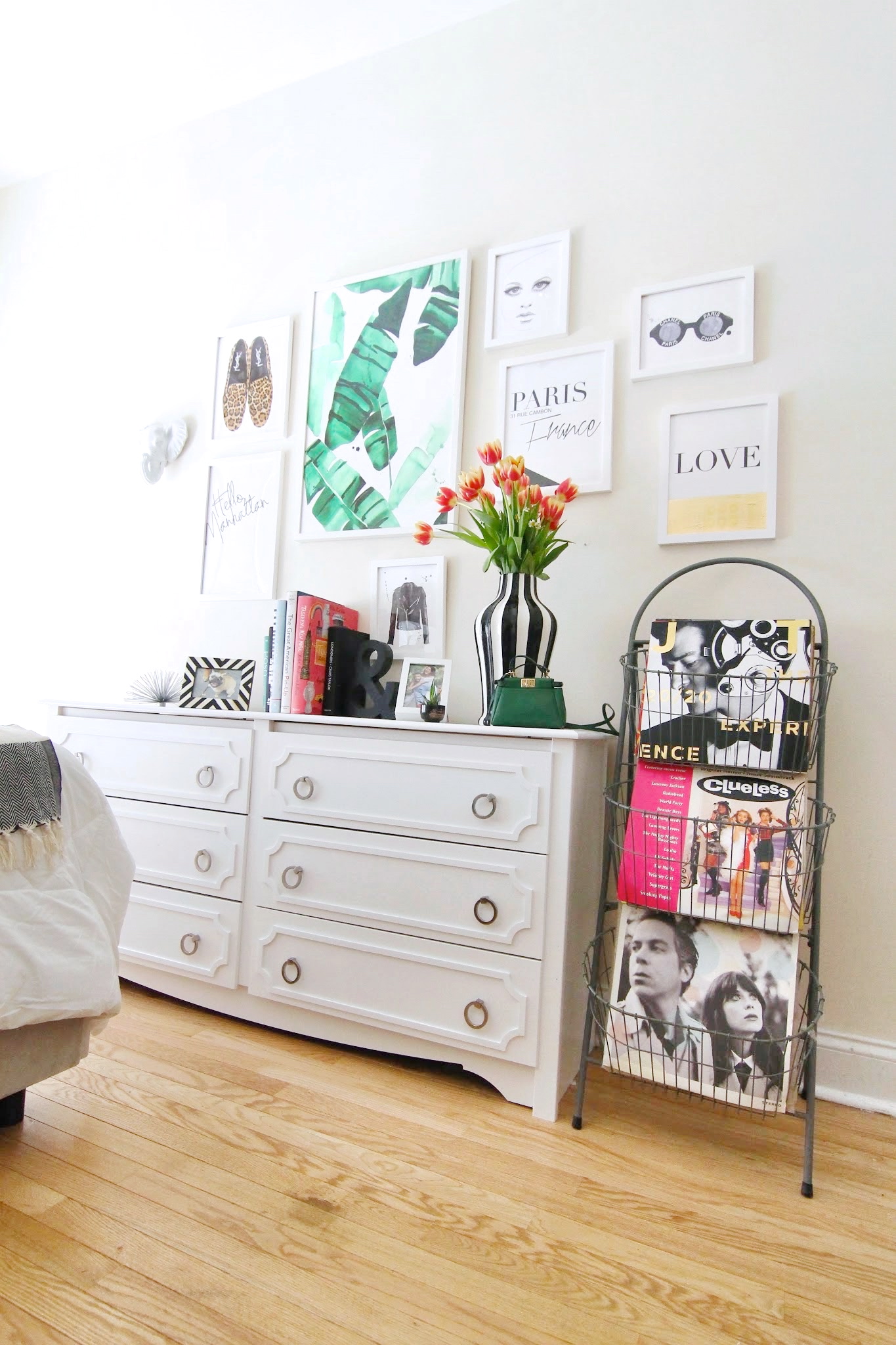 Palm Print framed via framebridge || Boxed Gallery Wall || Dresser customized with O'verlays
 Blooms || Elephant Head || Stripe Vase || Basket Ladder || Ampersand
VANITY VIBES: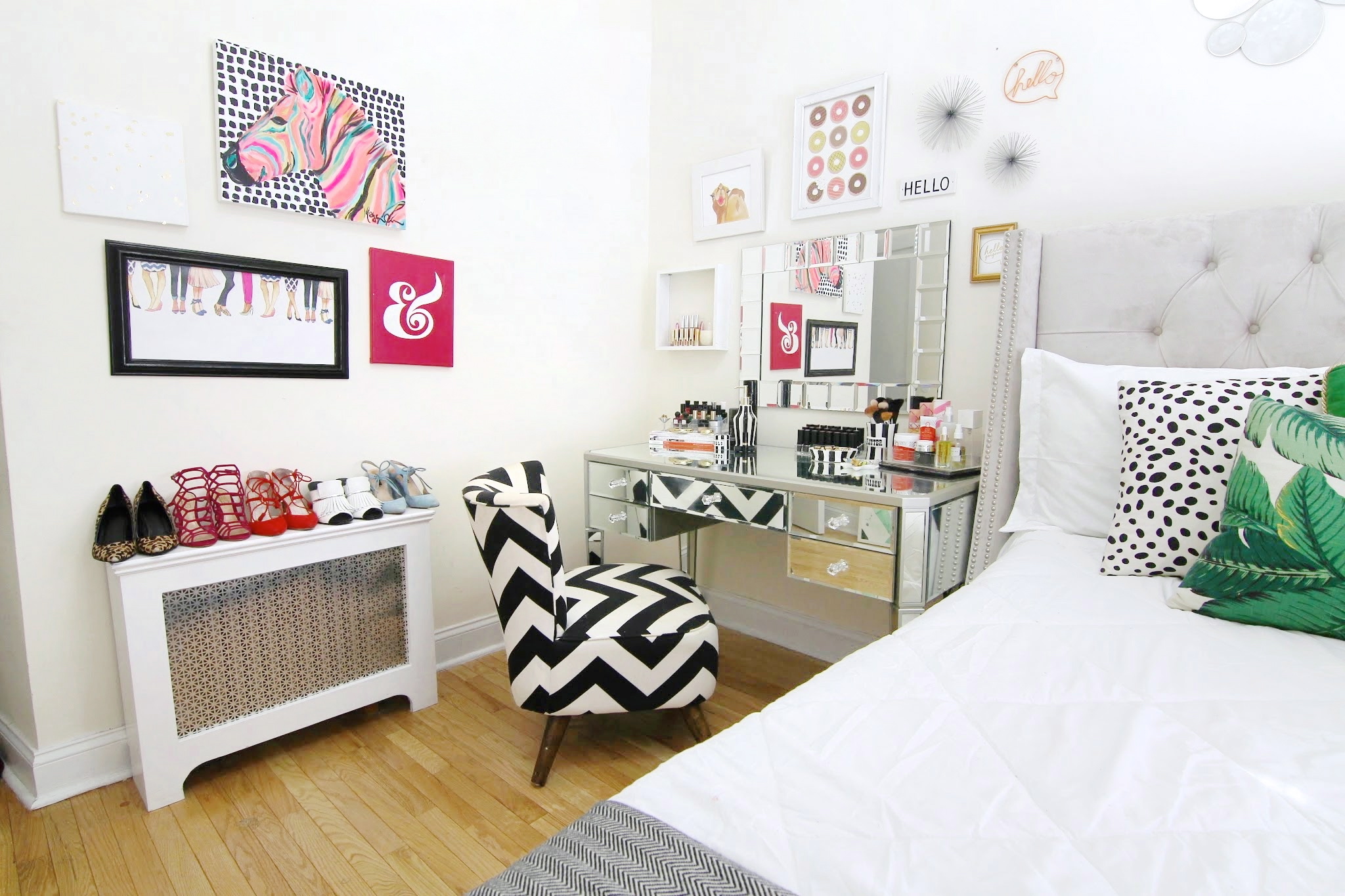 Next to my bed, the mirror obsession continues in my Vanity Corner!
My bathroom is actually super teenie tiny so I get ready in my bedroom! I use the drawers as my nightstand and the actually vanity as a desk sometimes but over all it serves as the stand where I get ready in the morning! Above it hands another mini gallery wall, this sprinkled with a hello theme, camels and a donut or two (of course). On the final wall in my bedroom, and Ironically the first when you walk in, I have a third gallery vignette featuring art from Inslee, Megan Carn and a DIY or two all handing over a shoe shelf that actually has a secret alternative use.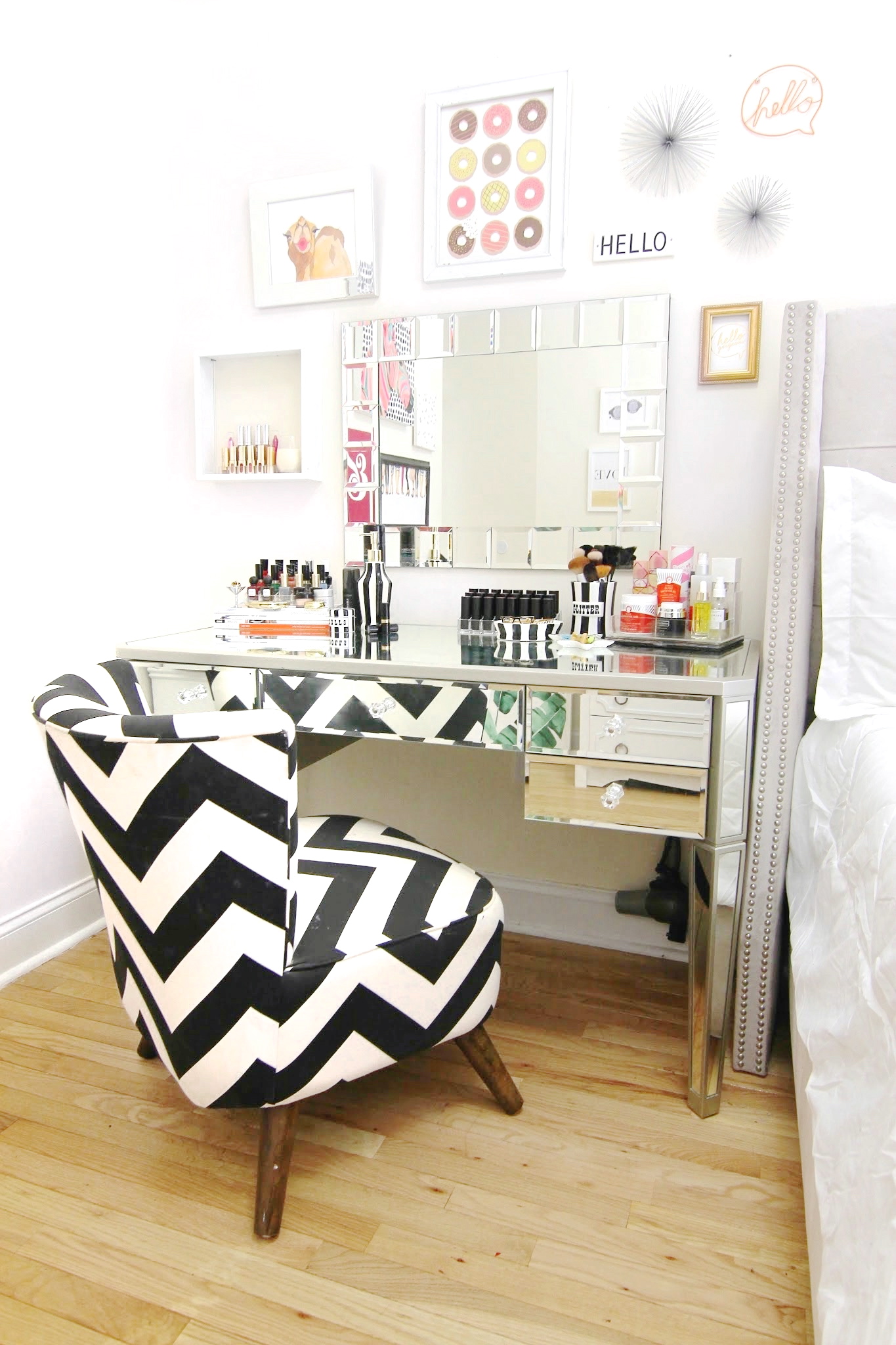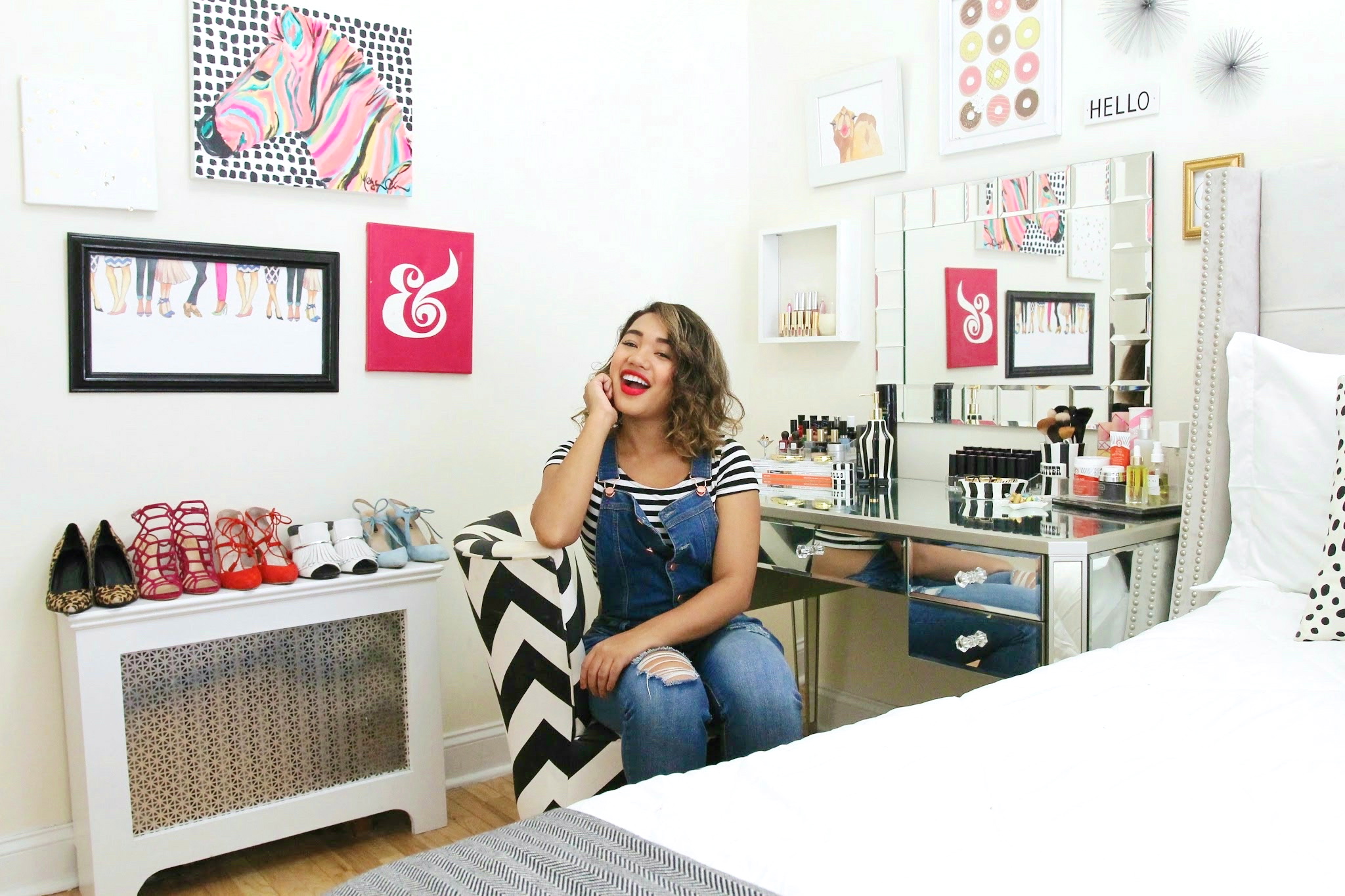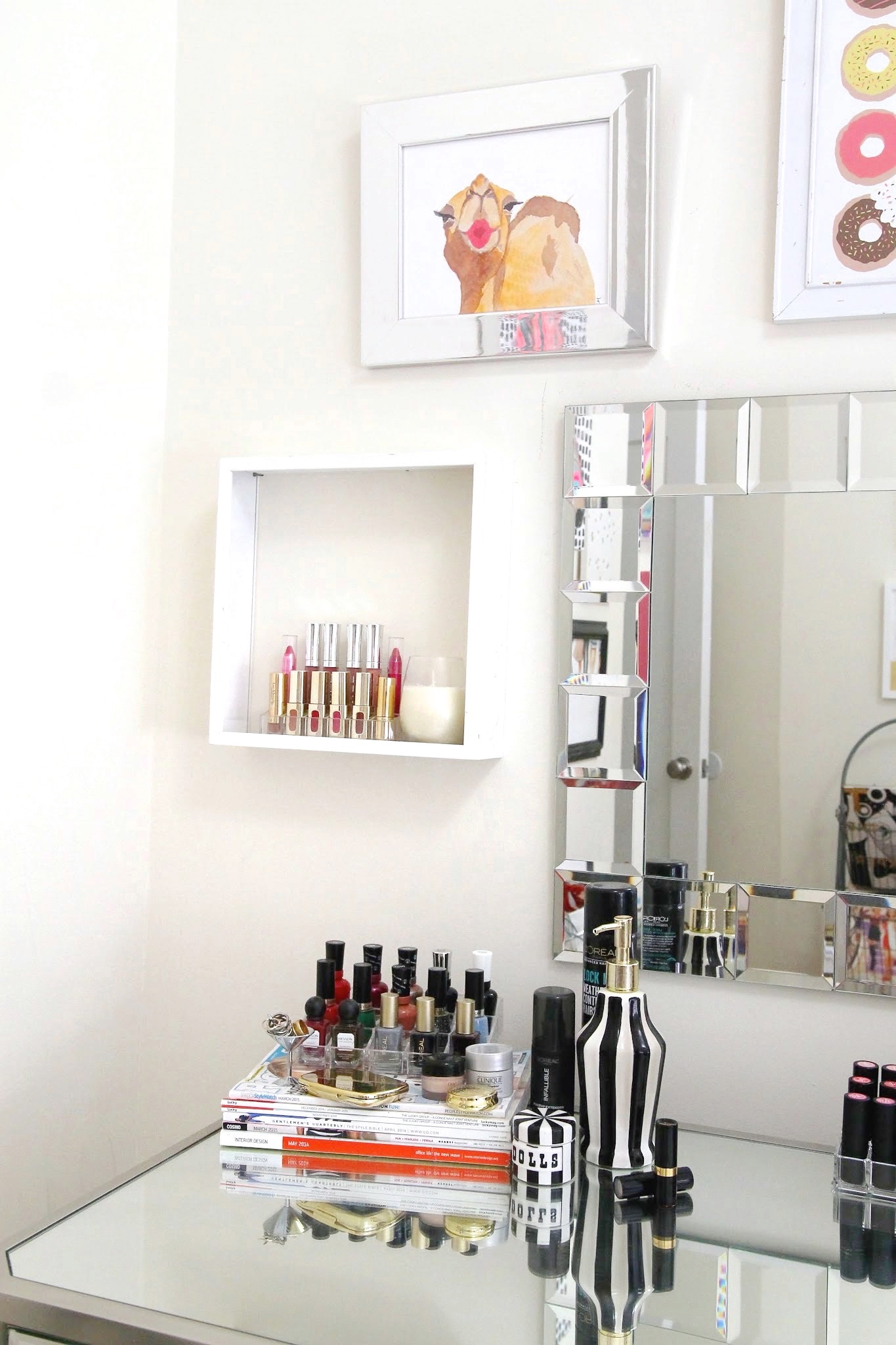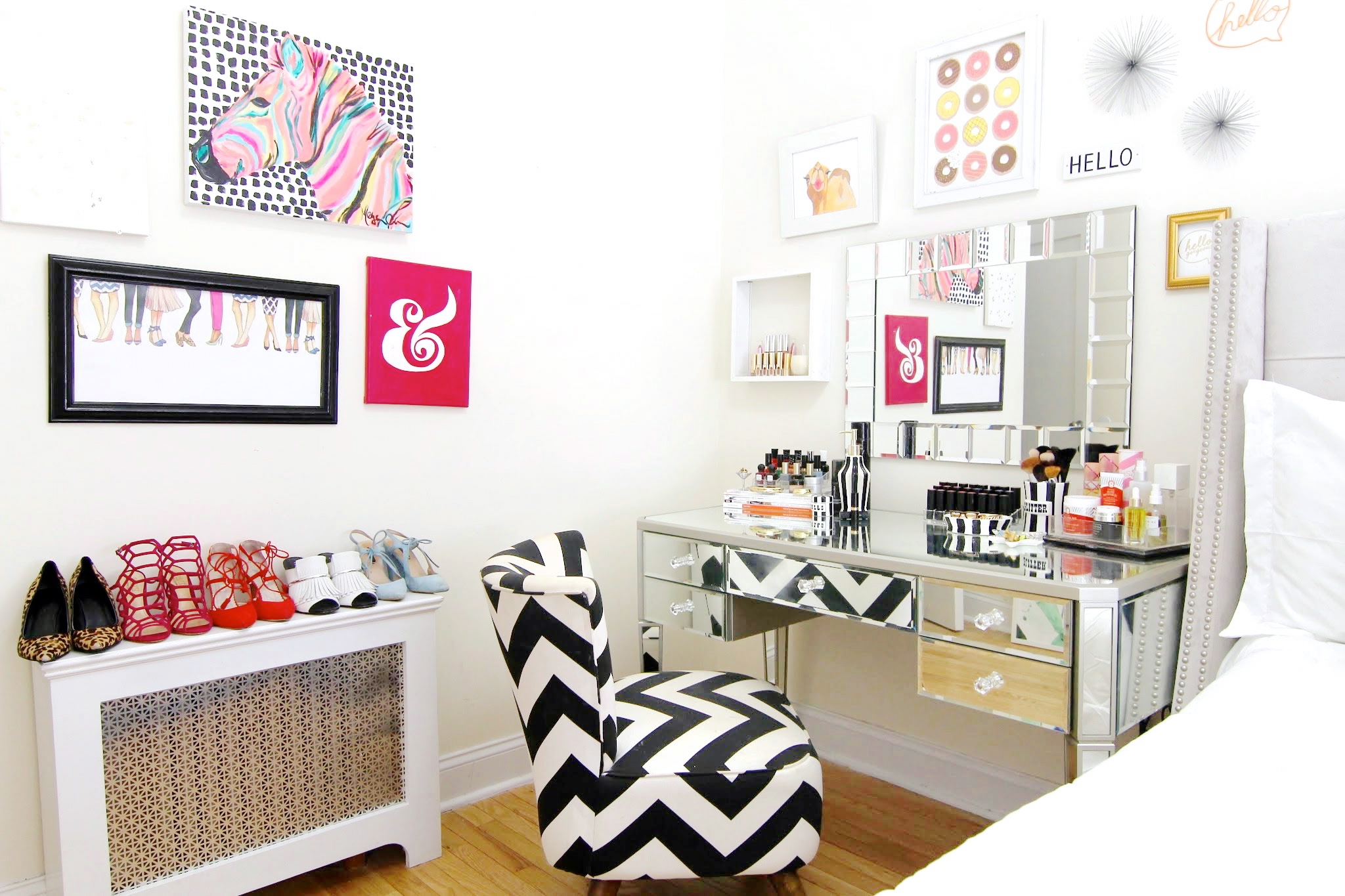 Vanity || Chair || Mirror || Camel Print framed at frambridge || Hello Art
Donut Print || Glitter Canister || Candle || Black and White Striped Vanity Set
Zebra Print by Megan Carn || Similar Ampersand Art || Shoe Print by Inslee
I did splurge on my bed and vanity, but over all my bedroom is full of affordable pieces, in total you can create this entire room for just around $2,300 which is kind of sort of amazing! P.S. i didn't go into too much detail on my vanity, but if you want to learn about it let me know and I'll create a special dedicated post! Just leave a comment!
ALL OF THE DEETS: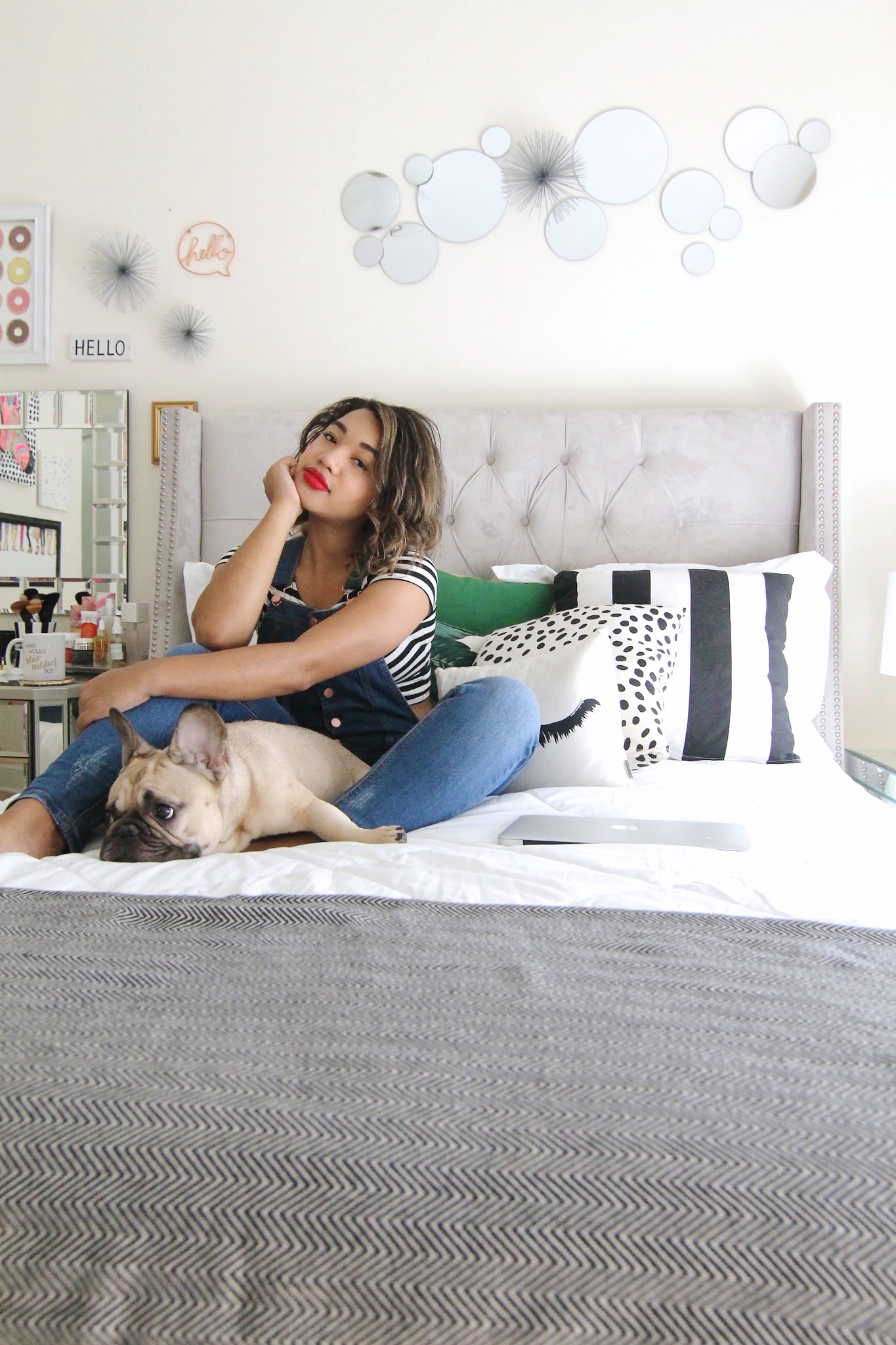 Okay incase you missed anything, shop everything from the links below:
Bed  || Palm Pillow || Stripe Pillow || Dot Pillow || Green Pillow || Lash Pillow || Comforter
 Window Coverings || Sputnik Wall Piece || Assorted Mirrors || Lamp || Palm Print
Boxed Gallery Wall || Dresser customized with O'verlays Elephant Head || Stripe Vase || Basket Ladder || Ampersand Vanity || Chair || Mirror || Camel Print || Hello Art || Donut Print || Glitter Canister || Striped Vanity Set || Zebra by Megan Carn || Shoe Print by Inslee
Wanna see more? of course you do 😉 well it's your lucky day because I created a fun Video Tour of my bedroom! Check it out and I'll Love you forever!!!!

SHARE OR SAVE FOR LATER