May
5
2019
May 5 2019
Utility Jumpsuit 5 ways + Where to Wear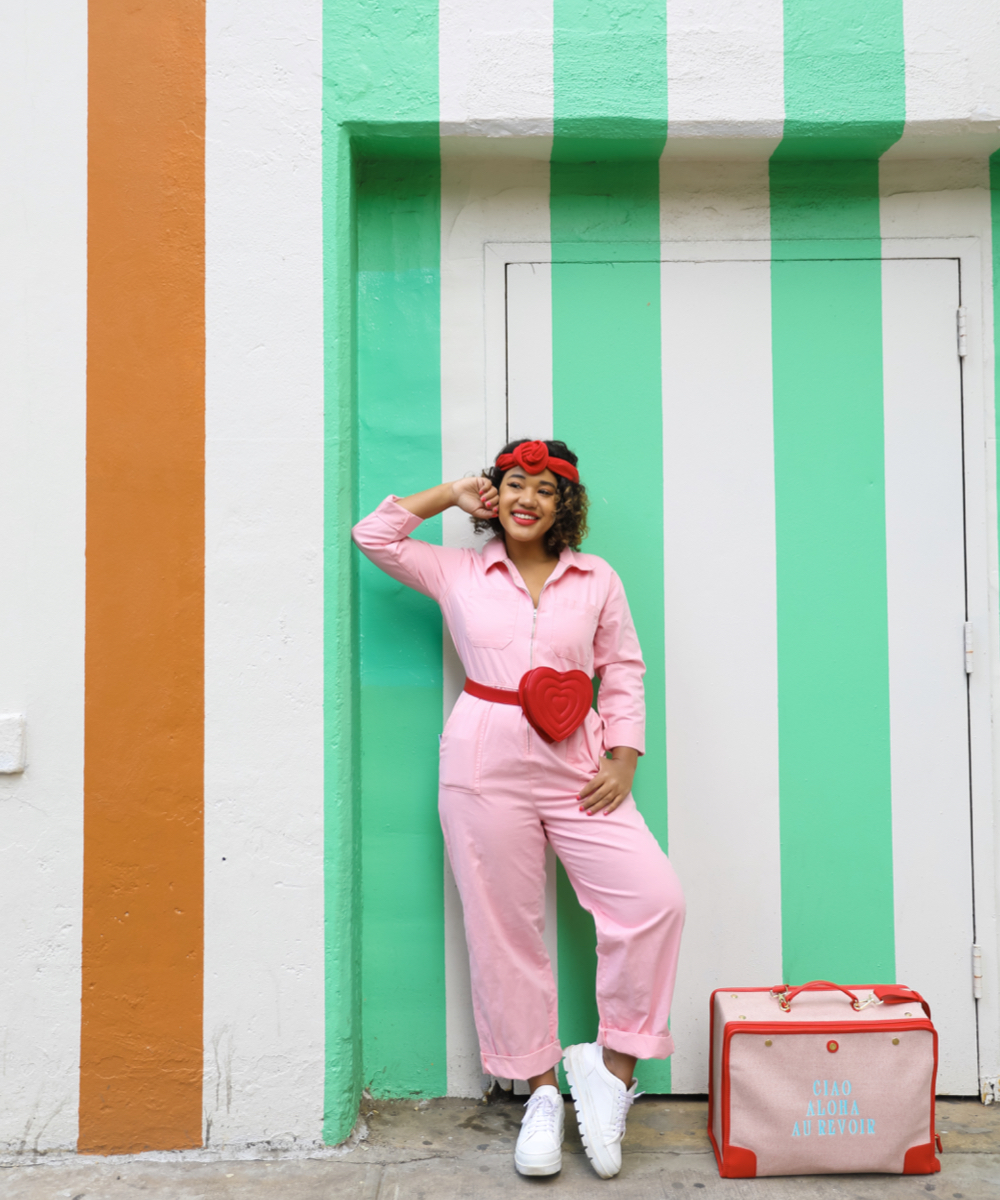 LETS TALK JUMPSUITS!
Creating looks can be really fun. I love pairing together two pieces for a unique look, and mixing my matches to create something custom. BUT somedays you want to slap something on and be instantly ready without a ton of styling, pairing or fussing over your look. On those days, you want a jumpsuit! And today I'm sharing a current style I'm obsessing over in a few colors – including our color of the month: blush!
The utility jumpsuit is inspired by traditional work wear coveralls, something you might see on a painter, mechanic or a factory worker. I mostly associate them with the 30's-50's and get serious Rosie the riveter vibes from them, but in all honestly they're still worn in the workplace today! The 90's child in me also thinks of Amanda Butkiss in it takes two – if you haven't seen it I feel bad for you, and recommend you watch this Olsen Twin flick asap, but I all honestly you might not like it without the nostalgia that I associate with it.
All character references aside, theres something empowering about wearing a work wear utility jumpsuit and making it fashion. Turning this traditional male garment into one for women is one of the coolest things you can do, and to do it in a wearable, comfortable and still stylish way just makes it that much more fun. As we breeze through spring and on to summer, these are looks that could be worn even into fall. You can layer them, belt them, dress them up or wear them as is.
I currently have four jumpsuits like this in my closet. I'm styling three of them for you today in 5 different ways and sharing the other ones I own + a few that are on my radar.
Monochromatic: The first two ways to style a solid colored jumpsuit play with one of my favorite styling tricks, going monochromatic. You're already wearing A LOT of one color, so might as well lean into it and go all in, right? And that's essentially what monochrome is – where you where all (mono) of one color (chrome).
Look one: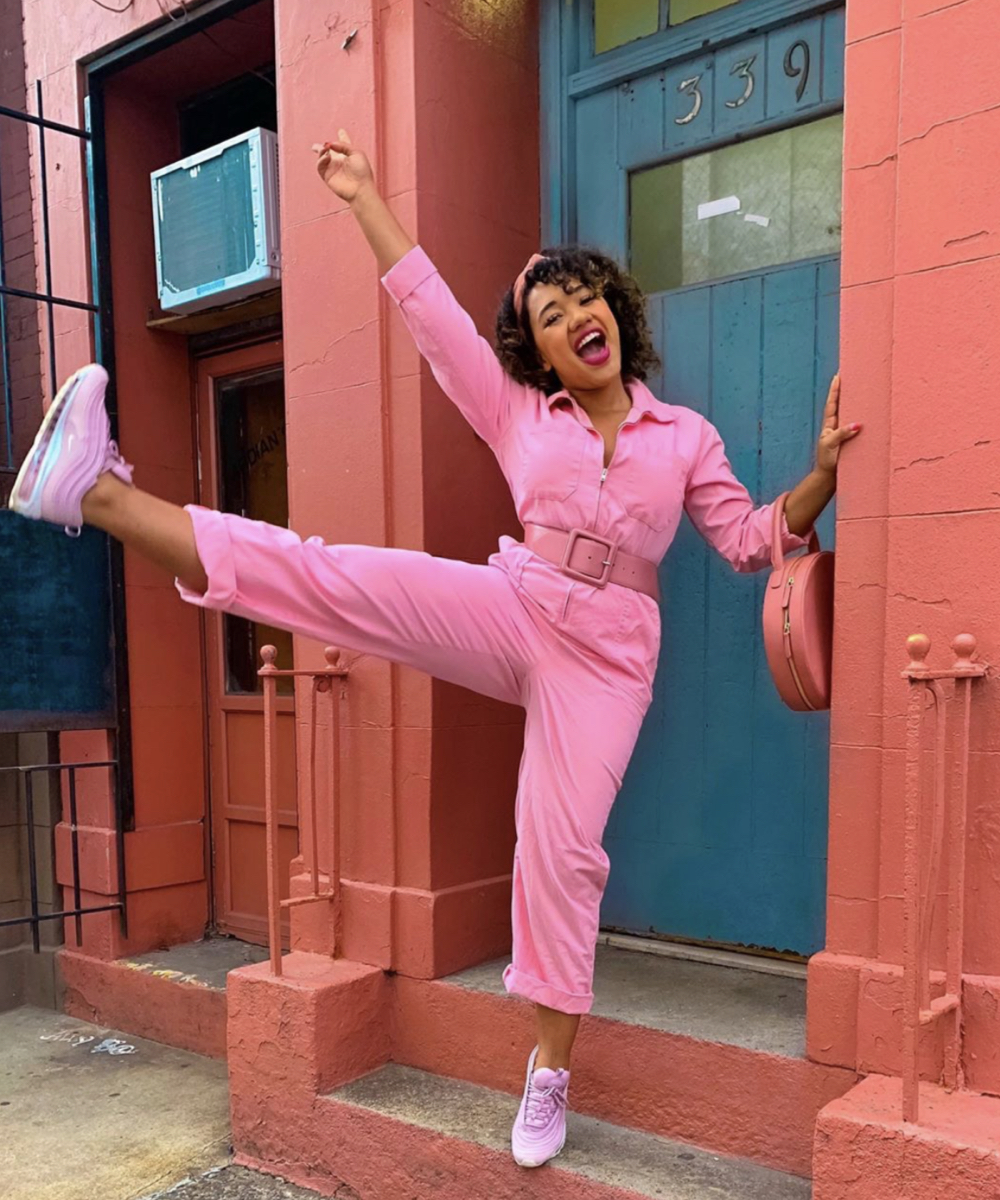 THE LOOK: Casual Chrome
WHERE TO WEAR: On The weekend, on vacation, to school, shopping, running errands, when your traveling.
WHY IT WORKS: All pink everything is always a good idea. I took this blush jump suit and paired it with matching belt, shoes, glasses, headband & belt for a Saturday of shopping & hanging out with friends. The belt helps create shape in an otherwise frumpy looking jumpsuit, but its elastic keeps you comfortable! The chic bag update gives the overall look a more stylish twist to elevate the look.
Look two: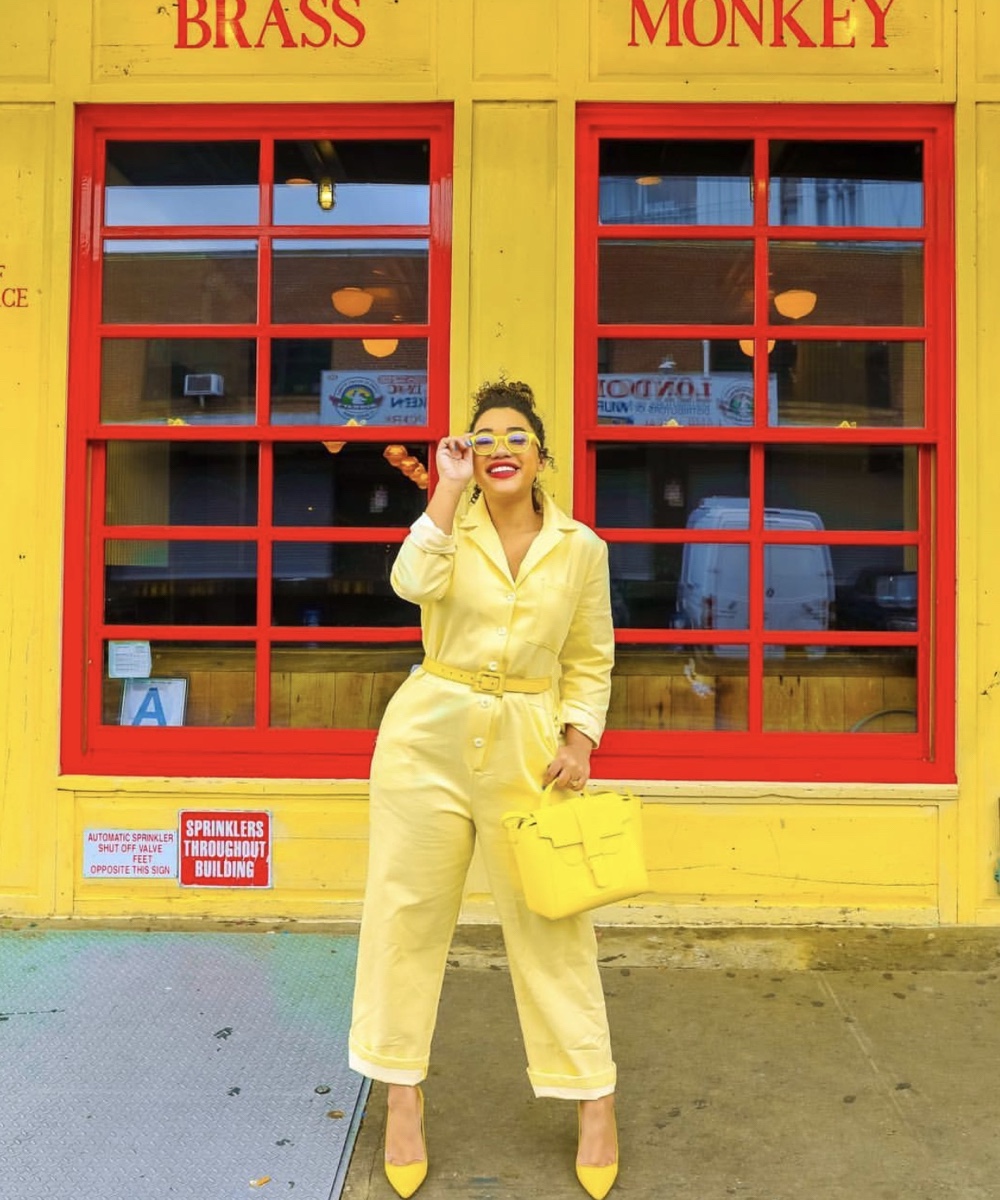 THE LOOK: Creative-Chrome
WHERE TO WEAR: To the office, on a date, to an event, out with girlfriends, to the movies.
WHY IT WORKS: Would you could you dare to wear a jumpsuit to the office. This obviously might not be an option for my suit wearing cuties, but for creatives working in marketing, tech or fashion you could totally get away with it. I know I would wear this to Coach if I was still in the office full time. I followed the same formula as the blush look, but went with a skinny belt & a more corporate bag to elevate it. I also pulled my hair back, added matching glasses & heels to compete the look. Its actually one of my favorite looks ever!
Look Three: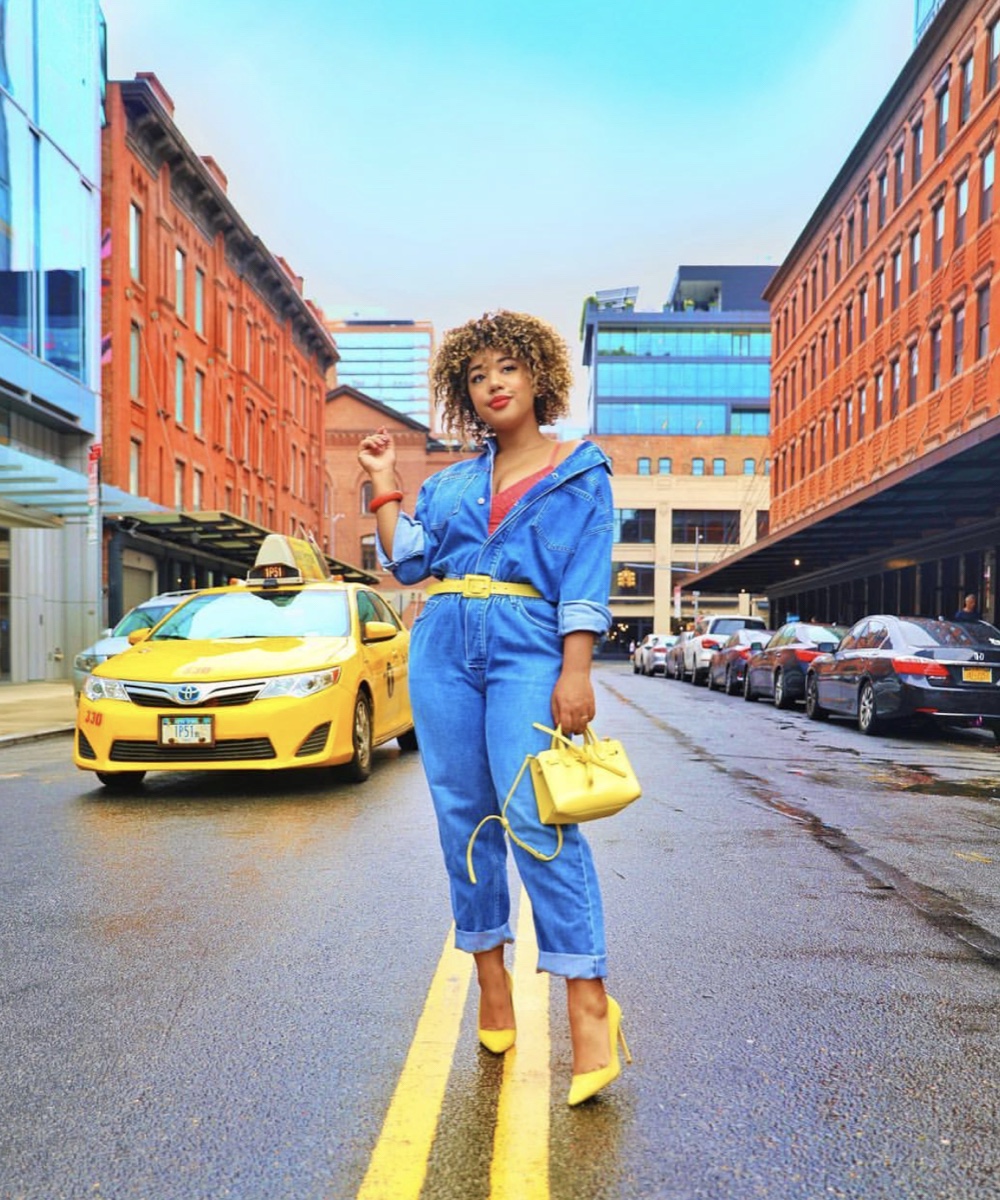 THE LOOK: Denim Darling
WHERE TO WEAR: To an event, out with girlfriends, out to dinner, to see a show, date night.
WHY IT WORKS: Is there anything more effortless than a denim workwear jumpsuit? I'll wait …. I mean this is the easiest way to look put together and chic without seeming like you're trying. Since denim is a little boring for my taste, I paired it with pops color in the shoe, bag and even bralette department. Showing a little skin helps offset the masculine nature of the silhouette, and adding lace creates contrast against the denim. Playing with opposites, texture and color here all create something really interesting, without looking like you're trying to hard.
Look Four: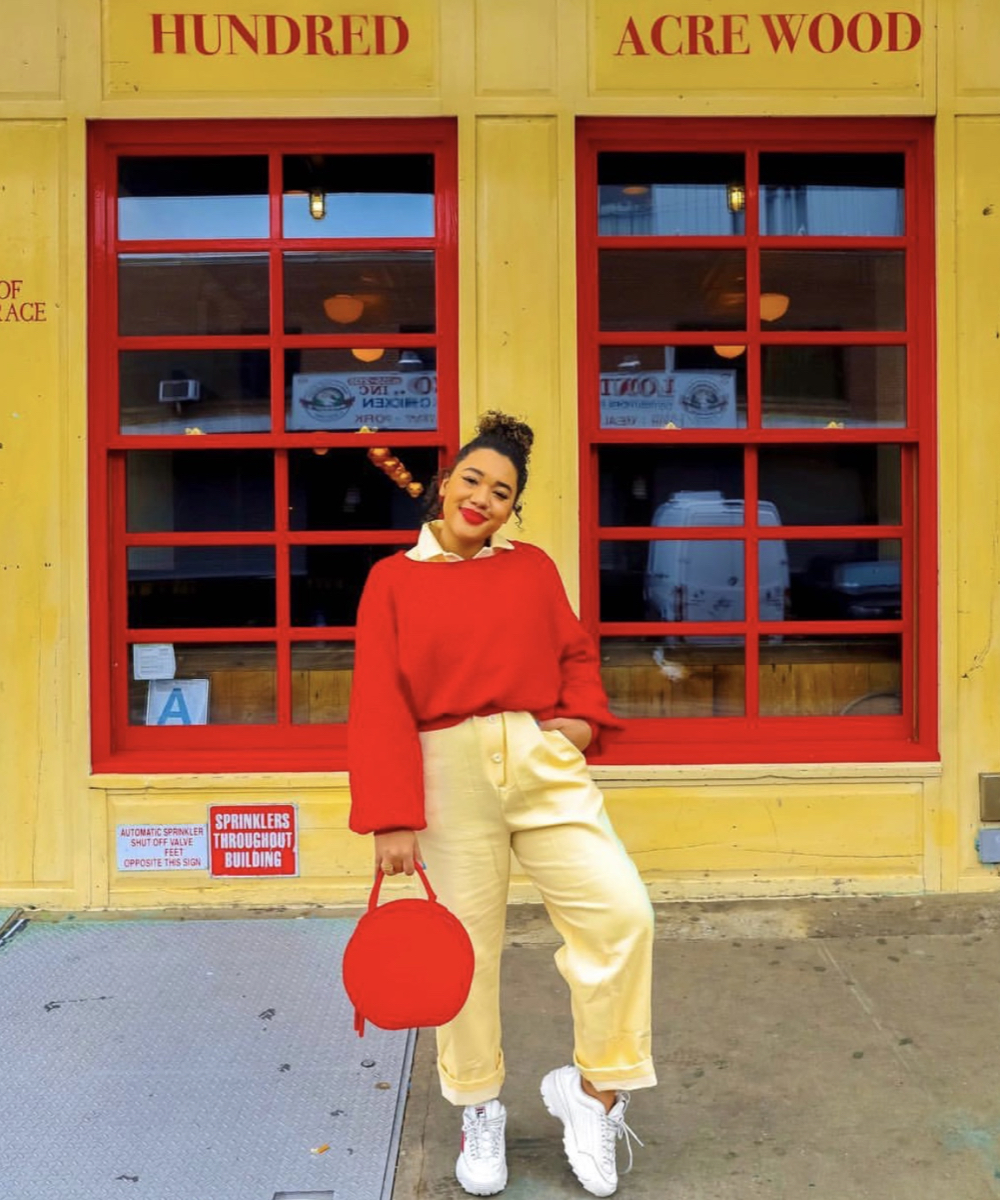 THE LOOK: Colorblocked
WHERE TO WEAR: On the weekend, on vacation, at a gallery, when you're traveling, to class, when you're off the clock, out to lunch, running errands.
WHY IT WORKS: Oversized + oversized doesn't usually work if you're short & curvy (guilty) but one simple styling trick can change all of that – a belt. If you cinch your waist at your smallest point, it changes everything. For this look I started by layering my jumpsuit and belting it the way I did in the 2nd look: creative-chrome. Then added a non cropped & oversized sweater over the top. I took the bottom half of the sweater and tucked it up into the belt, so its now hidden from sight. The layers go jumpsuit, belt, then sweater over the top with part of it wrapped inside the sweater. This creates the illusion that the top is cropped, similar to what a front tuck of a top into your jeans would do! Then I pulled the collar out up top to create a cool color blocked look. I finished with white sneakers & a graphic bag.
Look Five: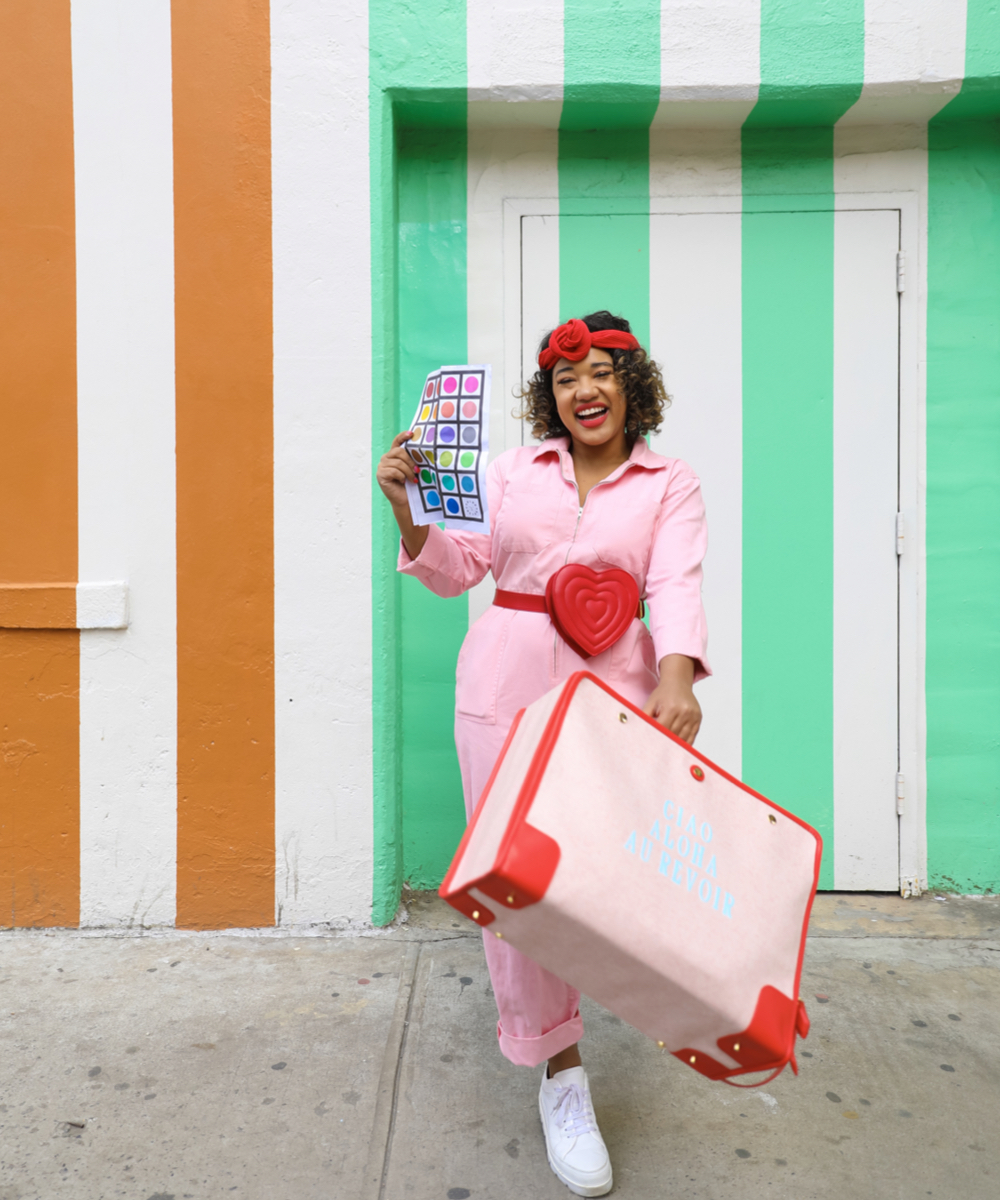 THE LOOK: The time traveler
WHERE TO WEAR: On the weekend, on vacation, on a plane or a train, out to lunch, running errands, to the movies, out with girlfriends.
WHY IT WORKS: I love channeling different eras in my outfits, and this one is giving me twenties meets 50's vibes and even a tiny nod to the 80's. The first issue I tacked with this look was the waist, just like we did in Casual Chrome look one. I defined my waist and added a pop of color by layering a fanny pack belt and getting our 80s on. I kept the color going by adding a fun hair scarf that gives it a 20's twist. And of course, the suit itself especially in this color is giving me all the 50's beauty school drop out vibes.
SHOP THE SUITS IN REGULAR & PLUS
+ a few more I have my eye on:


ps when you're shopping for jumpsuits like this try these key words:
"utility jumpsuit" "coverall" "boiler suit" "workwear jumpsuit" "coverall jumpsuit"
SHARE OR SAVE FOR LATER