Jan
28
2016
Jan 28 2016
CHECK out this View – Winter Layers & Over the Knee Boots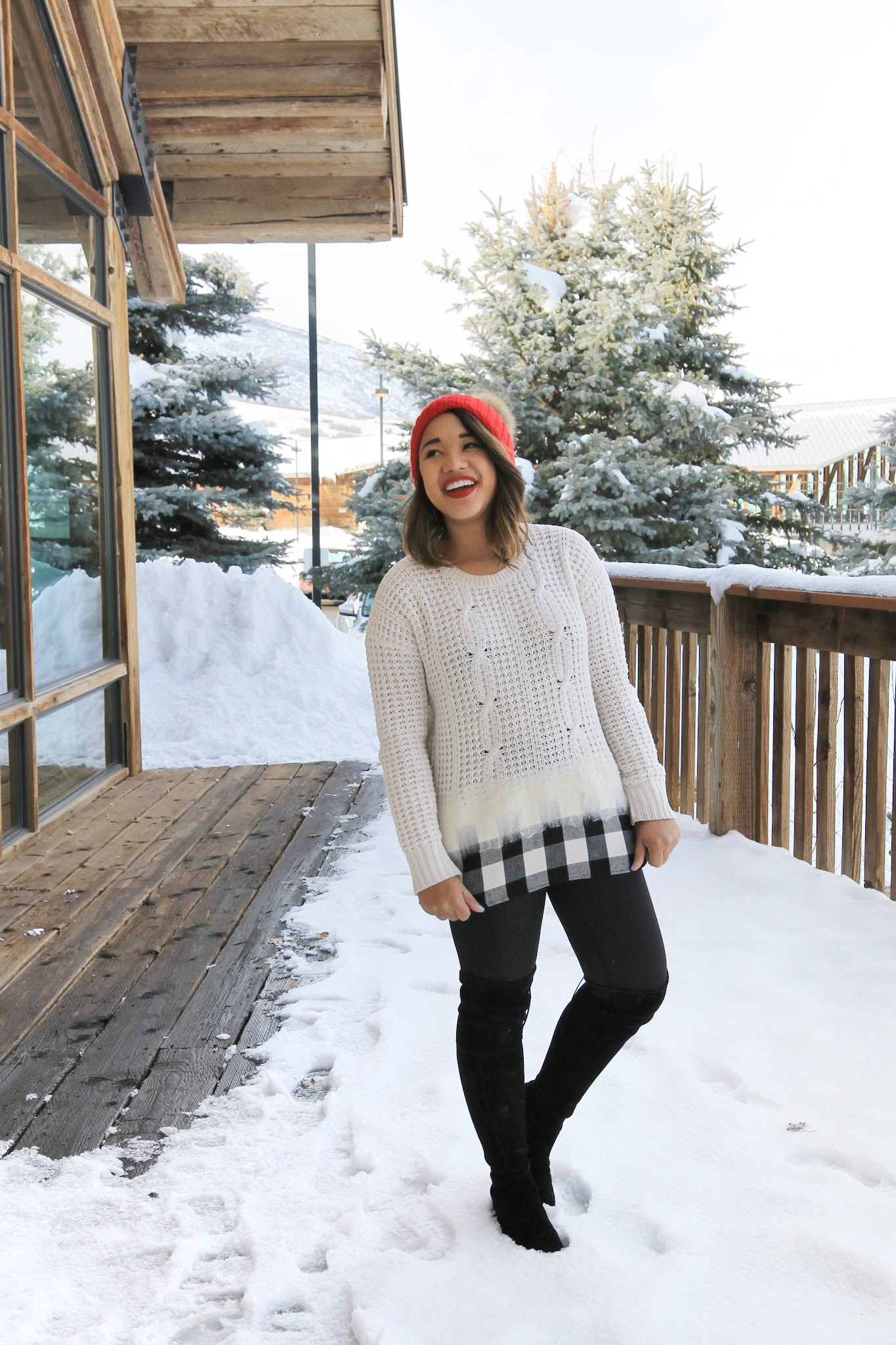 There's a cute little place somewhere in snowy Utah that has a little bit of history – some ancient and some not so much! Introducing, Solider's hollow!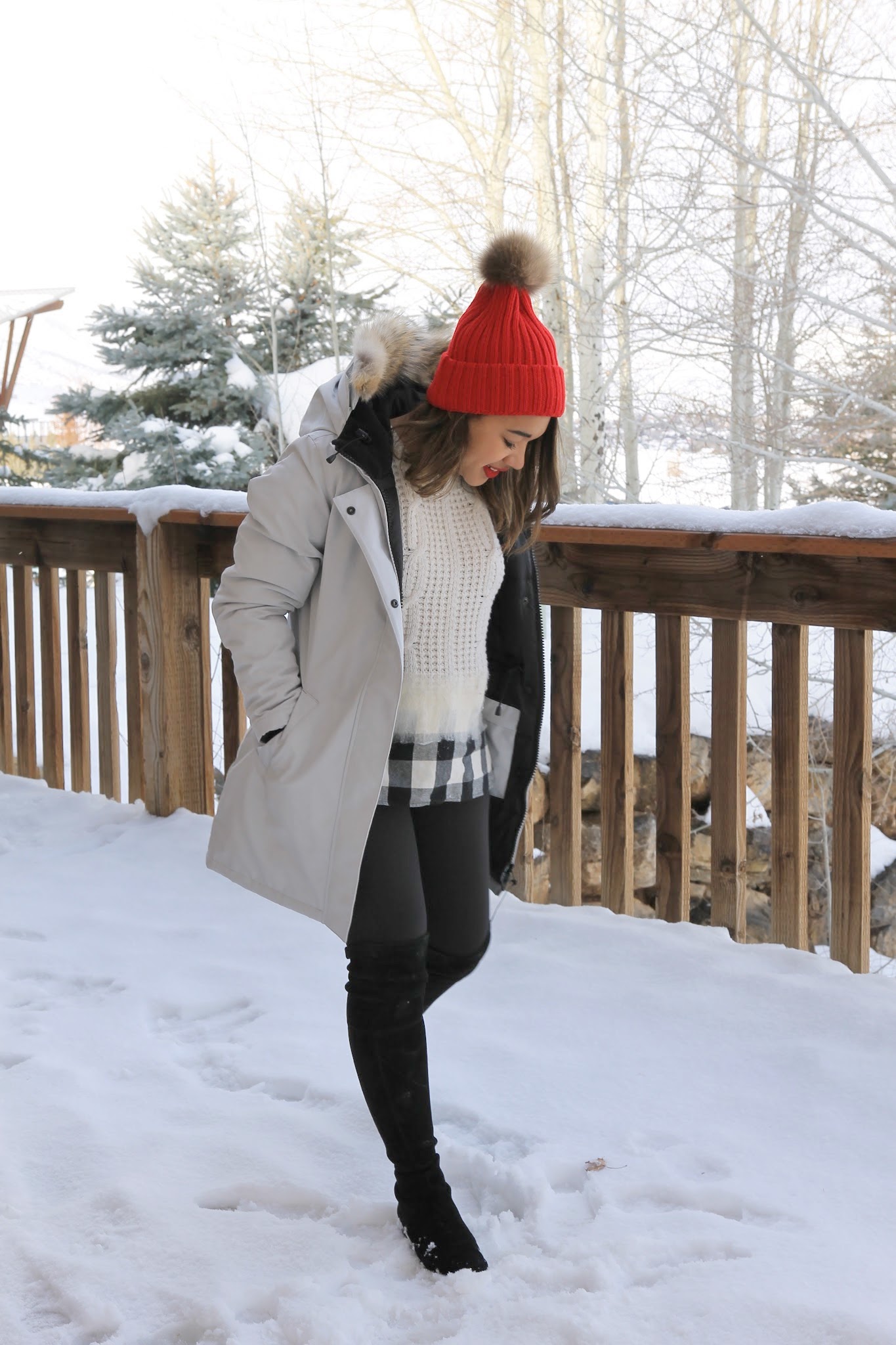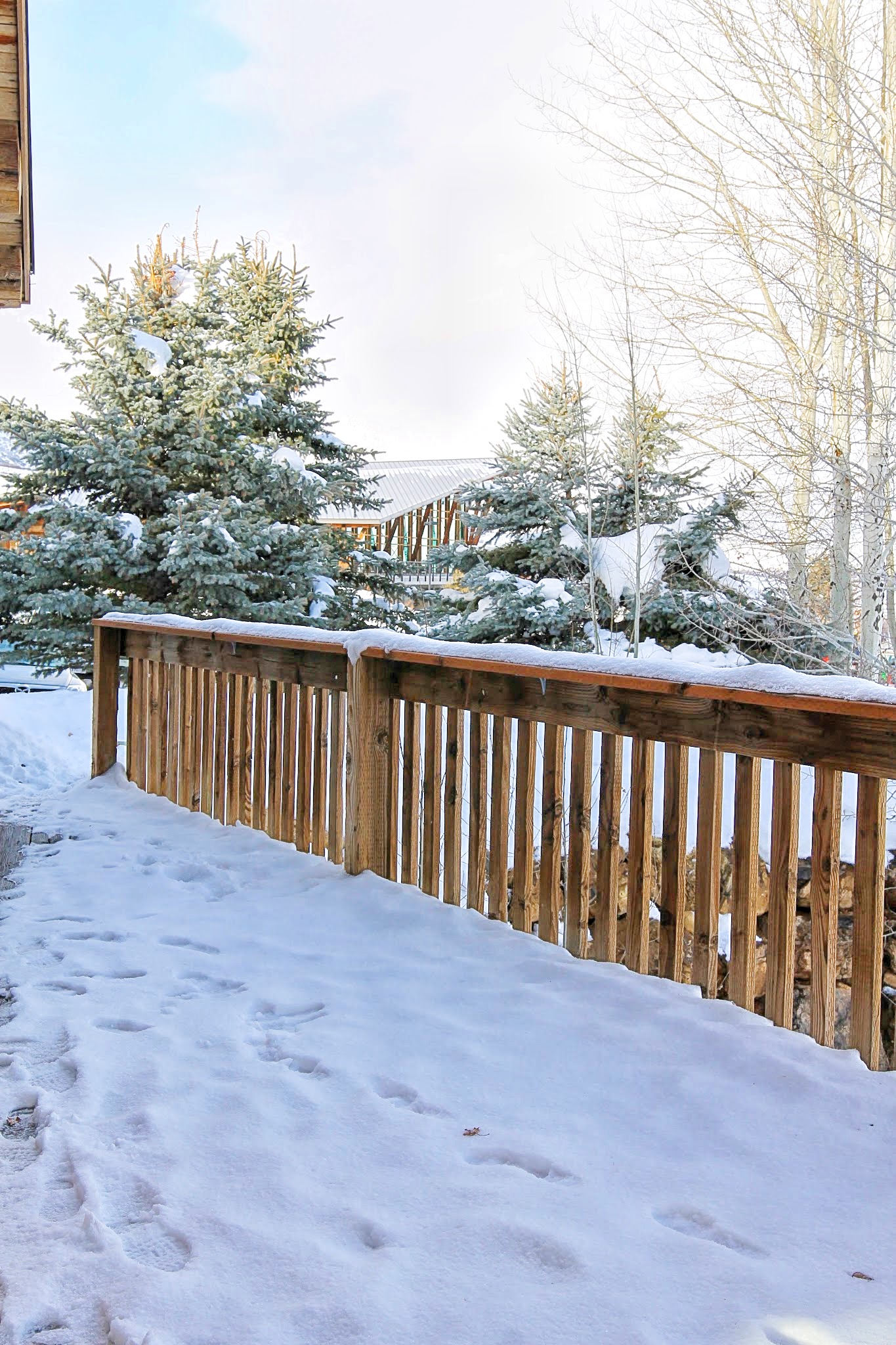 Once upon a time, Solider's Hollow was small Native American encampment and later, in the 1850's, a stopover for a group of Army surveyors. Actually some pretty tragic stuff happened there, but sometimes history isn't so pretty – I won't get too into it but more recently (2002) Soldier Hollow was a place for healthy competition and celebration as it was grounds for the Winter Olympics! After the Olympics, they remained open as a place for cross country skiing, tubbing and a serious view!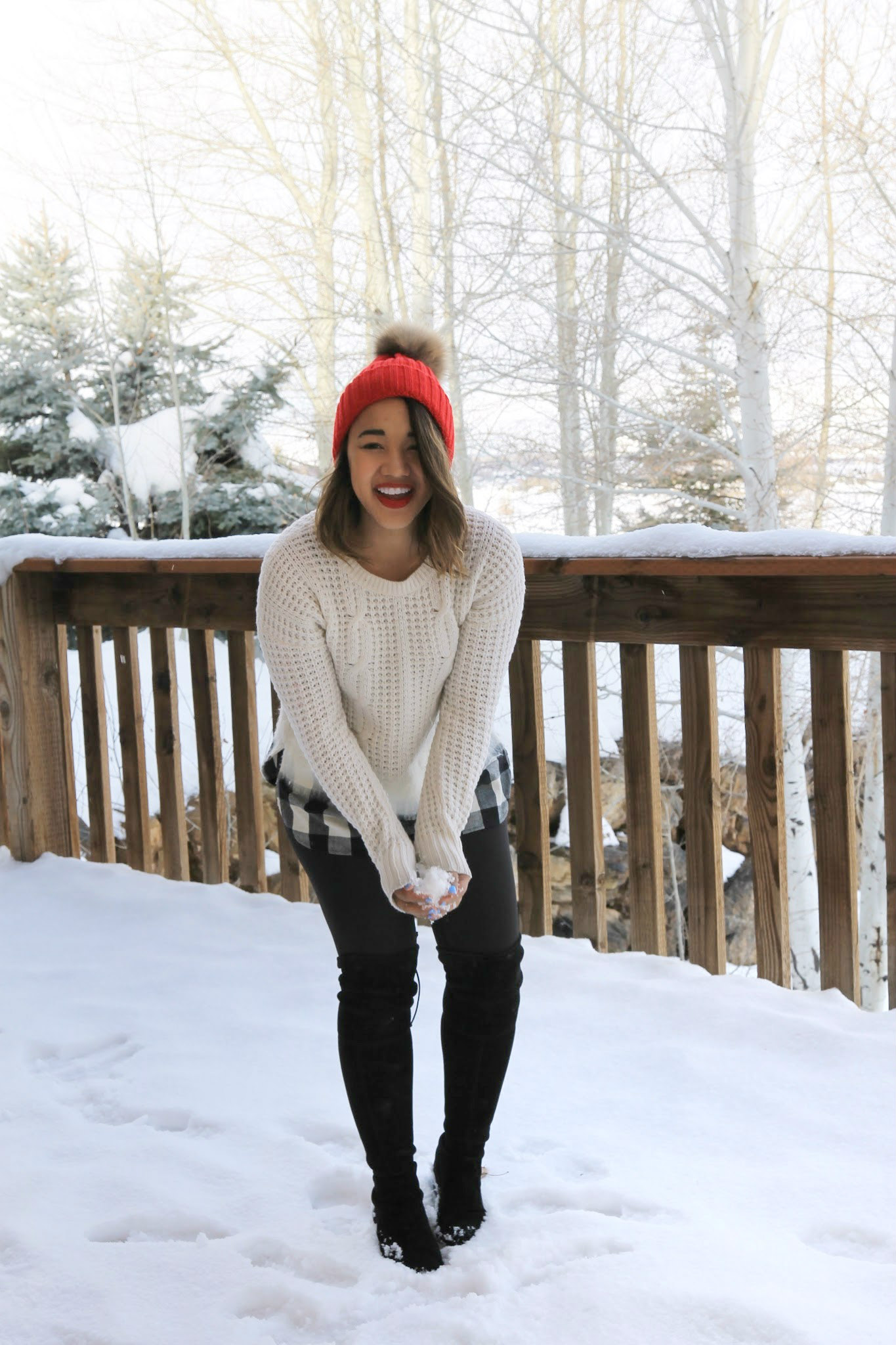 While I was in Utah we ventured up (down? over? sorry I don't know Utah geography – at all lol) to Solider's Hollow for more outdoor winter activities and frozen fun (I'll share them here, soon). These photos we're taken on the balcony of the lodge, looking out on the cross country ski resort. While I was in Utah, I was forever memorized by how beautiful every inch of the snow covered state was – so much so, that people post their Utah photos on instagram with the hashtag beaUTAHful lol. I thought that was too corny, even for me, so I stuck with #utahisrad lol but click the hashtage (either one to see how pretty it is for yourself!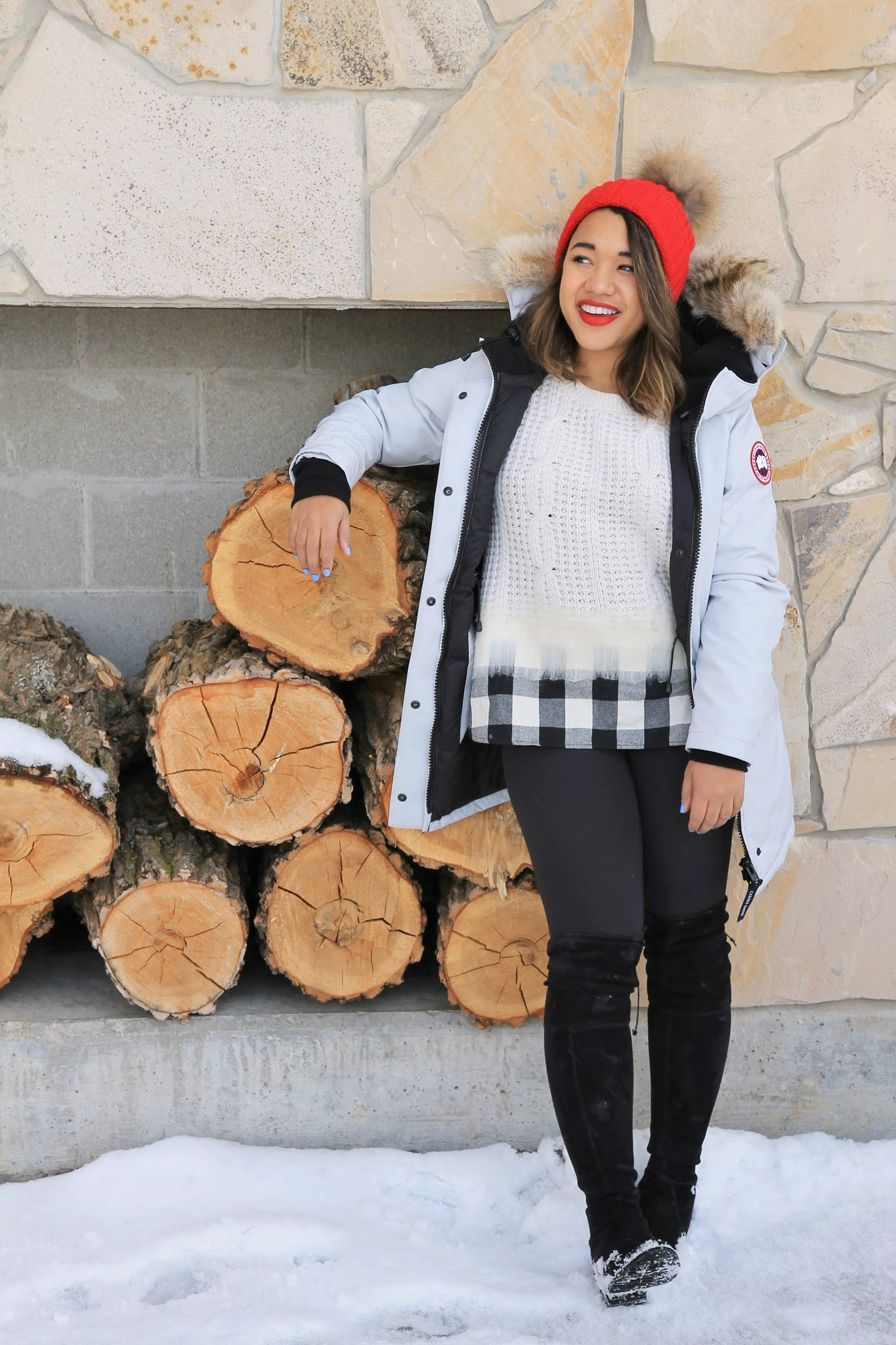 How cute is this sweater situation? I don't wear Madewell that often, it's a little too cool and trendy hipster for me and my style lol but thought it was super unique that I had to have it! It looks like it's two pieces, but it's actually one! It's a great way to get the layered look with only one piece – which is great for a getaway with limited suitcase space (I refuse to check a bag!) because you only have to pack the sweater! I'm obviously not stick skinny lol so I sometimes have a hard time layering with chunky knits without looking chunky myself – this sweater helps me be cool and layered, without the weight gain that doubling up on the sweaters can do #score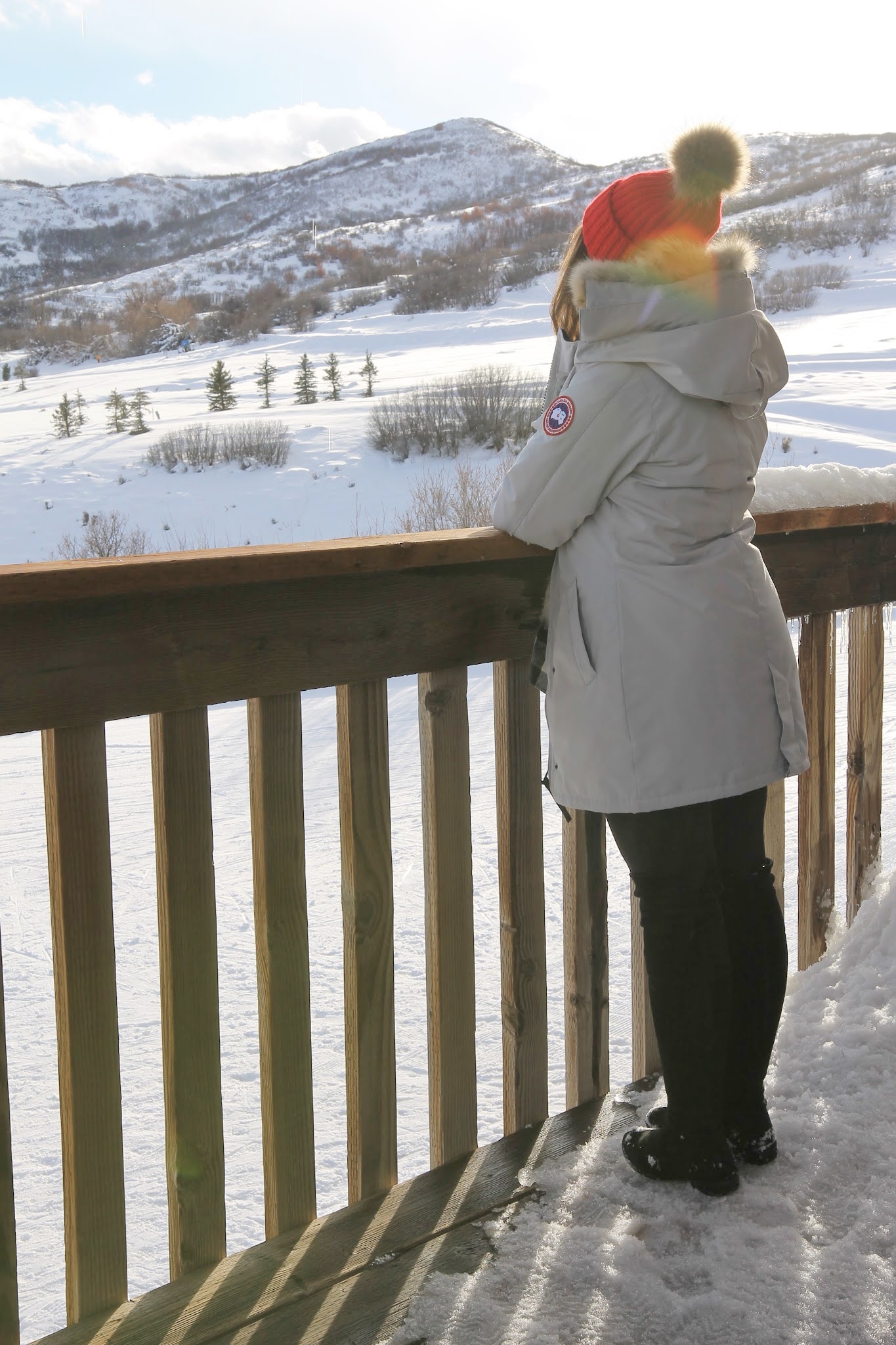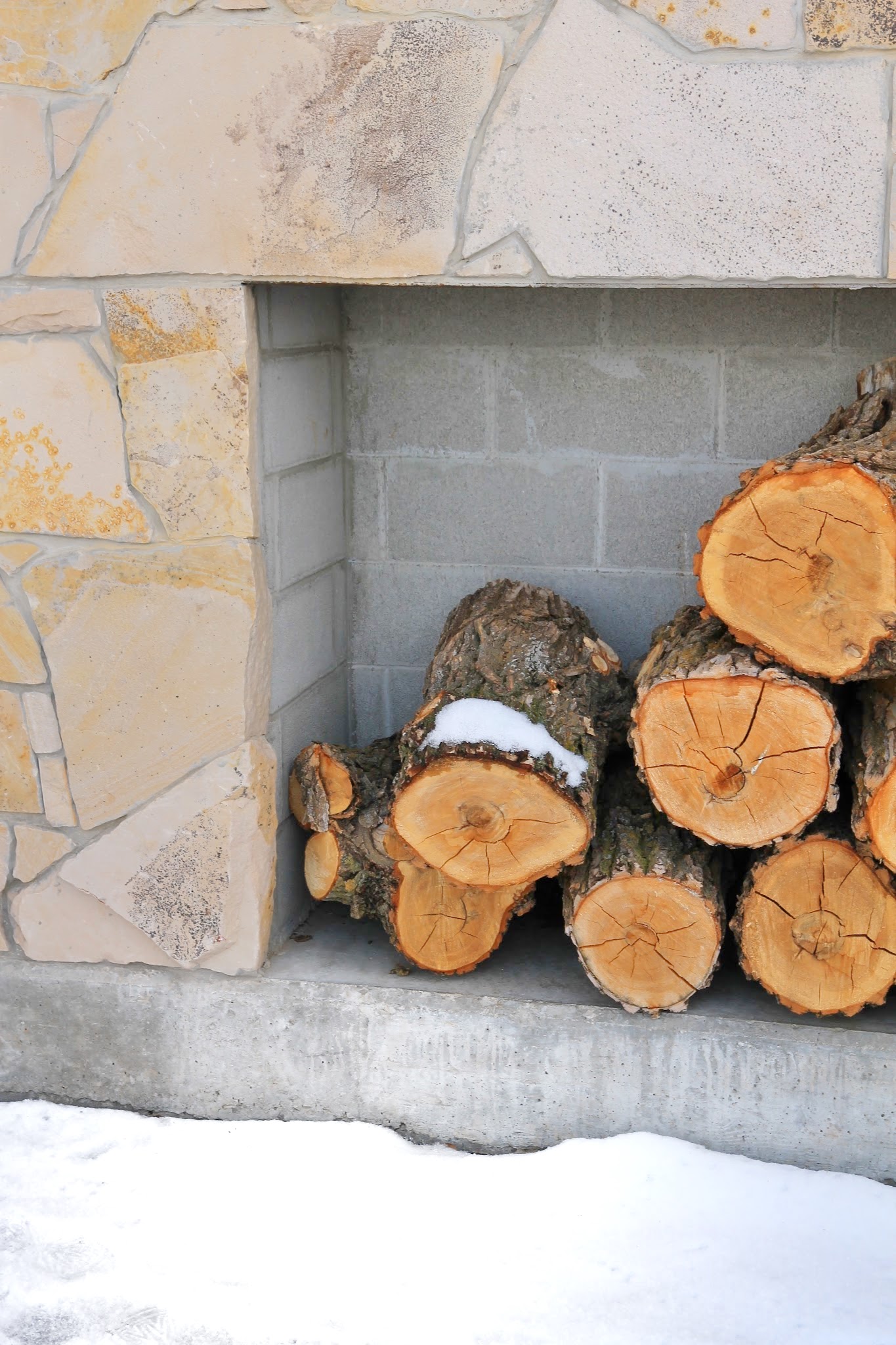 I paired it with Lululemon leggings and my go to over the knee boots! Honestly, I never understood the lulu hype, I was one of those people who was like "it's just leggings" (don't hate me) and never really understood why people paid $100 for leggings… I kins of think that leggings, tights, socks and underwear (and tampons) should be free lol so I hate spending money on them and buy the cheapest ones I can find – like I troll the $3 bin at forever 21 or search amazon for $5 tights and target for $2 tights … because, cheap! Also, I don't work out that much or wear leggings on the reg, so I didn't really ever feel the need to invest in a pair like that!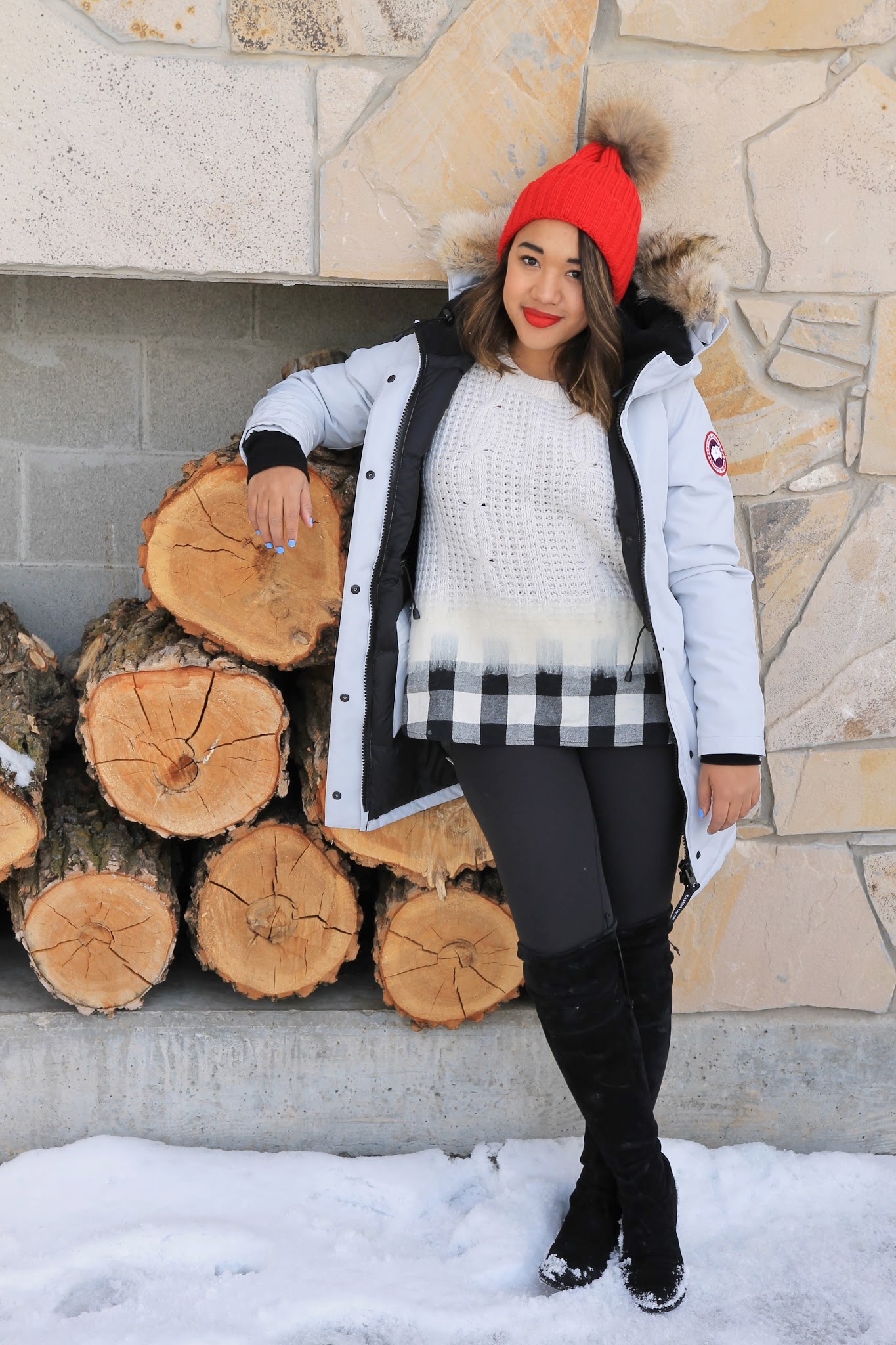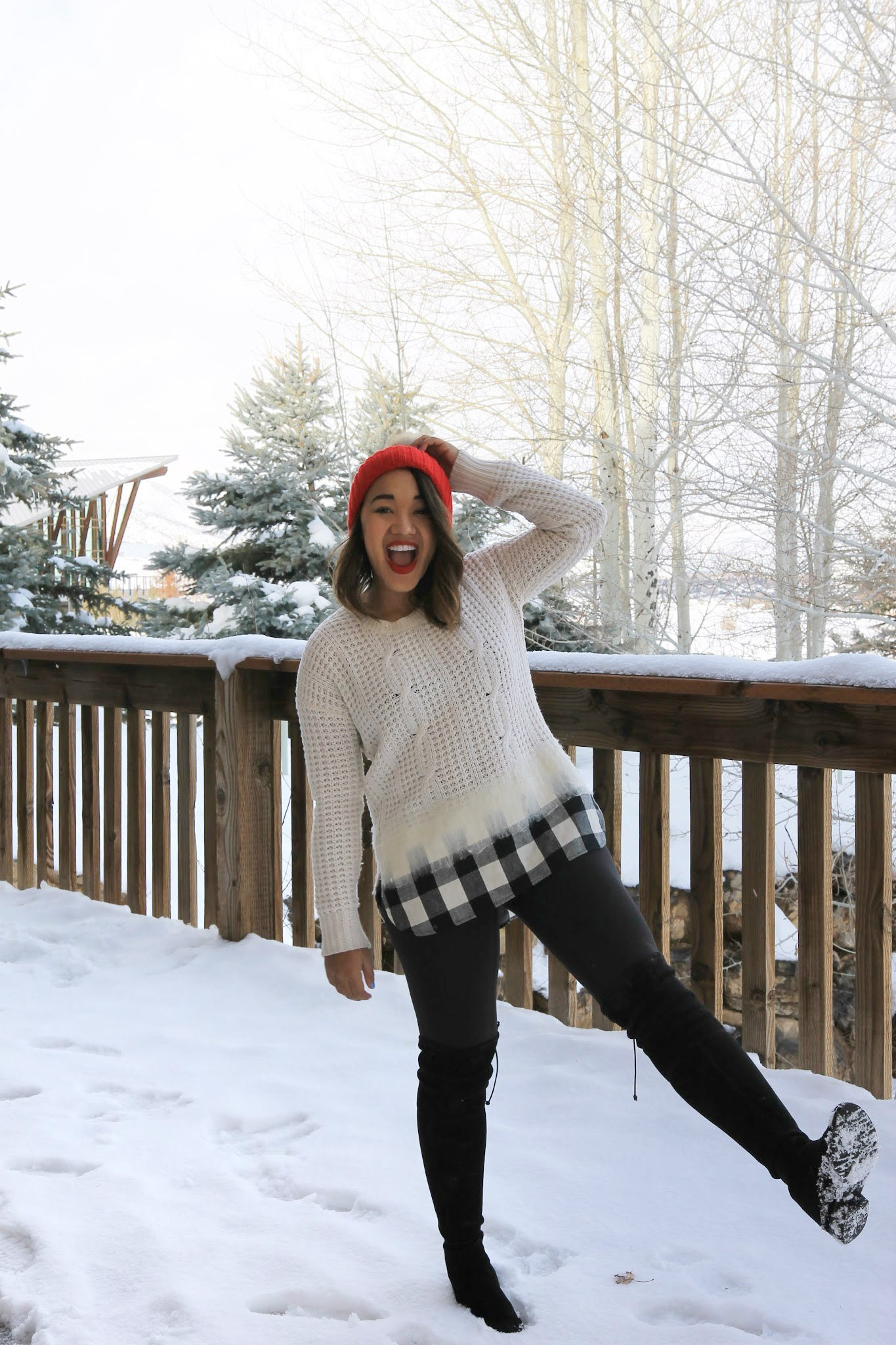 Anyways, my friend Whitney works at Lulu and it's pretty much all she ever wears, so she swears by the stuff! She finally got me into a pair of leggings and I'm kind of obsessed – they fit like a glove, their high waisted and (the best part) dog hair brushes right off of them, so they are a must for Life with Waffles. I wore them all day and was warm enough even though it was like 20 degrees in Utah, and wore them under my Snow pants when we wen't tubing about an hour after these were taken! Will I ever spend $100 on another pair of leggings, ehh idk, maybe not, but I do really really love these fullux high times and think investing in at-least one pair is totally worth it!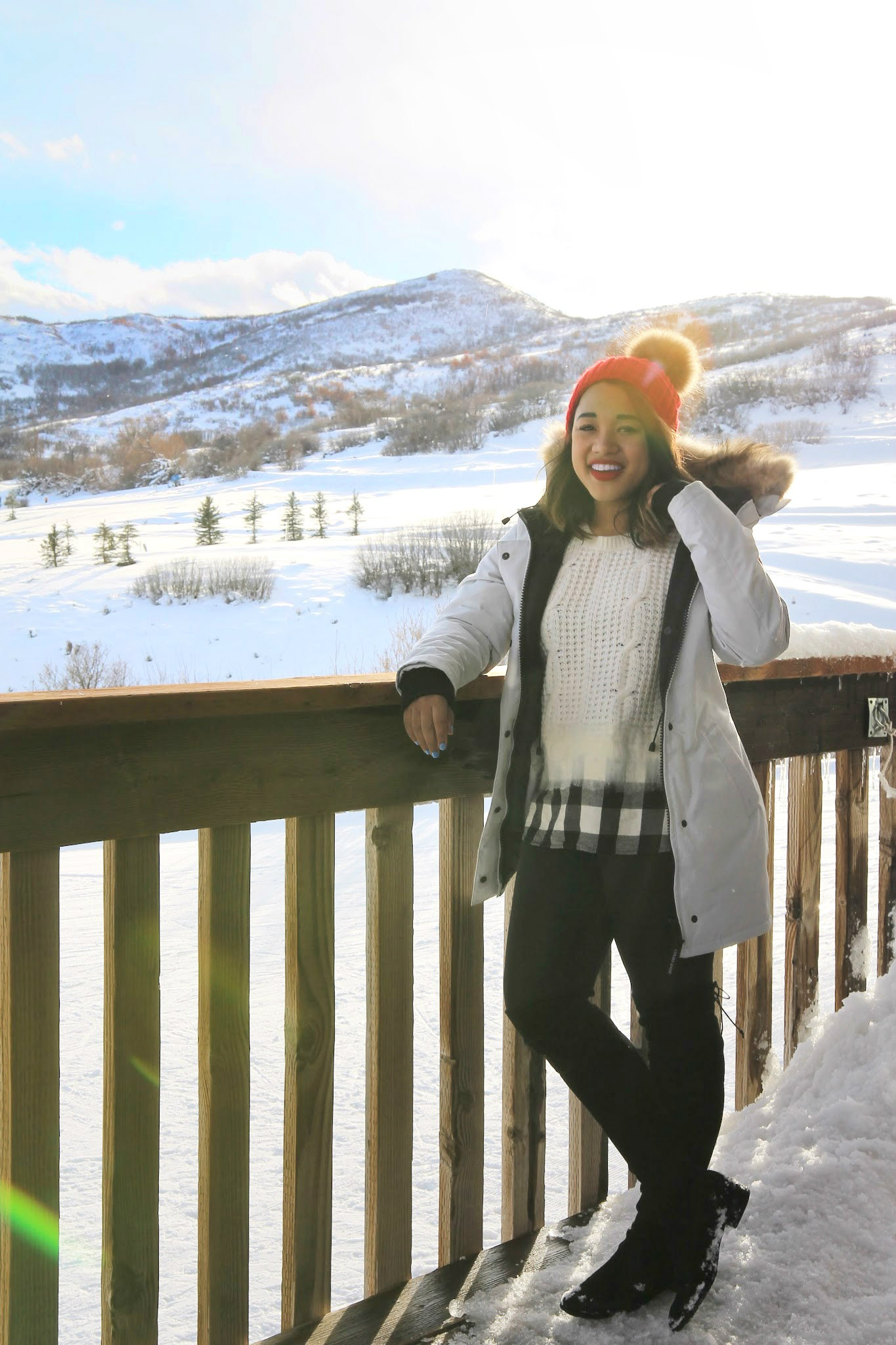 Sweater || Leggings || Boots (my favs) || Coat (similar here) || Hat (similar for under $100)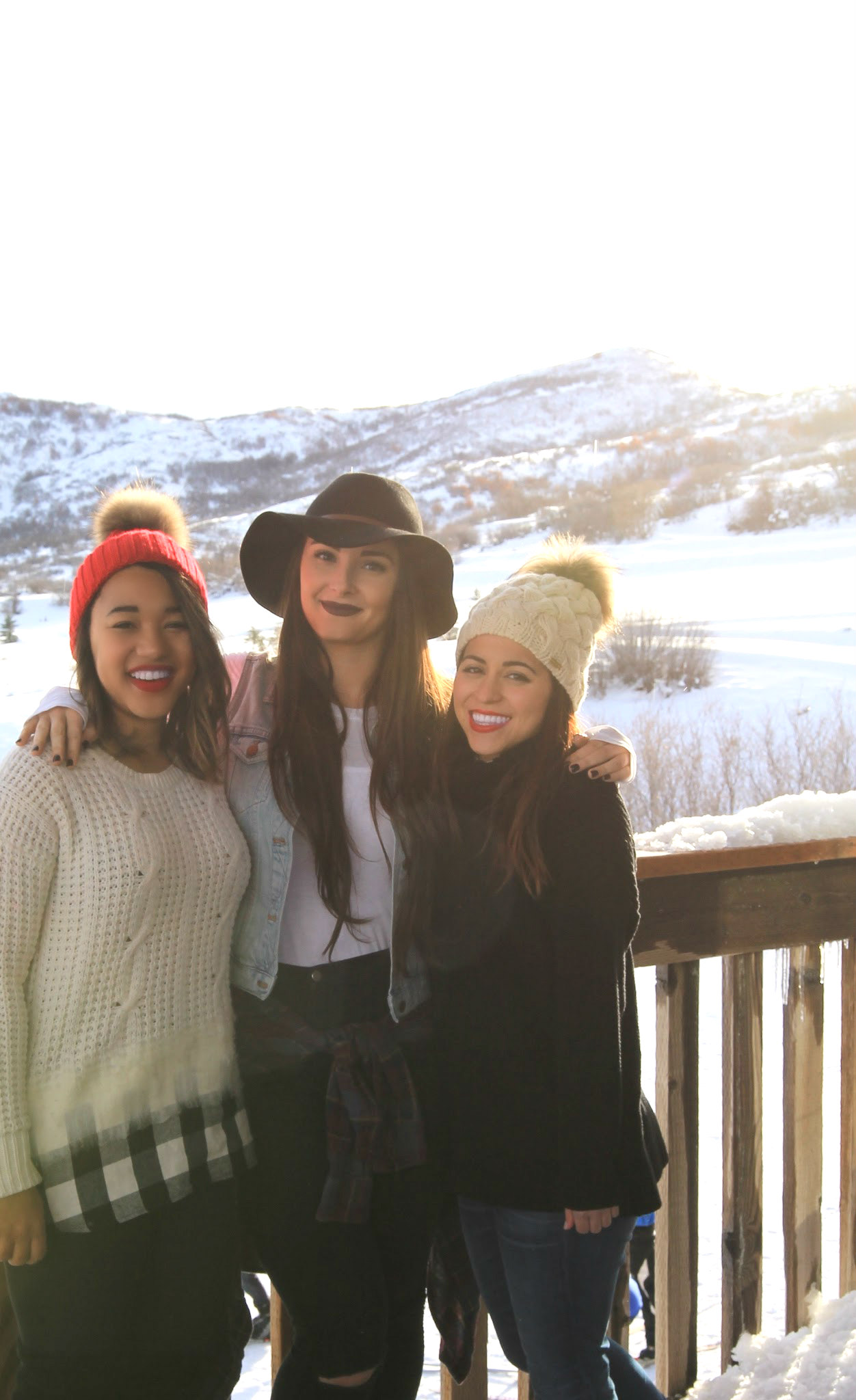 P.S. Thanks to my friend Kristin for the mad photo skillZz and Whitney for just being Whitney lol #myfriendsareawesome
P.P.S. I'm selling a pair of Stuart Weitzman heeled Over The Knee boots!!!!! Read below!
This Pair, the Stuart Weitzman Highland heeled boot in black leather! They retail for $875 + tax (like $90), my pair has been worn for one full day, I shot with them in the morning, took a cab to the office, and then took a cab home – so they were only outside for a bit.
There's nothing wrong with them I just am cleaning lout my closet and I don't wear them enough (like I said, I only wore them once)
They're size 7.5 (I am a 7.5 almost always) they fit true to size and come with the box and dust bag! I'm asking $650 for them and offering free shipping to anywhere in the USA + will give you 5 outfit ideas and ways to wear them with your purchase just for fun 🙂 let me know if you're interested, send me an email at courtney@colormecourtney
Click here to see them on the Stuart Weitzman site & for more details
Click here to see them on me
SHARE OR SAVE FOR LATER