Oct
9
2017
Oct 9 2017
Day to Night Spots / 24 hours with Aveeno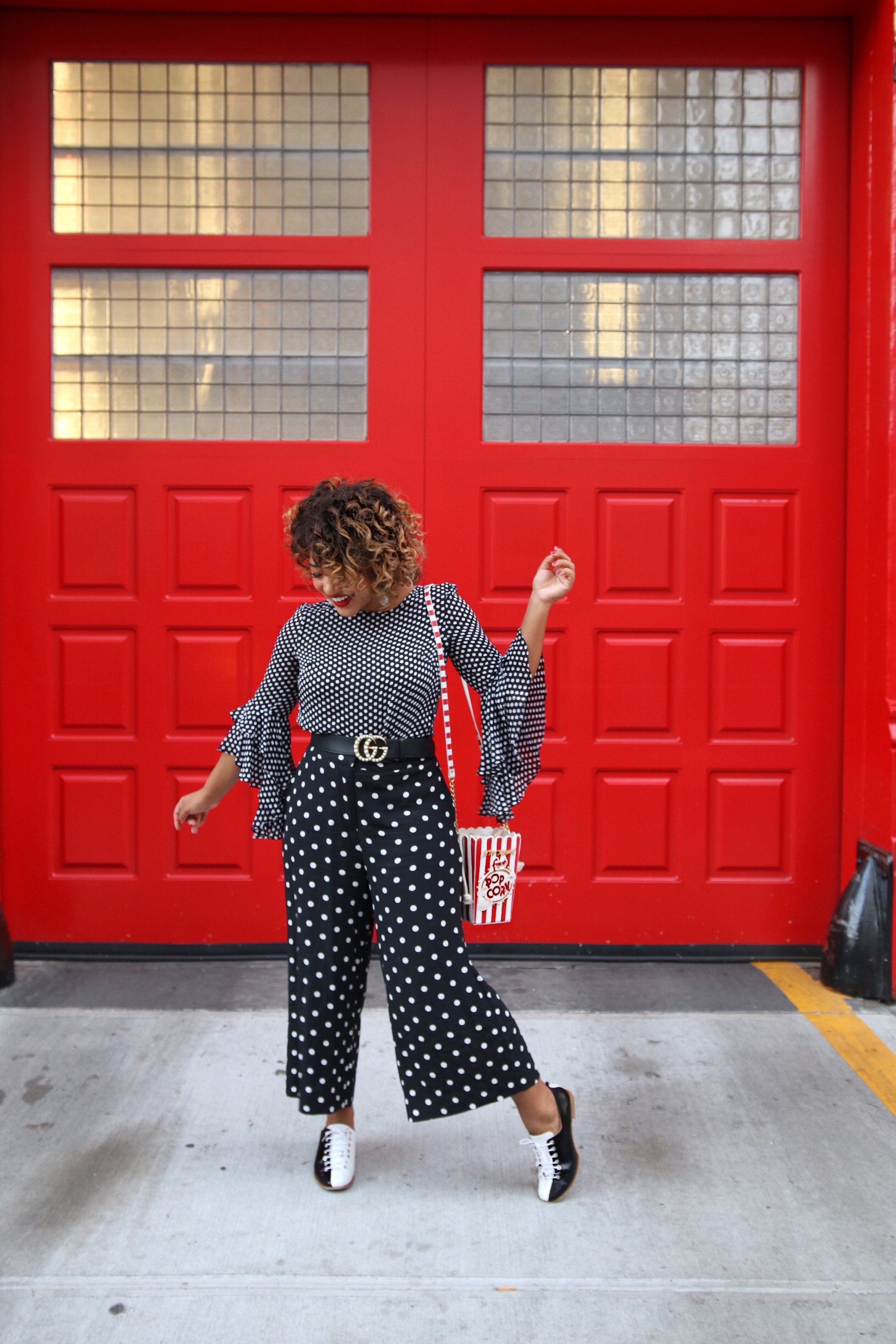 As you may know, a day in my life is different from the norm mostly because my 9-5 extends far beyond normal office hours. I'm not complaining – A Color Me Courtney day can be packed with photoshoots, outfit pulls, content creation, clearing my inbox, meetings on meetings, outfit changes, events and runway shows … or if could be opening boxes and editing photos for 9 hours straight. It varies, but thats why I love it because its always changing and always unexpected. So today I'm partnering with Aveeno to share a day to night look + 24 hours of smooth skin!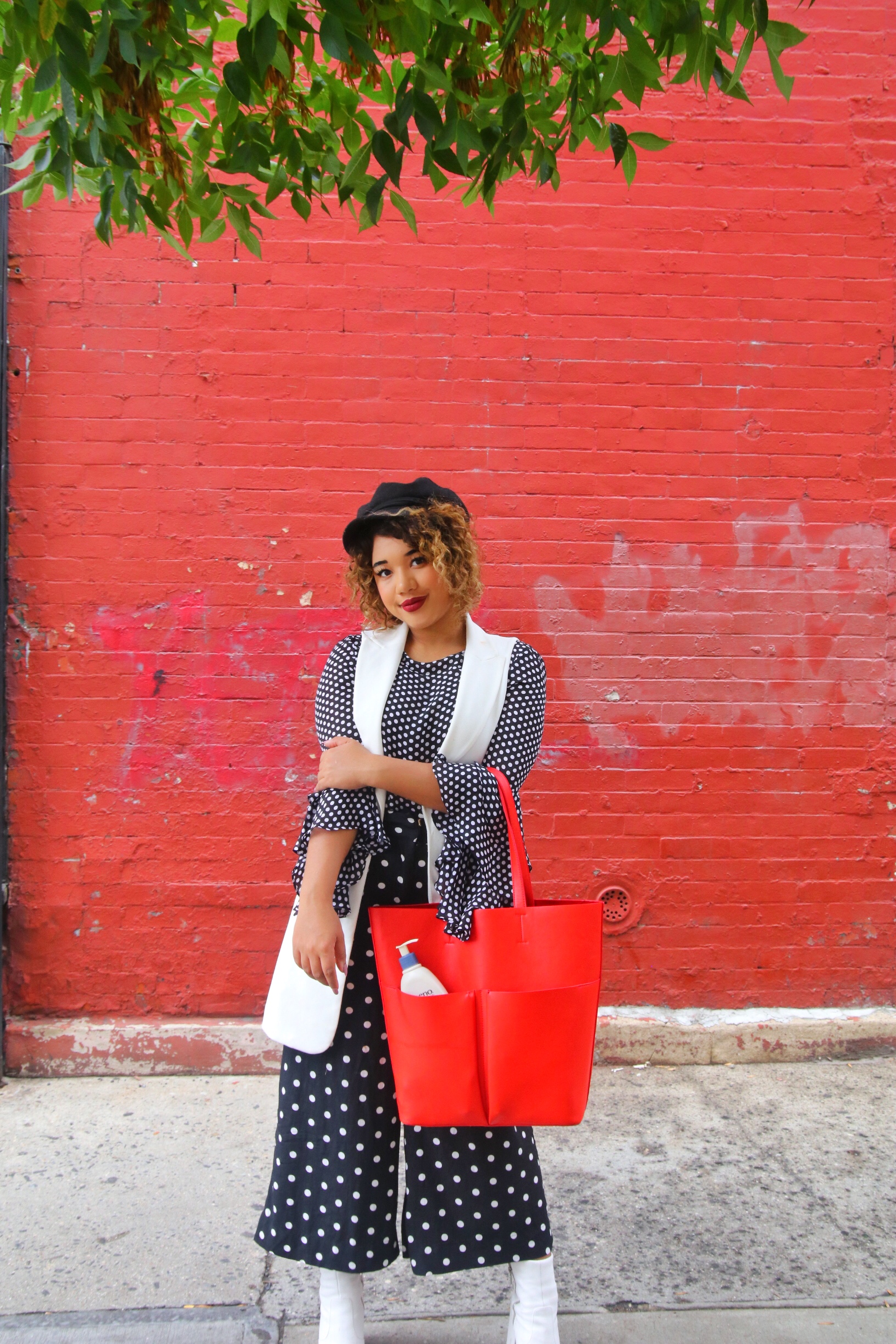 Shop The Look (it's also all linked at the bottom of the post)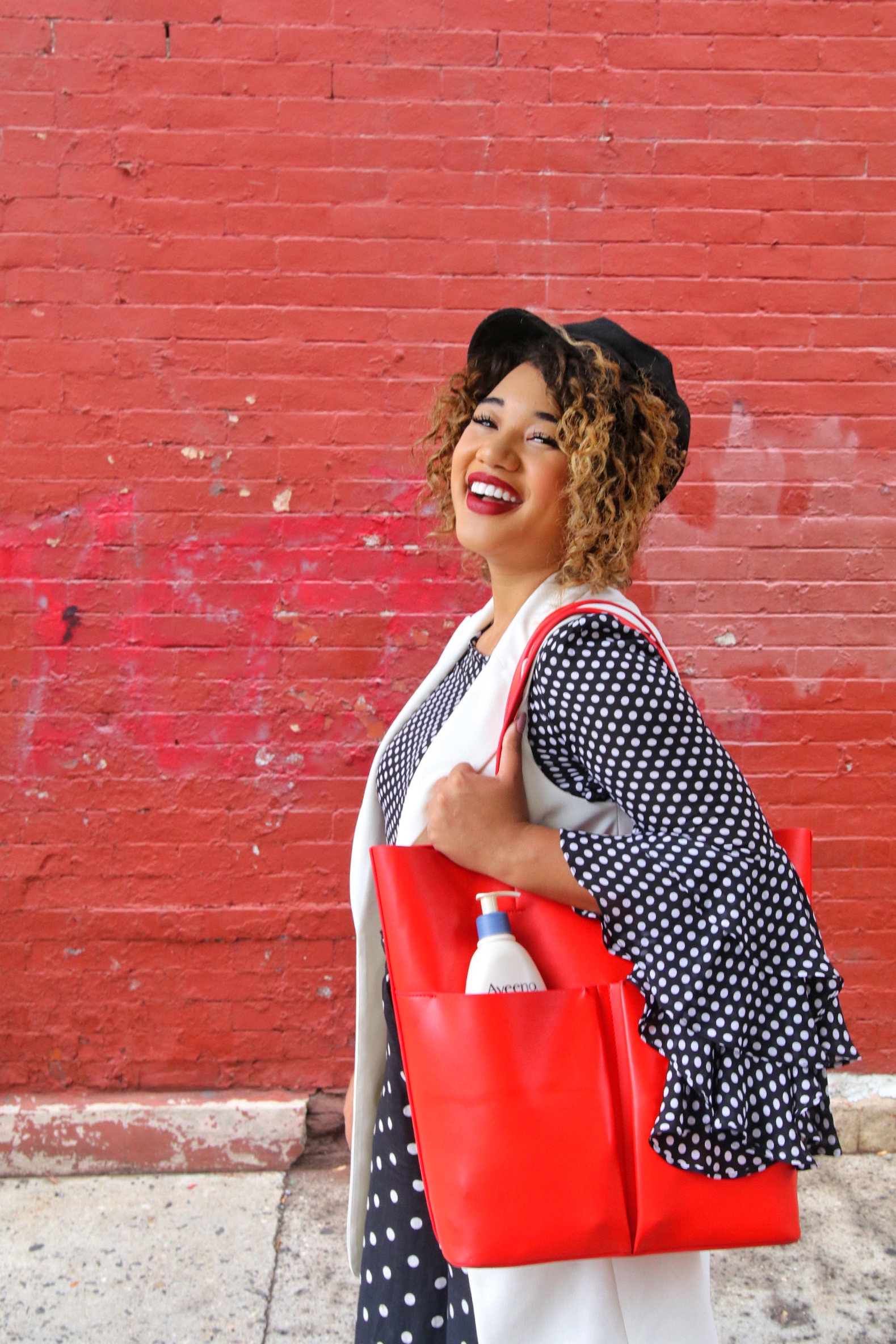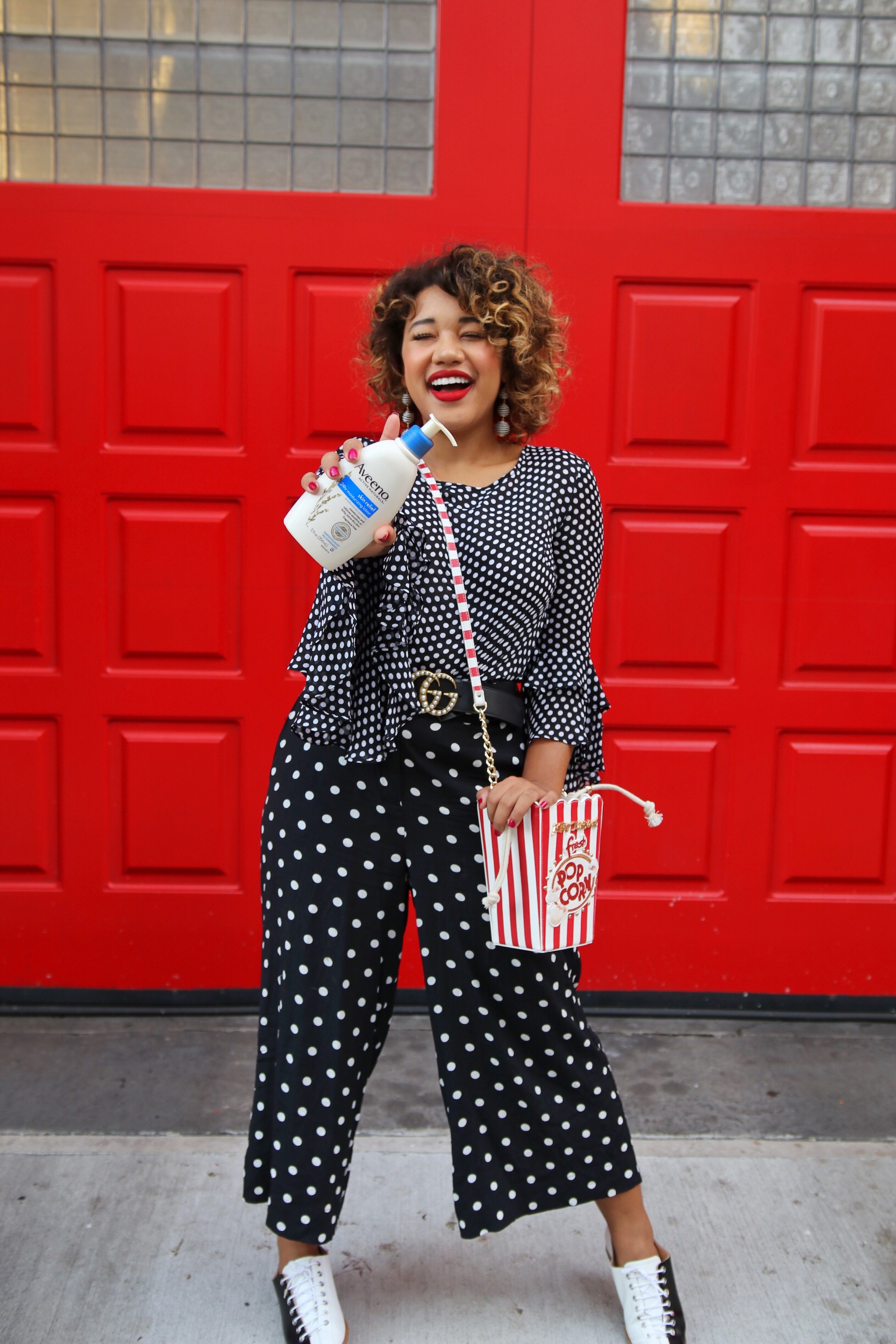 As my day shifts, I have to look good and most importantly feel good all day long – so I like to rely on products that withstand time like makeup, hair and skin products that lasts all day – like the 24 hour skin relief moisturizing lotion from Aveeno. Aveeno claims their lotion will last all day, keeping you smooth and dry while relieving itchy or irritated skin – so I decided to put it to the test to see if it could last a day in my life.
I started the night before, showering with Aveeno skin relief body wash and applying Aveeno 24 hour skin relief moisturizing lotion right before bed. Usually I'll apply lotion at night and again in the morning – but this time I didn't have to! So far the lotion was doing its job and lasting through the night.
Like my lotion, my outfits often have to work double time so they can last all day. I started by dressing up this look with booties, a vest and a big bag so I could head off to my morning meetings. I love that this look is black and white, which is kind of weird for me, but still super fun and true to my sense of style. The mixing of prints and pop of color help keep it Courtney even while having barley any color at all.
After a day full of meetings, errands, pulls and just running around – I'll switch into a more casual version of this look for a night at the movies. For this look, I met Paris for Pasta and then headed to see a new movie I had to review for an upcoming post – so it was work, but also play. Since I love to dress in theme, I switched my big bag out for my cute popcorn one – it's pretty small, about the size of the Aveeno 24 hour skin relief moisturizing lotion bottle, but its big enough to carry what you need for a night out. Oh and since my lotion was still going strong, I didn't even have to reapply before heading out for our movie date.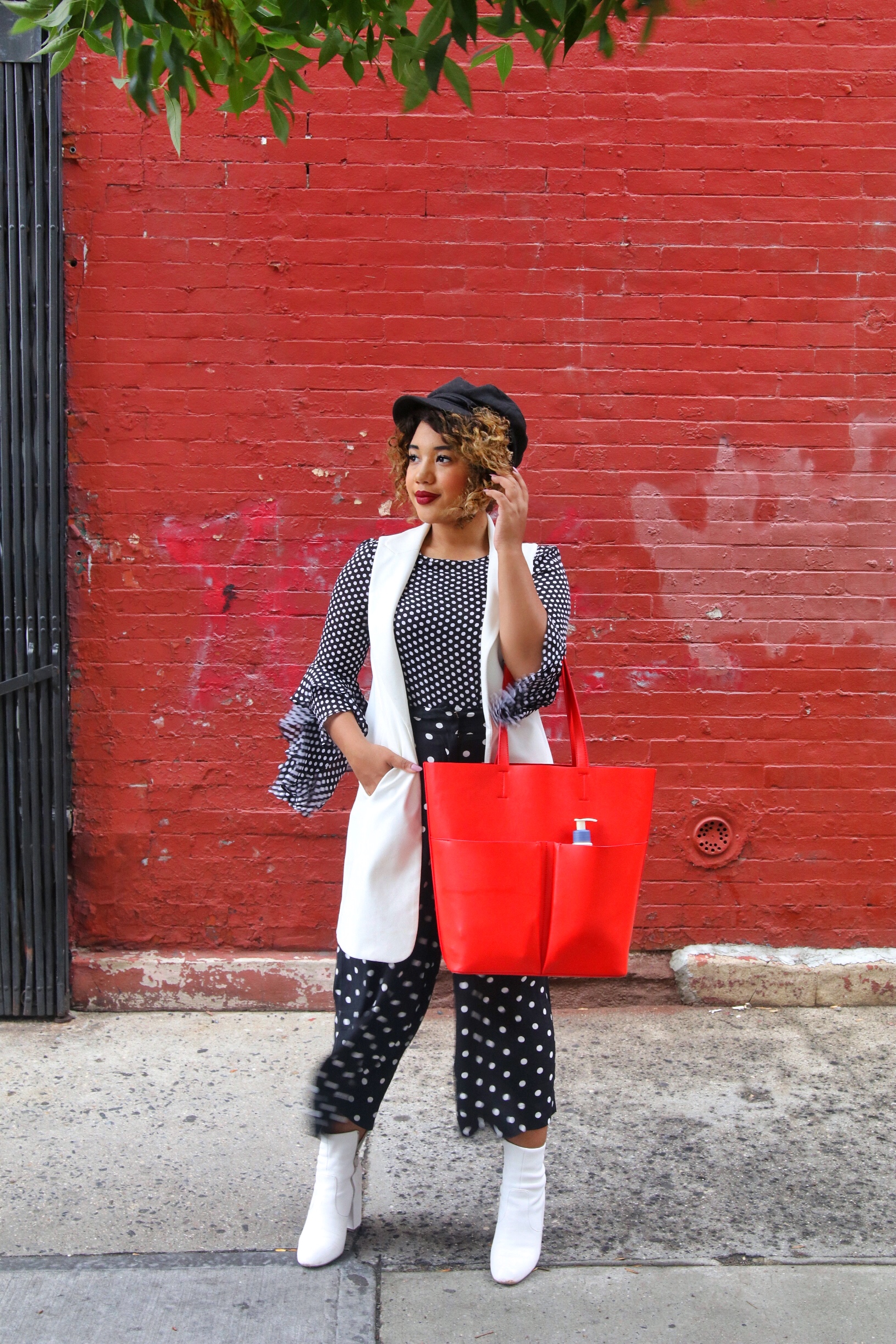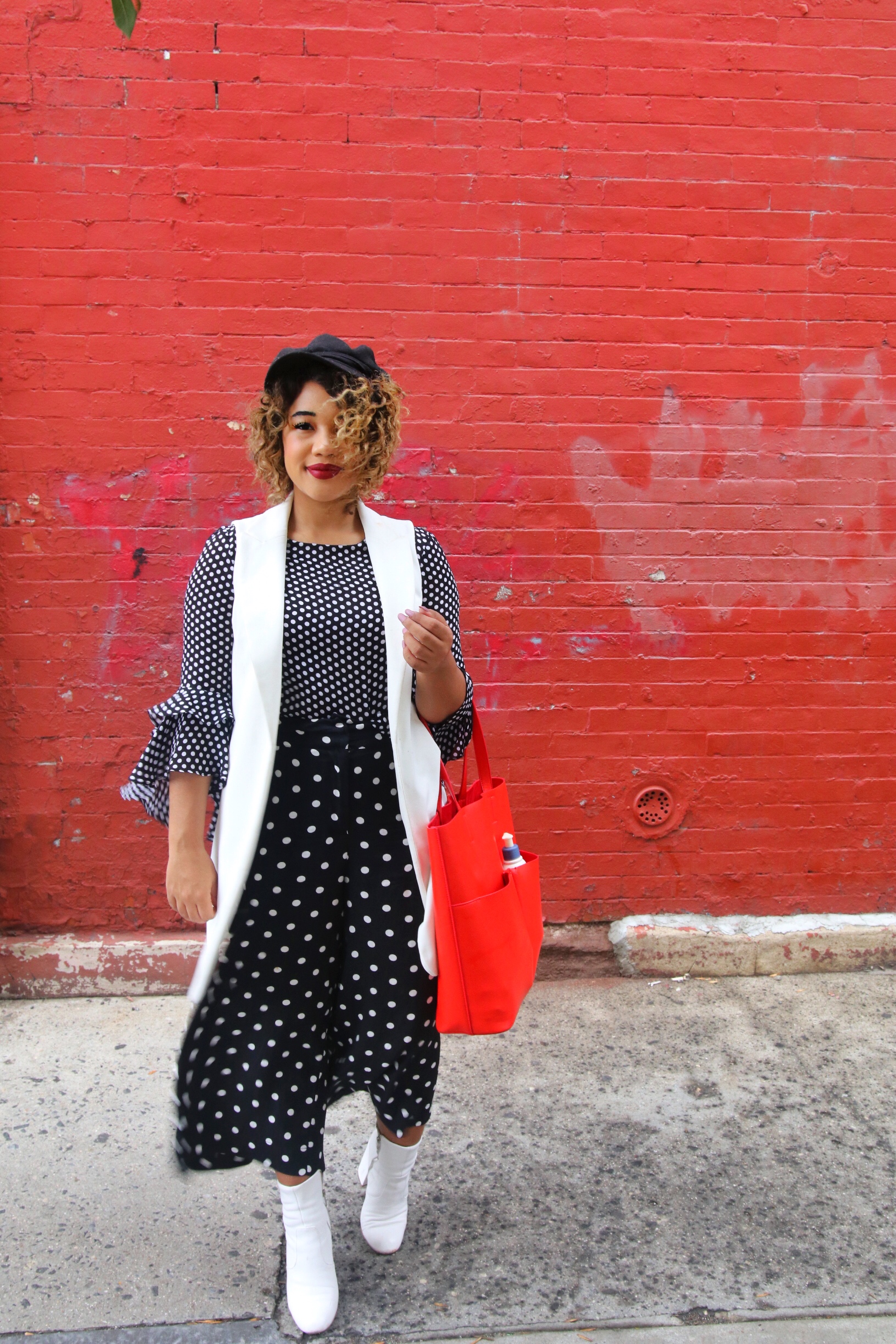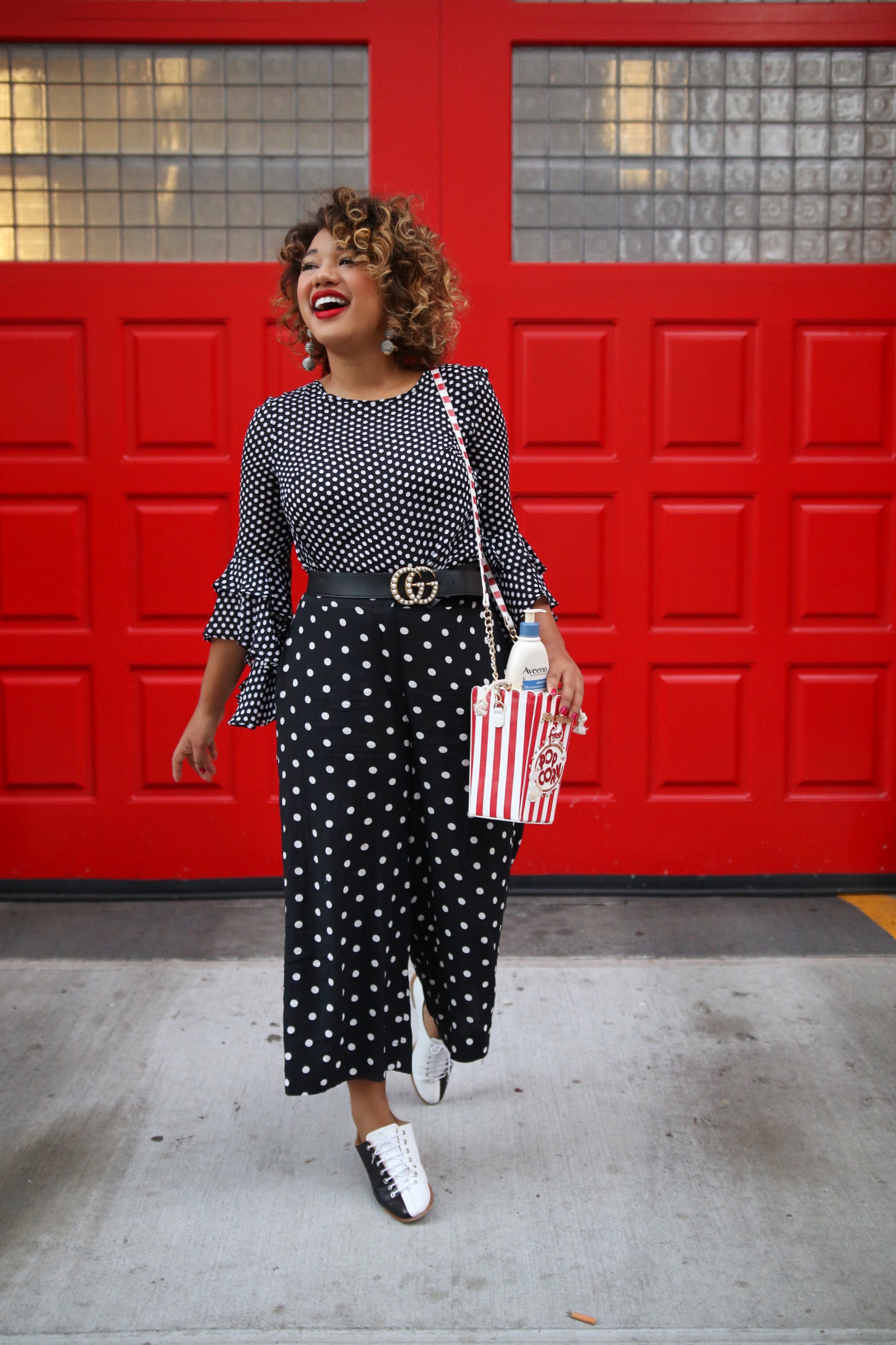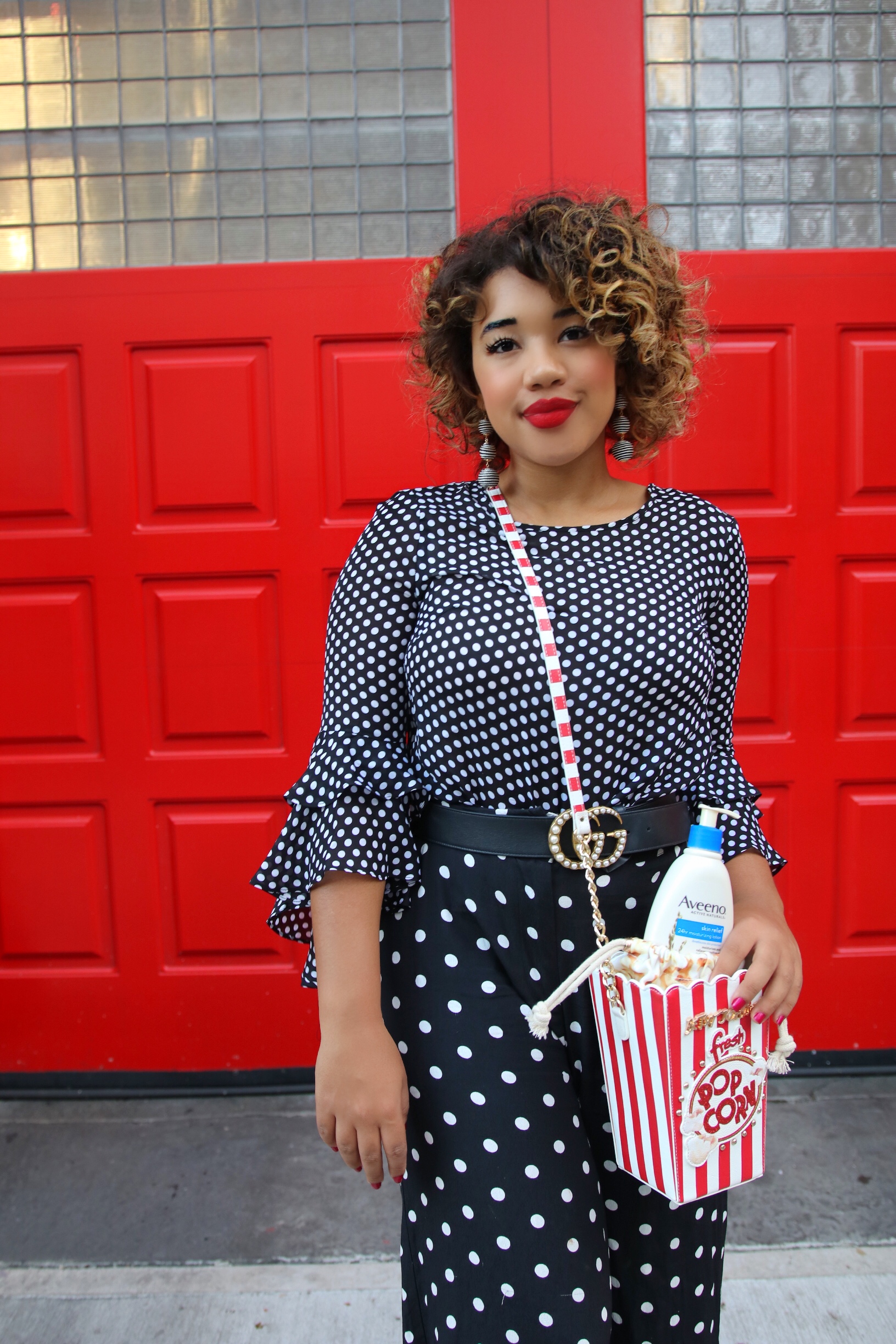 After the movie, I came home and checked my skin before I hopped in the shower. To my surprise, it had lasted for about 22 hours before I hopped in the shower, ahed with relief body wash and did the whole thing again for another crazy day.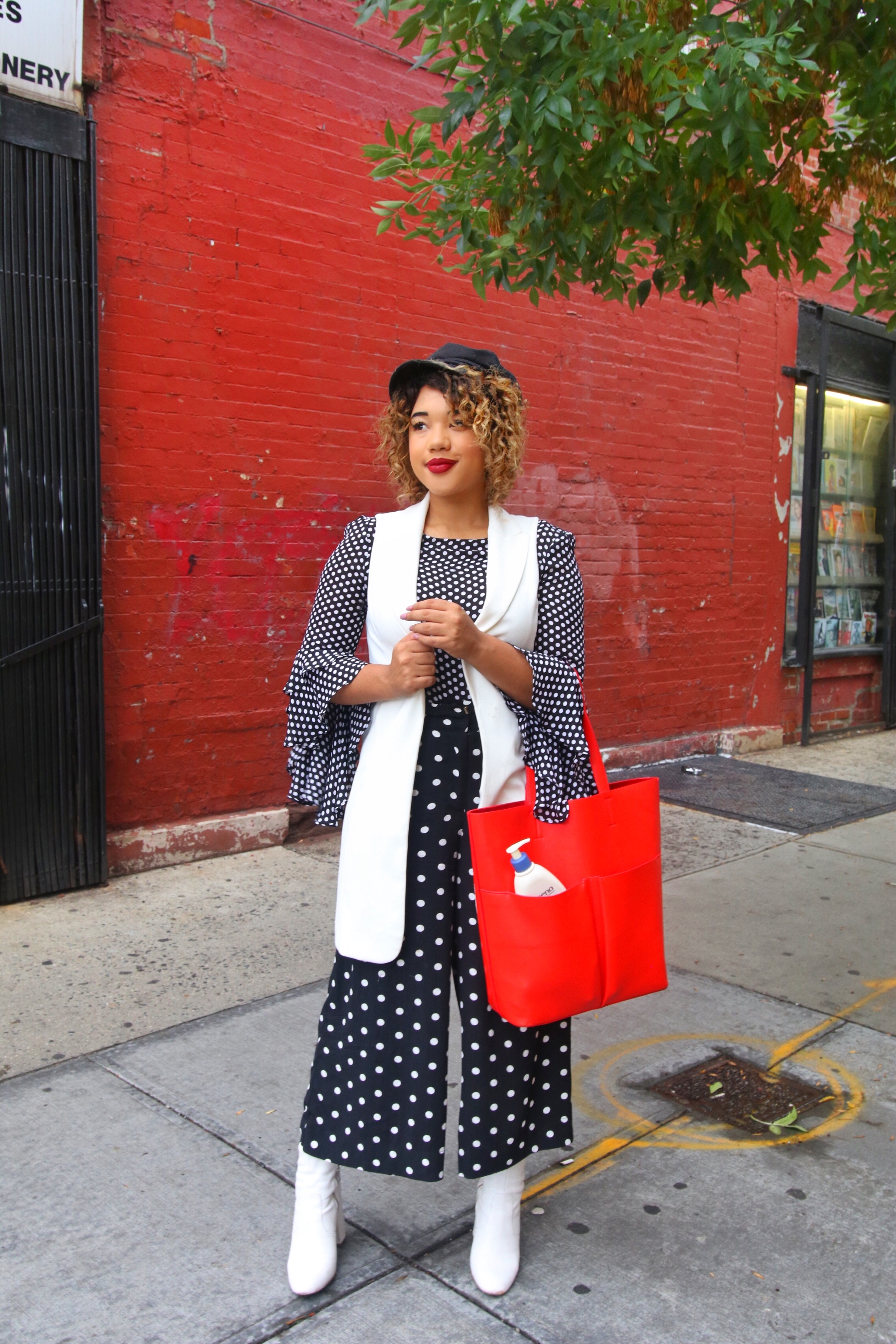 DAY:
SHIRT: Silk Blouse • $355  || Look For Less Blouse • $14  || Look for Less Top • $40
BOOTS: White Leather Booties • $129.99  || Look for Less (L4L) Booties • $31.19 
PANTS: Spot Culotte • $128  || L4L Pants • $14  || L4L Flare • $28  || L4L Pants • $52.30 
VEST: similar White Belted Duster • $20 (sorry mines really old)
BAG: similar Penny Large Saffiano Leather Tote • $248 || Look for Less Tote • $40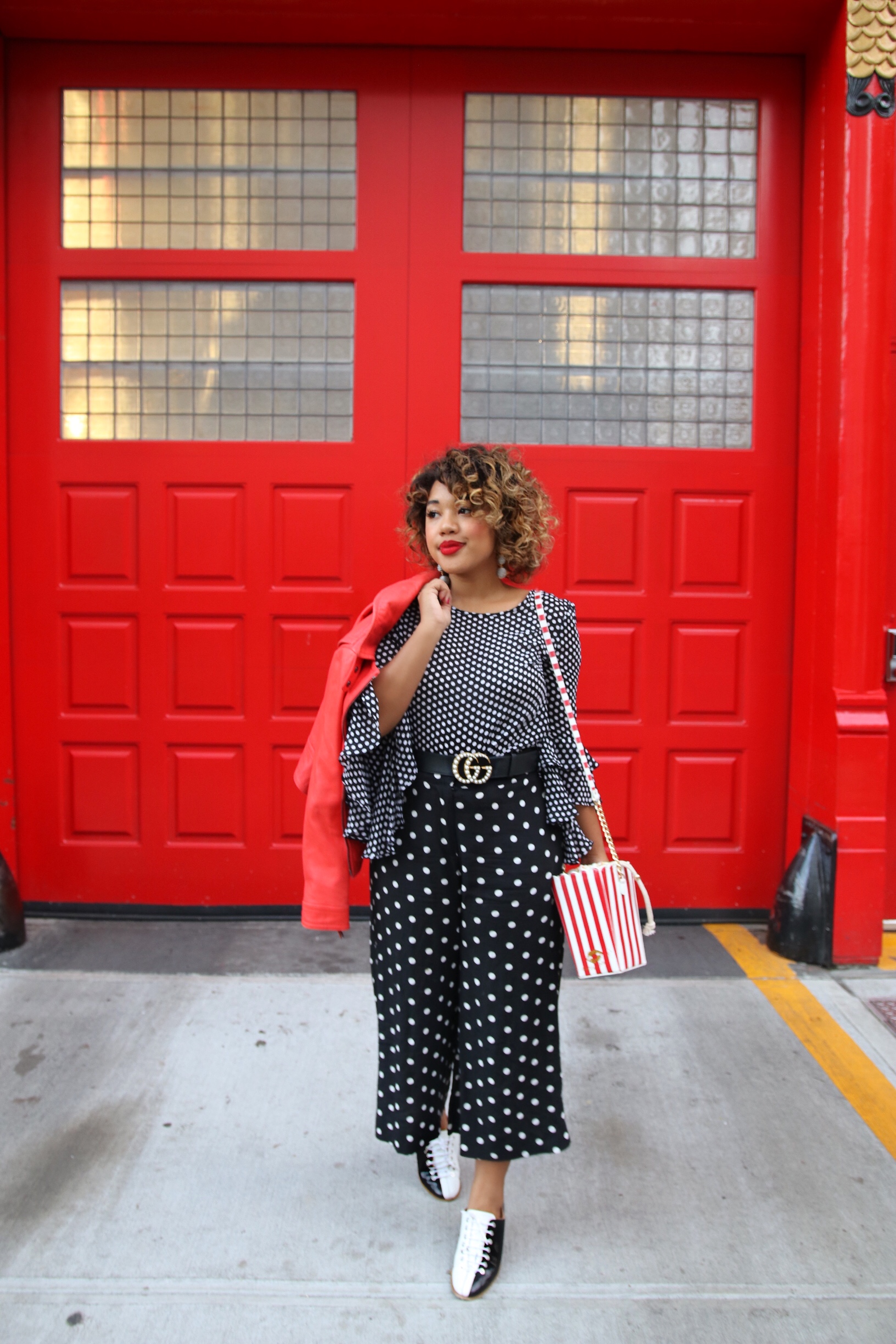 NIGHT:
BAG: Popcorn Crossbody Bag • $29.97 
BELT: Pearl Belt  • $1,200 ||  Slightly Less Gucci Belt • $450  || Look For Less belt • $52
SHOES: Leather Oxfords • $180  || Oxfords • $79  || Oxford Slingback • $70 
SKINCARE:
Aveeno 24 hour skin relief moisturizing lotion is formulated with ACTIVE NATURALS® Triple Oat Complex with oat oil and natural shea butter, this lotion for sensitive skin is clinically shown to relieve and soothe extra-dry skin and moisturize for a full 24 hours
Aveeno Active Naturals Skin Relief 24 Hour Moisturizing Lotion • $11.49
Aveeno Skin Relief Body Wash Fragrance Free • $5.99
Big thanks to Aveeno for sponsoring this post.
SHARE OR SAVE FOR LATER