Oct
20
2014
Oct 20 2014
Fall Style Guide: 10 Pieces to make 100 Outfits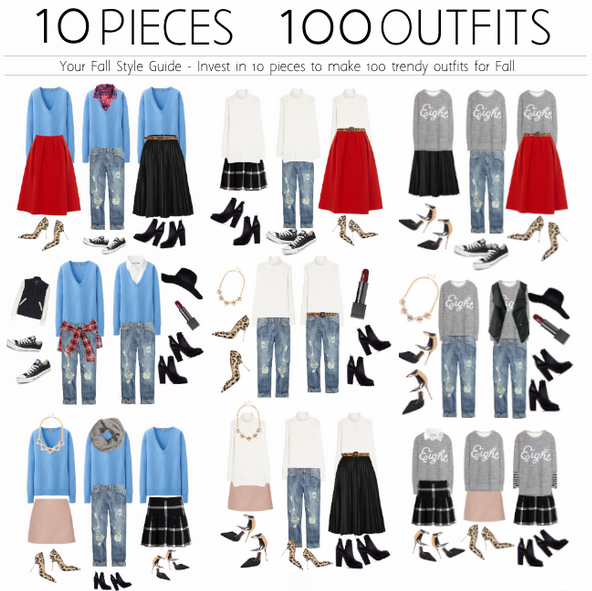 if you haven't noticed by the change in weather (or my lip color) Fall Is Here! So to get you wardrobe ready for one of Fashion's favorite season's, today I'm back at sharing my 10 pieces 100 ways – where I show you how to completely rebuild your wardrobe and create 100 different outfits by investing in ten new pieces & pairing them with your wardrobe basics.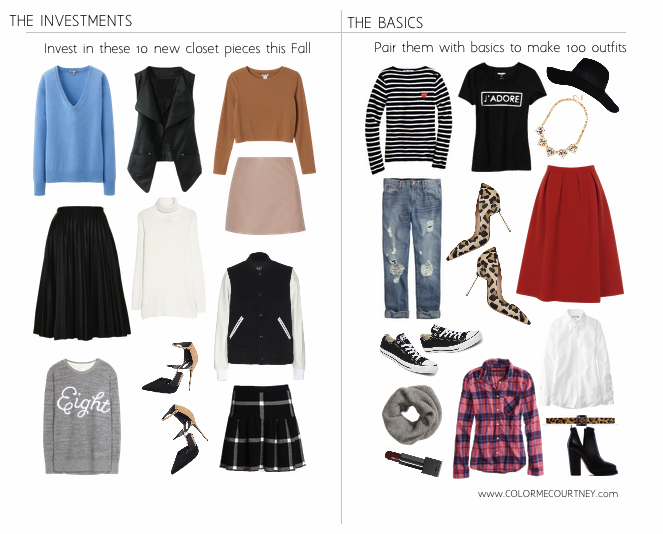 The Investments
After studying previewing the hottest looks for the season at New York Fashion Week last Spring, studying up on the hottest Fall Fashion trends for 2014, doing a little (okay a lot) of shopping and doing some street style spotting (and stalking) I have comprised a list of ten trendy investment pieces for Fall 2014 that you absolutely need this season.

The Basics
For basics, I turned to some of the pieces that every woman should have in their closet and also combined some of the investment pieces I suggested in last seasons version of the 10 pieces 100 ways post for Spring. These versatile pieces will become strong wardrobe staples. For fall, you might also want to consider adding winter boots, a trench coat, leather jacket, black tights, peacoat or scarf to any of these looks to make them a bit warmer.

So here's how this post is going to work, I'll show you ten ways to wear each investment piece then show you 5 or so versions of that investment piece at all different price ranges for you to purchase to get the look! In the end you'll walk away with 100 new outfits and tons of style information – awesome right? So without further ado, let's do this thing!

The Graphic Sweatshirt
You know how you can't go wrong with a graphic tee? Well the same can be said for a graphic sweater or sweatshirt! Dress it up, dress it down and wear it everywhere!

A Pleated Skirt
We all know a full midi skirt is a must have (I wear one almost everyday) but if you're looking for a skirt with a little less drama but just as much stylish impact, a pleated midi skirt is a perfect pick plus it will look amazing with almost every Fall trend!

The Pastel Mini
Pastels are usually a Spring thing, but this year they are one of the biggest trends for Fall! The best part? The fall-worthy pieces you invest in today will carry you through to Spring 2015 and for many more springs to come. I love a pastel midi to wear with knee high boots, dark tights, chunky turtle necks and pretty much anything else.


The Leather Vest
Vests had a major moment this Fall! Although I am kind of obsessed with some of the sleeveless pea coat styles (like this one) and the fantasy fur vests (like this) going on this season, I choose to stick to the classics with a leather moto-esque vest. This is true investment piece that you'll be able to wear for seasons to come and with almost everything!


A Statement Shoe
I feel like a crucial part to every wardrobe is a killer heel and every season gives you a new chance to splurge on at least one awesome pair. They can really become the defining point of a simple look when paired with distressed denim or a midi skirt to show off those stems!


The Chunky Turtleneck
There is nothing cozier then a big giant chunky turtle neck! Plus is pairs perfectly with a contrasting mini skirt or easy with boyfriend jeans. Basically you can't go wrong with a turtle neck sweater!


The Black & White Bomber
Bombers are seriously the best – no lie! An awesome varsity jacket can keep you warm while making you look crazy cool. Plus whenever I wear one, I feel like the bad-girl-class-cutting-head-cheerleader alter ego. She's totally not me but it is so fun to pretend right (see my anti-courtney alter ego here)

See how I rock a bomber here and here

The Pastel Sweater
Since Fall Pastels are all the range this season, why not invest in a super cozy pastel sweater. I chose a V-neck to switch things up, but whatever sweater you choose will be perfect for this Fall and for Spring too!


The Plaid Mini
I'm kind of obsessed with all the varsity trends that have been floating around this season and the 90's inspired plaid midi has to be at the top of my list. I'm not sure if all the hottest designers got together last year and had a clueless marathon before designing their 2014 collections or if I'm just totally buggin' but am truly thankful for the 90's style comeback.


A Cropped Sweater
Crop tops were everywhere this year, first Spring and then again come Summer, so why not give the trend a cozy twist for Fall? Well you belly bearing wishes have been answered with the crazy cool cropped sweater trend.

And now, just to overwhelm you (and prove I'm not lying and that there is actually no exact repeats 😉 ) here's all 100 outfits! 

And that's a wrap! I hope this helped you in creating your Fall Fashion Wardrobe! If you loved this post please leave me an awesome comment below and feel free to share this post 🙂 I'll be back at it again come Spring 2015!
SHARE OR SAVE FOR LATER