Feb
8
2018
Feb 8 2018
Flower Power
Chivalry is dead? No – Chivalry is shared!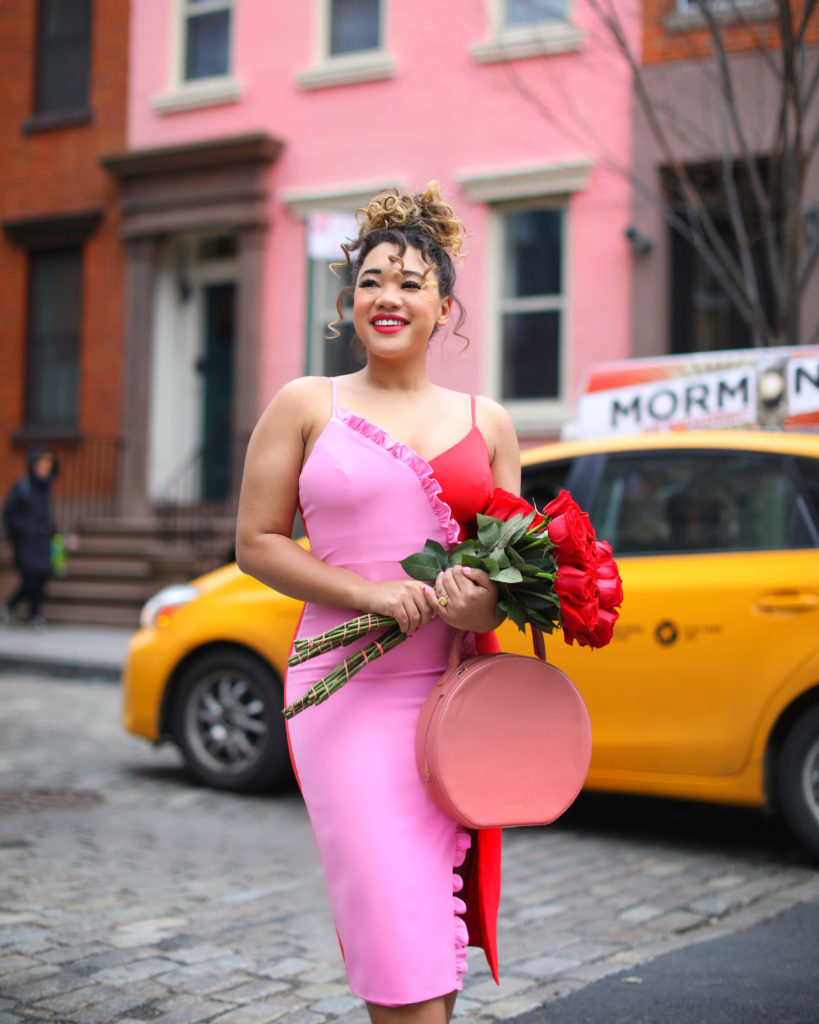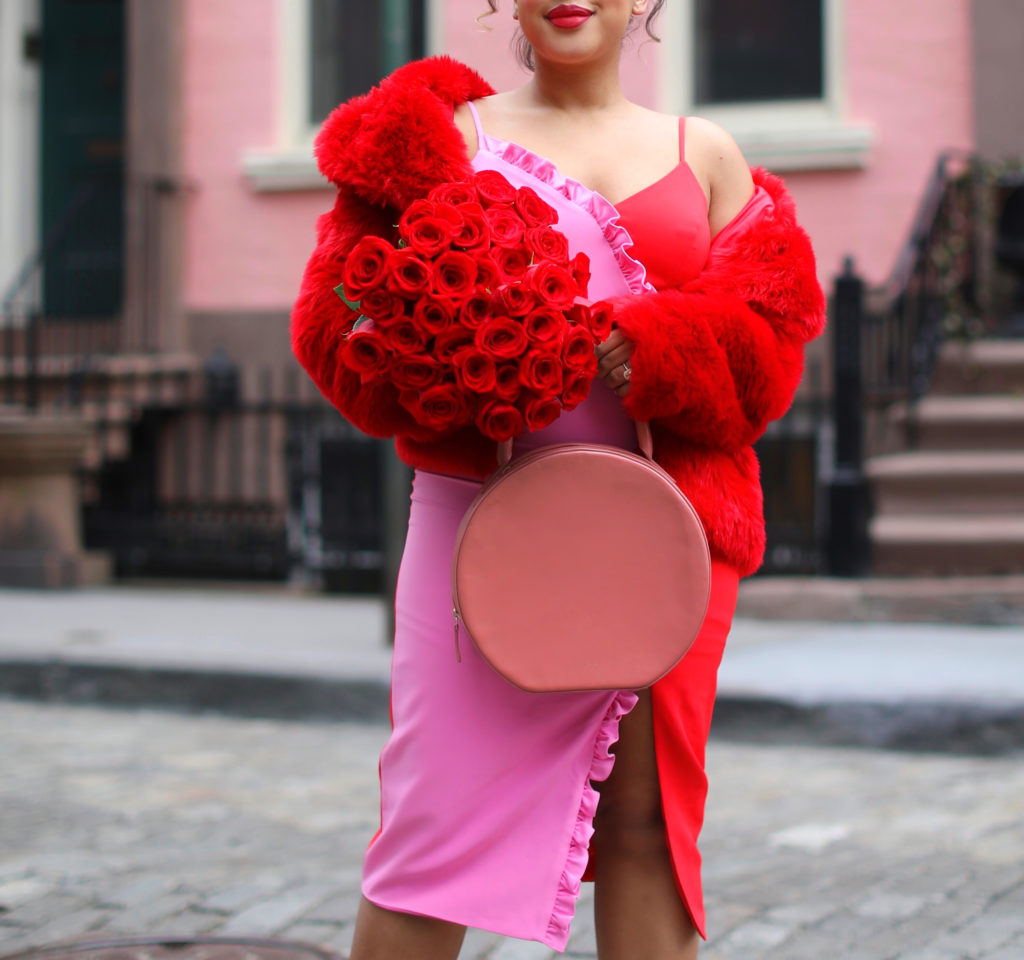 In our ever evolving world of shifting gender norms (yay) and female empowerment (double YAY) women are refusing to sit still and look pretty (oh hell yeah). We're all about standing up for what we believing in and fighting for our seat at the table – and I couldn't be more hear for it. But when you're fighting the good fight to get paid as much as the man sitting next to you or marching along side other women for your fundamental rights, it can be easy to feel out of place when you find yourself "conforming" to traditional gender rolls.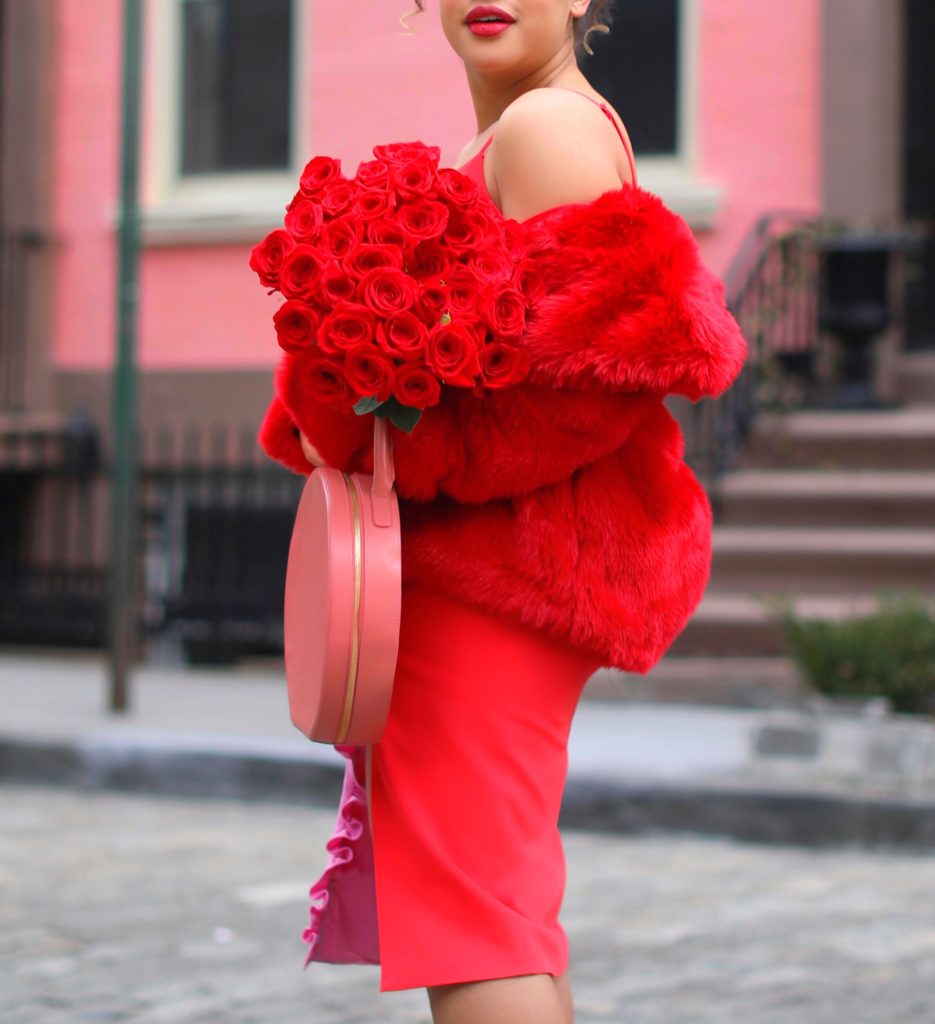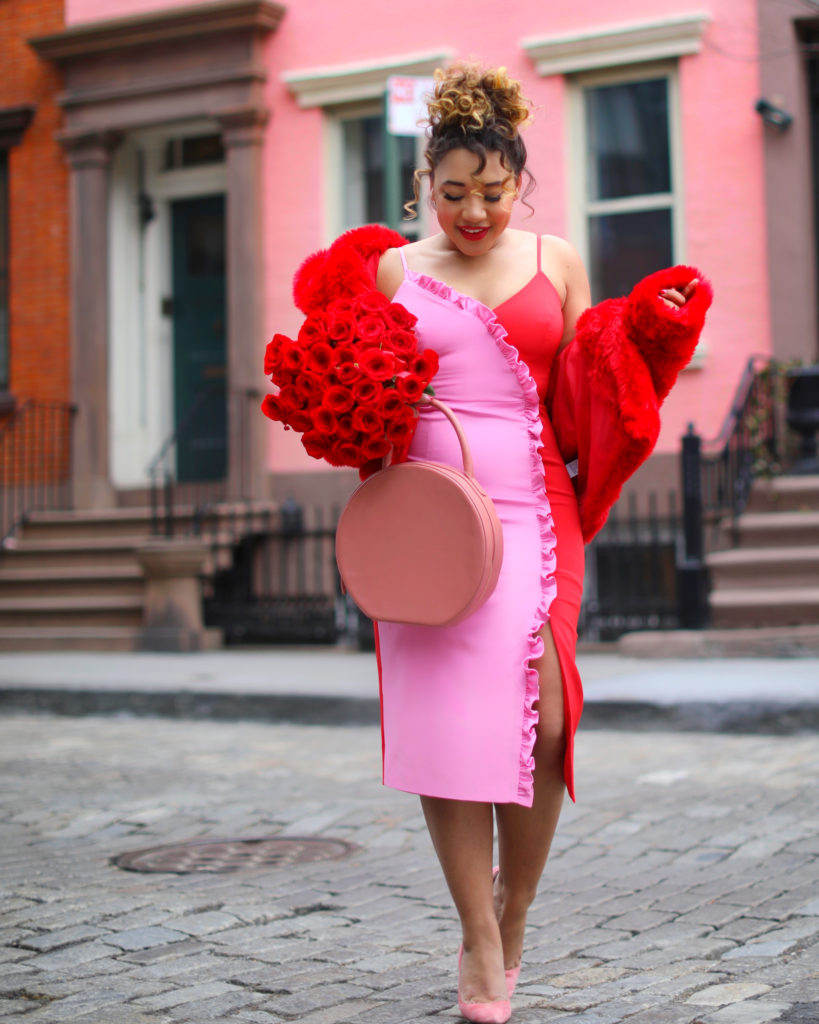 Today I ask you this: in a world where our role as women is forever being redefined, does resulting to traditional roles and norms make us less progressive? Less feminist? This question comes especially true to me during Valentines day – a traditional time where women are supposed to wait around to be swept off our feet by the opposite sex. Well now that gender & sex no longer define us, how does this holiday fit in to our fem-powerment lives? On one hand its SO FUN to be pampered and girly, get all dressed up and step out for a date night (like in this V-day outfit I'm rocking) but I understand the internal struggle that you might face when finding yourself succumbing to these "female stereotypes". Girls are weak, females are fragile, women need a man to take care of them – no, no, & oh hell no. BUT then when we find ourselves getting all dolled up for our signifiant others on valentines day, or getting giddy when you receive red rose delivery from your secret admirer, the strong & powerful feminist in you can feel a little bit torn.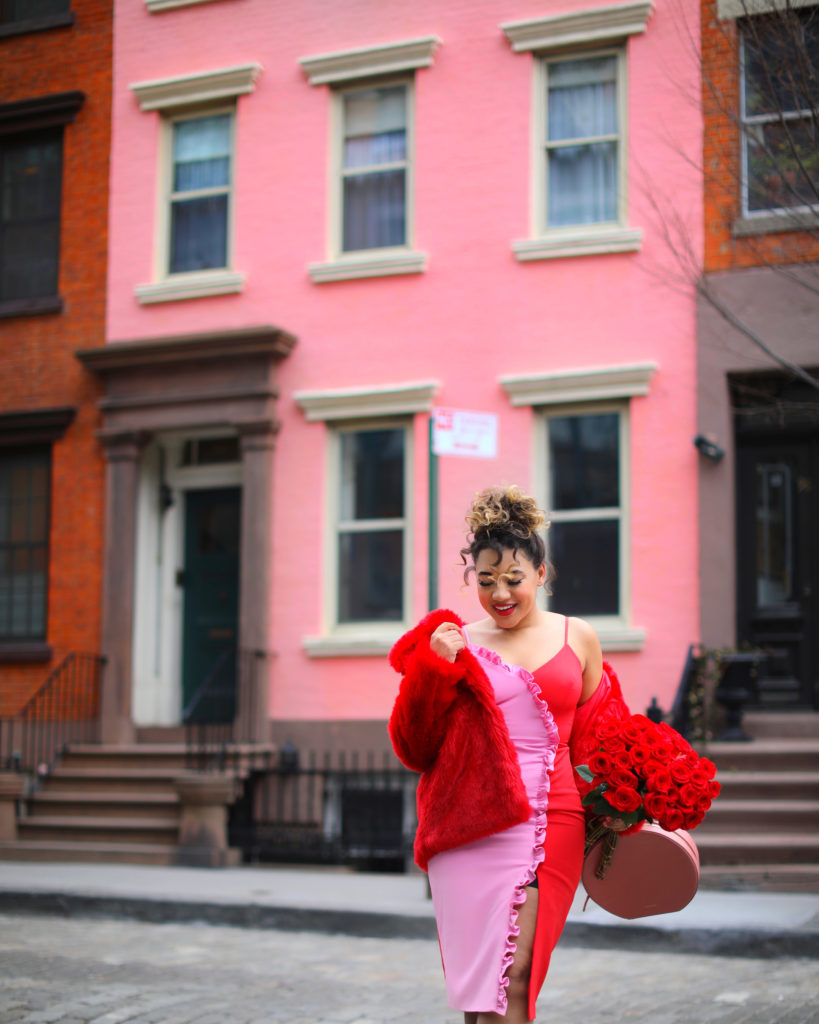 SO if you find yourself fighting this internal struggle between the "stereotype girl" and the awoken female goddess FIGHTING for what you deserve in today's world, you're not alone! I face this every day. I'm a girly girl through and through and love twirling my way through the streets of NYC with a big full dress & a face full of lipstick. It's my thing! And although I don't like to define myself by the way I look, dress or the makeup I wear, it is a big part of who I am and how I express myself. But at the same time, I spend every day trying to make all women feel beautiful in their own skin, feel strong enough to fight for the equality and representation they deserve and feel like they aren't on this journey alone. I guess what I am trying to say is I am more than one thing. I can be strong in a skirt, I can be a boss in red lipstick, I can be a women who likes to get flowers from my guy but isn't defined by it.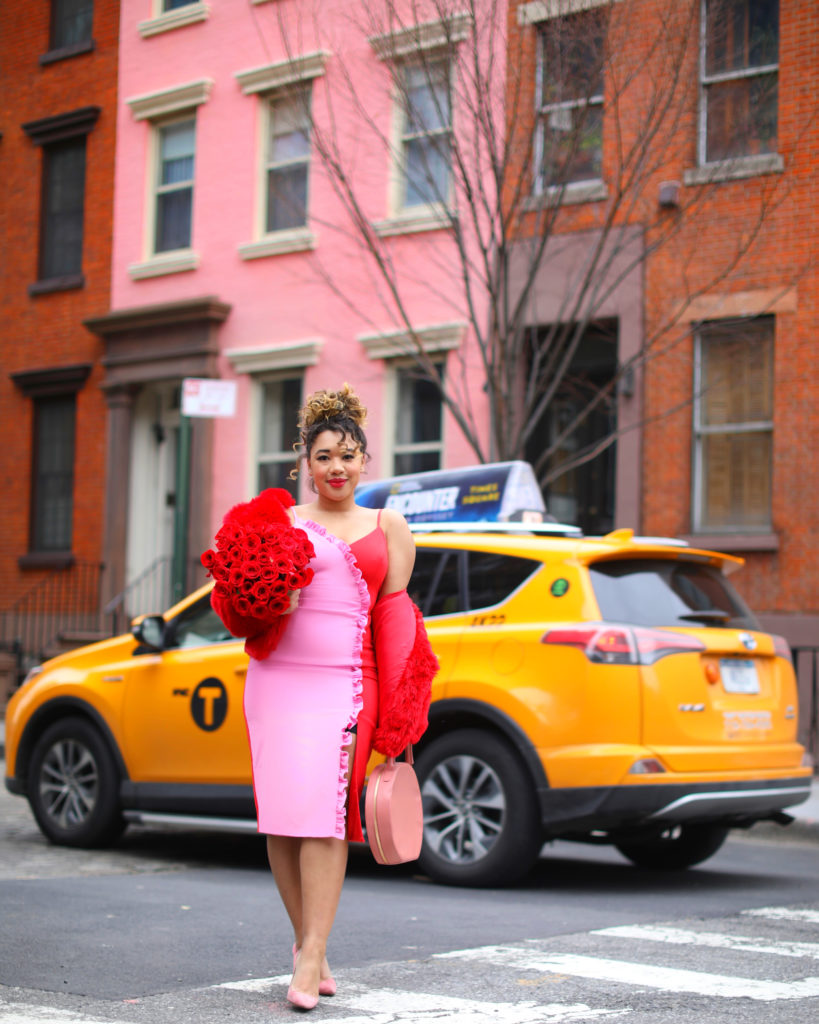 I say all this, because I wanted to share a few ways that you can use florals to change the stereotype surrounding valentines day and just push the boundaries this year. To be honest, Paris doesn't buy me flowers often and that makes it more special. I usually kill them lol and I'm kind of allergic to a lot of them so it's really a special occasion when he does buy them & brings them home. If he got them for me once a month it would loose a little bit of the luster. Although they're not something that get on the regular they are something I give, and usually never to men. So here are a few fun ways you can give flowers this year to shake things up.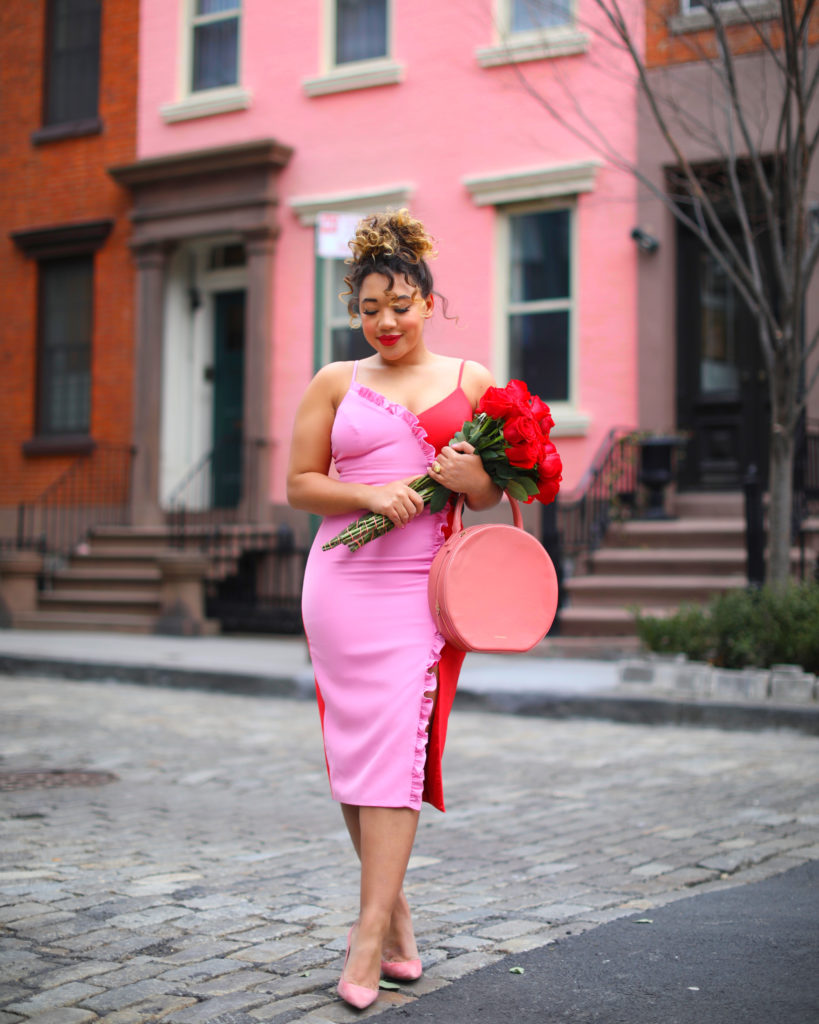 1 – Take a professional relationship and make it personal –
When I first started blogging I would send flowers or treats to some of PR girls I was working with on the other end. I could not afford it at the time lol, but investing in a $50 bouquet brought me so many paid collaborations in the end. This was the best way to really take our relationship from strictly professional to somewhat friendly, then when they had projects I was the first they thought because I treated them like a friend and not just a contact. Our industry can get really impersonal, with emails that say "hello INSERT BLOGGER NAME HERE" or address me as Color Me instead of Courtney (eye roll) so taking things offline a bit to show you see them as a real person goes a long way. Even if you're not in the influencers space, try sending something pretty from
ProFlowers
this year and watch your business relationship bloom.
2 – Sweep him off his feet –
If you're in a heterosexual relationship society has defined our gender and relationship roles for us… He holds the door, pays for dinner, walks you home and buys you flowers – while we wait by the phone… Yeah well its not 1950 so not anymore! Now a days girls are making moves like never before and taking charge of their relationships. One thing you may not know is I was planning on proposing to Paris but he best me too it lol. If I can, so can you so why not switch things up a bit and send
him
flowers. 53% percent of men report they've never received flowers from anyone …. Crazy right? So as a girl who has received them many times, think about how great they make you feel… now think how special he will feel if you switch things up and send them to him instead. If he's kind of bold send them straight to his place of work, but if he's a little more reserve have them routed to his home. Either way,
ProFlowers
has you covered with awesome
"man plants"
and other masculine type gifts that you can send this season. Paris is OBSESSED with succulents and been working crazy hours lately so I'm having one sent to his office …. Shhh don't tell.
3 – Show them you'll never forever – You have that one teacher or boss or neighbor that was like a mentor to you right? Maybe it was your high school teacher that encouraged you to write, or your first boss that was a great female role model to you, why not show them you'll always remember what they did for you with a little floral gift. Sending an old mentor something small like a floral & vase arrangement from ProFlowers will mean more to them then you'll ever know. I've done this with a few of my favorite teachers from back in the day and most have resulted in teary "thank yous".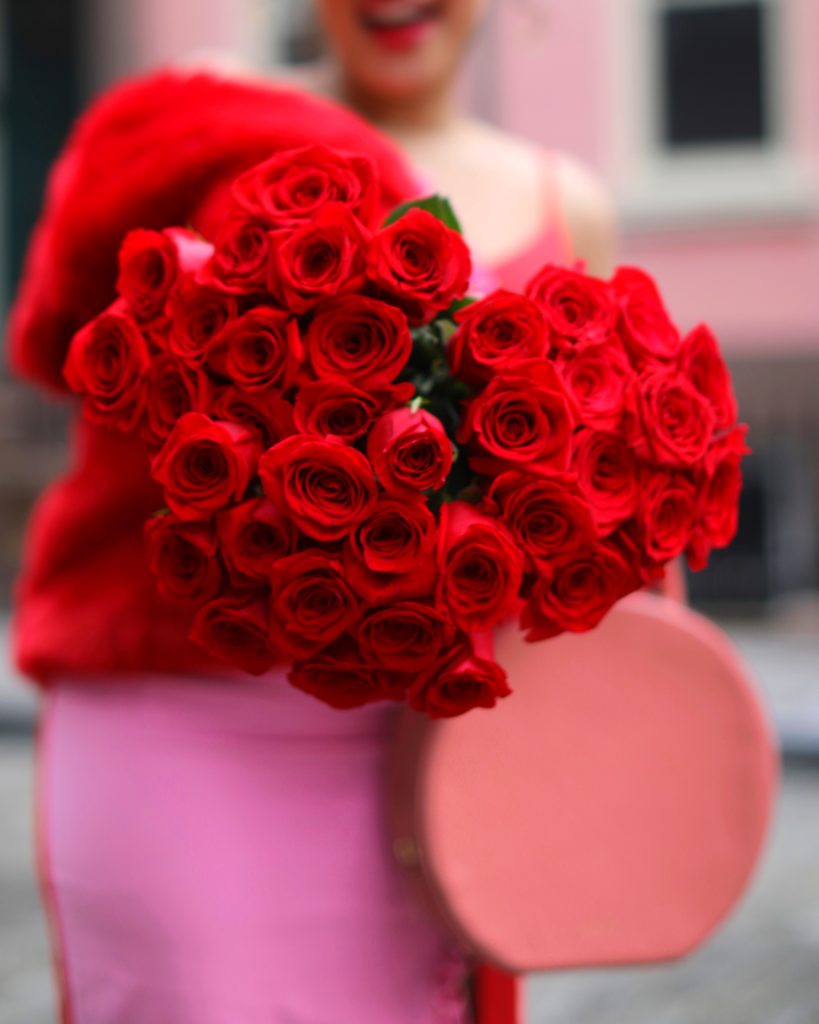 You can also always gift flowers to your mom or dad (especially if they're not together, if your dad is single he's probably never gotten flowers on valentines day and this will mean more than you know), best friend, a new friend or someone you just really admire. Flowers don't have to be romantic, take that stereotype away and use the flower power for whatever you want this season. If you want to find more ways to share chivalry this season, check out 
this
article that ProFlowers drafted 
to empower women to find strength in redefining their relationships.
Shop my look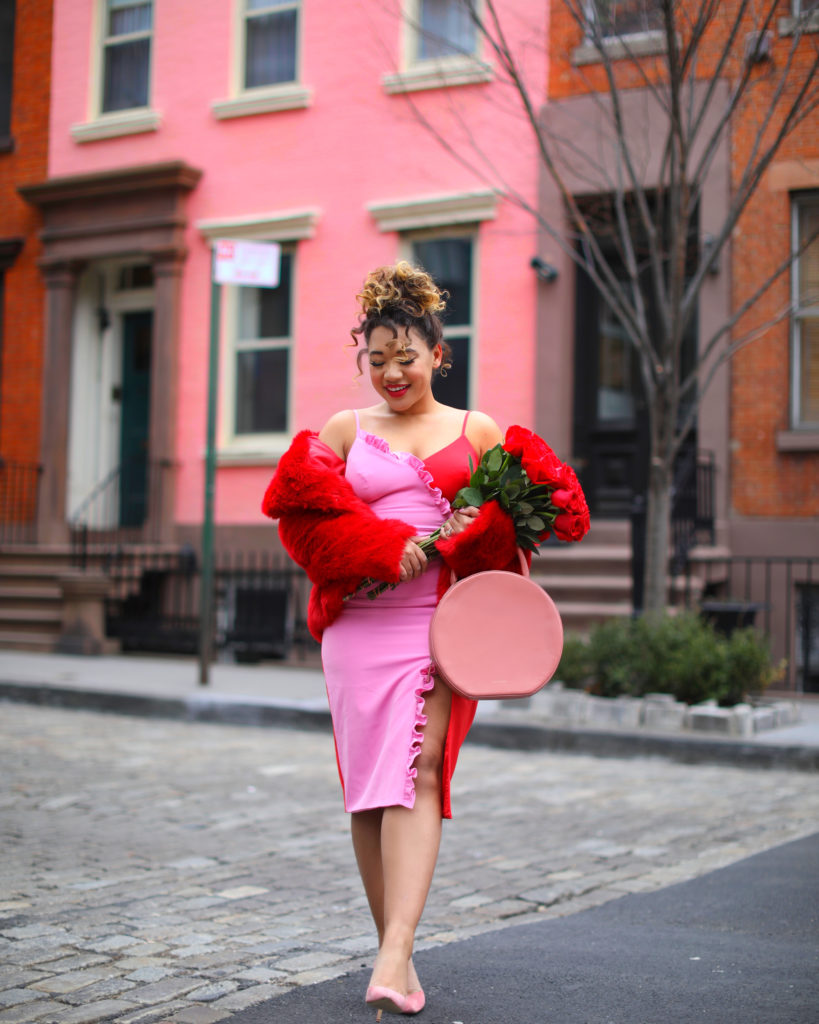 SHOP MY EXACT LOOK:
PINK & RED MIDI DRESS • $99
RED FAUX FUR COAT • $96
PINK POINTED PUMPS • $85–140
CIRCLE LEATHER TOTE • $1,095 – mine is this style but a darker color
CIRCLE CROSSBODY TOTE • $795 – mine is this color but a larger size
LOOK FOR LESS & SIMILAR STYLES:
LOOK FOR LESS PINK CIRCLE BAG • $224
SIMILAR STYLE RED FAUX FUR • $99
SIMILAR STYLE PINK POINTED PUMP • $595
SIMILAR STLE PINK CIRCLE BAG • $145
SIMILAR STYLE RED FAUX FUR • $86
SIMILASR STYLE RED SMALL CIRCLE CROSSBODY • $75
MORE RED & PINK DRESSES
RED AND PINK DRESS • $239.99
RED AND PINK MAXI DRESS• $299
RED AND PINK MINI DRESS • $1,226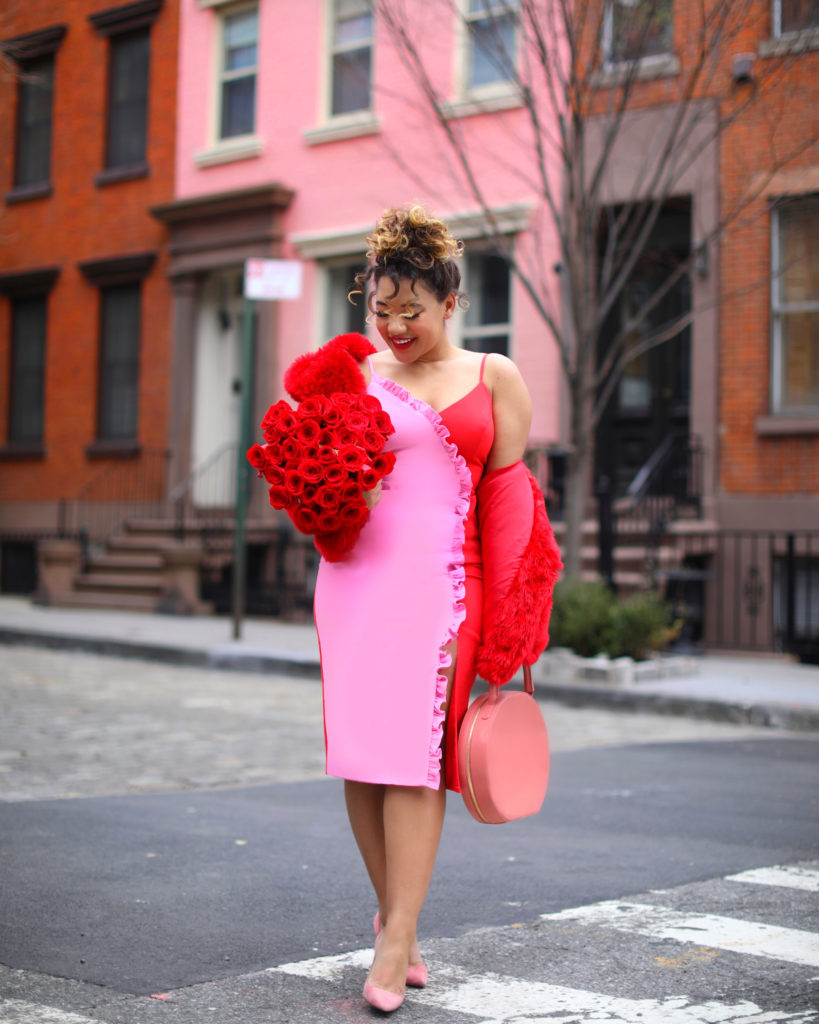 Thanks to
ProFlowers
for sponsoring this post all opinions are my own.
Also I mostly spoke about heterosexual relationships because I am in one, but I fully support homosexual and other forms of relationships as well. If you have any great ideas for redefining the normal use of flowers in other kids of relationships please share in the comments, I can't wait to read & learn. 
SHARE OR SAVE FOR LATER