May
18
2015
May 18 2015
Pencil Skirt Power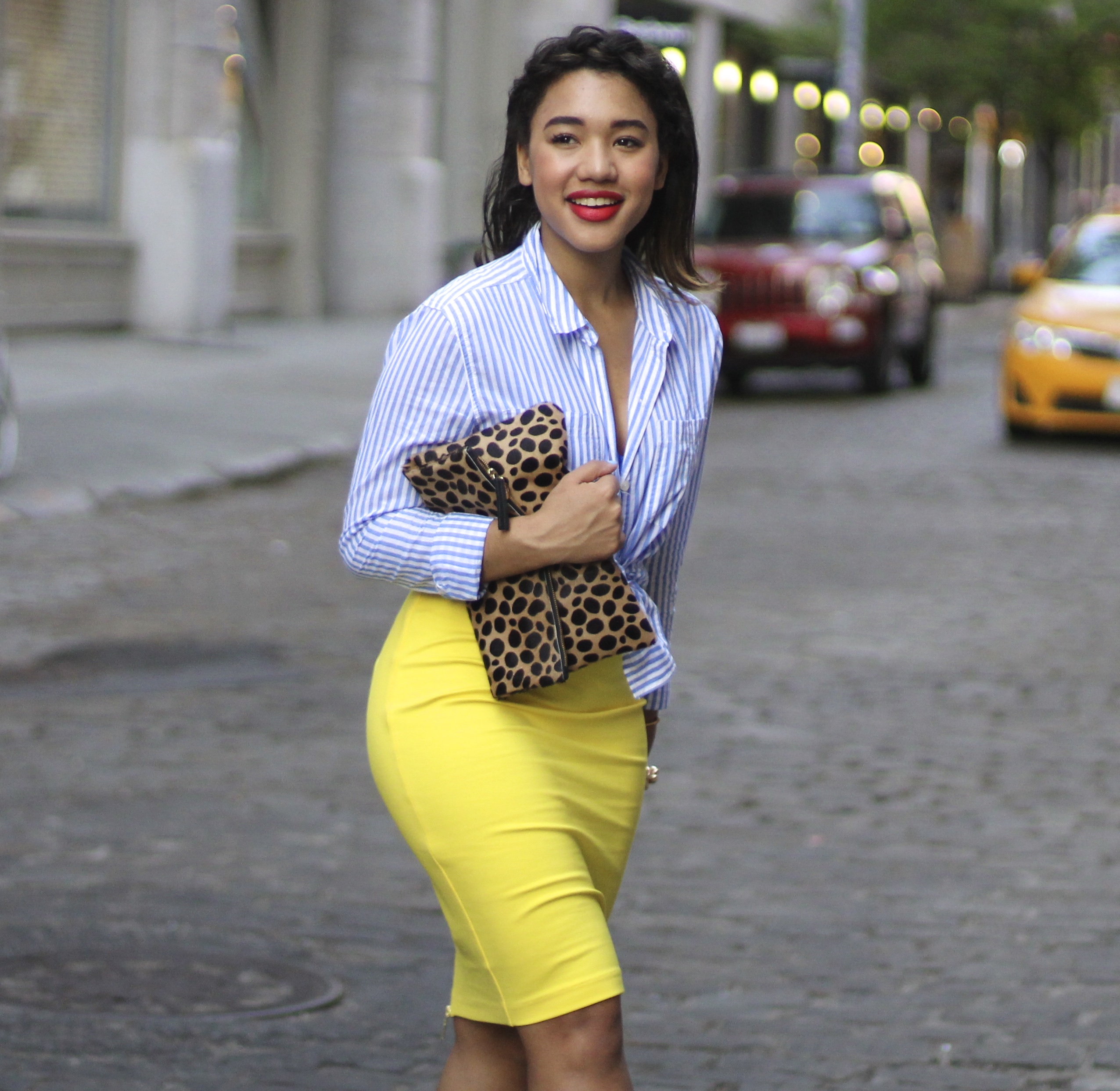 If you got it flaunt it, right? Well no, not so much…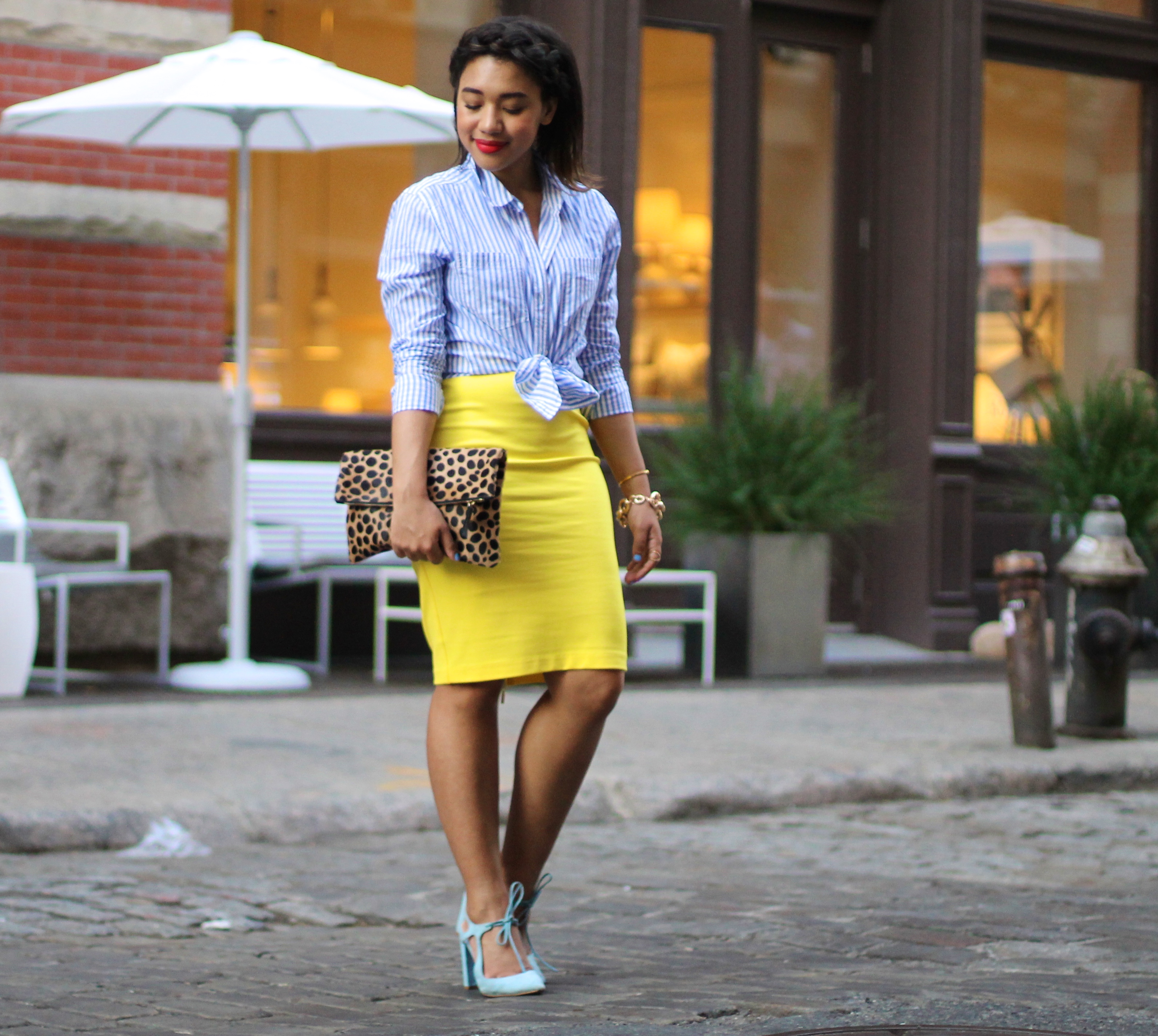 You usually can't go wrong with leather pumps (here are some favs) and the perfect pencil skirt…. But who are we kidding, south of my waist, there's a booty bump that I spend most of my time hiding from the rest of the world. Don't get me wrong, I totally know that some girls are all about that bass and there's nothing wrong with that, but tight dresses that showed my curves were never really my thing – I always concentrated on showcasing other assets, like my kind-of-creepilly-small waist, hence the over use of the crop top & midi skirt combo. Anyways, whilst (pause, who uses that word any way? what year is this? 1892? sure why not) … whilst chatting with my boyfriend/photographer, Paris about it he kind of called me out – in the nicest way possible and suggested that by always "hiding" my curvy bits I was kind of giving girls the wrong idea…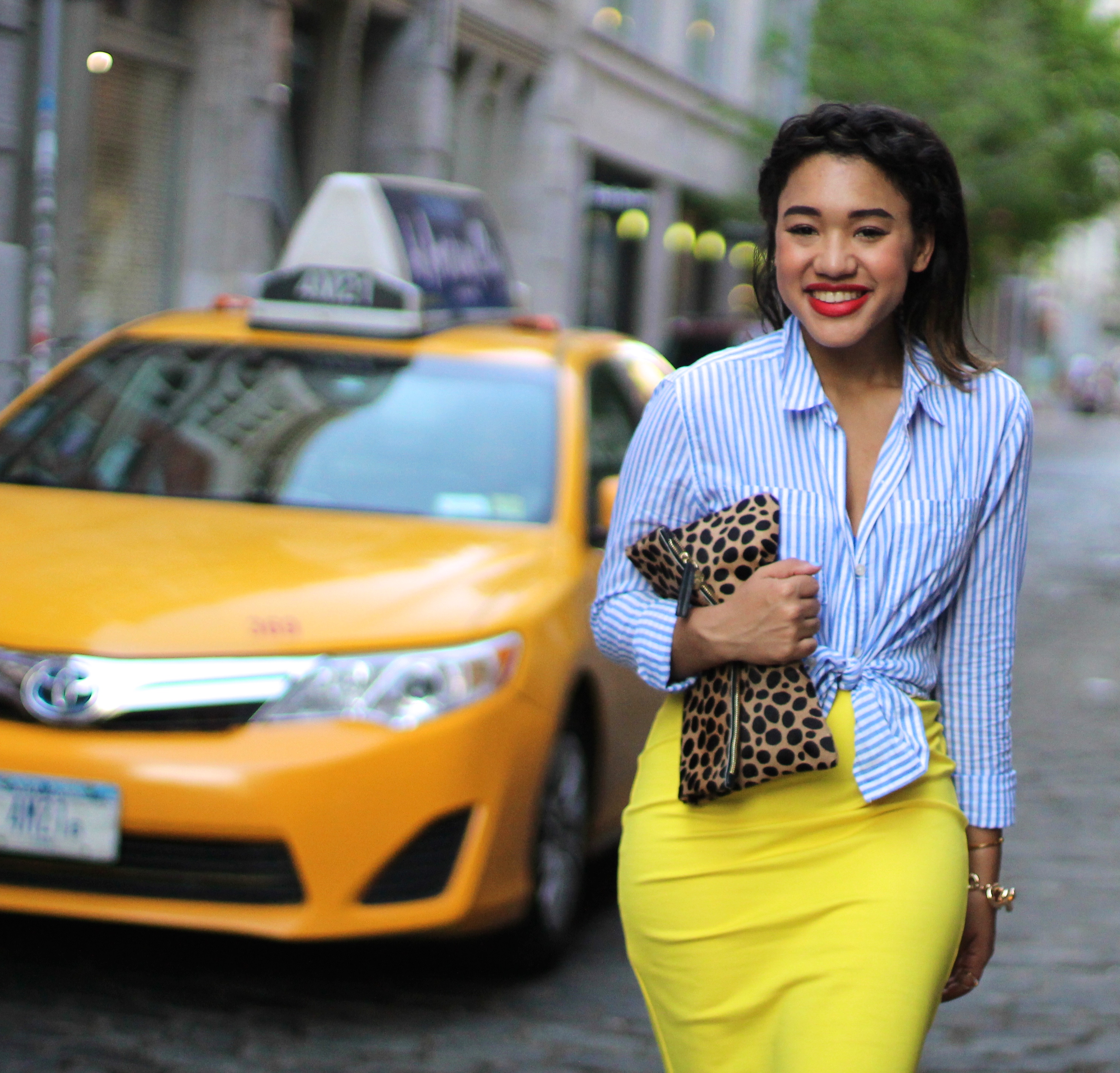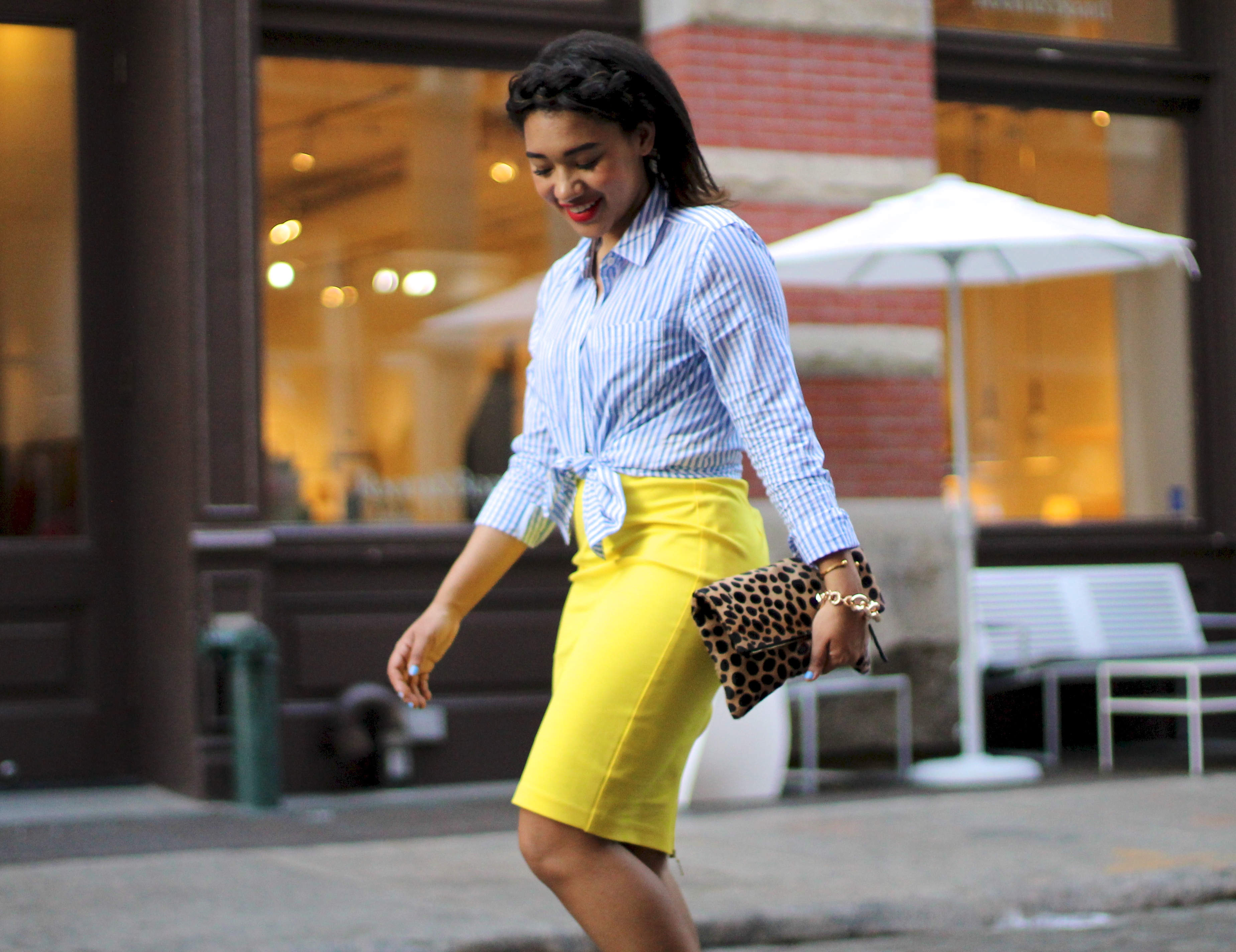 So this totally blew my mind because I never thought I was doing such a thing. I totally realize that having a blog is not something I do just for fun, and parties and free clothes and whatever. Yes, that's part of the package deal but it wasn't when I started out; back when only my Mom and Grandma read my blog (lol thanks guys) and I took really bad self timer photos (LOLs the struggle). Anyways, I started Color Me Courtney so I could start sharing my side of style with everyone else and above all inspiring others to dress outside the lines and have as much fun as fashion as I do… but I didn't realize that because my idea of fun fashion was mostly full skirts and print on print, and that I could be giving people the wrong idea about body image.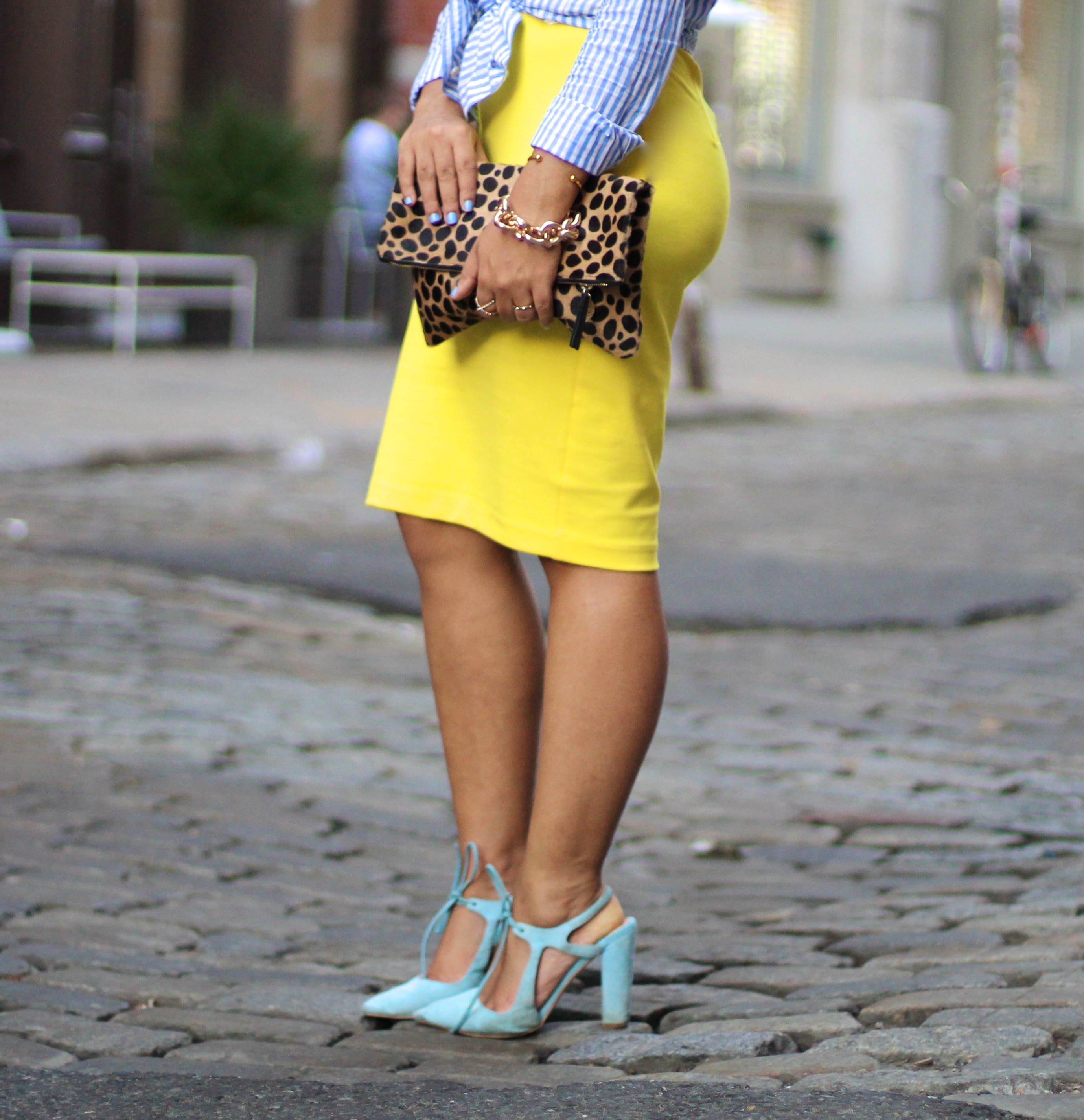 Last week I sounded off about negative comments made about my body type, and I was totally blown away by your love and support – seriously, bullies are lame and you guys rock so hard. But that can't be the end of it, I can't stand up and say "hi haters" only to return to my full-skirt, booty-concelling ways… so I won't (well I will, duh, but not all the time 🙂 ) I'm not only learning new ways to embrace what my momma gave me (thanks mom) but also (hopefully) encouraging you to do the same. So Hey, hows this for ground breaking, that thing you hate most about yourself- you're short legs, your crooked nose, your big butt, what if they are only the things you hate most about yourself because you let them… I have a few, I mean we all do, but don't give them that power! If I can embrace mine maybe you can too, and hey, maybe it can become you're new signature thing… I mean it worked for Barbra freaking Streisand, so what's stopping the rest of us?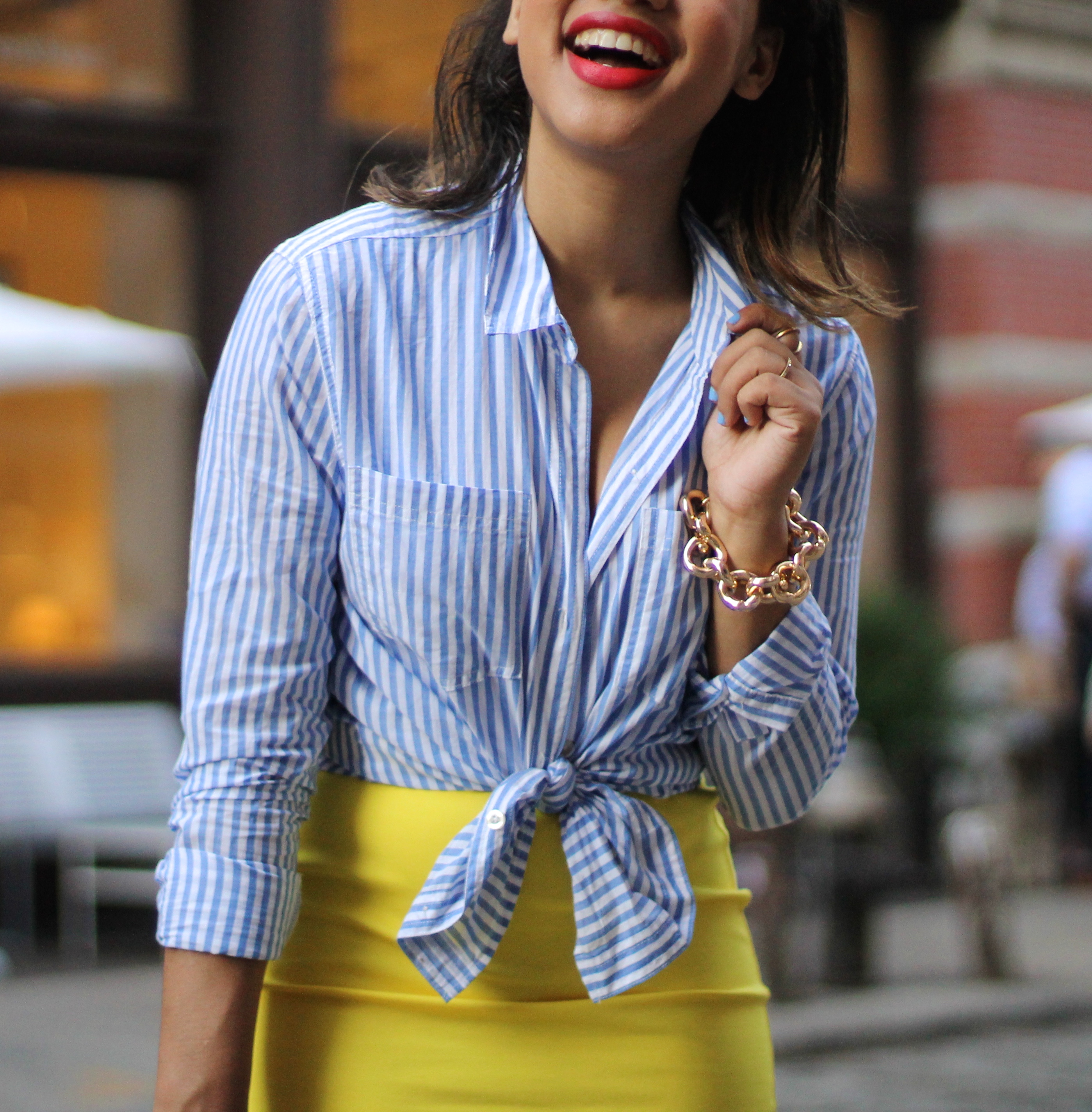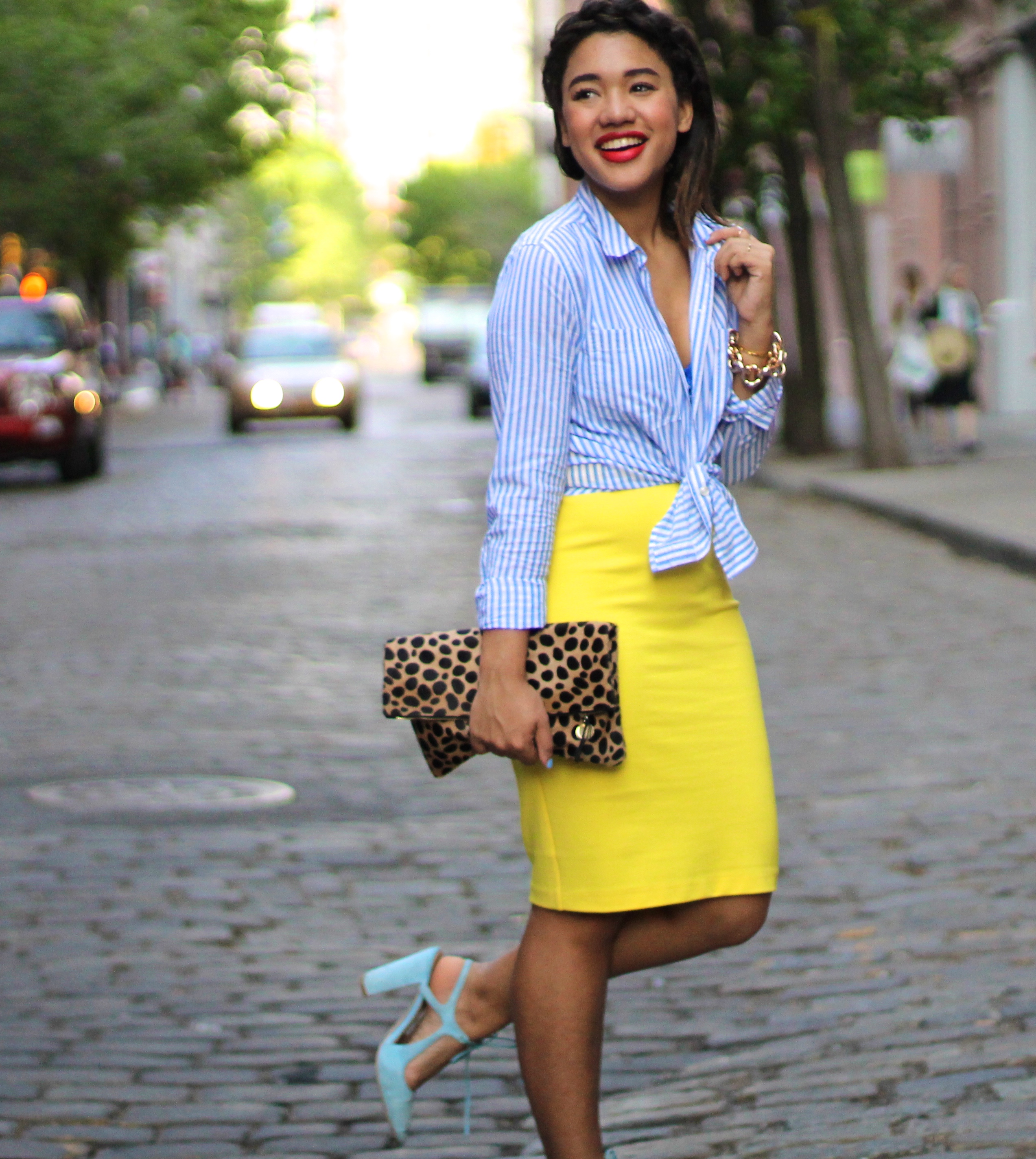 I showed the world my budunka-dunk without revealing too much with this pencil-skirt look from a body loving brand. Instead of toning it down with a dark color, I made it the life of the party in bright yellow. I balanced this out my showcasing my smallest point with a tied top at the waist! I honestly think if you look crazy confident (even if you aren't quite there yet) that's half the battle! Dressing the part, will bring all eyes on you in a positive way and draw them away from any no-so-favorite parts of your body! Honestly, flaws don't have to hurt you. Take control of them, make them your own, make a statement, and make them work 😉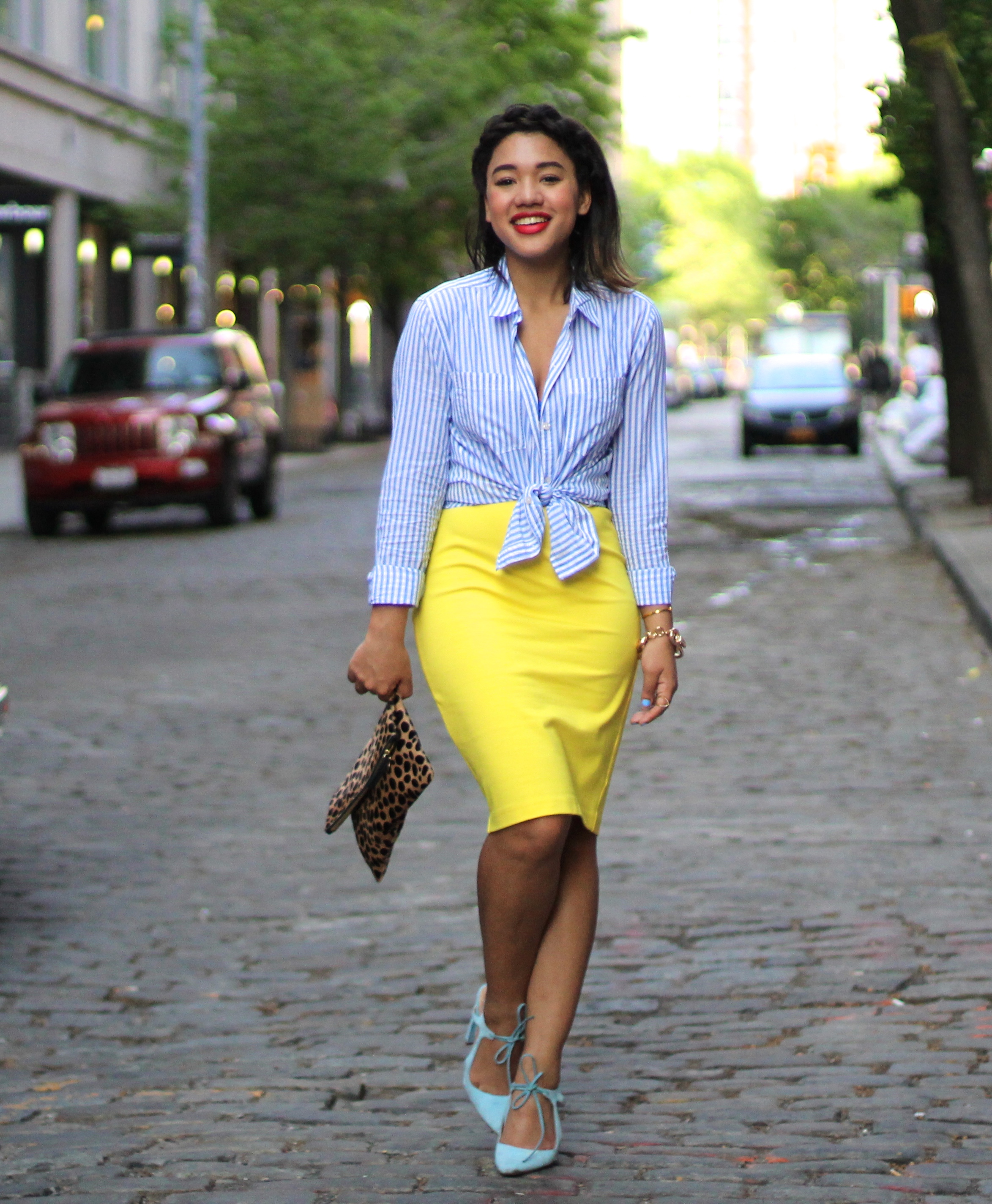 SKIRT: 5th And Mercer – so crazy comfortable & stretchy, I love + more colors 
TOP: Forever 21 – similar/darker/bigger stripes at J.crew
CLUTCH: Clare Viver Leopard Folderover Clutch // similar
Bracelet: Gold Link Bracelet c/o Accessory Jane
SHOES: Zara Blue Court Pumps – Oldies but love these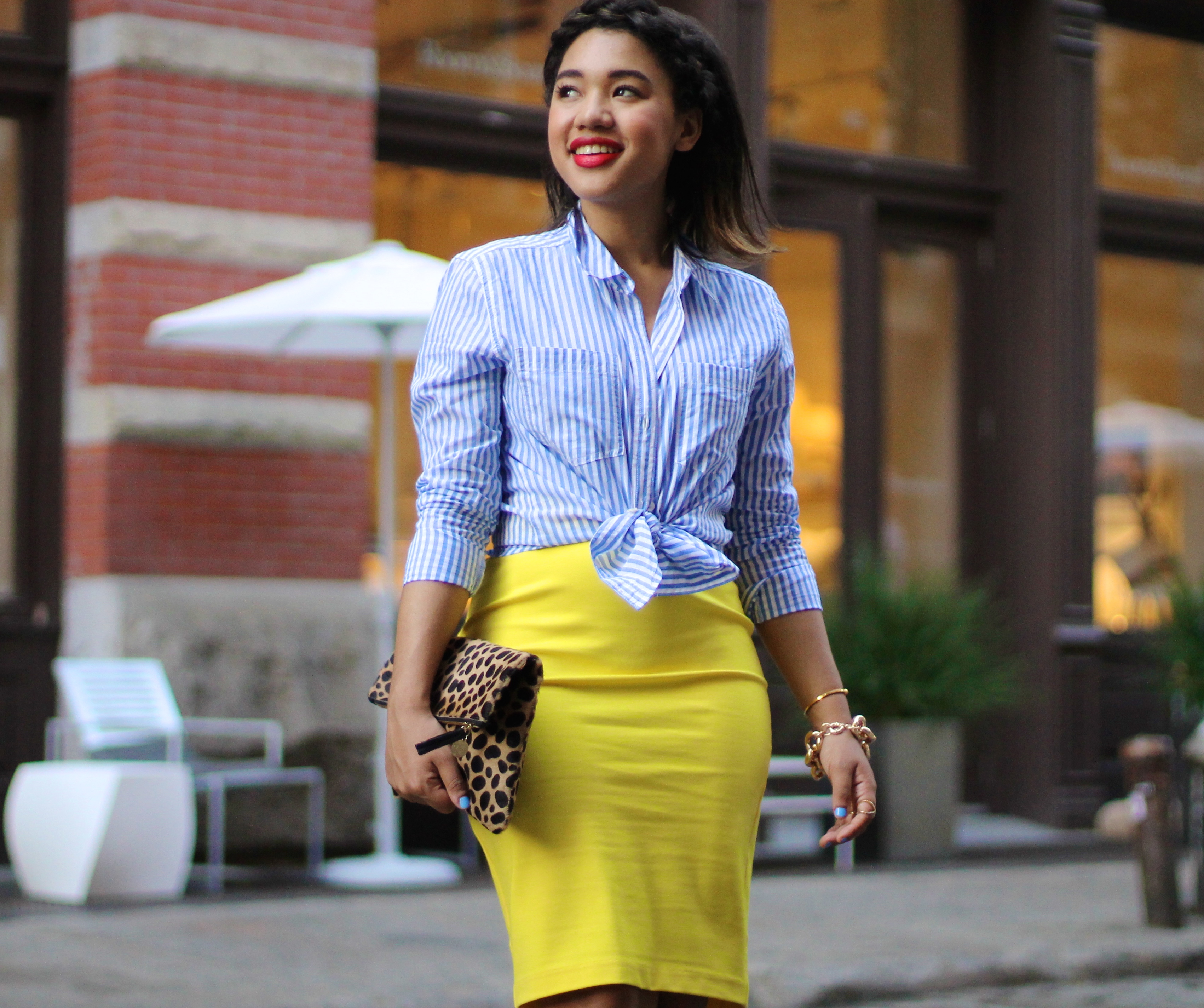 Honestly give it a whirl, and please share so I can try and be half as supportive and inspiring as you have all been to me. Once again, you guys rock!!!
SHARE OR SAVE FOR LATER