Jul
27
2016
Jul 27 2016
Pocky Pop Art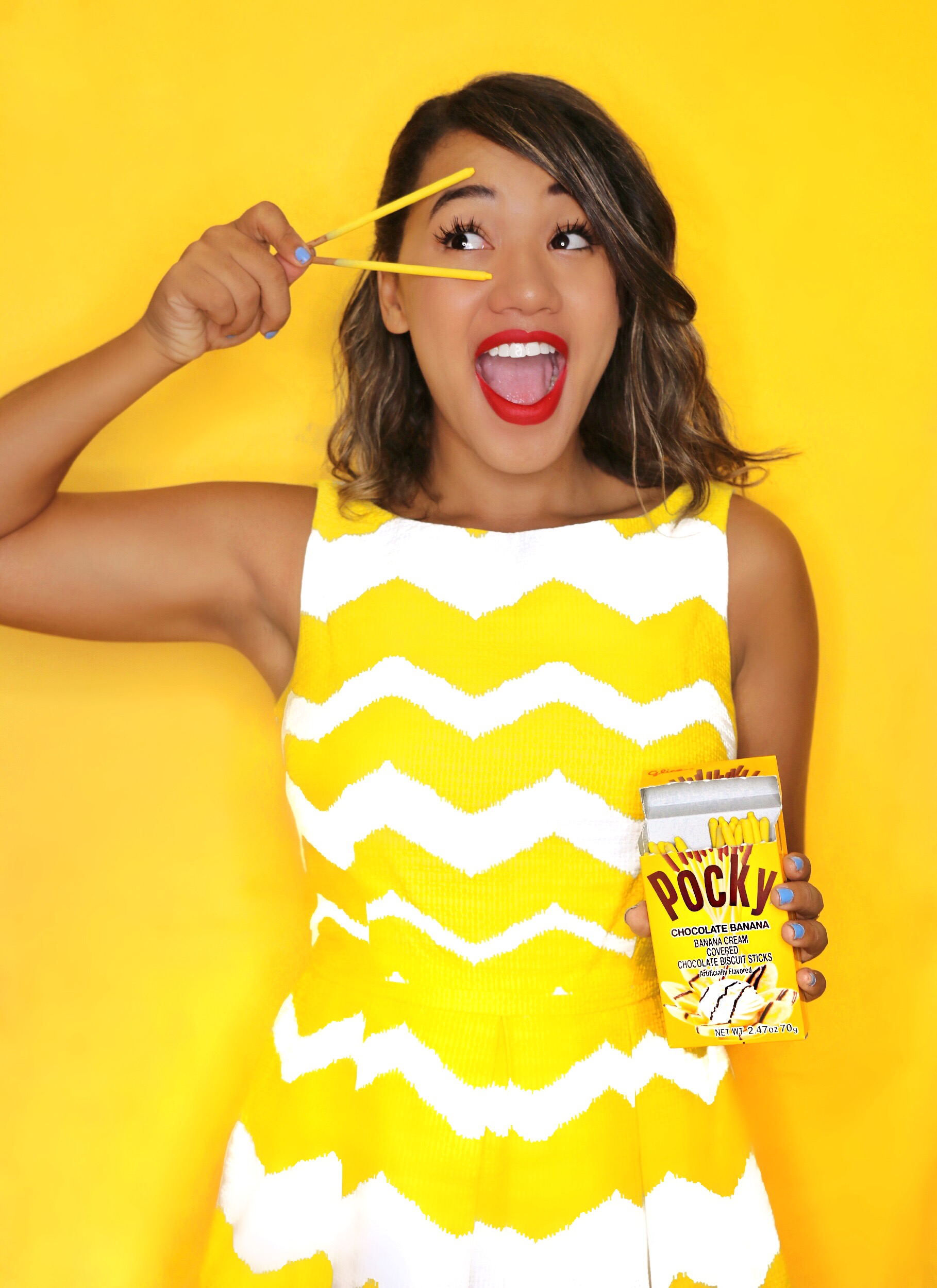 Todays post is BANANAS, spelled P-O-C-K-Y!        
You know I'm all about sweet snacks, so today I'm sharing some of my favorite not-so-known treats from Pocky! I'm sure you've all heard about Pocky, a Japanese snack dating back to the 60's made from coated biscuit sticks, but you might not know it's one of my go-to treats to eat!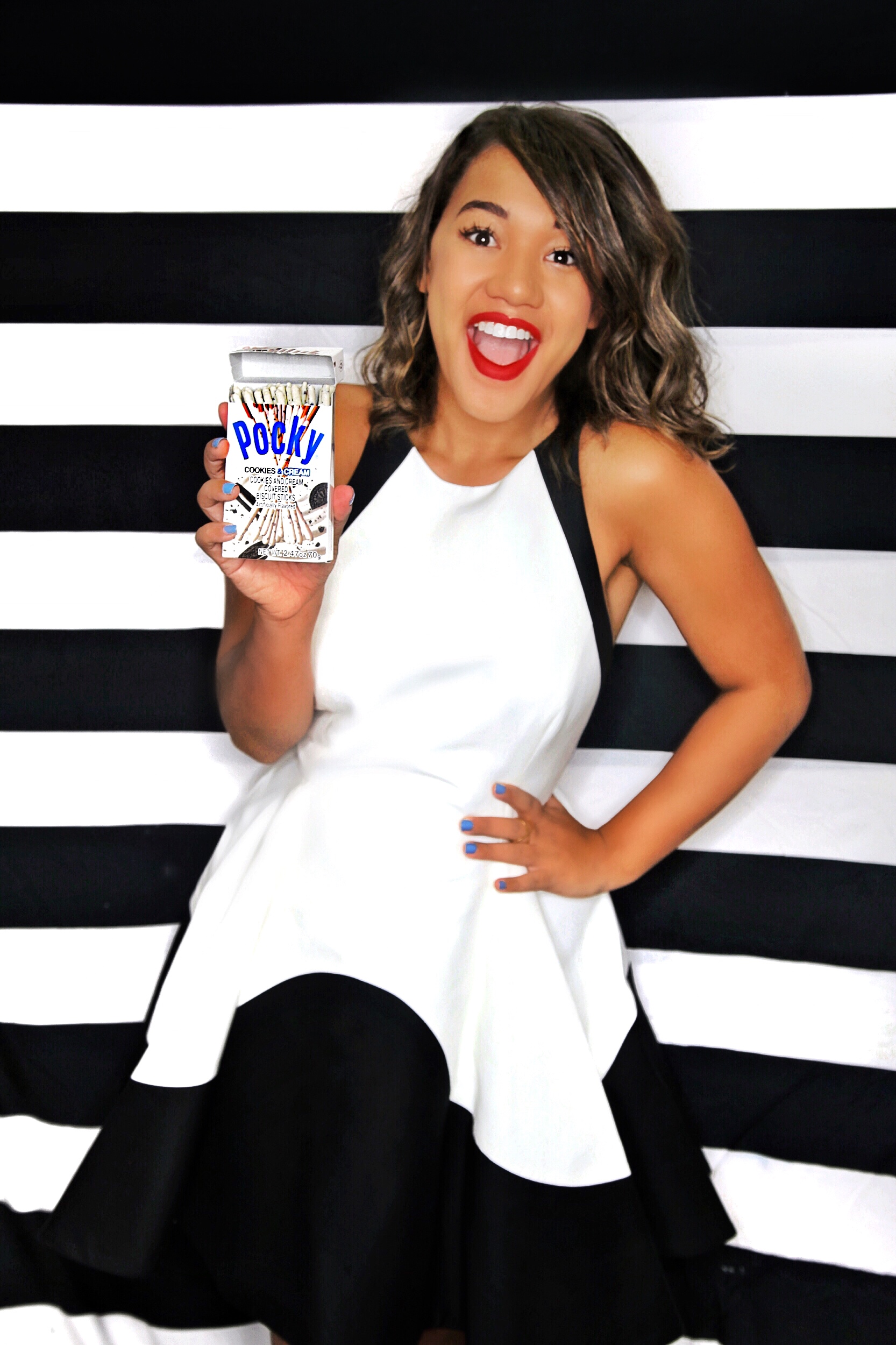 Ever since I visited Japan last year, I've been obsessed with all things Japanese, especially in the snack department (did you know they have green tea flavored kit cats and shrimp flavored chips? WHAT!). That's when I first discovered all of the fun flavors Pocky has to offer – before I thought they only did their classic chocolate coated ones, and don't hate me but I'm not that much of a chocolate girl, so I was CRAZY HAPPY to learn about the other flavors. Today I'm sharing my FAV for you in a fun stylized editorial that I like to call POCKY POPART! Plus I'm rounding up a few fun outfits that make me feel like these flavors taste, I hope it brings a big smile to your face!
Berry Berry Sweet!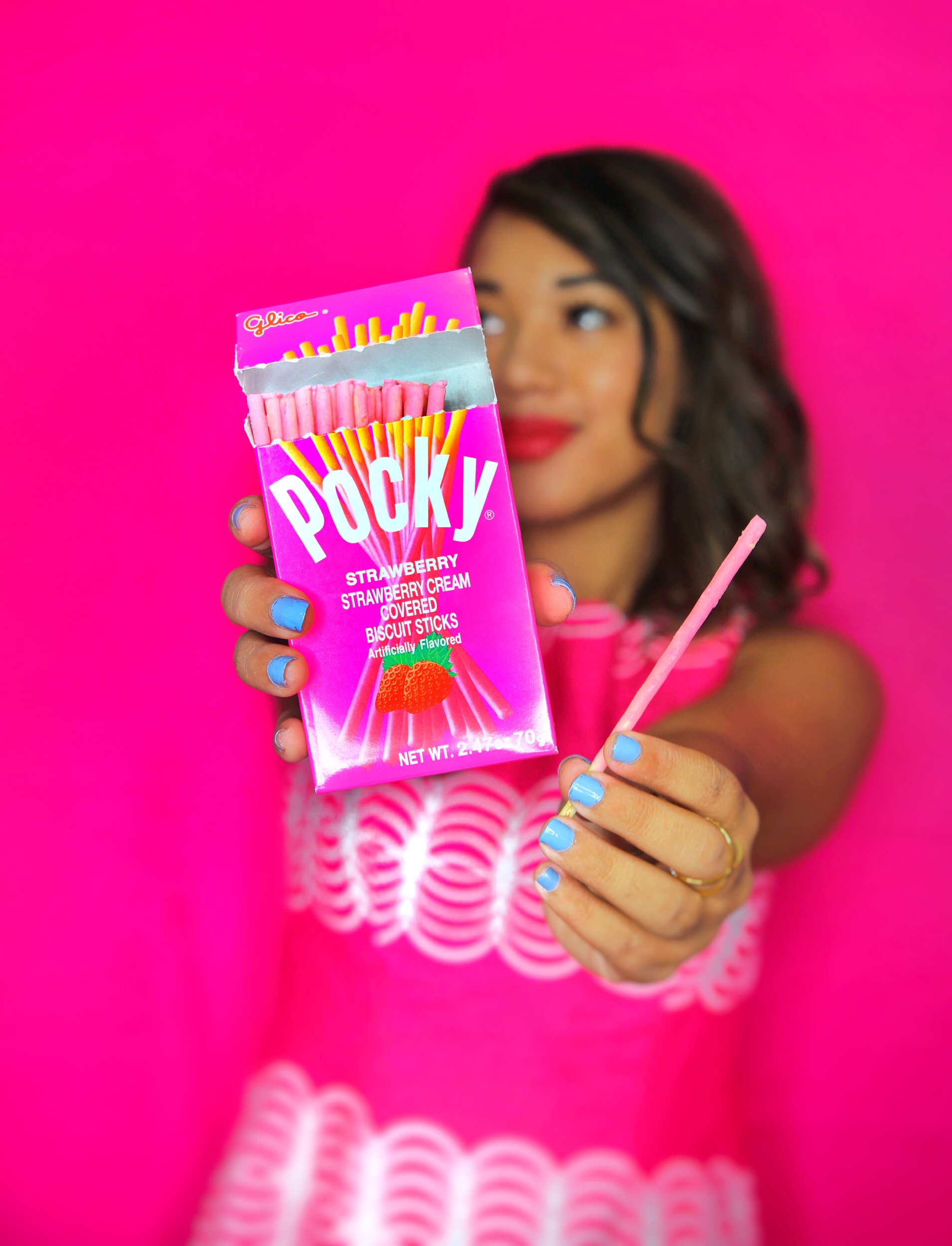 Okay, so another fun fact about me is I'm allergic to strawberries, but growing up I never liked them. I remember my grandma would always try to feed me them and I would eat them and pretend I liked them because I liked her but I would end up just covering them in sugar so I could get them down, lol – Sorry Gma! In college when I started "juicing" I quickly learned that I couldn't eat strawberries after my throat started swelling up, oops! But since I never liked them, that was okay with me – the hardest thing to give up was my favorite flavor of ice cream (strawberry) and donut frosting (strawberry/pink!). Sometimes, I can get away with ice cream, and I can usually always eat frosting but sometimes skip it just incase, so once again I was PUMPED to discover Strawberry Pocky! All of the favor, without the allergies and berry, berry sweet to eat! Eating the Strawberry Pocky makes me feel, elegant, girly, giggle and fun – just like this pretty in pink dress!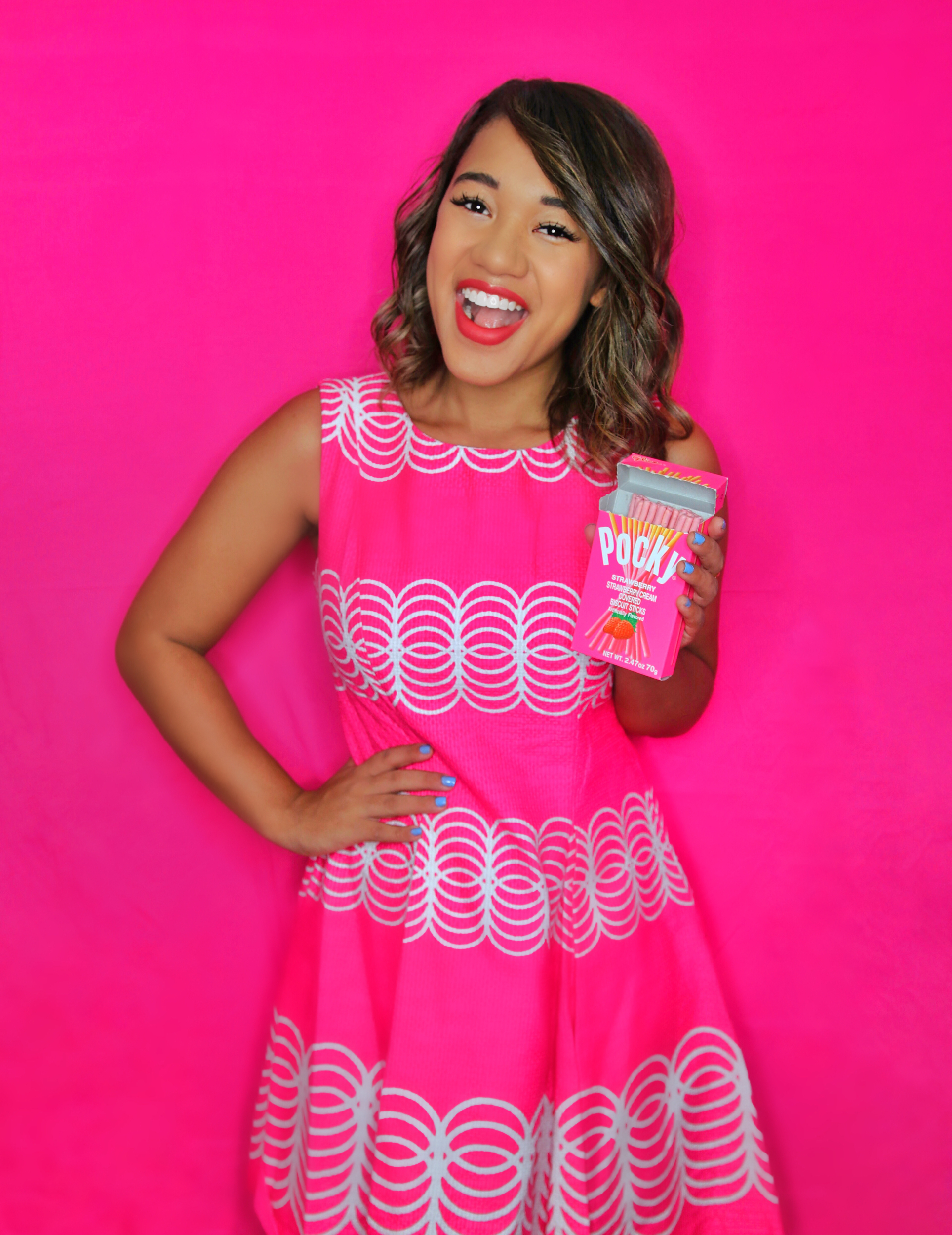 Cookies and Cream!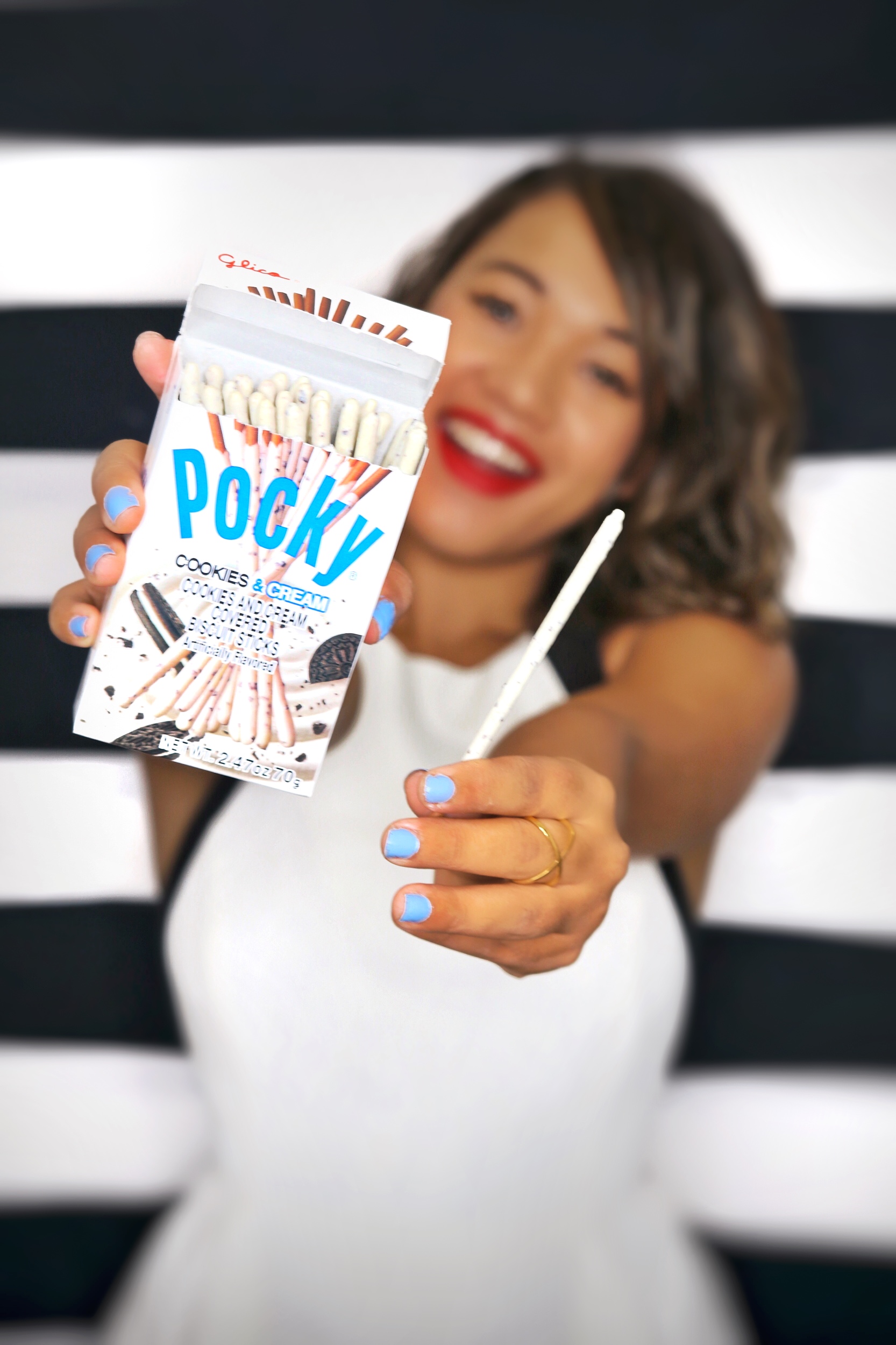 My favorite ice cream flavor? Cookies and cream. My preferred Milkshake? Cookies and cream. My go-to Mcflurry? Cookies and cream. My favorite cookie snack? Those black little cookies with white frosting that start with an OH and taste like, oh you know, Cookies and cream! SO I think it's safe to say I'm a phone for cookies and cream – naturally I was all excited to try the Pocky version of my favorite flavor and it did not disappoint! The juxtaposition of the sweet coating with the biscuit is the perfect combination for a sweet snack that's not too sweet! To play off this fun flavor, I paired it with a dress that is flirty and sweet with a bit of crunch!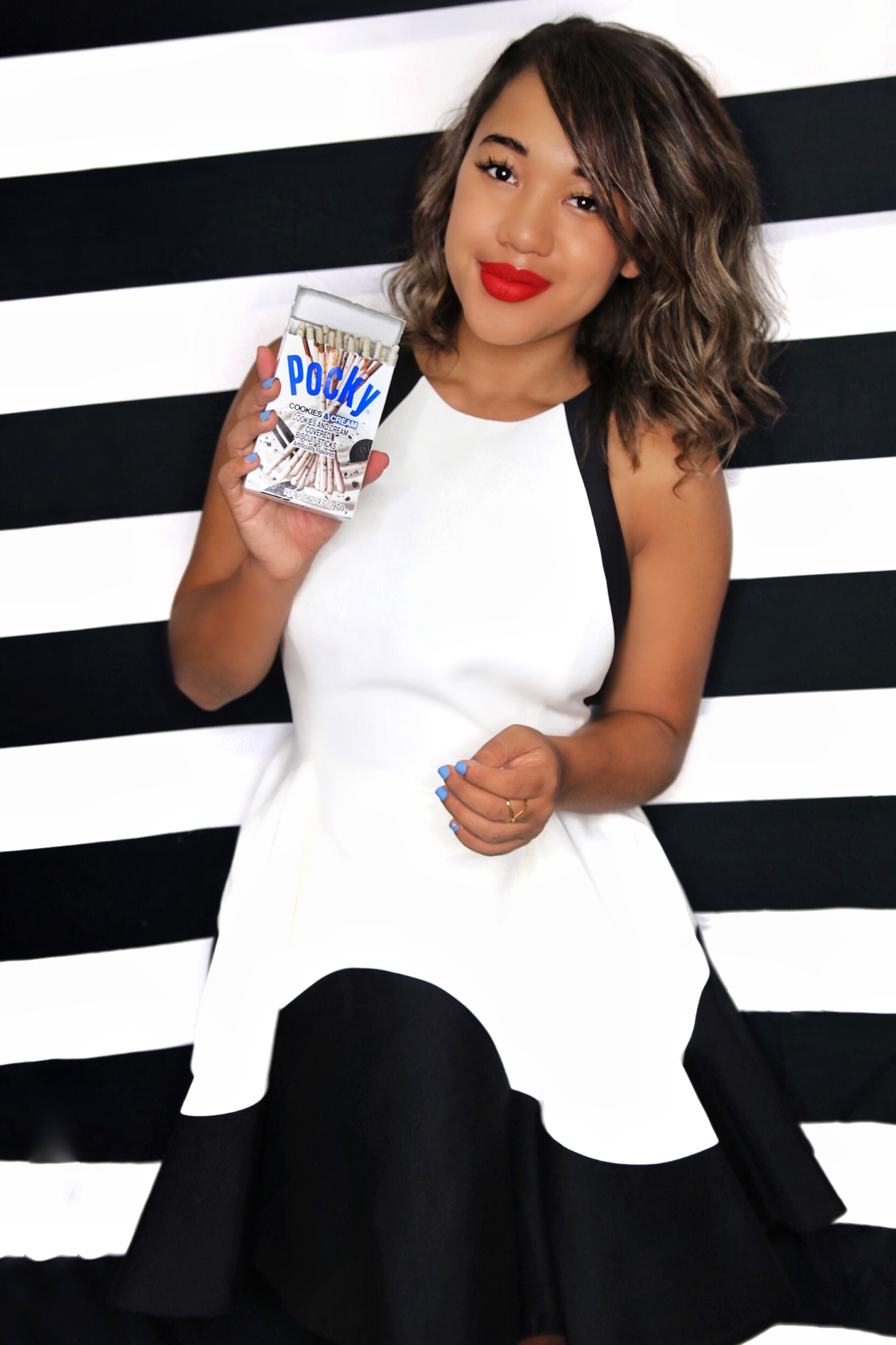 B-A-N-A-N-A-S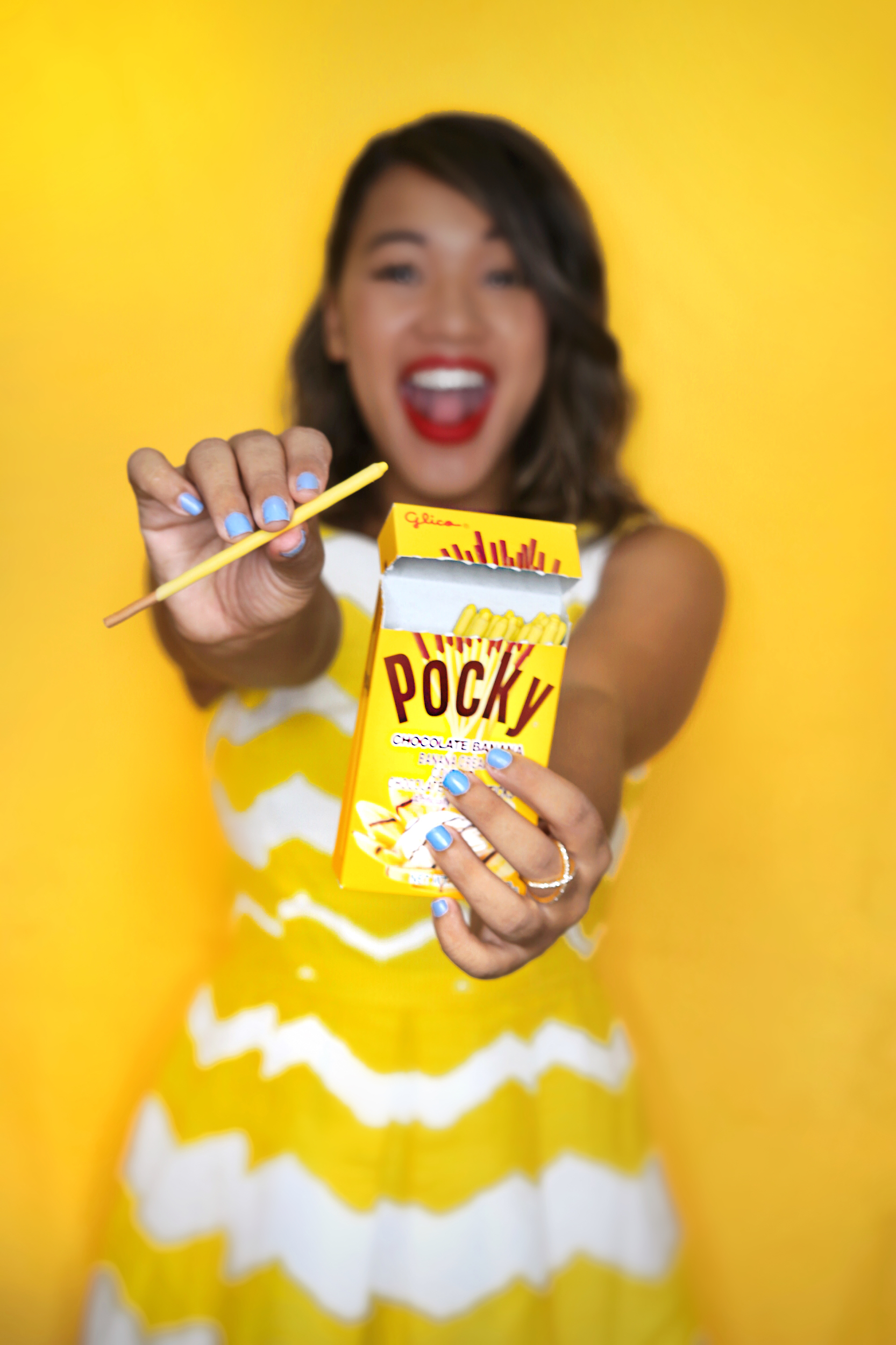 To be honest, I don't like bananas (am I a picky eater? … or avocados [don't hate me, I know thats like breaking the blogger code or something to not be into Guac and Avocado Toast lol] or Oatmeal) It's not about the taste, it's because of the texture I know, I'm weird. BUT I do love banana flavoring, so a good banana ice cream, banana smoothie (blended, so not texture) or a banana covered biscuit! So I was pretty pumped to learn about the Chocolate Banana Pocky flavor. It smells like the King Kong ride at Universal Studios (does anyone remember that ride? when you met King King he would roar and the ride would be filled with the smell of bananas, ha – Banana Breath) So it instantly brought me back to a happy childhood moment of banana bliss, plus the sticks are fun and yellow colored so naturally they make me feel all excited and happy just like the dress! Plus I love the nod to the mod with this 60's inspired dress, perfect for a historic snack that dates back to that decade!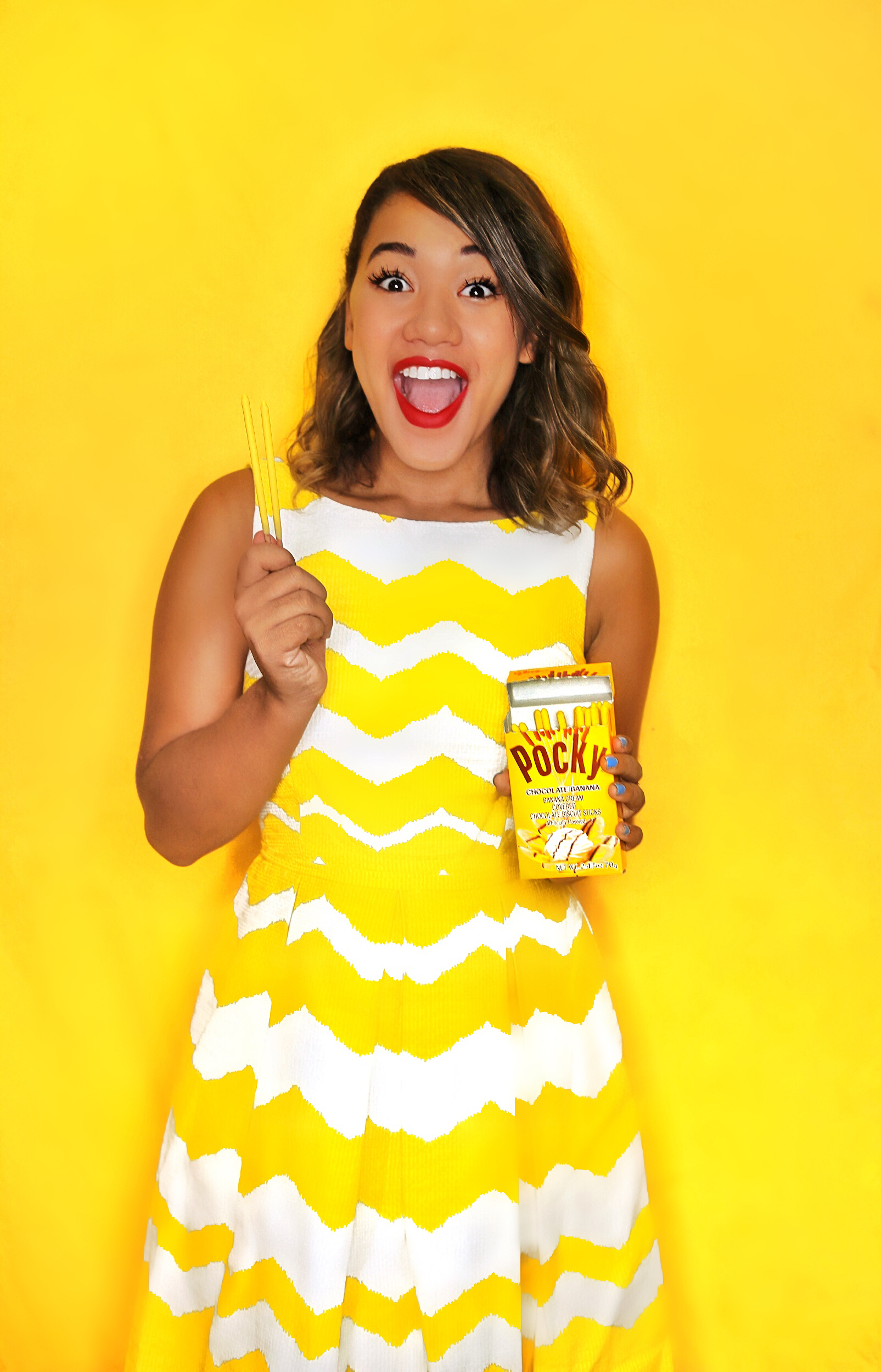 What's your favorite Pocky flavor? The best part about this pocket sized snack is that it's meant to be shared – you can pop open a box and share the happiness with whoever's around! It's perfect to take to work and pop on your desk, or carry in your purse to enjoy on your commute, you could even try a few when you're standing in line waiting for something and share with the person in front and behind you – how awesome would that be to share a little love and sweetness with a stranger, who knows you might totally brighten their day!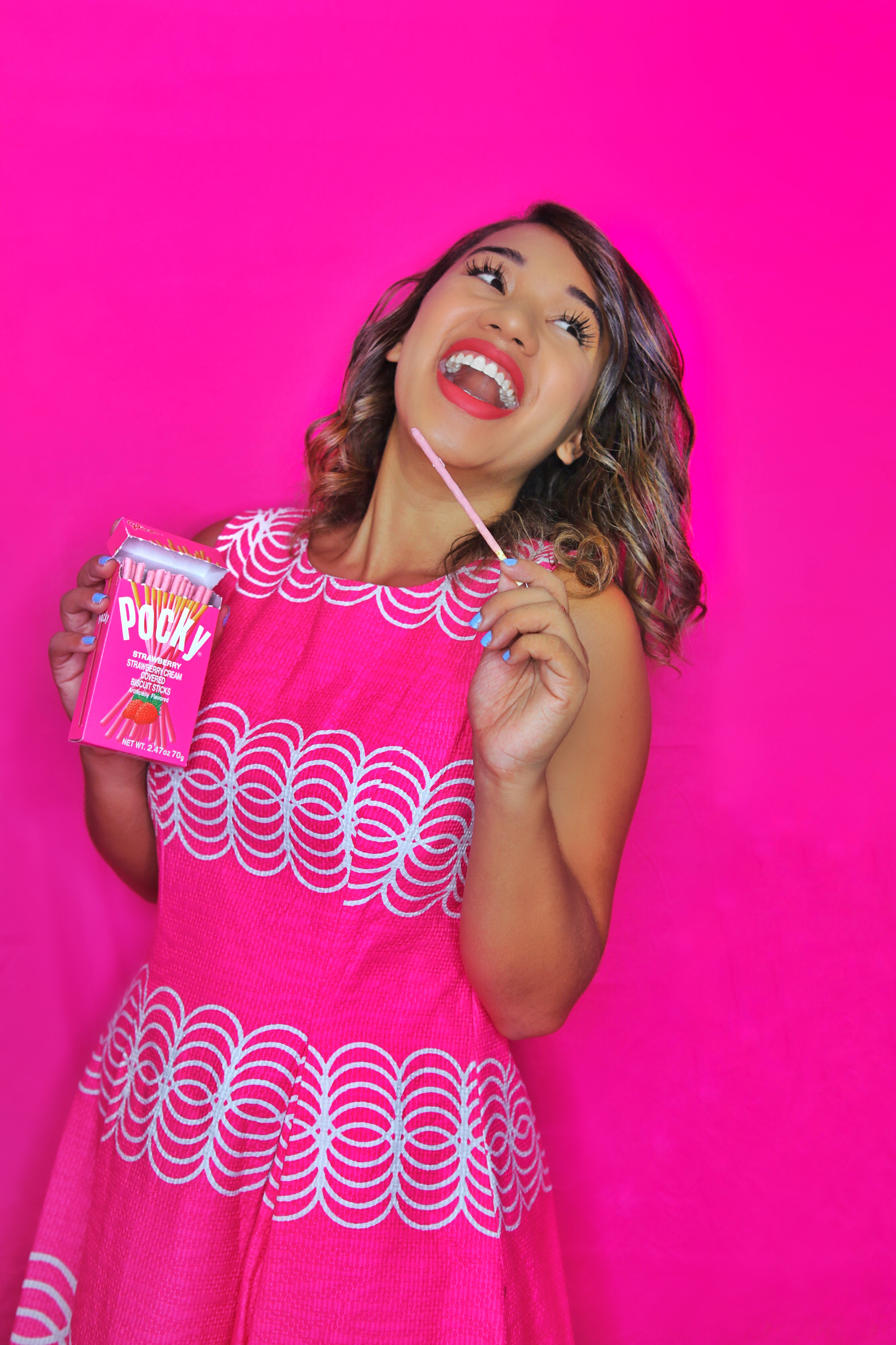 Dresses
:
Pink
//
Black & White
//
Yellow
This post was done in collaboration with Pocky, hope it inspired you to share happiness today and everyday! 
SHARE OR SAVE FOR LATER