Mar
12
2015
Mar 12 2015
Skinny Dipping (Not That Kind)
I've never been much of the "modest type" – not sure why but I don't really have a problem totally embarrassing myself and sharing probably a little too much sometimes, whoopsies. But that doesn't mean I don't get self conscious, come on we all do! So if stripping down to your skivvies (not sure if that means swimsuit or undies, let's hope for swimsuit) gives you the heebie jeebies just know you're totally not alone and stay tuned cause I'm going to help you slim down for Spring Break without hitting the gym – say whaaa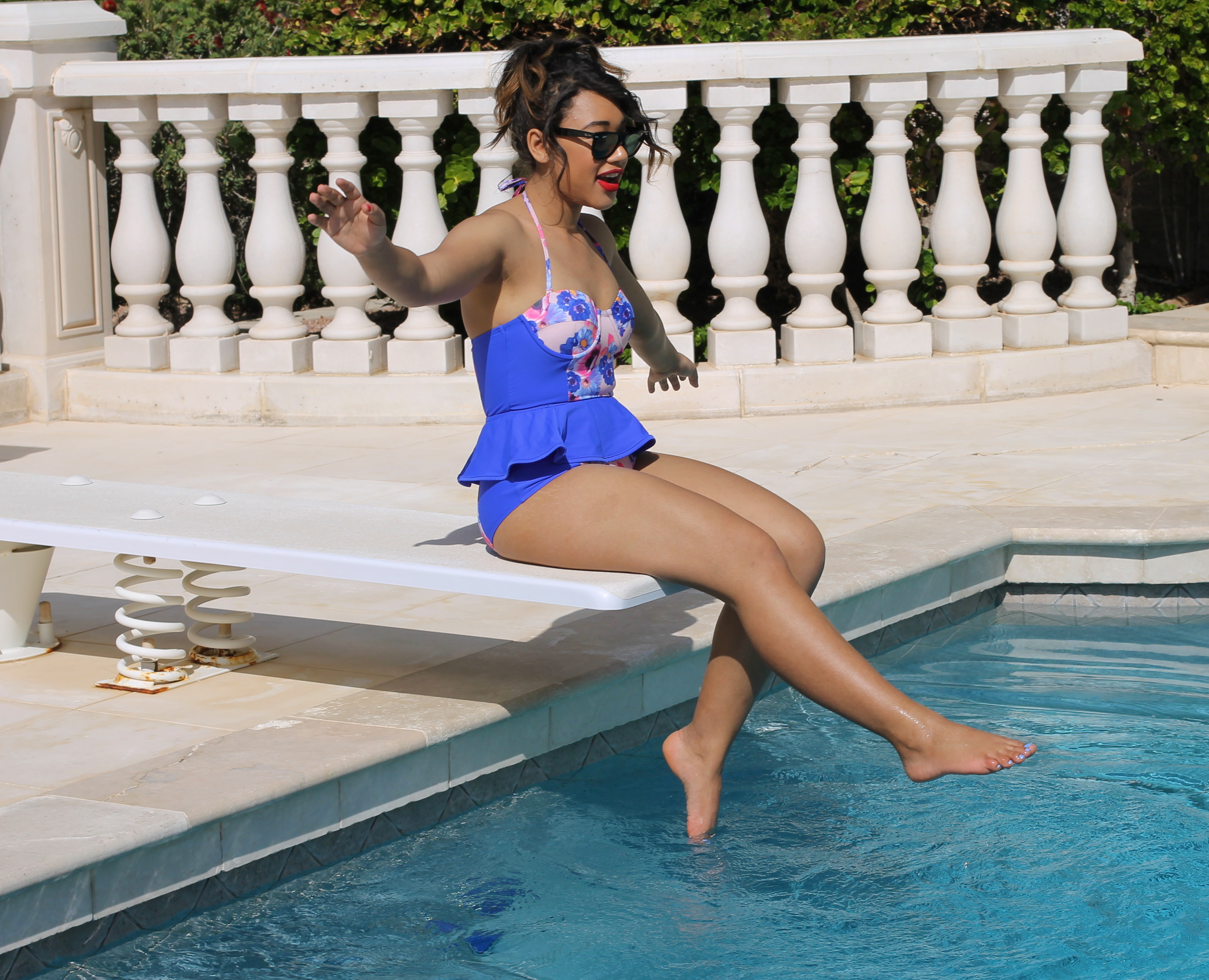 Yesterday, I shared the tiny little baby steps I take to getting my bod beach ready, but what if you didn't have to skip sprinkles this spring to look supa fly in nearly nothing ? What if you could achieve that killer (looking) bod & confidence without breaking a sweat? Now that's the kind of diet I can commit to … No diet at all. To help you get there, here are two surprisingly slimming suits that will help you drop a few pounds without moving a muscle – boom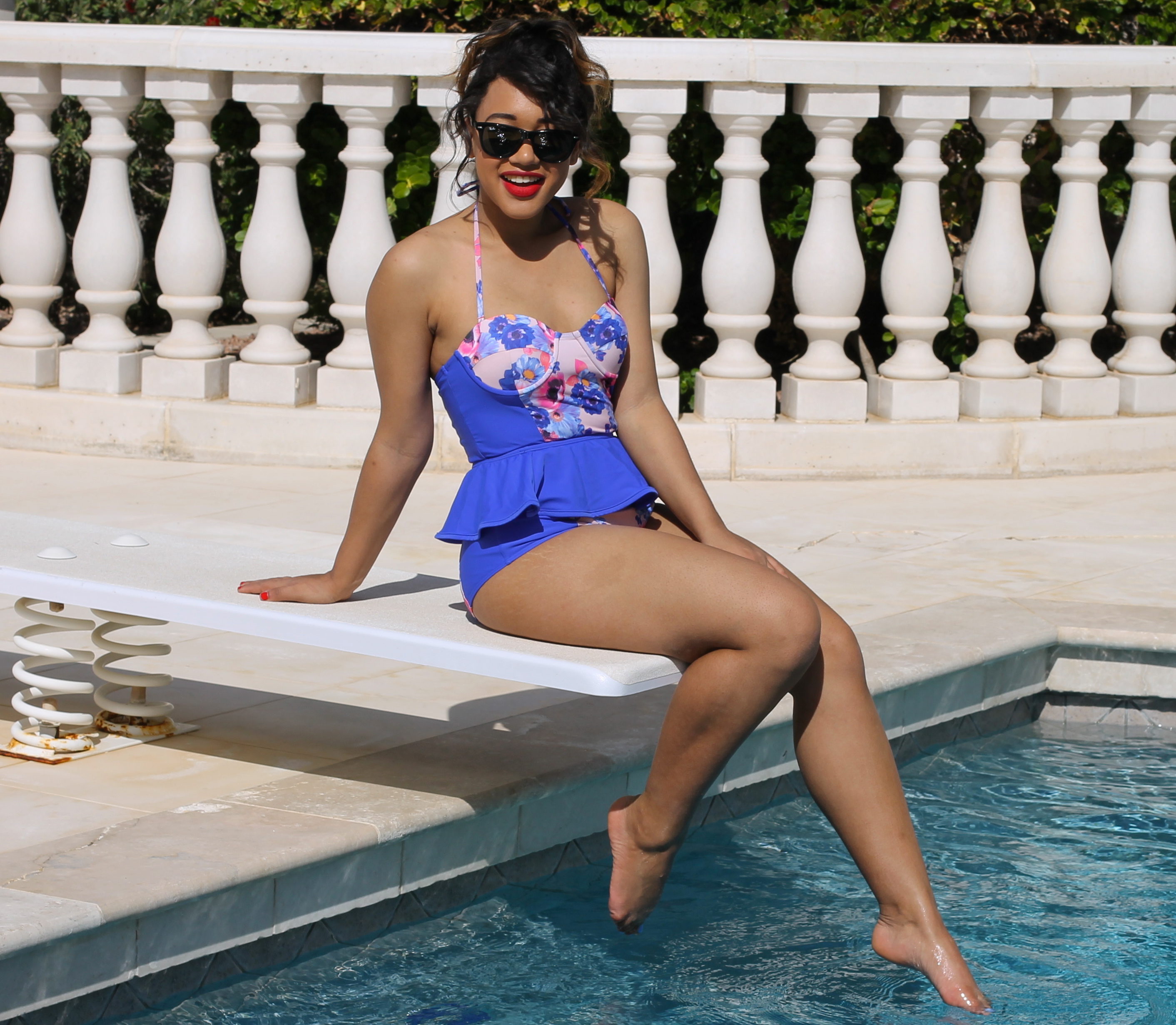 Suit || Lipstick || Shades
I like to think I play the role as your style god mother sometimes and your glittery guinea pig at others , giving you little sprinkles of style advise and helping you learn from my mistakes so you don't have to make then yourself. So today I'm taking in a third role (multi-tasker in the house) and becoming your personal trainer too… Only without all the yelling and grunting and making you work stuff, I'm just here to tell you how fabulous you'll look…. and you do look totes fab!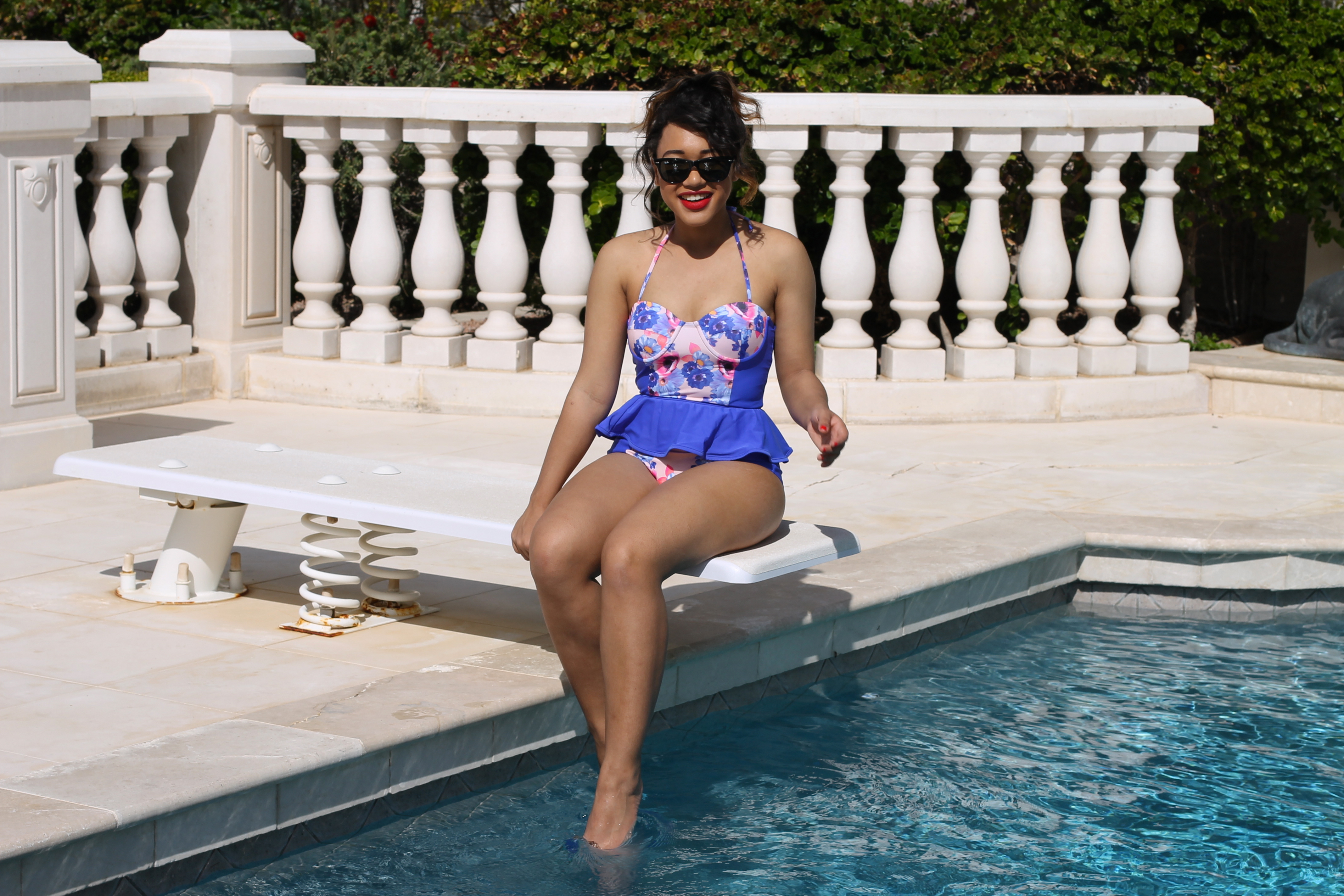 You should always find your smallest point and make it do the talking, especially with swimwear! For me it's my waist so I found this killer one piece that hides my problem areas (lower tummy) and draws the attention to my waist. Plus the removable ruffle (yes, removable) in the contrasting color even pulls in more attention to my tiniest part and the dark color blocking on the side panels in combination with floral print creates the illusion of a smaller figure, see totally fooled you, right? Shop it here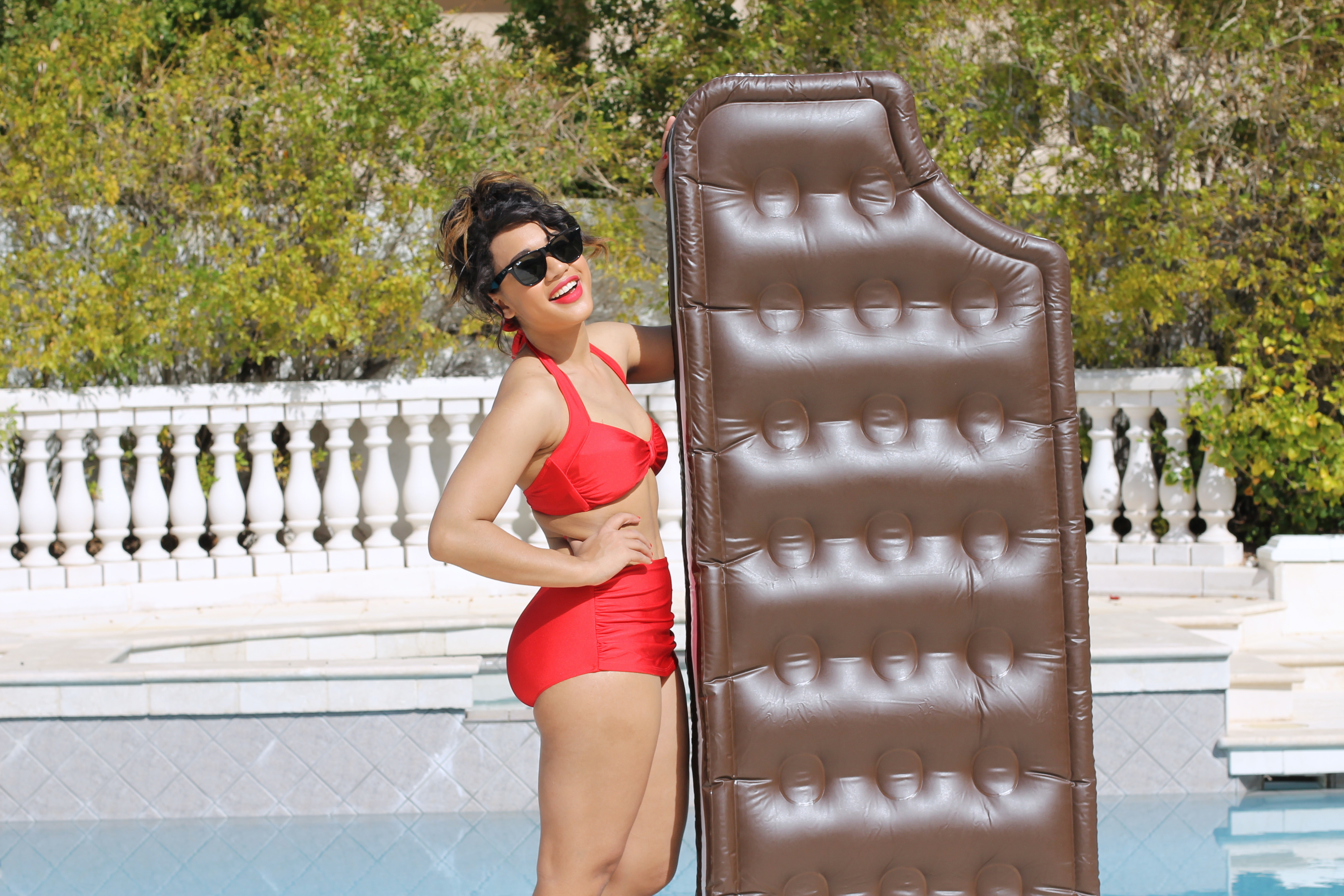 float || suit || shades

If you want to swim in the deep end and show off your mid-drift without broadcasting last nights dinner (and dessert) try a high waisted two piece in a bold color! Color always helps distract from your problem bit and the high-waisted nature will keep you hidden and pull that tummy flat! Plus the tap is also super flattering and makes a busty bow – always a bonus. Shop the suit here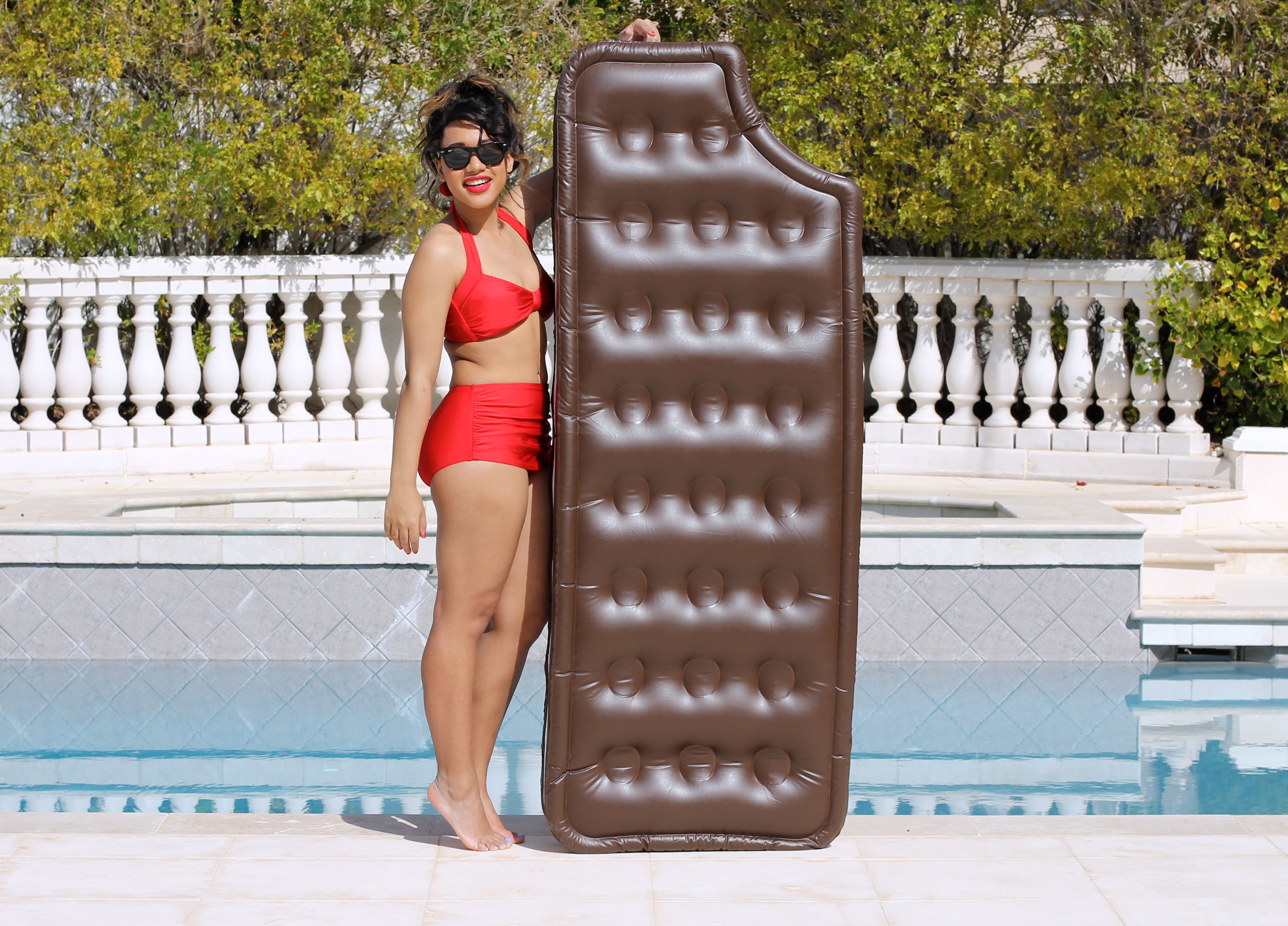 Oh and if all else fails, buy yourself a fat girl ice cream sandwich pool float (or a donut one here) and hide behind it with a handful of Oreo's … Don't forget to share 😉 jk… Well kinda, actually not at all you better share!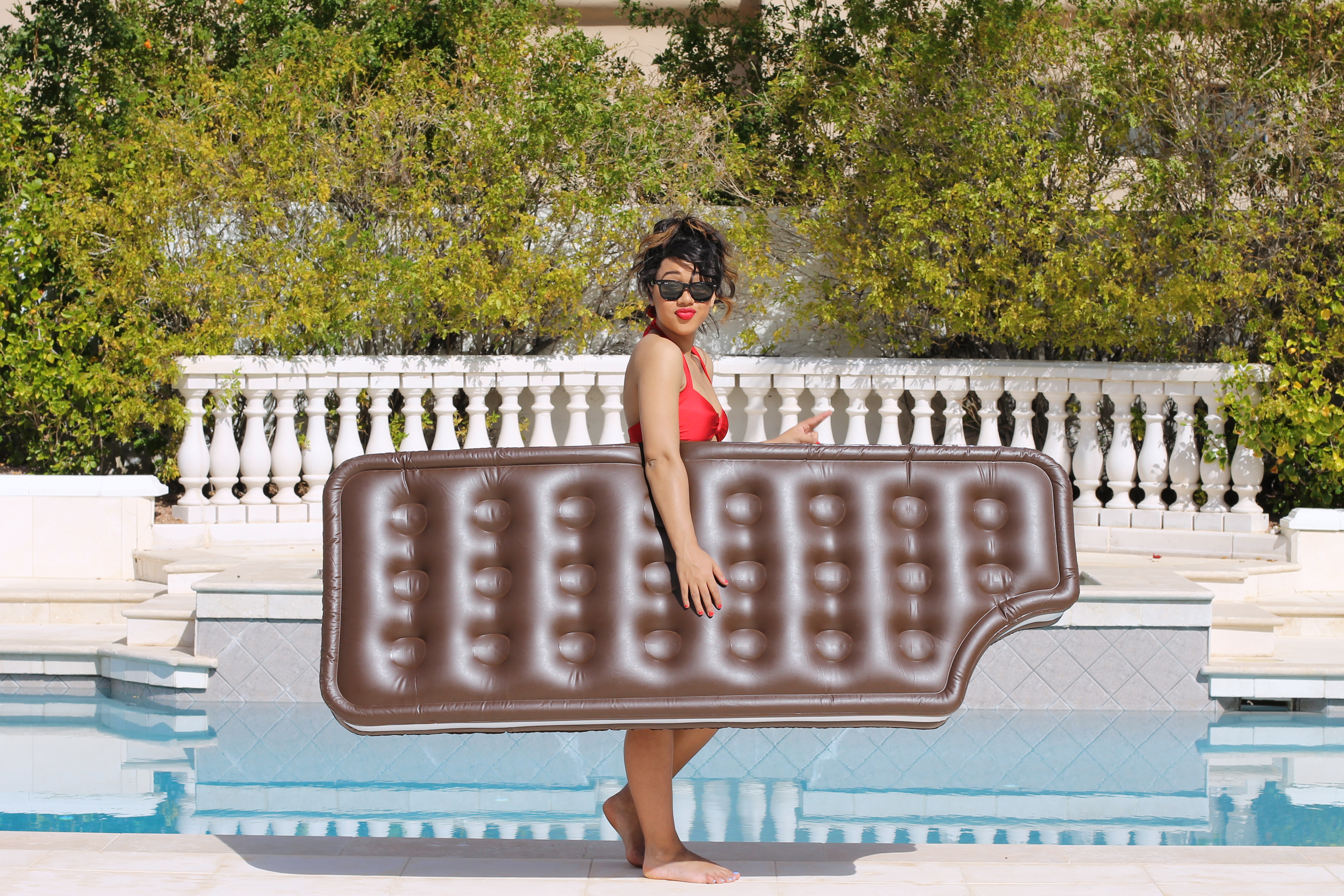 SHARE OR SAVE FOR LATER