Jul
23
2016
Jul 23 2016
Stoop Snacking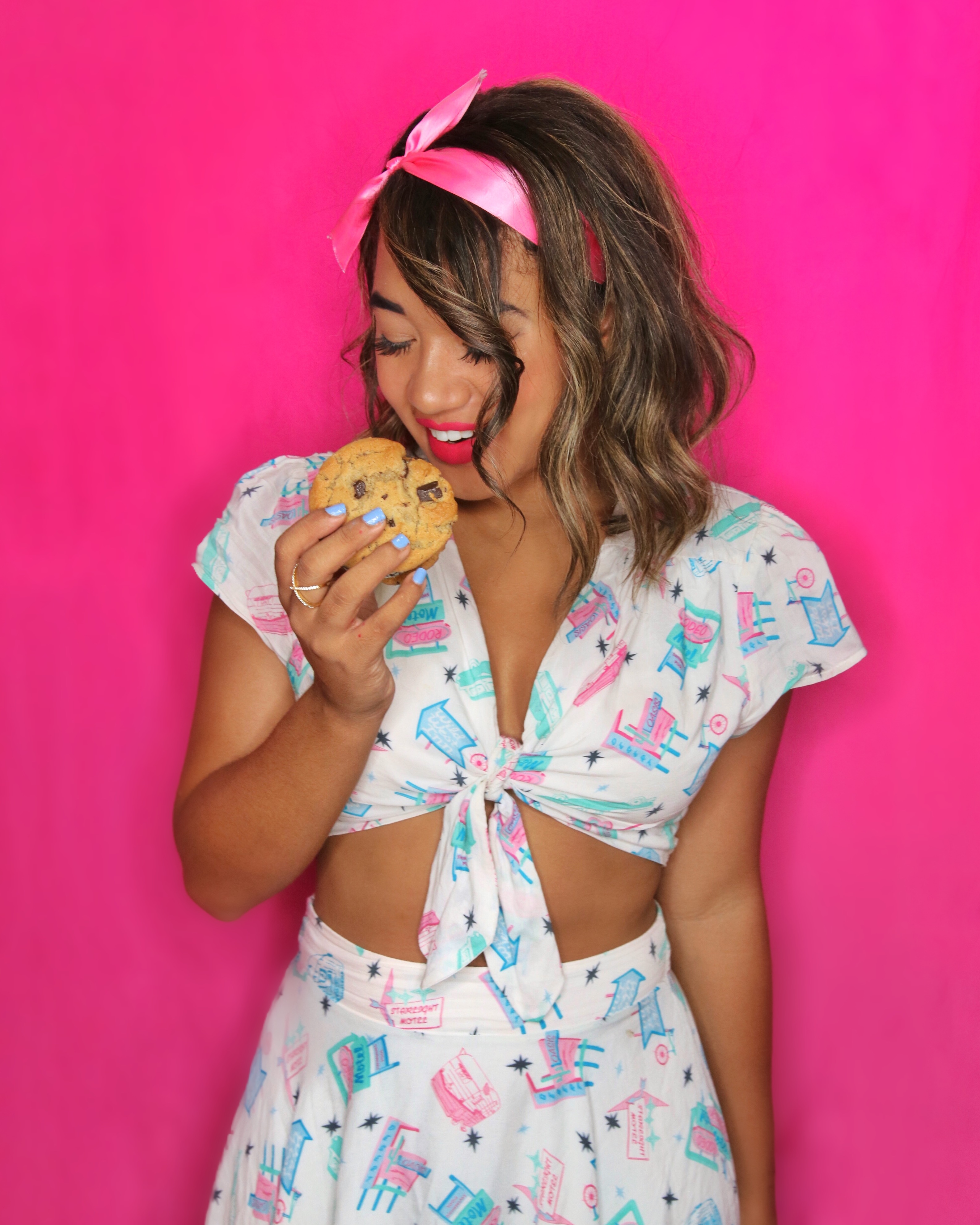 GUYS! It's hot! Summer is in full swing and I spend most days hunting for ice cream, shade or (let's be honest) both. I always find myself living in a few outfits or dresses come summer, and today I'm sharing one of them!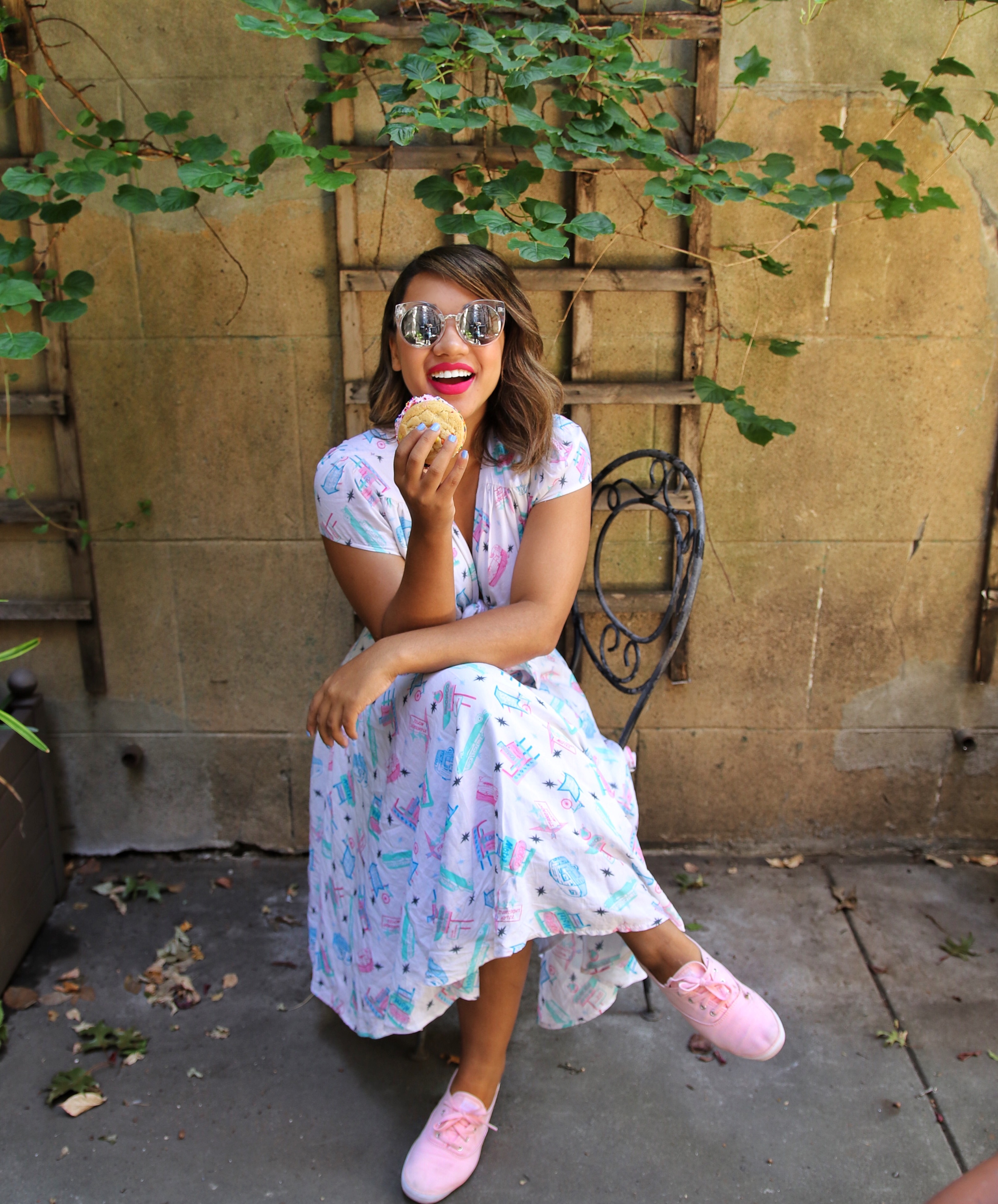 I picked up this vintage-esuqe cotton two piece because it's so cute and crazy comfortable – plus totally twirl worthy. The light fabric keeps me cool and midi length keeps me covered, plus the top is so supportive I can go bra-less (tmi?) which is a total plus for me!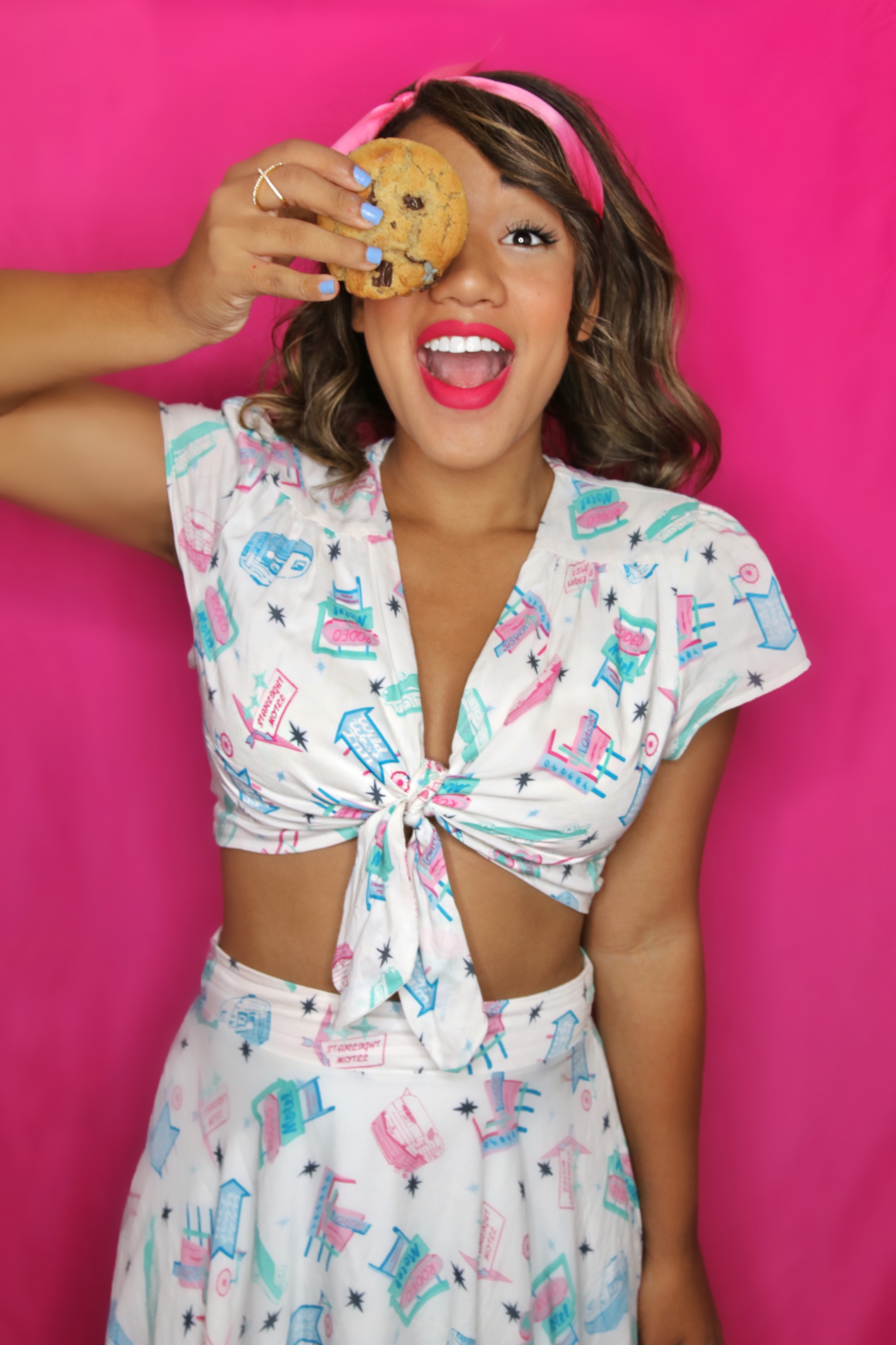 A cool outfit is only half the battle, you also need to snack on something sweet to help you unwind in the summer, right!? Call my crazy, but I love me some ice cream! But I'm also a sucker for a good cookie too — so when I find myself in need of something sweet, how can I possibly choose between the two!?
Well the good news is you no longer have to! Baskin-Robbins offers Warm Cookie Ice Cream Sandwich that I can't stop eating this summer!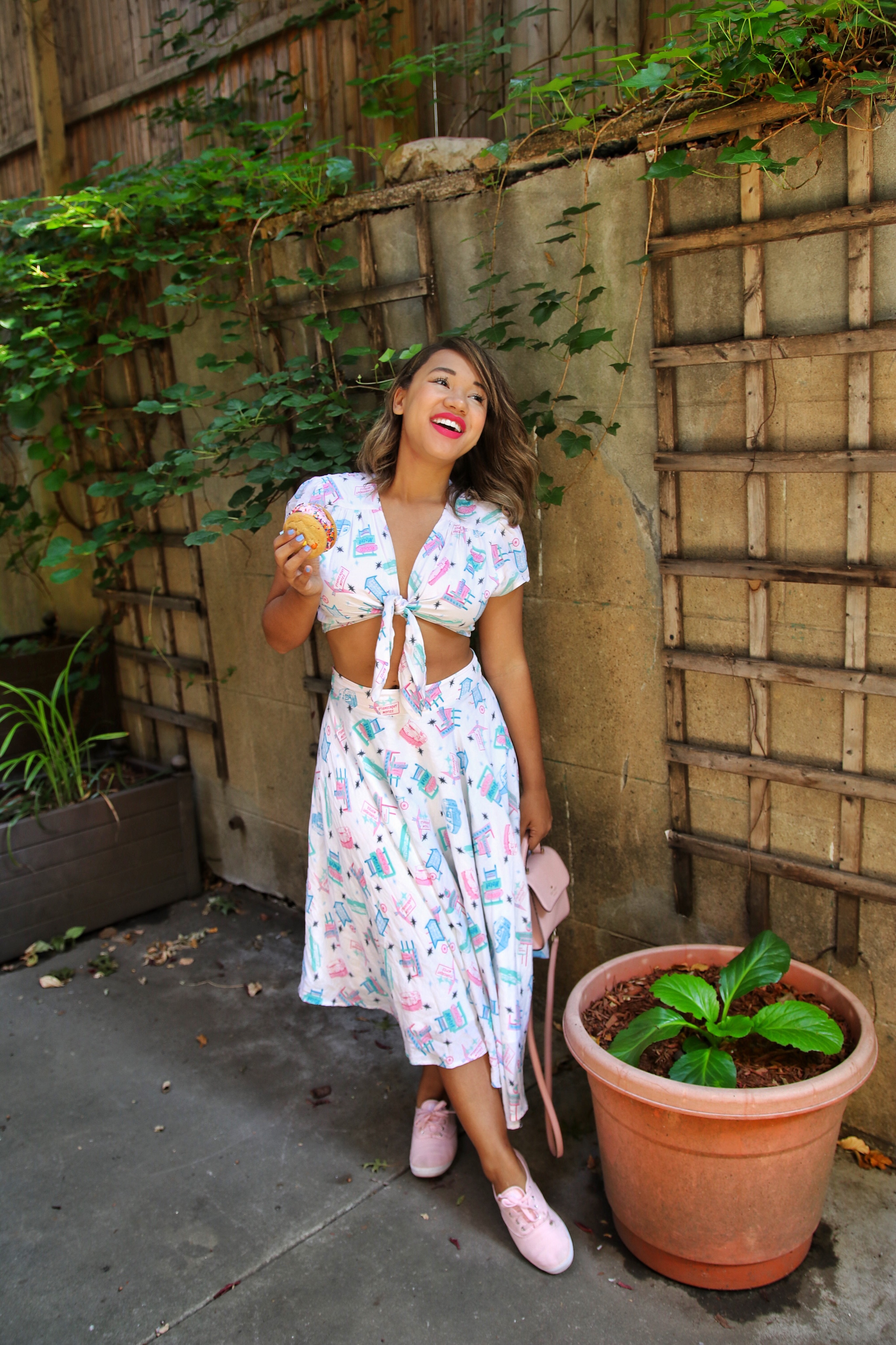 They sandwich their famous flavors between the cookie of your choice and you can choose from custom creations (like I did) or the created flavors like Dark Chocolate Chunk, Double Fudge, Peanut Butter Chocolate, White Chunk Macadamia. You can use ANY ice cream offered at Baskin-Robbins so naturally I went with a chocolate chip cookie with mint chocolate chip ice cream and a M&M cookie with cherry ice cream and rainbow sprinkles!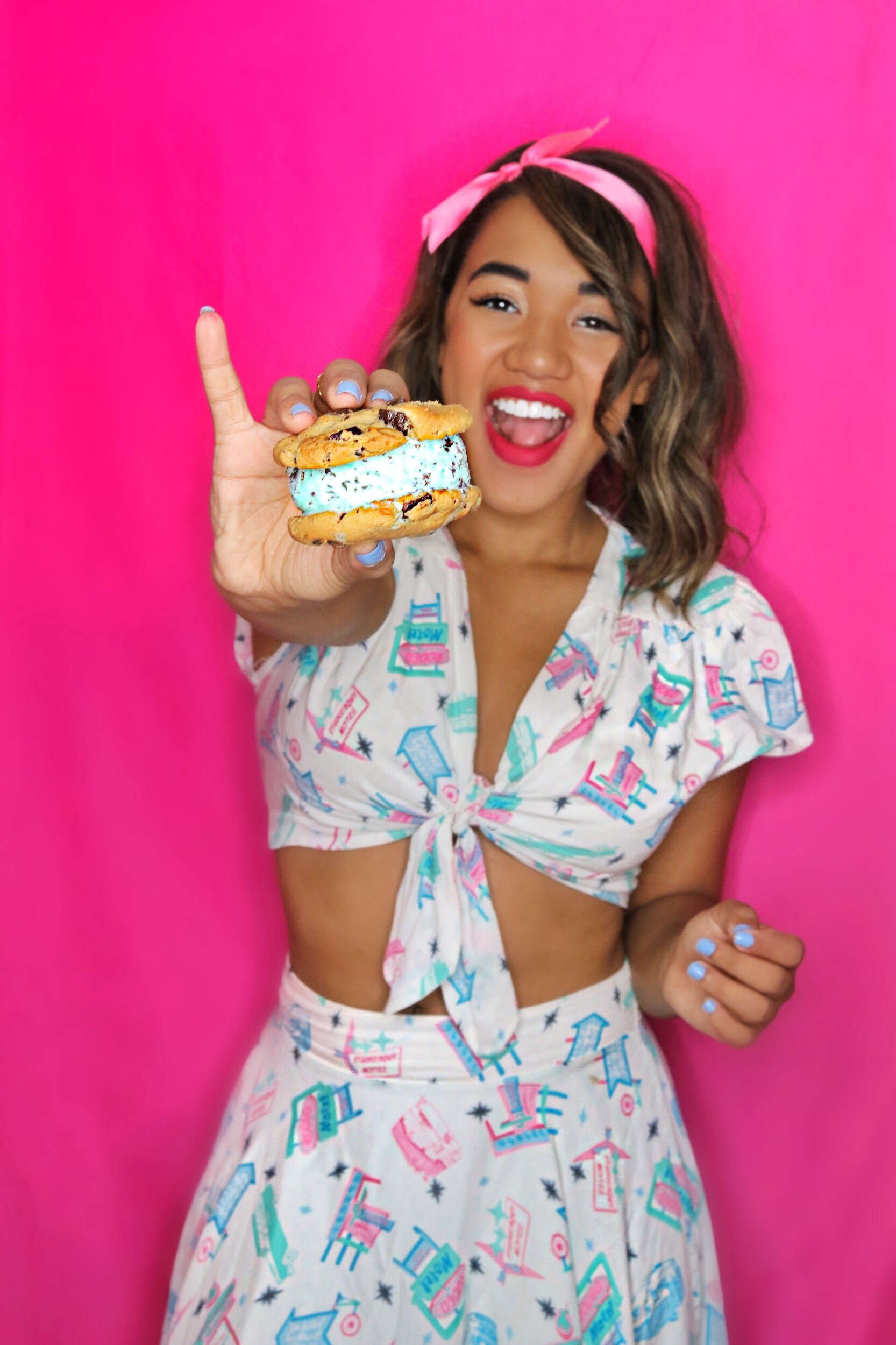 TheseWarm Cookie Ice Cream Sandwiches are (obvi) served warm but the ice cream is cool – so it's the perfect way to get a hot summer treat that also cools you down, I know – BANANAS! I'll eat them on a stoop around the corning from a Baskin-Robbins store or take a few home to save for later (there are three in my freezer right now, #whoops). OH and how cute would it be to host an ice cream social with these sweet treats? Such a unique twist on the classic dessert party. OR if you're really wild (and TBH I totally did this) you can have one for breakfast! Before you judge me, I'll give you some context! I Was up late pulling an all nighter working on blog projects, and slept for about 75 min (zzZzzz) so I heading to Dunkin Donuts in search for sprinkles, when I realized my DD is connected to a Baskin-Robbins and though, "Hey – why not" and viola, dessert for breakfast!
Anyways – however you snack on one, a Warm Cookie Ice Cream Sandwich from Baskin-Robbins is SURE to rock your world! Give it a taste and tell me what you think.
Wearing Unique Vinatge // Thanks to Baskin-Robbins for Partnering on this Post!
SHARE OR SAVE FOR LATER